2018 ACA Economic Climate Survey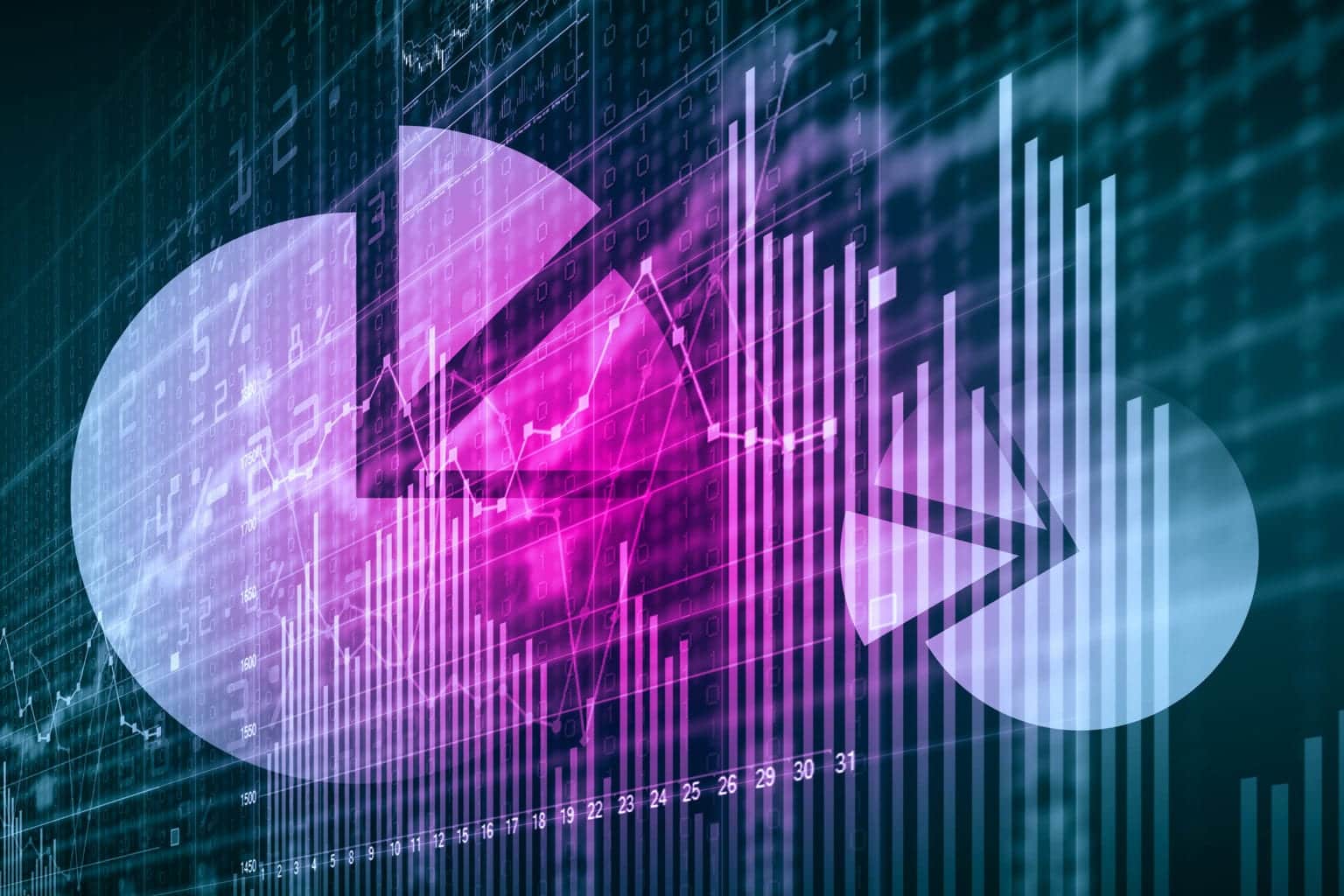 For a number of years, ACA has conducted a survey of senior industry executives to determine how they collectively view the current business climate for our industry and to determine how they believe their firms and the industry will fare over the next year or so.  The Fall 2018 survey, like its recent predecessors, found that the industry's senior leadership holds a relatively optimistic view of both its current situation as well as its prospects over the next year.  If the opinions of the industry's senior business leaders are on target, the coatings industry should maintain its trajectory of continued growth in 2018.
Economic Backdrop for the ACA Survey
Since 2009, when it ended its sharp decline from the mid-2000s peak, the coatings industry has seen steady growth.  As shown in Figure 1, the overall volume and value of the industry's output have consistently grown at a roughly 3–4% rate over most of the period beginning in 2010.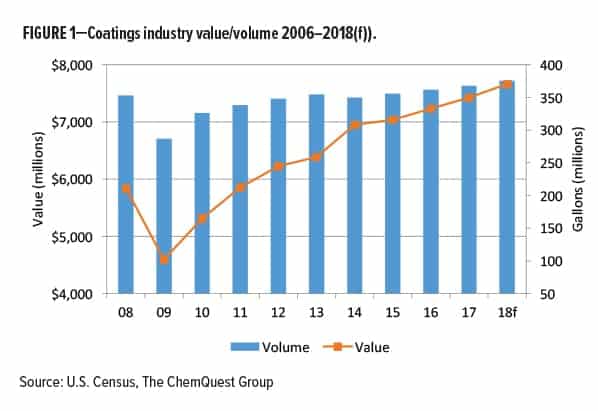 The National Association for Business Economics (NABE) compiles a consensus of macroeconomic forecasts from a panel of 51 professional forecasters. The NABE panel's September 2018 outlook is that on an annual basis, "real GDP growth in 2018 is expected to be 2.9%, a slight rise from the 2.8% in the June survey, while the forecast for average annual real GDP growth in 2019 of 2.7% remains unchanged." 1
The steady growth in both volume and value of architectural coatings in particular tracks the continuing recovery in construction since 2010, along with strong existing homes market.
Sales of existing homes, one of the major drivers of paint demand, have consistently averaged over five million units (annualized) for several years (as compared with a low of approximately 3.5 million in 2010). Overall construction spending has risen steadily since its recent low point in January 2011 and has consistently exceeded the level it last achieved during the height of the housing boom in early 2006 for more than a year now (Figure 2).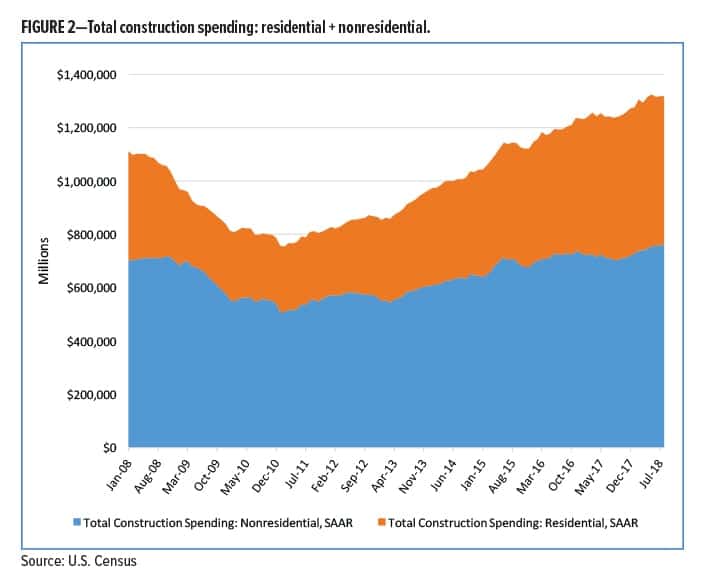 Going forward, overall construction spending growth is expected to remain moderately positive, although labor market constraints, along with increased tariffs, are flagged as potential dampers on construction activity. The most recent Fannie Mae™ forecast for residential construction predicts that total housing starts will rise in 2019 and are anticipated to exceed 1.3 million, up from the  2018 forecast of 1.269 million, with single family starts expected to rise 7.2% in 2019 (from 898,000 to 963,000), while multifamily starts are forecast to decline from 371,000 to 341,000 in 2019.2 The American Institute of Architects (AIA) Consensus Construction Forecast indicates that spending for nonresidential buildings in 2017 is projected to rise 4.7% in 2018%, and 4.0% in 2019.3
Similarly, the manufacturing sector, which is the primary driver of demand for OEM coatings, has continued to show strength since reaching its low point following the 2007–09 recession. Overall manufacturing (new orders) has plateaued somewhat since May 2012, reflecting a number of factors, including increased imports, but the motor vehicle sector and consumer durables have shown strength since their 2009 lows (Figure 3). The NABE panel forecast is relatively optimistic, forecasting that 2018 industrial production will show 3.8% average growth with the outlook for 2019 being a median projected gain of 2.8%. However, recent trade moves by the administration to impose tariffs on Chinese products, while potentially benefiting some manufacturing sectors, could be problematic for other manufacturers insofar as increased tariffs on manufacturing inputs raise the cost of their production.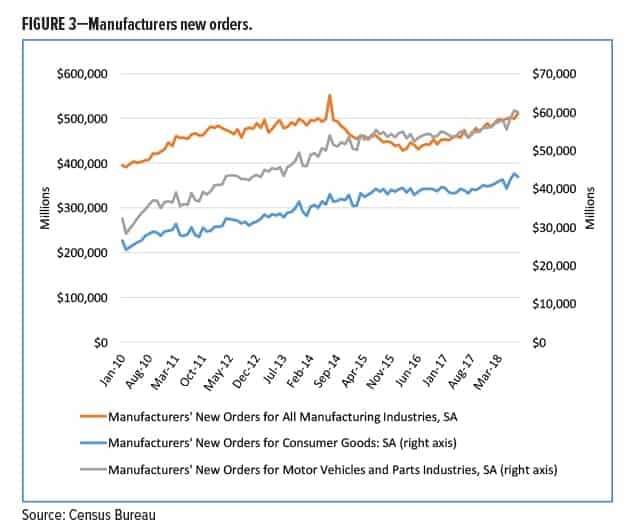 The ACA survey also revealed respondent concerns about current and anticipated price inflation in the coatings value chain, with raw material price inflation being the most commonly cited risk by coatings respondents (as will be detailed in Figure 12). As shown in Figure 4, government data on pricing history does suggest that raw material prices have been rising steadily since early 2016 after falling significantly during the 2014–16 timeframe. Meanwhile, as shown in the same PPI data, prices for coatings products have remained relatively flat, rising modestly beginning in early 2017.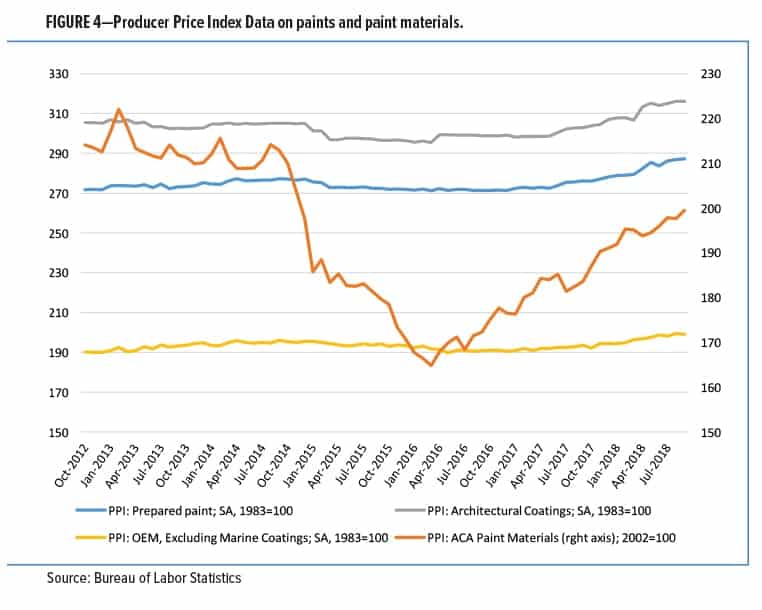 2018 ACA Economic Climate Survey Findings
The ACA annual Economic Climate Survey is intended to capture and share the collective viewpoints of member companies' senior executives and provide some insights into current and future business experience and expectations.4 ACA conducted the 2018 survey between September 10–25, 2018. The level of industry participation in this survey has remained relatively strong: in all, 48 ACA member company executives participated this year. This year, somewhat more respondents represented supplier members, distributors, and other members than coatings manufacturers, perhaps reflecting continuing industry consolidation.5 Of the participating coatings manufacturers, approximately 78% market their products nationally, with the remainder serving regional markets; and the mix of large and small-to-medium companies shows about 39% having sales exceeding $100 million, and about 61% below that line. Supplier and distributor participants were broadly representative, with about 42.3% reporting sales in excess of $250 million into the coatings market, and the rest having coatings-related sales under that level.
The context in which the 2018 survey was conducted is not only the steady pace of the U.S. macroeconomic recovery since the recession ended in 2009, but also the generally steady growth in coatings demand that the industry has experienced during the past few years. The coatings industry grew 1.0% in volume and 1.7% in value in 2017. All coatings segments were up, although Architectural Coatings growth lagged the OEM and Special Purpose segments overall. The industry is also projected to grow at a 1.4% rate (volume) and 2.8% (value) in 2018.6 The responses to this survey, particularly the projections for future growth, should be seen in this context, and suggest that the industry will continue to see sustained and solid industry growth.
Views on Current Conditions Remain Positive
Overall, the respondents in this year's survey provided an upbeat outlook for the industry that was more positive than that provided a year earlier in the 2017 survey, with suppliers7 generally more positive overall than were coatings
manufacturers. For example, in this year's survey, suppliers' views were more consistently favorable on current (Fall 2018) conditions versus those reported by coatings manufacturers. As shown in Figure 5, almost all manufacturers and suppliers viewed conditions as either "better," "much better," or "about the same" as the previous year, although suppliers were notably more upbeat. Indeed, over 52% of respondents view conditions as better or much better than a year ago.
The results of the same question posed in the September 2017 survey are shown in Figure 6. In the 2017 survey, approximately 44% of weighted responses indicated that current conditions were either "better" or "much better" than those experienced a year prior, with nearly all the remaining respondents indicating that conditions were "about the same" as they had been in the year before (2016). This compares to over 52% of this year's respondents rating economic conditions as "better" or "much better" than the year before.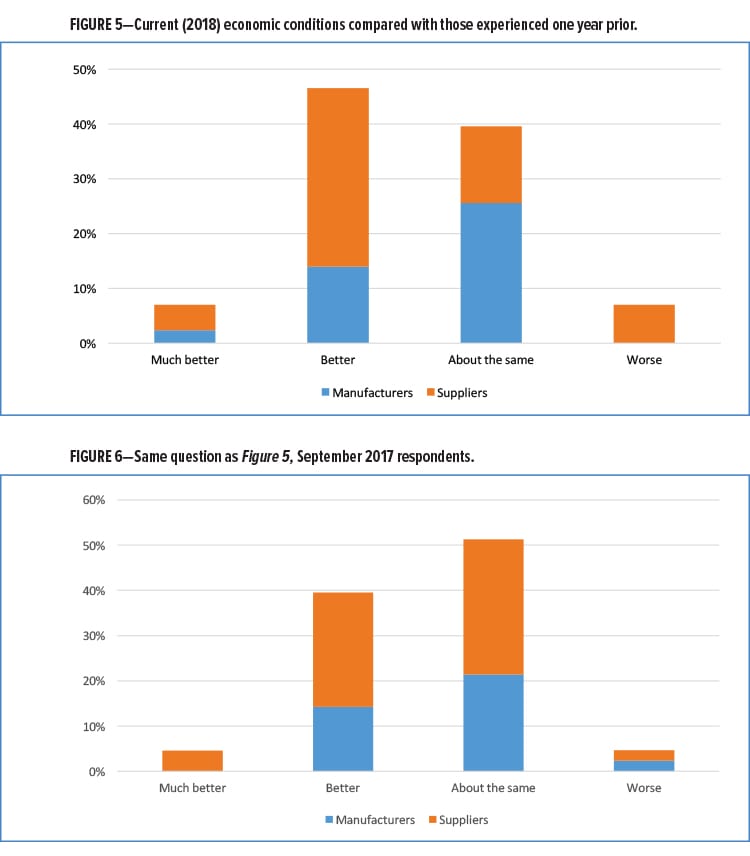 In addition to asking both coatings manufacturing and supplier respondents to compare overall current economic conditions to those their companies faced one year ago, the survey also asked respondents to look back two years and provide their views as to how they perceived current conditions in comparison to those experienced two years ago (2018 vs 2016). While over 70% of respondents overall indicated that conditions now were better or much better than two years ago, as Figure 7 shows, 80% of suppliers reported that to be the case, while a little more than 60% of manufacturers did so.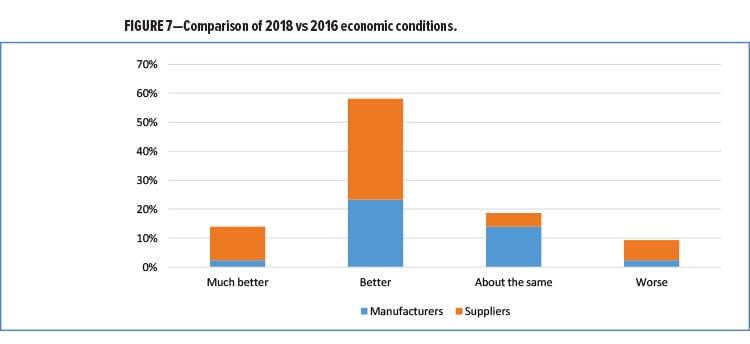 Both manufacturers and suppliers were again asked to report their company's current production volumes versus those of a year ago (with suppliers specifically asked to consider only that portion of their output produced for their coatings industry customers). Responses again generally showed solid year-over-year growth, with suppliers expressing a noticeably more positive view on this topic.8 As shown in Figure 8, more than 80% of this year's supplier respondents reported increases in current production volumes over those of a year ago, while fewer than half of manufacturers reported production growth exceeding 1% during the same timeframe. These manufacturer responses were similar to those to the same question in the 2017 survey (Figure 9), in which most manufacturers reported sales either being up 1–5% or "about the same."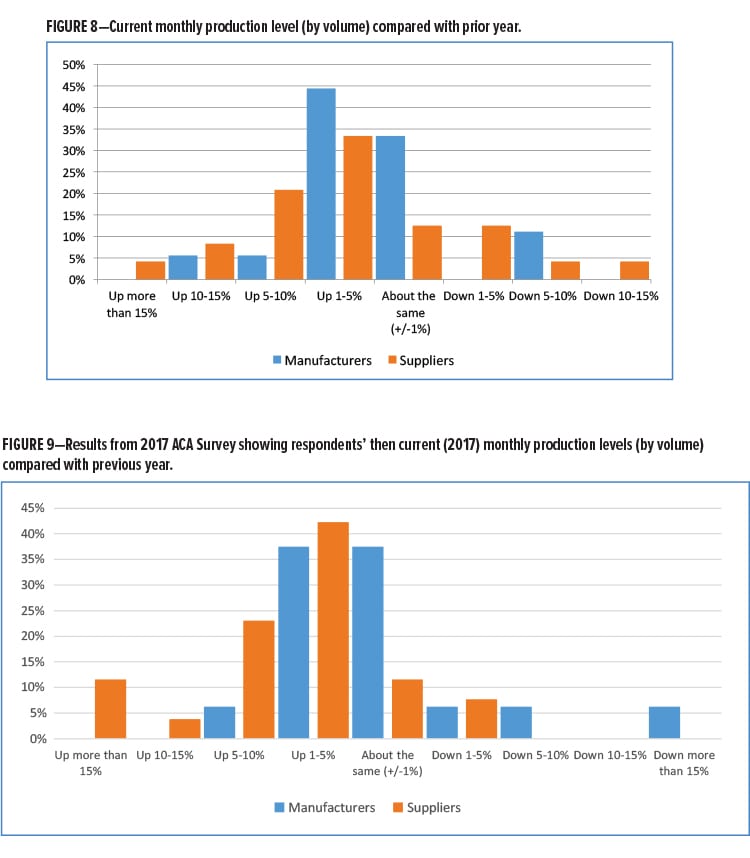 Future Expectations Remain Optimistic
Survey respondents were asked to provide their current projections for their company's sales (both in dollars/value and gallons/volume) for 2019 as compared with 2018.9 In this year's survey, both supplier and manufacturer views for their companies in 2018 were relatively bullish, with virtually all suppliers seeing their company's sales growing over the next year, along with the majority of manufacturers (Figure 10).
As has traditionally been the case in this survey, respondents showed somewhat less optimism about the industry as a whole than they did about their own companies. Although participants predicted a slightly lower level of growth for the industry than they did for their firms, they still predict relatively strong industry growth. A majority of respondents foresee the industry growing overall at a rate between 2 and 5%, although in this year's survey, coatings manufacturers were slightly less optimistic than suppliers, with roughly one third seeing flat production in the coming year (Figure 11).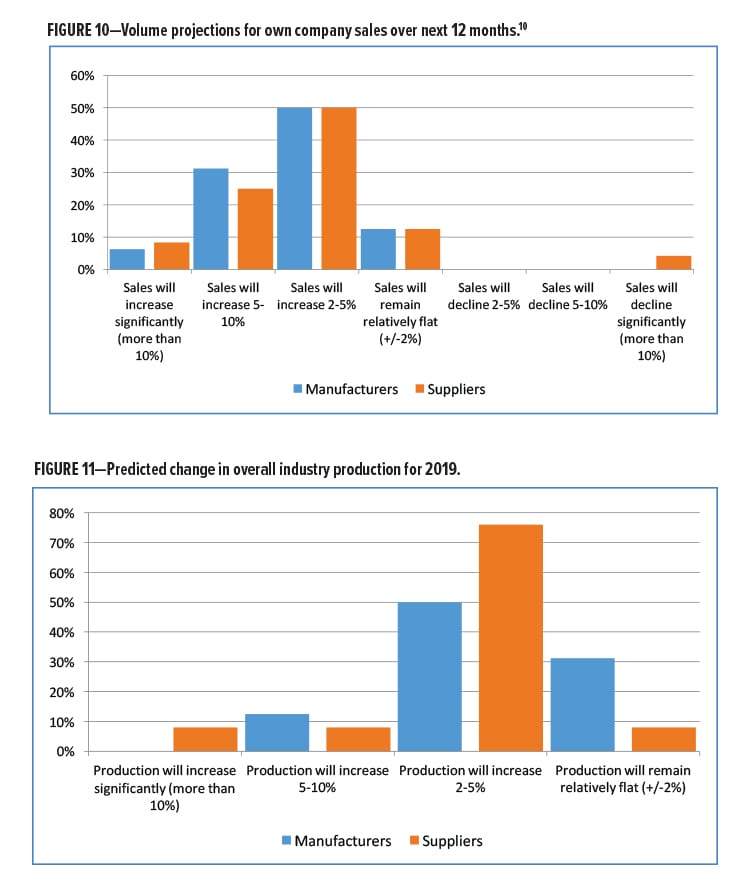 Perception of Risks to Company Focus on Raw Materials
As in previous years, respondents were asked to identify the top risks to their company's financial well-being over the next 12 months. Virtually all coatings manufacturing respondents identified raw material costs and availability as concerns, with 63% identifying raw material shortages as a concern and virtually all respondents raising concerns about raw materials price inflation. Additionally, nearly 70% noted concern about increased tariffs on raw material imports. Suppliers' perceptions of risk were similar, with 75% noting raw material or feedstock shortages as a risk, with nearly 30% identifying the risk that they would be unable to fill customer orders. Over 83% of suppliers expressed concern about tariff and trade uncertainties as well. Raw material concerns are further reflected in the responses to a question inquiring about problems or difficulties in obtaining one or more raw materials during the past year, for which over 80% of coatings respondents reported shortages that led to products being placed on allocation and/or becoming completely unavailable.
Macroeconomic and other threats to the overall U.S. economy remain a concern to respondents. This year's survey included a new question identifying a new threat to the economy characterized as "trade wars/tariff and trade uncertainty," and of the respondents answering this question, over 70% of manufacturers and over 60% of suppliers identified that as the number one concern. Other notable threats to the economy were higher inflation for all, and federal reserve rate hikes for the supplier respondents in particular.
Responses regarding challenges and risks to their own company always provide interesting insight into the respondent's views about the year ahead. Suppliers and manufacturers were both presented with the same list of such challenges and risks, and interestingly, their perspectives varied a great deal, as demonstrated in Figures 12 and 13. In 2016, manufacturers viewed regulatory pressures as their biggest risk, but in the past two surveys, while regulations remained an issue, raw material pricing and availability, including the impact of tariffs on raw materials, was evidently the greatest risk for nearly all manufacturers. Suppliers were also concerned about supply chains, as nearly all respondents cited feedstock shortages and the inability to fill customer orders as major issues, although the most significant concern cited by suppliers was increased tariffs on raw material imports.11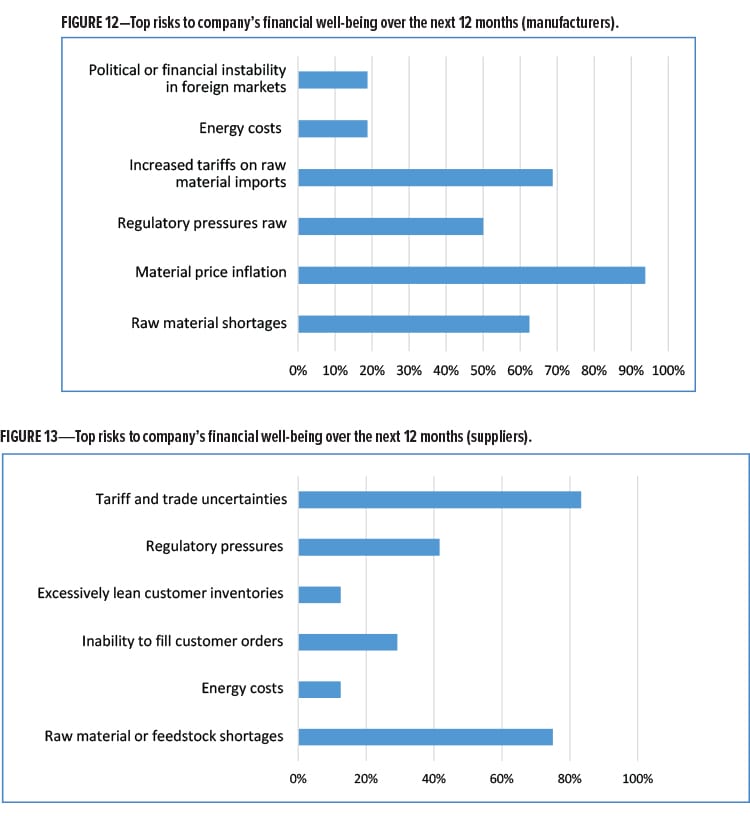 Major Economic Indicators for Coatings Demand
The survey respondents were asked to provide their outlook for three key markers of coatings demand: new home construction, existing home sales, and commercial property maintenance (Figure 14). They generally foresee moderate growth, with approximately two thirds of all respondents predicting growth in each of these sectors in the year ahead.
The respondents likewise foresee continued moderate growth in manufacturing in the coming year (Figure 15), although there is more pessimism about the key automotive sector than for the broader durable goods manufacturing sector, with more than 20% of participants forecasting a decline in the automotive sector in the year ahead.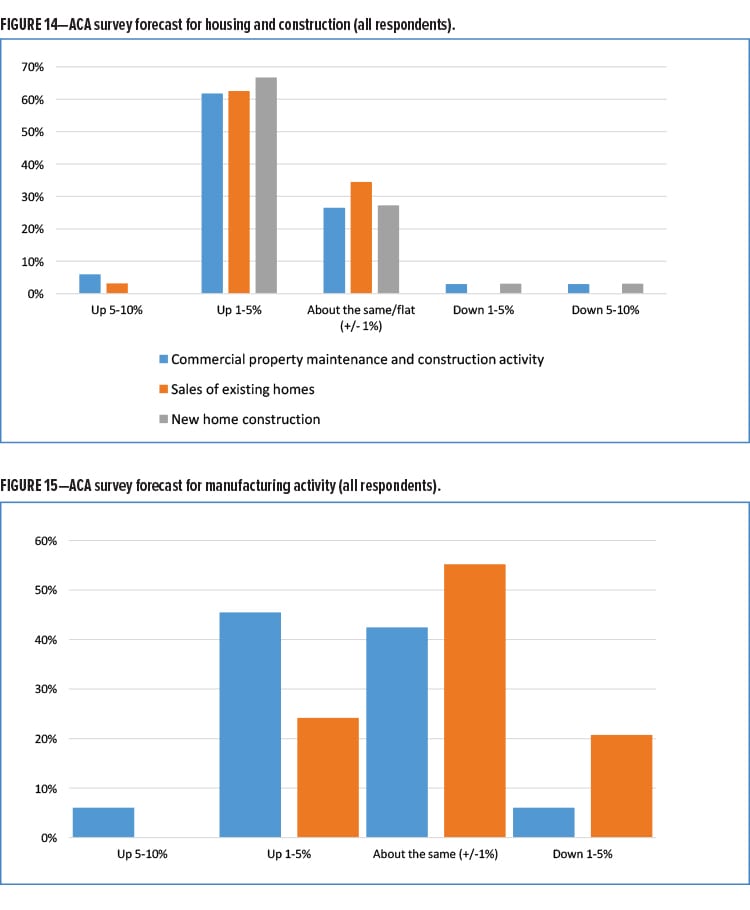 Impact of Tax Reform and Trade Policy
Two major policy developments affecting the business community have rolled out in 2018, tax reform and a newly aggressive U.S. government posture on trade issues. Congress began the year by passing major tax reform legislation, which had a major impact on individual and corporate taxation. While the full impact of this legislation will be seen as individuals and corporations file their returns for 2018, there is clearly an ongoing impact on corporate earnings, the treatment of non-U.S. income, and many other aspects of corporate
taxation. Respondents were asked to provide their views on the impact of the tax reform legislation on the industry.
Specifically, respondents were asked to provide their views on tax reform's effect on the macro economy (whether it has improved economic conditions) as well as its effect on business (whether it has enhanced corporate profitability). Half of respondents believe that the tax legislation was positive for both the economy overall and for businesses, but the remaining half was split in their perception about whether the legislation was positive for the economy or their firms, as shown in Figure 16.
Respondents were also asked to provide their views on the Trump Administration's recent decisions on tariffs and trade, including the new tariffs on many products originating in China, on steel and aluminum, as well as the ongoing NAFTA renegotiation. Perhaps because these policies are still evolving or not yet fully in place, nearly 40% of respondents opined that it was too early to determine the impact of these proposals, but the remaining respondents were closely split on the effect of these actions, with one third believing that they would be disruptive and damaging, while the remaining 28% believed that it is likely that these might ultimately result in an improved U.S. trade position (Figure 17).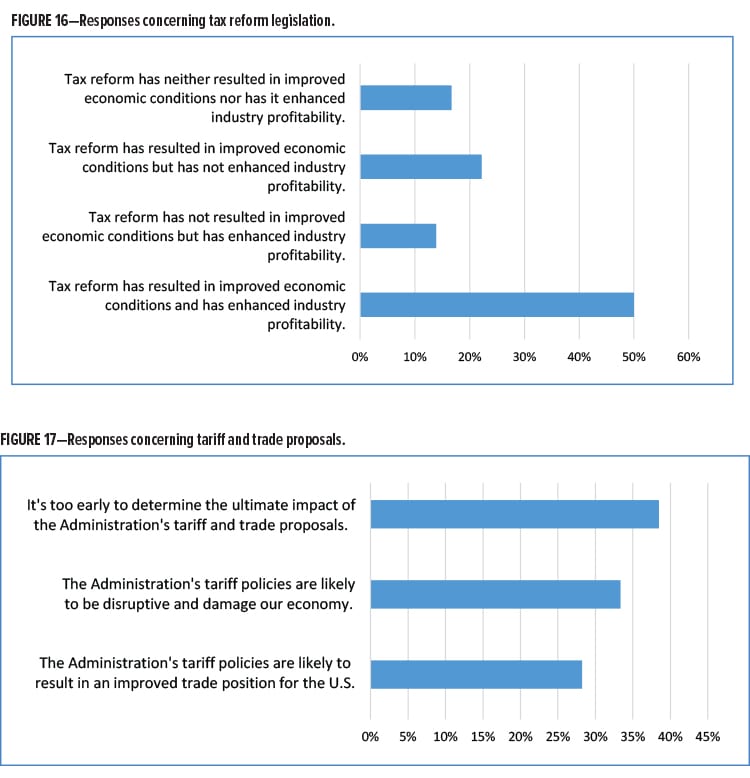 Conclusion
The results of this year's survey show continued positive industry views on current conditions, as well as anticipation of continued growth in the industry, building upon an unbroken string of growth that extends back to 2010.
Coatings demand is highly dependent on construction and real estate mobility, as well as manufacturing, and the fate of those key parts of the economy is critical to the health of the coatings industry. Should the U.S. economy continue its expansion, there is reason to expect that the coatings industry will continue to grow as well.
Endnotes
1 "NABE Panel Foresees Pickup in Economic Growth through 2018, with Boost from Fiscal Policy; Inflation Expected to Remain Mild," National Association for Business Economics, October 1, 2018.
2 Fannie Mae™ Housing Forecast: September 2018, accessed at http://www.fanniemae.com/resources/file/research/emma/pdf/Housing_Forecast_091718.pdf (October 15, 2018).
3 Press release: Projections reveal nonresidential construction spending to grow, American Institute of Architects (AIA), August 8, 2018. https://www.aia.org/press-releases/208406-projections-reveal-nonresidential-construct.
4 ACA conducted a similar survey of industry executives in 2017, as well as in previous years.
5 The survey was sent to a select group of senior executives who participate in the Architectural and Industrial Coatings Leadership Councils, and Industry Suppliers Committee, along with other selected members. The survey was conducted online, and all responses to the survey are completely anonymous. Note that because some ACA member companies have more than one representative serving on one of these committees, the number of respondents does not necessarily equate to the number of separate companies represented in this survey.
6 Source: The ChemQuest Group.
7 Unless otherwise specified, references to "suppliers" in this report also include distributor respondents.
8 In the 2017 survey, manufacturing respondents reported somewhat more positive results than did the suppliers.
9 Respondents were asked to provide forecasts for both volume and value. As there were no significant differences between the two forecasts, only volume data are shown.
10 Supplier respondents were asked to provide projections for sales to coatings manufacturers only.
11 In this year's survey, a significant number of manufacturer respondents (63%) reported that one or more raw materials they used were put on allocation or became unavailable, and in some cases, respondents reported that this resulted in inability to fulfill orders or required discontinuation of a product line.
CoatingsTech | Vol. 15, No. 9 | November-December 2018