Washington, D.C., June 27, 2023 — The American Coatings Association (ACA) presented its 2023 CoatingsTech Best Paper Award to Tahereh (Neda) Hayeri, Ph.D. candidate at Eastern Michigan University. Hayeri received the honor at the 2023 CoatingsTech Conference for her paper, "Thermally, UV, and Moisture Curable Novel Family of Versatile Oligomers," coauthored by Dr. Vijay M. Mannari, professor of polymers and coatings at Eastern Michigan University's School of Engineering Technology. Hayeri's research is directed by Mannari at Eastern Michigan University's Coating Research Institute.
The CoatingsTech Best Paper Award recognizes the best overall paper contributed to the CoatingsTech Conference and is accompanied by a cash prize.
Hayeri and Mannari's paper detailed research on a family of new-generation oligomers developed that is not dependent on a single-cure mechanism but is capable of curing independently by multiple cure conditions. This group of organosilane oligomers has been meticulously designed and synthesized with varying functional groups. The research group has been working on this system to explore the best application for each curing technique and optimize ingredients, curing conditions, and all other variables in the coating systems.
Using a variety of catalysts and unique chemistries, the research successfully demonstrated coatings cured by thermal curing, UV curing, as well as ambient-temperature curing. Notably, these cure processes can also be combined to afford plural-cure capabilities, which overcome many challenges associated with conventional UV-cure coating systems, such as oxygen inhibition at or near the surface, uncured shadow areas, volume shrinkage, and chemical adhesion on various surfaces. The cured coatings were characterized by FT-IR and the mechanical and thermal properties of the cured films were measured. Comparison of results for coatings cured with different curing techniques provides insight into the curing mechanism and its effect on film properties.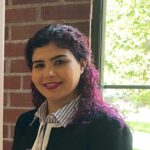 Hayeri received her Bachelor's and Master's degrees in Iran in chemistry and has worked in the coatings industry for more than 12 years. Her area of expertise is automotive coatings, with a focus on base-coat and clear-coat, and she is currently working on developing versatile oligomers using UV-sol-gel techniques for various applications.
Through a series of specialized lectures from notable industry experts and focused technical sessions, ACA's CoatingsTech Conference provides a forum for all levels of coatings professionals and students to participate and learn from each other. Embracing the theme, "Coatings Technologies: Adaptation in a Complex World," the 2023 conference featured the latest science and technology developments, including advance notice on technology-forcing factors to help industry set a sustainable trajectory for the future.
About ACA

The American Coatings Association (ACA) is a voluntary, nonprofit trade association working to advance the needs of the paint and coatings industry and the professionals who work in it. The organization represents paint and coatings manufacturers, raw materials suppliers, distributors, and technical professionals. ACA serves as an advocate and ally for members on legislative, regulatory, and judicial issues, and provides forums for the advancement and promotion of the industry through educational and professional development services.