June 26 – 28, 2023


Hyatt Regency Cleveland at the Arcade
Cleveland, OH
Coatings Technologies: Adaptation in a Complex World
Through a series of specialized lectures from notable industry experts and focused technical sessions, ACA's 2023 CoatingsTech Conference will offer an unprecedented opportunity for all levels of coatings professionals to participate and learn from each other. Embracing the theme, "Coatings Technologies: Adaptation in a Complex World," reflects current challenges and trends, from increased bio-sourcing, to supply-chain unpredictability and manufacturing onshoring. The 2023 conference will feature the industry's latest science and technology developments, including advance notice on technology-forcing factors to help the industry set a sustainable trajectory for meeting future market challenges.
Concurrent Short Courses
MONDAY, JUNE 26 | 8:30 am – 12:00 pm
This series of five specially designed short courses will focus on the fundamentals and emerging developments in coatings technology, and will be held concurrently. NOTE: These short courses will be held prior to the conference opening, and are not included in the conference registration fee.
Coatings "101": An Introduction
Ray Fernando
Arthur C. Edward Chair in Coatings Technology and Ecology
California Polytechnic State University
Designed for new coatings technology professionals to provide an introduction to a broad range of practical coatings science for all product categories. Led by notable scientists from industry and academia, the short course will advance application of knowledge on research, development and innovation challenges.
Radiation-Cured Coatings
Michael Dvorchak
Dvorchak Enterprises, LLC, Sponsored by RADTECH
This course will highlight the fundamental principles of free radical chemistry as it centers around 100% solids, UV-cure aromatic/aliphatic polyurethane, epoxy, polyester, polyether oligomers and their use with monomeric acrylates in combination with specific photoinitiators. The short course will focus on how these UV coatings are formulated and used/applied in new and emerging markets and examine some of the newest innovations that offer significant advances for green coatings technologies.
Smart, Active & Multi-Functional Coatings: How They are Conceived and Made
Jamil Baghdachi
Professor of Polymers and Coatings
Eastern Michigan University Coatings Research Institute
This short course will provide insight on bringing research to market, highlighting the tools and technology used to identify functional needs and apply coatings science to address them. From self-cleaning and direct-resistant technology, to superhydrophobic and ice-phobic films, this course will explore the basic research and high throughput assessment tools that assist in breakthroughs.
Low-Temperature-Cure Powder Coatings
Kevin Biller
President
ChemQuest Powder Coating Research
Considerable technical effort has been devoted to introducing low-temperature cure of powder coatings for wood-based substrates. As powder applications for medium-density fiberboard and hardwoods become commonplace, low-temperature powder coating technology is evolving as an option to finish a variety of non-traditional substrates, such as plastics, composites and molding compounds. Students will learn about emerging powder technologies and the application techniques that serve these innovative end-uses.
Corrosion-Resistant Coatings
Rigoberto "Gobet" Advincula
UT-ORNL Governor's Chair of Advanced and Nanostructured Materials
University of Tennessee, Knoxville
What principles govern the corrosion of metals, and how can protective coatings help in preventing corrosion? This short course will review the fundamentals of electrochemical processes, and the typical ingredients and formulation characteristics of anticorrosive coatings will be outlined and discussed.
Preliminary Program Schedule




(Subject to Change)
MONDAY, JUNE 26, 2023
8:00 am – 12:00 pm
Pre-Conference Technology Short Courses
12:00 – 1:00 pm
Welcome Luncheon & Keynote Address
1:00 pm – 5:00 pm
Conference Technical Sessions
5:00 pm – 6:00 pm
Networking Reception & Poster Session
TUESDAY, JUNE 27, 2023
7:30 am – 9:00 am
Continental Breakfast & Awards Presentations
9:00 am – 12:00 pm
Conference Technical Sessions
12:00 pm – 1:00 pm
Luncheon
1:00 pm – 5:00 pm
Conference Technical Sessions
5:00 pm – 6:00 pm
Networking Reception
WEDNESDAY, JUNE 28, 2023
8:00 am – 9:00 am
Continental Breakfast
9:00 am – 12:00 pm
Regulatory Session
12:00 pm – 1:00 pm
Luncheon
1:00 pm – 4:00 pm
Regulatory Session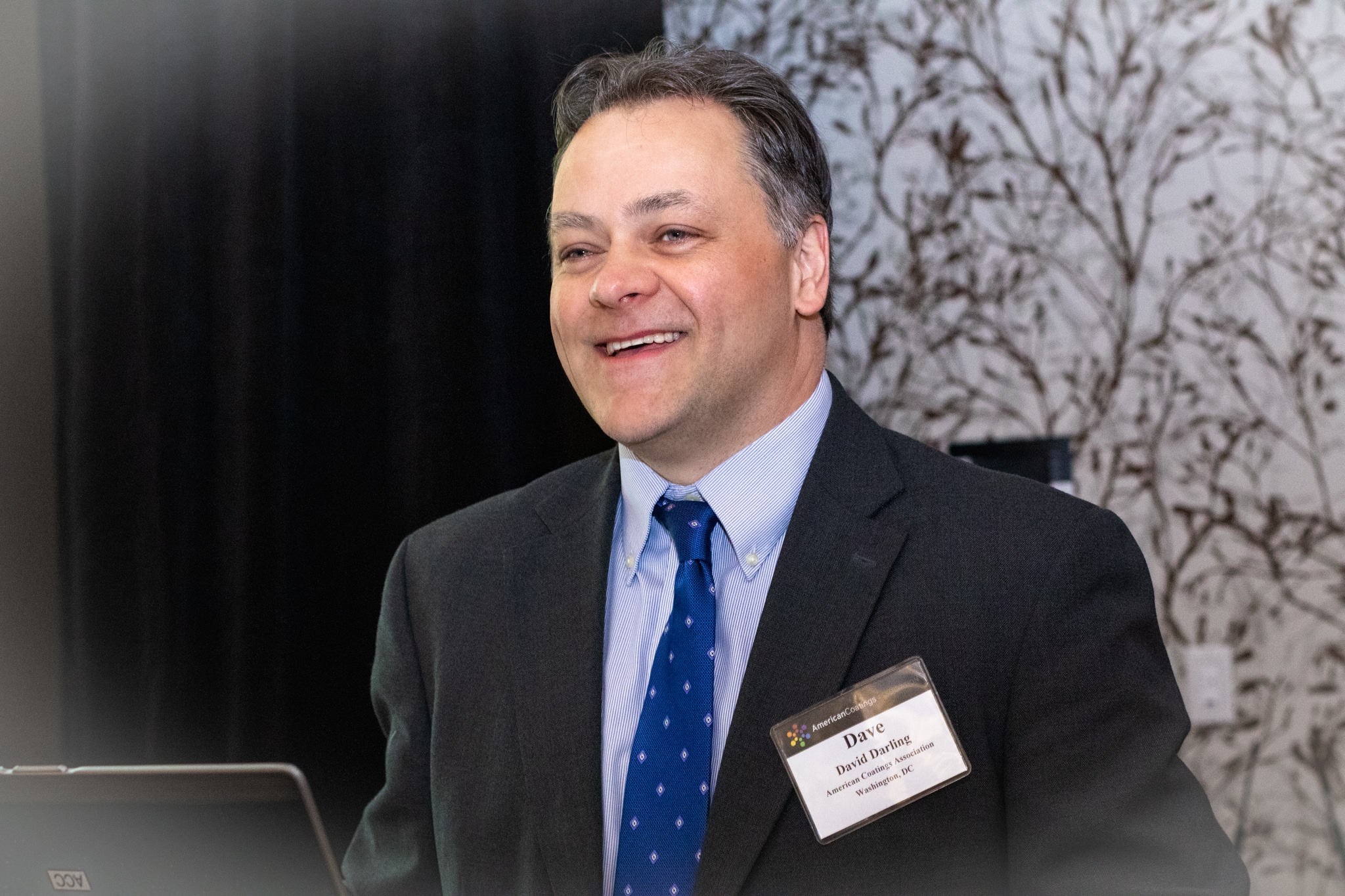 ACA will present its inaugural David F. Darling prize at the 2023 CoatingsTech Conference.
CoatingsTech Best Paper Award
The CoatingsTech Best Paper Award recognizes the best overall paper contributed to the CoatingsTech Conference, and is accompanied by a cash prize.
Mattiello Lecture Award
The Mattiello Lecture Award recipient is selected through a peer nomination process recognizing outstanding contributions to science, technology, and/or engineering related to the coatings industry, and the recipient delivers a lecture at the CoatingsTech Conference. Click here for more information and nomination criteria.
David F. Darling Prize
The inaugural David F. Darling Prize will recognize individuals who, through coatings science, technology, and research, demonstrate innovation in the areas of sustainability and environmental stewardship. For more information and nomination criteria, click here.
Sponsorship
ACA's 2023 CoatingsTech Conference offers myriad sponsorship opportunities for your company to maximize its exposure before industry's leaders. If you are interested in learning more about sponsorship opportunities, please contact ACA's Dorothy Brawner.
Click to view three (3) categories
$2,000| BRONZE SPONSORSHIP includes:
Company logo on main CoatingsTech Conference page
Listing in onsite program materials
Signage at event
$3,500 | SILVER SPONSORSHIP includes the above +
one (1) complimentary registration to attend one short course
$6,500 | GOLD SPONSORSHIP includes the above +
Linked company logo on CoatingsTech Conference registration page
one  (1) complimentary registration to attend full conference
Sponsorship Opportunities
Click to view varied opportunities
$3,500 | Meeting Room WiFi
MONDAY, JUNE 26
$3,500 | Short Course Continental Breakfast
$2,000 | Short Course Refreshment Break
$6,500 | Welcome Address/Luncheaon
$6,500 | Networking Reception & Student Poster Session
TUESDAY, JUNE 27
$6,500 | Continental Breakfast & Mattiello Award Lecture
$2,000 | AM Refreshment Break
$6,500 | Conference Luncheon
$2,000 | PM Refreshment Break
$3,500 | Networking Reception
WEDNESDAY, JUNE 28
$3,500 | Continental Breakfast
$2,000 | AM Refreshment Break
$6,500 | "EHS Drivers & Considerations" Session Luncheon
$2,000 | PM Refreshment Break
Conference Program
Scott Braithwaite
Director, Product Stewardship, Science & Technology
sbraithwaite@paint.org
202-805-4907