allnex: Formaldehyde-Free Crosslinker for Industrial Wood Applications
For allnex, sustainability is a commitment to our stakeholders and a key part of our continued success. We are embracing this responsibility with a dedication to pursuing a greener and more sustainable future with our customers and suppliers. Each of us has a tremendous responsibility to protect the planet in which we all live.
Read More…
allnex is aiming to "be the catalyst of a greener future." We have developed a portfolio management system to help the business grow in a focused and sustainable way. To us, greener technologies mean delivering safer, more environmentally-friendly solutions, replacing substances of high impact to the environment, utilizing sustainable and renewable raw materials, formulating products that allow for lower energy consumption and provide a longer useful life for the final products.
Sustainable resins are moving from marketing buzz to reality. Many of our customers intend on delivering greener products to the marketplace, and we've responded to support their efforts with high quality solutions. Our research & development team uses the principles of green chemistry to improve products. Today, a significant share of our R&D projects is focused on developing sustainable solutions for our clients. We continually strive to increase the percentage of non-harmful feedstocks in our products as well as to increase the breadth of products in which these materials are used.
One such resin is our CYMEL® NF 3030, which is a formaldehyde-free, water-based solution for the industrial wood coatings market. It is an acid-catalyzed no VOC crosslinker that can replace isocyanates. Typical urea and melamine resins off-gas formaldehyde, methanol and butanol on cure and isocyanates off-gas carbon dioxide when mixed with water. CYMEL NF 3030 is unique and environmentally friendly in that the condensation product from the crosslinking reaction mechanism is only water.
When formulated with VIACRYL® SC 6834 acrylic dispersion, this crosslinker provides excellent early property development (print resistance, film hardness), excellent pot life, good film appearance and cures at ambient temperature thus lowering energy costs. The coatings can be sanded in as little as 30 minutes, allowing for faster recoat and cycle time. CYMEL® NF 3030 delivers the desirable performance characteristics required of water soluble systems, while meeting the customer need for zero formaldehyde emissions and zero VOC's.
For more information, visit https://www.allnex.com/en/info-hub/sustainability.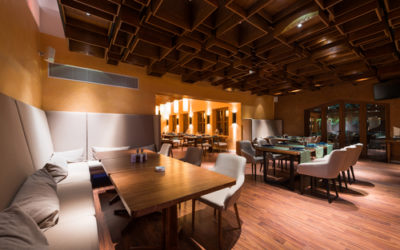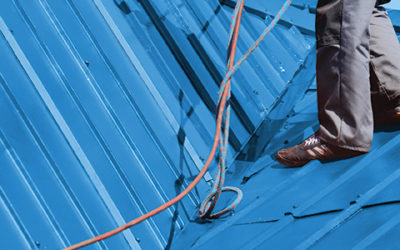 Axalta: Adding Years to Old Structures
Axalta coatings find many applications that contribute to sustainability goals in the course of new building construction and the restoration of existing structures. Axalta's water-based Hydropon™ spray-applied field repair coating can transform the appearance of an old roof or siding into looking brand new. 
Read More…
The product can extend a structure's years of service and provide a new color without affecting the environment.
Waterborne technology significantly reduces emissions compared to solventborne alternatives.
Air-dry technology means Hydropon can be applied in the field without the need for high temperature curing. This conserves resources by repainting rather than replacing structures and doing so without energy required to cure the coating.
Durable performance translates into the ability to withstand extended exposure to humidity, temperature extremes, UV light and acid rain.
A smooth finish enables newly coated surfaces to resist mold and mildew, staying clean longer and reducing maintenance costs.
A combination of cool and high reflectivity pigments reduces energy use by directing heat away from the building, lowering the burden on air conditioning systems.
Reflective properties and cool pigments also combine to help reduce urban heat island effect and lower ambient outside air temperatures.
Our challenge in developing Hydropon was its application and durability in the most severe environments. For example, painted metals in tropical, coastal or highly humid climates, which expose materials to salty sea fog, wind and strong ultraviolet light, are what Hydropon is especially designed for.
Learn more about Axalta's sustainability efforts here.
Covestro: Trendsetters in Sustainability
More and more, consumers are becoming aware that, for better or worse, their choices have a direct impact on the future of our planet. And many are willing to leverage this power to make a difference. At the same time, they are looking for greater comfort, style, and functionality in products they use every day. Covestro offers material technologies that allow consumers to enjoy the convenience and beauty of high-quality products—and still support the sensible trend toward sustainability.
Read More…
The textiles industry, for instance, is one area that has placed increasing importance on the use of sustainable solutions, from raw materials to manufacturing processes. To support the use of mindful materials, Covestro developed a portfolio of environmentally friendly products for textile applications. Known as INSQIN®, this technology can be used to formulate high-quality, water-based polyurethane (PU) coatings for colorful, sustainable textiles that also boast strong durability, superior elasticity, soft-touch layers, breathability and water resistance.
The benefits of creating functional textiles from Covestro materials are multifaceted. In addition to boasting low-odor and low-VOCs, thanks to water-based PU binders, textile coatings formulated with INSQIN® technology perform at least as effectively as solvent-based products. Furthermore, these customizable materials provide visual appeal and superior durability. They can be utilized by a broad range of industries—including sportswear, footwear, automotive and more.
In the automotive industry, for example, electric vehicles, car sharing, and tightening regulations on VOC emissions and sustainability are redefining the role and function of automotive interiors. With INSQIN®, a variety of coated textiles and innovative materials can be used to create a stylish and inviting in-car experience. This waterborne polyurethane technology enables more sustainable, flexible, lighter and durable coatings with a premium look and feel.
Outdoor clothing and accessory brands can also benefit from INSQIN® technology. When venturing outdoors, the art of staying dry is twofold: consumers want waterproof gear that offers protection from the elements, but they also want fabrics that allow water vapor from sweat to escape. In addition, buyers are now looking for clothing that is produced in a way that lessens impact to the environment.
Our waterborne technology is a more environmentally compatible solution for textile manufacturers to achieve waterproof performance with a soft, breathable feel that keeps consumers comfortable. It can be used to produce durable and flexible textile coatings for jackets, shoes, caps, gloves, backpacks and other items.
Switching to a waterborne PU technology like INSQIN® can have a positive ripple effect. For instance, using a waterborne process can cut the carbon footprint of PU materials by half. If the entire textile industry switched to this technology, the effect in one year would be like offsetting the emissions of 6 million cars—that's more than all the cars in London, Los Angeles and Hong Kong. Additionally, enough process water would be saved to meet the water use of nearly 340,000 people in China every day.
Waterborne PU technology is one of the many ways Covestro is developing sustainable solutions to make the world a brighter place.
Learn more at solutions.covestro.com.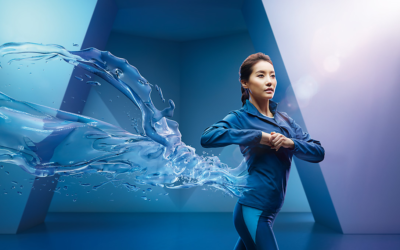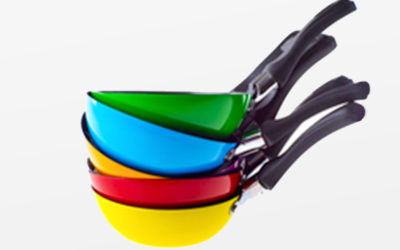 Evonik: Responsible Environmental Awareness
Products from the paint, printing inks and coatings industry are subject to increasingly stringent demands. Modern, new products enable Coating Additives to play its part in meeting current and future requirements for coatings. Coating Additives occupies a leading position especially in the areas of modern environmentally-friendly paints such as waterborne coatings, radiation-curing systems, solvent-free and high-solids formulations.
Read More…
Our latest sustainable highlight: New silicone resin for pots and pans – heat resistant and waterborne, with a unique combination of properties: sustainable, high performance, and easy to use.
Colorful cookware is right on trend. Bright reds, deep blues, and vibrant yellows – pots and pans are increasingly becoming a design feature rather than simply a functional tool. This gives a dual purpose to the external coating: It has to look good and withstand a fair amount of punishment.
Heat-resistant coatings for cookware and bakeware are certainly not new – but to date, they have been almost exclusively solvent-borne. Evonik's Coating Additives business line is now launching a more environmentally friendly silicone resin, which has been specifically developed for waterborne coatings.
The new product is a heat-resistant silicone resin that meets all the requirements of a sustainable formulation. It is free of organic solvents and features a significantly reduced VOC content from production to application.
It's suitable for food contact as part of the external coating. By eliminating critical ingredients, the silicone resin is not classified as hazardous according to GHS.
The combination of properties – high performance, ease of handling, and approval for food contact – makes this product unique on the market. Customers can enjoy greater freedom when formulating their coatings as the silicone resin can be combined with numerous pigments and can be used anywhere stoving coatings are used. This also includes, for example, toasters or other household appliances (electrical appliances). The working temperature resistance is 200°C. The high flashpoint of above 90°C offers corresponding benefits for storage and transport.
"In this silicone resin we offer a product that meets increasingly stringent regulations," says Maximilian Morin, head of the industrial coatings market segment. "The extensive and vigorous development has paid off and is an excellent example of our efforts to continuously expand our portfolio and offer more sustainable products."
You can find regulatory, technical, and safety data sheets on the product as well as more information about sustainability at Coating Additives on www.coating-additives.com.
Henkel's Innovative Pretreatment Process Drives Sustainability in Auto Industry
As a leading global provider of adhesives, coatings and sealants, Henkel invests in researching and developing solutions that will help its customers be more sustainable through changes in process, materials, and packaging.
Read More…
As sustainability requirements across the auto industry began to take shape in the early 2000s, Henkel began researching pretreatment alternatives that would reduce reliance on heavy metal
phosphates. A zinc phosphate metal pretreatment process has been the industry standard for many years, however research led Henkel to a zirconium oxide-based conversion coating, which offers a more sustainable alternative.
Henkel's innovative process first made its debut in 2007 on the Ford F150 truck. Today, more than four million vehicles are pretreated every year with Henkel's Next Generation Metal Pretreatment
process. The innovative process reduces the steps required from seven in a conventional metal pretreatment procedure to four, significantly reducing the automaker's carbon footprint. Environmental benefits also include:
➢ Elimination of heavy metal phosphates
➢ Up to a 90 percent reduction in sludge generation
➢ Up to a 50 percent reduction in water usage
In 2021, the process earned Henkel second place in the category of sustainable process in the 2021 Altair Enlighten Awards*, the auto industry's recognition of game-changing innovations in
sustainability and lightweighting.
Henkel's pre-treatment process supports the incorporation of more aluminum and other lightweight materials into vehicle design. Sustainable solutions like this play a key role in reducing the weight — or "lightweighting" — of both gas-powered and electric vehicles (EVs) and help the auto industry address environmental regulations around fuel efficiency and emissions, while providing
comfort and safety for the driver.
Currently, electric vehicles are roughly 30 percent heavier than traditional gas-powered vehicles. This is largely due to the weight of the battery, which spans the length of the vehicle body. The use
of more lightweight materials in EV manufacturing helps to offset the weight of the battery and increase driving range — a key selling point for consumers.
Henkel is committed to driving sustainability across industries through new innovative products and services. The company's ambitious goals include becoming climate positive by 2040 and reducing the environmental footprint of its production facilities by 65 percent by 2025.
View this video or read this news release for more information about Henkel's innovative pretreatment process for the auto industry.
To learn more, visit www.henkel-northamerica.com/brands-and-businesses/adhesive-technologies.
* The Altair award specifically recognizes Toyota's use of the Henkel process in production of the 2021 Tacoma and Tundra trucks (under the name Pallumina as trademarked by Nihon Parkerizing).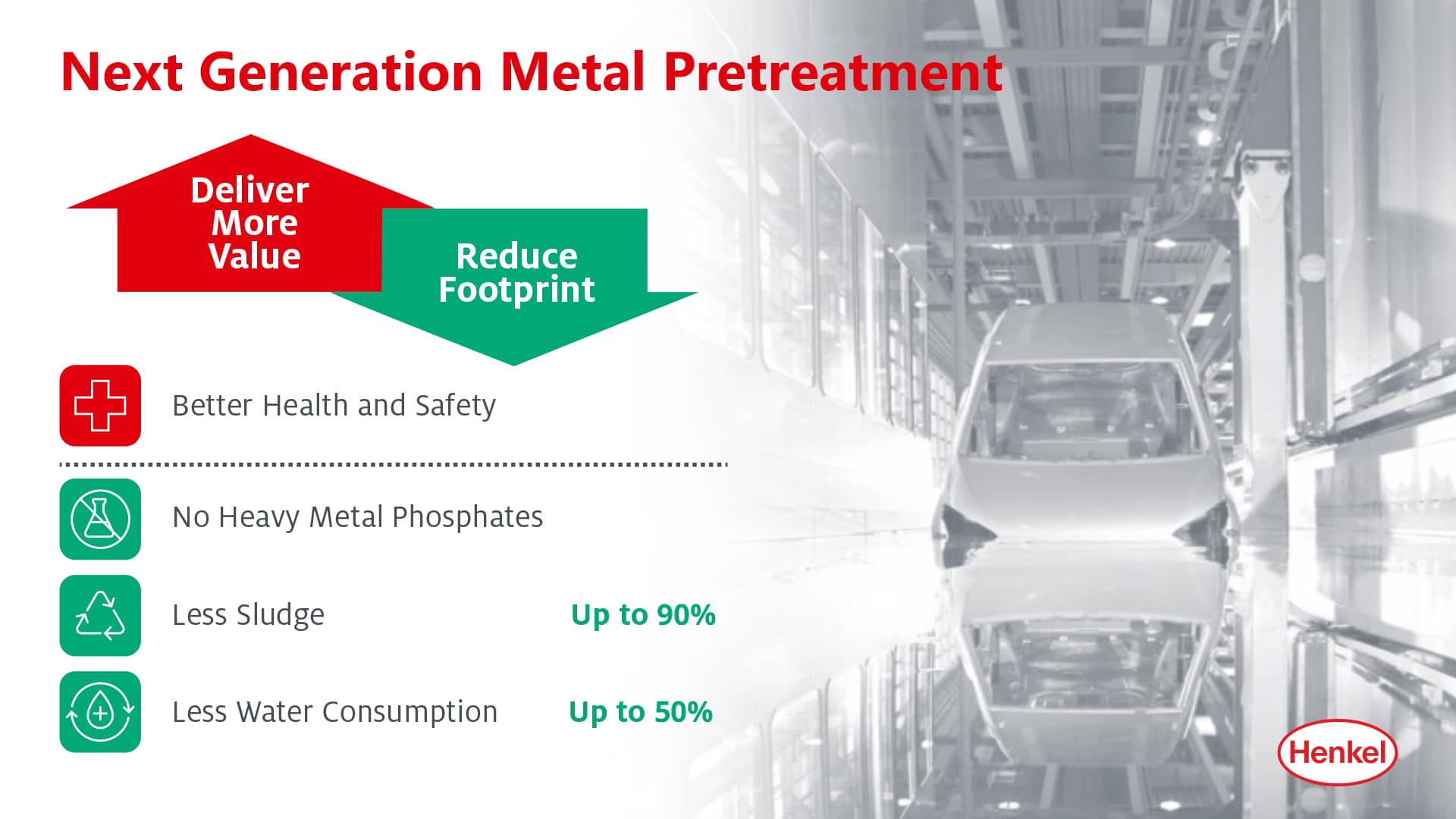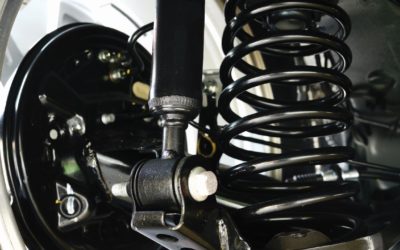 PPG: Innovative Powder Coating Extends Spring Life, Increases Recyclability
At PPG, we work every day to develop and deliver the paints, coatings and specialty materials that our customers have trusted for more than 135 years. Through dedication and creativity, we solve our customers' biggest challenges, collaborating closely to find the right path forward
Read More…
We are committed to using resources efficiently and driving sustainability throughout our entire value chain to preserve and protect the environment in which we operate.
Environmental stewardship has driven PPG's research and development for more than a century. In the last decade, a strategic realignment to focus our product portfolio almost entirely on paints and coatings has enabled a concerted and disciplined approach to developing sustainably advantaged products and processes that provide environmental and other sustainability benefits to our customers.
Our coatings, materials and technologies reduce corrosion, extending the life of our customers' products. We also help our customers reduce energy usage and emissions, protect their employees and minimize waste and water consumption through the use of our products.
One major advancement in corrosion and chip resistant coatings technologies is the PPG ENVIROCRON® Extreme Protection powder coating system, which is formulated to provide superior chip and corrosion resistance to extend the life of high-tensile automotive coil springs on original equipment manufacturer (OEM) vehicles. The dual-coat process features a sustainable approach and an entirely new impact-absorption mechanism for chip mitigation.
Based on a patent-pending technology using reclaimable materials, PPG Envirocron Extreme Protection powder coating system surpasses 150 cycles of testing as prescribed by SAE International's J2334 Laboratory Cyclical Corrosion Test, which is the automotive industry's most stringent performance standard for this type of testing.
A key aspect of PPG's product development process is selecting sustainable and safe materials to manufacture a product. We actively seek to avoid using chemicals of concern in new products, and we have been successful in removing these substances from many existing products through reformulation. For example, PPG Envirocron Extreme Protection powder coating is specially formulated without fiberglass, and is easier to reclaim and recycle compared to a similar competitive product. Additional benefits include exceptional application transfer efficiency, consistent film builds on spring surfaces and a wide application window for ease of use.
To learn more, visit www.ppgindustrialcoatings.com.
Disclaimers
While reasonable efforts have been made to include reliable data and information on this page, ACA cannot assume responsibility for the validity of all facts, data and materials contained herin, the consequences of their use, or any translation of the contents of these stories. The information contained on this page was created and/or compiled by ACA or its agents and is offered solely to aid the reader. To the fullest extent permissible under applicable law, ACA and its member companies do not make any guarantees, representations or warranties of any kind, express or implied, with respect to the accuracy and completeness of the information contained herein and assume no responsibility for the use of this information. ACA and its member companies do not assume any responsibility to amend, revise, or update information contained herein based on information which becomes available subsequent to publication.