What's Ahead for Automotive Powder Coatings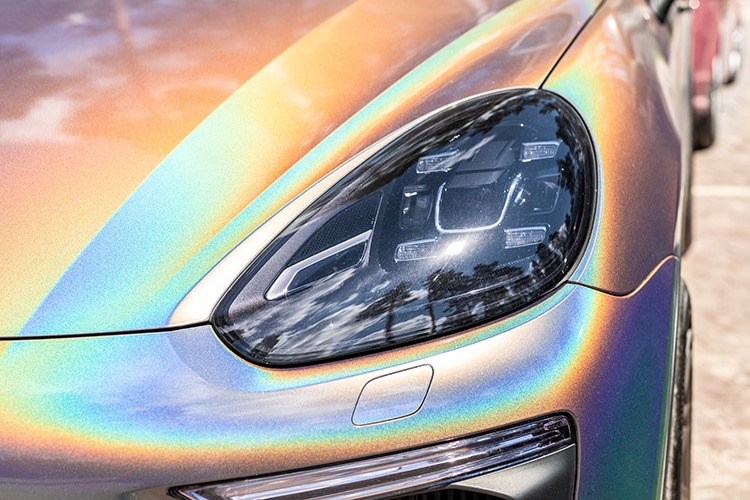 By Cynthia Challener, CoatingsTech Contributing Writer
In addition to their excellent durability and corrosion protection, powder coatings are attractive because they are free of volatile organic compounds (VOCs) and it is possible to recover and reuse nearly all over-sprayed material. These properties make them ideally suited for use in many automotive coating applications.
Powder coating is applied to many automobile parts, including aluminum wheels, interior and exterior trim, suspension components, and roof racks. It is not applied to door and body panels, but it is making inroads in this area.
Powder coatings are used in automotive applications because of their enduring abrasion and corrosion resistance. In some applications, powder coatings tend to maintain their appearance and performance properties longer than liquid coatings. Powder coatings are also formulated for use in many applications with different color and finish requirements, including metallic effects and high- and low-gloss color, and clear finishes.
Many different colors can be applied, creating unique special effects in a single coating layer. Shorter cure time often reduces energy consumption and eliminates VOC emissions, which is more sustainable and operator friendly. In addition, many powder coatings are single layer and offer improved productivity over liquids that are used in multilayer coating systems. Up to 95% of the overspray in a powder coating booth can be collected for reuse.
"There is a big push in the automotive sector to increase the sustainability of all aspects of car manufacturing; powder coatings have many advantages in this respect," says John Vukanovich, marketing manager for TIGER Drylac North America.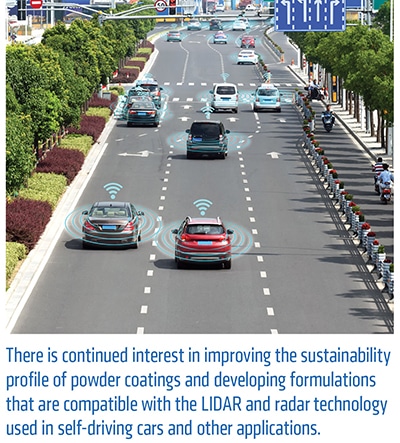 Powder coatings are applied via an electrostatic charge and then cured with heat (typically 160-200 °C). Unlike liquid coatings, as powder is applied, it does not get saturated or overdiluted. This yields a smooth surface finish on the part. Polyester, epoxy, urethane, acrylic, and hybrid powder coatings are employed based on the substrate and the specific needs of a given application—abrasion resistance, high-temperature insulation, or corrosion resistance. For instance, polyester powder coatings are available in super-durable formulations that have applications where there is extended exposure to harsh conditions, according to Vukanovich. Additives are used to further boost anti-scratch performance, and stone-chip and chemical resistance.
Powder coatings were first used on under-the-hood components to leverage the high-performing and long-term protection they afford. One of the first applications was to protect coil springs, which was soon followed by others, such as stamped-steel brackets and tubing, and eventually engine blocks and cylinder heads. The latter eliminated the need for careful masking and liquid coating of assembled engines. Instead, the blocks and heads are immediately powder coated after they are cast without the need for extensive pretreatment, yielding parts with a higher-quality finish.
Today, powder coatings are also used on cast-aluminum intake manifolds and fuel-injection systems, providing both protection and an attractive appearance. They can also be found protecting brake components, radiators, shock absorbers, oil filters, and battery trays.
Powder coatings are also now widely used on exterior car components, perhaps most notably to protect cast-aluminum wheels (aluminum wheel rims), replacing high-VOC, solvent-based coatings. They are ideal in this application because wheels are exposed to water, snow, ice, road salt, and sand. Powder coatings can also help reduce the number of rejected wheels in a production line.
Many interior and exterior trim parts also benefit from the appearance and protection afforded by powder coatings. Rear-retracting cargo housings are an example of interior trim. Seat and door frames are also powder coated, according to Vukanovich. Black matte or gloss powder coatings are applied to exterior grilles, emblems, and window trims. Roof racks and running boards are also often protected with textured powder coatings.
They are also used on door handles and other steel and aluminum moldings. For some luxury cars, primer powder coatings are now used on vehicle bodies to promote adhesion and resist corrosion, and in many cases, they are used on the leading edge of sheet metal and rocker panels to protect against chipping.
They are also used as base coatings on ATVs, snowmobiles, motorcycle frames, and bolt-on aftermarket off-road accessories. High-heat-resistant powder coatings can also be found on exhaust and brake systems.
During the first several months of the COVID-19 pandemic, demand for automobiles was dramatically reduced, leading to lower demand for all types of automotive coatings, including powder formulations, according to Vukanovich.
Raw material shortages and global logistic delays added further constraints. Companies such as TIGER Drylac have worked to become more regionally independent and less globally dependent as a result.
"We are taking an 'in the region, for the region' approach to reduce our supply chain risk," Vukanovich says.
The pandemic has fueled some innovation, particularly with respect to antimicrobial powder coatings. There is also continued interest in improving the sustainability profile of powder coatings and developing formulations that are compatible with the LIDAR and radar technology used in self-driving cars and other applications.
Other areas of exploration include special effects, such as flip-flop color and three-dimensional metallic technologies. Powder coating producers would also like to develop solutions suitable for more widespread use on larger car components, such as thinner coatings that do not negatively affect light-weighting goals, according to Vukanovich.
In addition to TIGER Drylac, AkzoNobel, PPG, and The Sherwin-Williams Company, among others, provide a wide range of powder coatings to the automotive sector.
CoatingsTech June 2021 | Vol. 18, no. 6