2019 European Coatings Show Draws Record-Setting Participation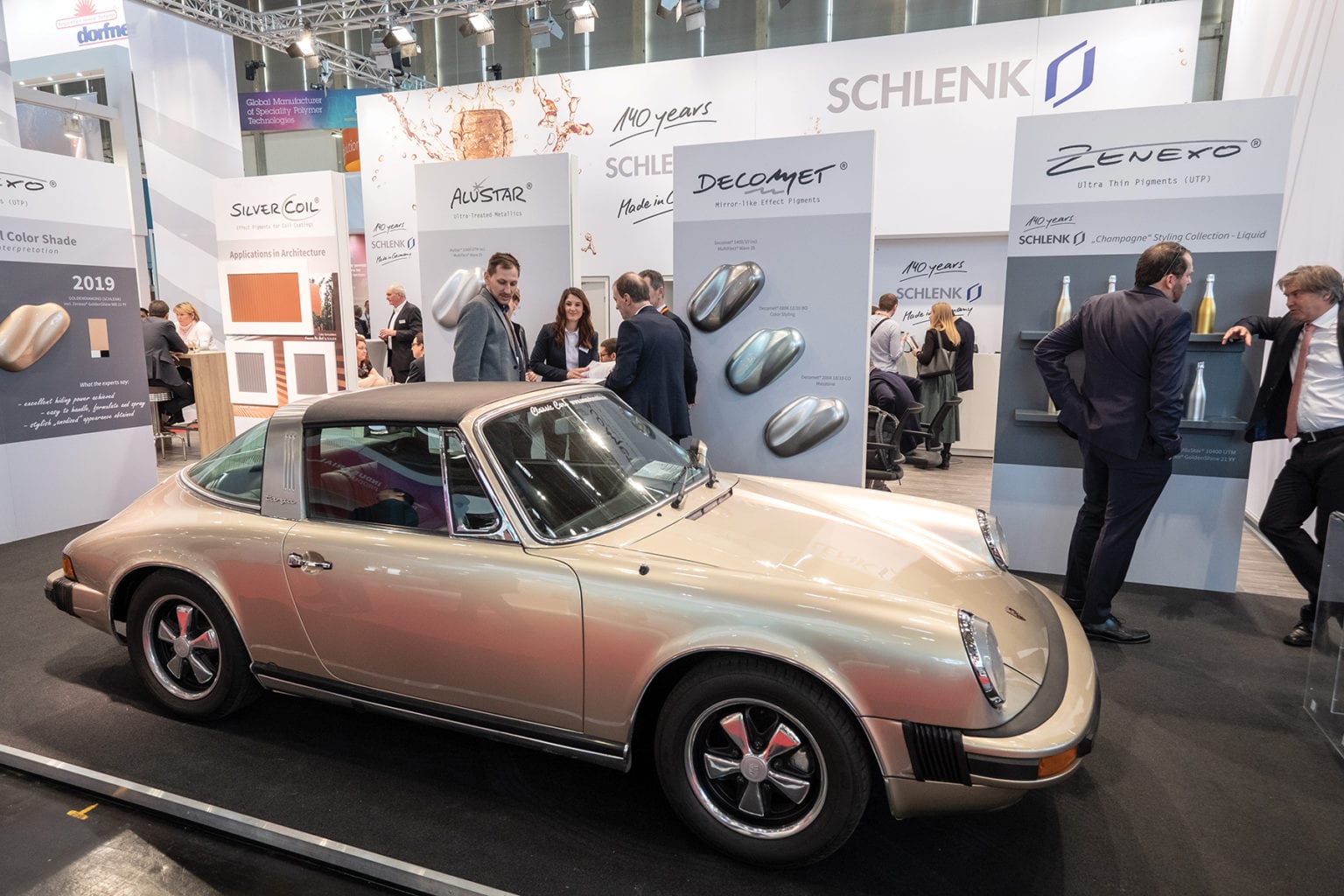 Attracting visitors from over 46 countries, the 2019 European Coatings Show once again surpassed previous records, drawing over 30,500 coatings professionals to the city of Nuremberg from March 18–21. With an expanded exhibition area that spanned eight halls, the 2019 ECS featured 1156 exhibitors from 46 countries, showcasing the latest advances in raw materials, laboratory and production equipment, and testing and measurement devices. A new feature of the ECS was the joint Start-Up Area. First-time exhibitors from companies not older than five years and with fewer than 35 employees were invited to take part and introduce their products and services to attendees. Additional show highlights included the many product presentations that served to enhance the visitor experience as suppliers provided insights into the latest innovations.
In conjunction with the trade show, the European Coatings Show Conference also drew from a wide international audience, with nearly 800 participants from 54 countries. Industry experts spoke on a wide range of topics critical to the industry. With visitors seeking environmentally friendly solutions that also offer high performance, it was no surprise that major trends highlighted during the European Coatings Show and Conference included sustainability, improved performance, and digitalization.
2019 European Coatings Show Conference Highlights
The focus on sustainability was evident at the European Coatings Show Conference, held on March 18–19. Prior to the conference were 10 tutorials that provided attendees with a basic introduction to major technologies.
The conference plenary session offered a keynote address by Markus Antonietti, director of colloid chemistry at the Max Planck Institute of Colloids and Interfaces. He spoke on "Making Coatings More Sustainable and Affordable: Biorefinery Approaches to Monomers, Solvents, and Polymers." Antonietti focused on attaining affordable sustainable coatings, discussing his approach for using waste biomass. He asserted that hydrothermal reforming and refining will allow a way to convert this waste into monomers and polymers.
His talk led into the full conference program, which was divided into 24 sessions, offering over 140 presentations. Popular sessions explored such topics as waterborne coatings, dispersing technology, polyurethanes, microbial protection, architectural coatings, roof and façade paints, and powder coatings.
A highlight of the conference was the presentation of the European Coatings Show Award for best paper. The prestigious award was given to Dr. Christopher Miller, senior global research director of Coating Resins at Arkema. His paper, "Developing a Deeper Understanding of the Effect of Latex Design Parameters on Final Coating Film Properties," was co-authored with Arkema colleague, Dr. Wenjun Wu.
ECS: Focus on Sustainability
The detailed discussions on environmentally friendly technologies at the conference set the stage for the European Coatings Show, which opened on March 19. The need for the coatings industry to play an active role in finding solutions to sustainability challenges was an overarching theme of the event. Based on the technologies and products offered at the ECS, the industry is proving that it is more than up to the task.
DSM Resins and Functional Materials, for example, demonstrated its sustainability commitment by setting a series of ambitious targets, including reducing GHG emissions by 30% in absolute numbers by 2030; reducing all emissions-to-air from operations by 40% by 2020; and having zero water to landfill by 2020. Moreover, the company committed to ensuring by 2030 that at least 30% of the raw materials it sources will be bio-based and/or recycled materials. DSM Resins and Functional Materials president, Helen Mets, noted, "We will support our clients' efforts to become market leaders in sustainable green solutions through use of safer, low-CFP, and renewable solutions from our product portfolio. And," she said, "we also will advocate a faster transition by the industry to a sustainable coatings ecosystem." One of the products that the company introduced at ECS was a new, bio-based self-matting resin, Decovery® SP-2022 XP. Used to create low-gloss finishes on wooden and seamless flooring, the resin offers functional performance at a much-reduced environmental impact.
Evonik, emphasizing the slogan of "One partner. Many experts," featured a variety of company products and brands to address industry sustainability challenges, including curing agents designed to help users meet increasingly stringent environmental regulations. They include Anquamine® 728, an aqueous curing agent for epoxy floor primers and coatings; Ancaminde® 2769, which allows for excellent corrosion resistance to ensure long-term object protection; and Ancamine® 2878, which achieves fast curing times, even at low and medium temperatures. In addition, the company highlighted environmentally friendly crosslinkers, such as VESTANAT® EP-EF 201, a silane/PUR hybrid adduct for single-component clear coatings that is suitable for DIY applications and assures a particularly high quality appearance of wood coatings.
BASF demonstrated its ability to break new ground in the circular economy with its "Chem-Cycling" project, which promotes turning plastic waste into raw materials. Using thermochemical processes, plastic waste can be utilized to produce syngas or oils. The resulting recycled raw materials can be used as inputs in production, thereby partially replacing fossil resources. Although not yet commercially available, the company noted that pilot products have been manufactured and certified with customers and partners in the value chain. Dr. Martin Brudermüller, chairman of the Board of Executive Directors and chief technology officer of BASF SE, commented, "With our ChemCycling project, we are using plastic waste as a resource. In this way, we create value for the environment, society, and the economy. We have joined forces with partners throughout the value chain to establish a working circular model." Along with describing this project, BASF experts introduced new raw materials for the coatings, paint, and construction industries designed to contribute to sustainability efforts.
Paying close attention to the circular economy megatrend, allnex highlighted its own sustainability strategy, including the launch of the global initiative, "Primavera Day" at the ECS. The company-wide initiative celebrated the start of a renewed focus on sustainability, referencing the 17 Sustainable Development Goals (SDGs) adopted by world leaders in 2016. On March 21, the company's 33 production sites took part in the event, learning about various activities that will support and promote SDGs going forward. With that goal in mind, the allnex exhibit at ECS offered an overview of recent innovations across all market areas, such as renewable and recycled based resins, low temperature enabling powder coating and liquid crosslinking resins, and formaldehyde-free crosslinkers. According to CEO Miguel Mantas, "We want to contribute to a greener world by making circular thinking the core principle of how we do business. We aim to achieve this by designing products
with enhanced longevity or intended for multiple uses, increasing resources' productivity, as well as reducing the use of finite sources."
At the ECS 2019, Arkema celebrated the 80th anniversary of its strategic brand, Synolac®. According to the company, this history illustrates its long-standing commitment to bio-sourced and renewable materials, culminating in the recent launch of a new generation of alkyds.
Celebration of Cities
Emphasizing the real-world applications of sustainable products, several companies focused on the theme of sustainable cities. According to Jurgen Stegmann, head of technical marketing for Coatings at Clariant, "The need to create sustainable cities already touches the paints and coatings industry, but we'll see its impact increase." The company's exhibit incorporated virtual reality, allowing visitors to wander through a virtual city that included an apartment, a street, and a harbor. Wearing a helmet fitted with sensors, participants could move through the 3D world, where the products that can be found in daily life were highlighted. Two such products from Clariant included a nonhalogenated flame retardant, Exolit® 855, which allows coatings manufacturers to create transparent fire- and (in combination with a transparent topcoat) water-resistant intumescent coatings for all kinds of wood, and UV absorber Hostavin® 3315 DISP, which is designed to retain the appearance and quality of exterior woods over the long-term, providing sustainable, label-free UVA protection to waterborne clearcoats and paint systems.
At the Covestro booth, visitors were invited to the company's "City of Sustainnovation" where current developments in raw materials for coatings and adhesives were on display. According to Covestro, large metropolitan areas are an important driver for innovation, but they also represent a major challenge for the sustainable management of resources, climate, and the environment. "In addition to water-based and other low-VOC coatings, we are focusing on bio-based raw materials and, for the first time, biodegradable products," stated Michael Hellemann Soerensen, head of Commercial Operations in the Coatings, Adhesives, Specialties segment in the EMEA/LATAM region. "Product safety and industrial hygiene play an important role, as does increasing the productivity of manufacturing processes."
Environmentally Friendly Solutions
At the BYK booth, the theme was water—and visitors enjoyed the beautiful waterfall built into the booth, representing the industry's focus on water-based products. According to BYK, more than 50% of their R&D activities are aimed at developing additives to help formulate environmentally friendly products. One such additive highlighted was RHEOBYK-440, a liquid rheology product based on a polyamide to improve anti-sagging and anti-settling properties as well as the effect pigment orientation in aqueous coating systems. Also introduced was BYK-3456, a fluorine-free, silicone-containing additive designed to improve substrate wetting and leveling in aqueous systems and solvent-free UV coatings.
King Industries also highlighted additives for waterborne systems. The company's line of K-Flex® low-VOC coalescents are designed to offer increased scrub resistance, even at ultra-low VOC. In addition, the company highlighted K-Flex PG, a coalescent for Ecolabel paints with no hazard communication labeling requirements.
Burgess Pigment Company spotlighted its new thermo-optic pigment for paints and coatings, OPTIWHITE® UF. The TiO2 extender is derived from ultrapure hydrous feedstock, further processed using flash calcination. It is designed to provide premium brightness, small particle size, excellent opacity, and up to 30% TiO2 removal, the company stated.
Troy also used the opportunity at ECS 2019 to introduce visitors to its products and value-added services, such as the company's TMMA microbial management program, and worldwide field testing. On display were Troy's dry-film preservatives for Europe, including its broad line of new Controlled Release products based on next-generation microencapsulation technology. The range of Polyphase® and Troysan CR preservatives is designed to offer highly effective protection against fungi and algae, with long-lasting performance.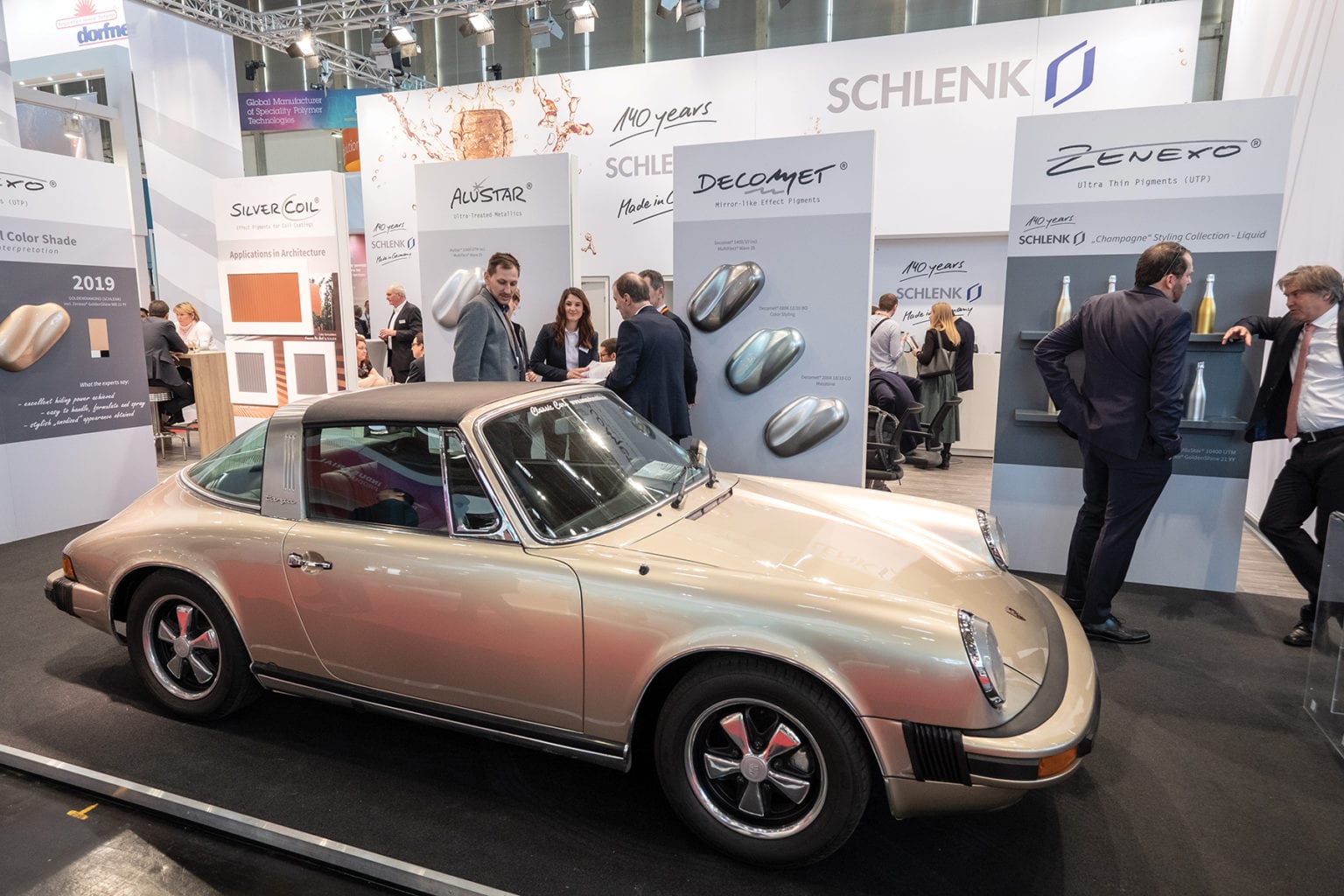 At Nouryon, experts noted that the company invests significantly in R&D to drive growth by creating more profitable, safer, and more sustainable products and processes. Exhibiting at the ECS under the Nouryon name for the first time since it separated from AkzoNobel in October 2018, the company introduced Ethylan® EF-60, a VOC-free freeze/thaw stability additive for waterborne coating systems. According to Nouryon, the additive replaces standard solutions such as propylene glycol, PEG, and EG. In addition, the company highlighted its latest polymer powder developments, focusing on Elotex® HD2040 hydrophobic redispersible polymer powder with enhanced capillary water uptake properties for external thermal insulation composite systems (ETICS).
Product stewardship was a primary theme at the Elementis booth. "Elementis is committed to addressing the ongoing demands for waterborne and environmentally sustainable products and solutions among our end users in Europe and throughout other parts of the world. Our formulators are focused on removing preservatives from additives for industrial and architectural paints and coatings, with a goal of moving towards preservative-free additives," commented Luc van Ravenstein, vice president, Global Coatings & Energy. Among the products introduced at ECS 2019 was SUPREAD® 2059, a silicone-free, low-foaming wetting agent for aqueous coatings that provides multi-functional surface wetting performance while minimizing foam generation in both the coating manufacturing process and application. Also featured was NUOSPERSE® FX 7500W, a wetting and dispersing agent for industrial waterborne paints and aqueous inks, which offers a viscosity reducing effect, while improving color strength of organic and inorganic pigments.
During ECS 2019, Sun Chemical's Performance Pigments and Advanced Materials divisions highlighted a full spectrum of pigment and resin technologies, including a new aluminum preparation for powder coatings. Sun's new Benda Lutz® COMPAL PC, a highly concentrated aluminum preparation for powder coatings, comes in a groundbreaking pelletized form, eliminating dusting to minimize housekeeping, simplifying equipment clean-up, and improving worker exposure. The pellet form is not classified for shipping and storage in the EU and is shipped in eco-friendly compact bag-in-box packaging.
WACKER unveiled a number of new products for applications in paints and coatings, adhesives, and construction. Highlighted products were the focus of 15-minute presentations offered for the first time in the WACKER Forum, an area near the company's main booth that allowed experts to provide details on technology, trends, and innovations. Among the products described were polymeric and silane-terminated binders for wall paints and floor impregnation, highly hydrophobic pyrogenic silica for industrial adhesives, and vinyl acetate-ethylene copolymer dispersions based on renewable raw materials. Polymeric binders, based on renewable resources such as starch or bio-acetic acid, were one of the topics explored in the Forum presentations.
At ECS 2019, Engineered Polymer Solutions and Color Corporation of America detailed their performance-
based resins and colorants specifically designed for the architectural, industrial, construction and adhesive markets. Product highlights included NovoColor SF, next-generation pigment dispersions designed for in-plant tinting of coatings and stains; EPS 2706, new non-APEO all-acrylic film-forming emulsion for exterior flat through eggshell finish house paints; and EPS 2719, an all-acrylic emulsion designed to eliminate asphalt bleed-through in cool roof coatings.
Emerald Kalama Chemical, a business group of Emerald Performance Materials, announced its expansion of the range of Kalama® VITROFLEX® Plasticizers, launching two new chemistries for polysulphides. The products provide formulators with high performance, environmentally friendly alternatives to existing technologies. The company also highlighted the launch of Kalama VITROFLEX B plasticizer based on polymeric technology. REACH-compliant and produced in Europe, the plasticizers offer an alternative to products under scrutiny or regulatory restriction.
Ascend Performance Materials debuted new high-purity grades of its Hexatran™ and FlexaTram™-DAM high-
performance amines for the paints and coatings industry. Hexatran-110 is a 99% pure grade of the company's unique trifunctional aliphatic amine, and FlexaTram-DAM-950 is an over 95% pure grade of 1,2-diaminocyclohexane (DCH). With high amine values, low odor, and low vapor pressure, the products are applicable as epoxy curing agents to improve the workability, flexibility, and chemical and heat resistance of industrial coatings.
Building Relationships
For sustainability efforts to be effective, a global commitment by industry is essential. As a result, the relationships built within all members of the supply chain are critical. At ECS 2019, Dow was one of the companies focused on the future by building relationships. With a call to customers and industry partners to "Shape Tomorrow. Together," Dow showcased recent developments for designing environmental advances, enhancing longevity, and driving efficiency of construction materials and coatings solutions. Dow experts at the show discussed the latest news on how to improve paint functionality with the FORMASHIELD™ Abatement Technology and DIRTSHIELD™ Emulsion portfolios. In addition, new PRIMAL™ Acrylic Dispersions for mortars or topcoats of ETICS, two-component cementitious waterproofing and metal roof tile coatings were highlighted. While at the show, Dow was anticipating the pending public offering of its stock following the split of DowDuPont into three companies—Dow, DuPont, and Corteva.
For DCC/LANSCO, the ECS 2019 was an opportunity to be introduced to the industry under the company's new name. Building on existing relationships with customers and distributors while meeting potential clients, the company showcased their new, combined range of products (from the historical "DCC" and "LANSCO" lines). The expanded range of products highlighted included DCC Yellow RMXS. The subject of a product presentation by global product marketing manager, Dr. Bruce Howie, this is reported to be the strongest bismuth vanadate in the market. According to Howie, benefits include faster dispersion time resulting in quicker strength development compared to current products available, less environmental impact due to lower shipping costs, and less packaging waste since fewer bags of pigment are required.
Improving Efficiency Through Digitalization
Closely integrated with the theme of sustainability is the need to improve efficiency, and many of the exhibits at the European Coatings Show 2019 revealed the importance and impact of digitalization in the industry.
At the show, Evonik demonstrated a prototype of its revolutionary new digital "lab assistant," COATINO. The platform draws on human knowledge, high throughput experimentation hardware, and software that takes the data and transforms it into recommendations.
The ability to improve efficiency by reducing uncertainty associated with raw material shortages and fluctuations in demand was also the impetus for Chemours to develop its Ti-Pure ™ Flex online portal. Introduced at the ECS, the portal is intended to be a one-stop shop for purchasing the company's TiO2. According to Bryan Snell, president of Chemours Titanium Technologies, the Flex portal is part of the company's Ti-Pure Value Stabilization (TVS) customer model introduced in late 2017. "The TVS initiative is intended to give our customers greater control over their long-term business planning and success," said Snell.
Laboratory and Production Innovations
Sustainable solutions were also being sought by those interested in laboratory and production technologies and testing and measurement devices. With the expanded exhibition space, visitors could choose from a wide range of options.
Atlas Material Testing Solutions demonstrated the new Atlas Ci4400Weather-Ometer® designed for easy operation, uniformity, increased capacity, and sleeker design.
Krüss presented its solution for quality control of industrial baths that contain cleaning or wetting agents. The new Bubble Pressure Tensiometer (BPT Mobile) is an instrument for determining the surfactant content by means of dynamic surface tension of a solution. The tensiometer is designed to avoid laborious cleaning and to support quality managers in the design of the monitoring process.
Excelitas Technologies highlighted its OmniCure® UV Curing system. Intended for a number of coatings applications, including wood, coatings, metal, glass, adhesives, ink, and many substrates, the UVC LEDs curing systems are designed with high irradiance for coatings applications, allowing for longer replacement cycles and reduced maintenance costs. The product line extends from UVA to UVC including area and spot curing systems.
At the EFSEN booth, emphasis was also on environmentally friendly technologies used for UV curing. Among the products on display was the P-LED. This UV LED curing unit emits UV LED light over a width, providing the benefit of one unit with extremely high self-control for optimal UV production. Also featured was ICAD® Technology, an inline continuous automated dynamic UV monitoring system. The technology enables the measuring and control of actual UV output that reaches the product. A reported benefit includes continuous monitoring during production, which increases quality, uptime, and reduces the risk of producing waste.
On to Indianapolis
From the informative conference presentations to the creative product displays, visitors at the 2019 European Coatings Show and Conference can attest to the success of this event. Although some of the challenges discussed at the ECS will not be solved overnight, visitors came away from their time in Nuremberg with new ideas and a renewed commitment to seek sustainable solutions for the industry.
In 2020, the focus will shift westward as the industry looks towards Indianapolis, IN, for the next major international coatings event. On March 31 to April 2, the American Coatings Show and Conference will provide unparalleled opportunities to explore the latest innovations and technical solutions to the industry's most challenging coatings demands.
CoatingsTech | Vol. 16, No. 5 | May, 2019