by Cynthia Challener, CoatingsTech Contributing Writer
The origin of paint reaches back in time over 30,000 years ago to its use by early cave dwellers. Over the millennia since, the materials and methods used to decorate living spaces have evolved dramatically. Now, paints and coatings are expected to do more than decorate; they must protect our environment, preserve our materials, and provide increased functionality. But how did this transformation occur and what were some of the key developments that influenced the growth of this ubiquitous product? Below, we provide a brief overview of some of the major milestones in the evolution of architectural coatings, specifically in the United States.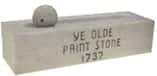 Thomas Child established the first recorded paint mill in America in Boston in 1700. In the late 1700s, Devoe and Reynolds was the first company to be associated with the manufacture of coatings in North America, producing oil-based enamels and alkyds.  The first patent for prepared or "ready mixed" paints was issued to D.R. Averill of Ohio in 1867. By the early 1900s, numerous companies were producing their own versions of oil-based coatings and offering their products to local markets. This decentralized structure remained in place through the middle of the 20th Century, and even today many small to mid-sized paint producers still serve regional markets.
One of the biggest technology breakthroughs in architectural coatings arrived with the introduction of acrylic emulsions as paint binders in 1953 by Rohm and Haas Company (now Dow Coating Materials). This led to the rapid development of modern latex paints during the late 1950s and 1960s. "With nearly 16 million American servicemen and women returning to civilian life in the late 1940s post-World War II, the U.S. housing and baby boom spurred high demand for easy-to-use household paints for a rapidly growing suburban population. At the time, the architectural coatings market was dominated by solventborne, oil- and alkyd-based paints, which were odorous, toxic, flammable, and particularly hard to clean up," explains Sylvia Insogna, North America marketing director for Dow Coating Materials.
"One of the biggest technology breakthroughs
in architectural coatings arrived with the
introduction of acrylic emulsions as paint binders. "
She adds that the first all-acrylic, water-based binder for latex paint (RHOPLEX™ AC-33 Acrylic Emulsion) revolutionized the architectural coatings industry by enabling the subsequent development of waterborne, acrylic paints as we know them today. "Compared to their solvent-based counterparts, water-based paints improve consumer safety and sustainability by reducing harmful emissions and because they are non-flammable. They also generally have low odor, good color retention, good cracking and yellowing resistance, and are much simpler to clean up."
Coalescent technology played a key role in the transition to water-based coatings. For instance, Eastman's Texanol™ ester alcohol has been a widely used coalescent in the United States for over 50 years because it facilitates good film formation when formulated with some of the world's best water-based polymers, according to Murray Hemsley, a global market segment leader for Eastman.
Starting in the 1960s and into the 1970s, concerns about the use of lead-based paints and coatings took center stage because of the health and safety risks that lead-based paints posed. The result was a change in the way paints and coatings needed to be produced, including a conversion from inorganic lead-based pigments to lead-free, high-performance pigments, according to Michael T. Venturini, global marketing manager for Coatings with Sun Chemical Performance Pigments. "Sun Chemical responded to this demand from the architectural market by driving the development and adoption of several significant pigment chemistries including quinacridone. Quinacridones are now one of the most important chromatic pigment chemistries in the coatings industry, offering an exceptional balance of price, performance, and environmental footprint," he says.
" . . . Air quality regulations and the shift to waterborne coatings together drove the majority of technology developments in the architectural segment . . . "
Other major changes in the U.S. architectural market in the 1970s were driven by new environmental regulations, including the state of California's Rule 66 and the Clean Air Act (CAA) of 1970. The goal was to eliminate smog by lowering ground-level ozone concentrations through, in part, reduction of the content of organic solvents in nearly all types of coatings. These regulations drove further developments in the chemistry of acrylic binders and additives for waterborne paints. "Following formulation changes to remove lead and other metals from paints, the movement from solvent- and oil-based to waterborne paints represented the next significant round of changes to address the environmental performance of architectural coatings," notes Julie O. Vaughn, vice president of marketing and business development for Emerald Performance Materials. "Not only new polymers, but new additives—new grades of surfactants, rheology modifiers, and fillers—played a significant role in development of waterborne coatings with attractive performance characteristics," she says. It is the belief of Michael D. Brown, president of consulting firm StrategyMark, that the air quality regulations and shift to waterborne coatings together drove the majority of technology developments in the architectural segment as raw material suppliers and formulators sought to achieve necessary performance levels.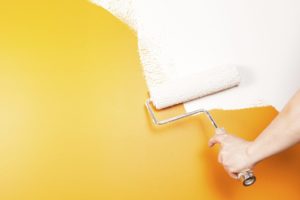 One notable development was the introduction in 1973 of associative rheology modifiers. "Associative thickeners greatly enhanced the ability of formulators to control the rheology of latex paints, thereby giving them considerably greater control over their application properties," comments George Pilcher, a vice president with market research firm The ChemQuest Group. "The application properties of latex architectural paints have improved significantly with the addition of HASE and HEUR associative thickener technologies, which provide better flow and leveling, better and more uniform color, increased hiding and improved brush feel, while also making paint less vulnerable to microbial degradation," Insogna says. With these developments, the performance of acrylic latex paints often matched or even exceeded that of solventborne coatings.
Ever stricter regulations during the last 40 years affected all aspects of the manufacturing, packaging, and marketing of architectural coatings in the United States and continue to do so today. Current limits for VOCs are 50 g/l and could potentially go lower in the future. Therefore, not only resins, but pigments and additives must be provided in low-VOC formulations. Other regulatory actions have affected the product labeling requirements for paint cans, the need for Material Safety Data Sheets, the management of paint waste—both post-consumer and at paint facilities—and reduction of the use of hazardous organic pollutants (HAPs), according to Steven Nerlfi, a partner with consulting firm Kusumgar, Nerlfi, and Growney (KNG). "Layered on top of all of these requirements are individual state regulations, which can be stricter than the federal regulations and vary from state to state, creating further challenges for the entire architectural coatings value chain," he says.
The ban on the use of mercury products [phenymercuric acetate (PMA) and phenymercuric oleate (PMO)] in coatings paved the way for development of the products that are on the market today, including BIT (1,2-benzisothiazolin-3-one), CMIT (5-chloro-2-methyl-3-isothiazolone), and MIT (2-methyl-3-isothiazolone) in particular for paint preservation and IPBC (3-iodo-2-propynyl butylcarbamate), OIT (2-n-octyl-4-isothiazolin-3-one), and ZPT (zinc pyrithione) for dry-film in-can preservation, according to Craig Waldron, global marketing manager for Building Products with Lonza. "VOC reduction in paints has also driven the development of wet-state biocides with improved properties that can address the greater need for control of bacteria, fungi, and algae in water-based paints," he notes. Furthermore, the pressure to reduce the use of carbendazim for dry film preservation led to increased demand for zinc omadine products.
Periodic shortages of titanium dioxide have served as a different driver of technology development over the last couple of decades, according to Pilcher. "Architectural coatings formulators sought new types of technology to replace certain amounts of titanium dioxide in the event that insufficient amounts of this most common of all pigments could not be procured," he says. Initially, hollow-sphere polymeric pigments with increased light refraction were developed that increased the perception of higher hiding. Dow Coating Material's ROPAQUE Opaque Polymer has a hollow core that scatters light similar to TiO2 and thus helps achieve desired color and hiding at reduced formulation costs due to the need to use less titanium dioxide. More recently (in 2012), Dow introduced EVOQUE™ Pre-Composite Polymer Technology, resins that interact with the surface of TiO2 to create polymer–pigment composites that optimize TiO2 distribution and light-scattering efficiency, allowing formulators to use up to 20% less TiO2 while maintaining the same wet- and dry-hiding and tint strength and achieving tighter film formation and enhanced performance properties, according to Insogna.
The TiO2 shortages also led to an increased use of the sulfate process for the production of titanium dioxide, and in particular paint manufacturers began to rely increasingly on sulfate-process TiO2 from China, according to Pilcher. "That this move to sulfate-process material wasn't a temporary one, with many (perhaps most) producers of architectural coatings now maintaining inventories of sulfate-process pigment and using it on a regular basis as a certain percentage of their titanium dioxide consumption is perhaps the most significant outcome," he suggests.
"Consolidation of coating formulators and raw material suppliers has led to an increase in concentration along the value chain
and made the industry more competitive with respect to innovation."
Significant changes in industry structure also occurred during this period. Consolidation of both coating formulators and raw material suppliers has led to an increase in concentration along the value chain and made the industry more competitive with respect to innovation, according to Vaughn. "Probably half as many companies exist today throughout the value chain as did 50–60 years ago, which has resulted in a much more streamlined industry with a lot more pricing power," Brown asserts.
The importance of both professional and consumer brands and the positions they play with end users and specifiers has also increased dramatically, according to Scott Sinetar, vice president of PPG's architectural coatings U.S. and Canada business. "Brands must also hold cross-segment significance, from commercial to residential to industrial, in order to maintain respected positions with specifiers. Companies like PPG with brand history and strong brand portfolios are in a stronger position than ever to support the industry with clear brand options, broad and deep product lines, and industry-leading marketing programs," says Sinetar.
The large multinational and regional manufacturers that have resulted from industry consolidation also require efficient supply chain channels and a consistently dependable supply of high quality product from their raw material suppliers, according to Hemsley. Eastman has invested heavily in state-of-the-art supply chain systems and quality assurance programs to establish itself as a reliable supplier that can help consistently supply customers as they continue to grow.
Structural change can also be attributed to the emergence of the do-it-yourself (DIY) channel, which has allowed paint manufacturers to market directly to consumers. "This relatively new consumer market segment demands enhancement of the painting experience and has created an innovation pull.  As a result, consumers now have a wide array of choices on paint quality, performance, ease of use and clean up, plus an endless choice of colors," observes Hemsley.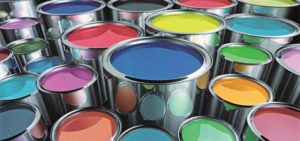 In fact, the impact of color as a purchase driver in the architectural coatings industry has become quite significant. "Color remains one of the most challenging decisions for the consumer. A decade ago, we began to make the color selection process easier for consumers.  Since then, the tools available to assist in the color selection process have become significantly more sophisticated and continue to evolve," remarks Sinetar. These tools are particularly important today, because rather than have to choose from a small, generally static selection of "ready mix" paint colors, consumers have "Color on Demand" with a virtually unlimited universe of colors available to them, according to Pilcher. Of course, to offer this technology requires investment by the paint manufacturer or retailer in colorants, formulated and controlled bases in a variety of sheens, mixing/shaking equipment and recipes, and typically color-matching stations and personnel training.
Sinetar also notes that the digital revolution is changing the way consumers educate themselves about, interact with, and select color. "Today, the pros and do-it-yourselfers engage with color on their phones, on their tablets, and in stores with digital displays, and it is critical for paint companies to offer advanced digital color selection tools and intuitive websites to share content and information," he adds.
 "The digital revolution is changing the way consumers educate themselves about, interact with, and select color."
The advent of on-line sales of a variety of paint products, including paints, stains, solvents, and sundries, has also brought about an entirely new avenue for consumers to order paint, according to Pilcher. Now DIYers do not even have to leave home.
The movement from solventborne to waterborne coatings also helped expand the DIY market because of the improved environmental and safety profiles of the products, according to Prachur Bhargava, Ashland's global product manager for coatings. Further improvements in the rheology and application properties also supported the growth of the DIY segment, and in turn the growth of big-box retailers like Home Depot and Lowes. He points to Ashland's Natrosol Plus 330 technology for spatter-resistant paint as one example. Most recently, Bhargava notes that the launch of Paint-and-Primer-in-One products and One-Coat-Hide technologies has made paint products even easier to use and has contributed to a new period of growth in the DIY segment. "These technologies have improved the value proposition of paint, particularly when compared to competitive alternatives such as wallpaper," he comments.
The growth of company-owned stores over the past two decades and the increasing importance of national home centers has played a significant role in the industry, according to Sinetar. "Every manufacturer in the industry is undoubtedly examining the impact of distribution in these channel models." He adds that it is also critical for paint manufacturers like PPG to continue to drive value and growth for independent dealer partners.
Presently, waterborne coatings dominate the architectural coatings market. Acrylic latexes continue to find widespread use in both interior and exterior applications. Water-based alkyd and polyurethane technologies have also advanced significantly and find use in various architectural applications, as do some waterborne epoxy and silicon-based solutions. Concerns about environmental performance have also expanded to include the concept of sustainability, which encompasses the ideas of reduce consumption of energy and raw materials, reduced production of waste and emissions, lower carbon footprints, the use of renewable raw materials, recycling, and more, according Nerlfi.
Multifunctionality is also an important trend in the architectural coatings market. "Recent efforts have focused on creating paints that do more than beautify and protect, but also provide health benefits to the consumer," Insogna observes. In particular, she points to advances in paint technologies that lower VOCs while maintaining the performance of higher VOC products and that can address concerns about indoor air pollution.  One of the latest innovations from Dow is its FORMASHIELD™ Formaldehyde-Abatement Technology, which removes formaldehyde from indoor air by turning it into water vapor. It begins working as soon as the paint is applied and continues to work after it dries.
Venturini also believes that the increased use of recycled coatings is a movement that should be watched very closely. "It will be interesting to see if manufacturers and consumers expand on the concept and specifically develop products that can be easily recycled—essentially following the lead of the consumer packaging sector, where more easily recycled plastics and paperboard are gaining share," he observes.
To overcome all of the challenges that have faced architectural coatings manufacturers and their suppliers through the years has required companies to make innovation and value creation central components of their business strategies, according to Vaughn. "At Emerald, we have made significant investments in expanding our development capabilities in order to be able to introduce new products that balance desirable performance properties with economy and sustainability, including products that are low- or zero-VOC, 100% solids nonsolvent options, and solutions that maximize compatibility for lower emissions," she says. Examples include low-VOC coalescents that enhance film formation and improve gloss, scrub, and blocking resistance and products with lower carbon footprints that are prepared from biorenewable feedstocks.
"Today there is a much greater range of technologies that help formulators improve the performance of paints while also meeting increasingly strict regulations and consumer demand for a smaller environmental footprint," asserts Insogna. "Ongoing R&D efforts and trends analysis are enabling us to help formulators advance paint performance to create new innovations that stand out in the marketplace. From better hiding, enhanced durability, and stain resistance to low- to no-VOC coatings with reduced environmental impact, binders and additives are increasing performance to meet and exceed end-user demands for architectural coatings," she concludes.