Washington, D.C., March 9, 2023 — The American Coatings Association (ACA) is pleased to announce that Dr. John A. Gilbert, chief research and development officer at Behr Process Corporation, will deliver the keynote address at ACA's 2023 CoatingsTech Conference. The conference — ACA's leading technical event — will be held June 26-28, 2023, at the Hyatt Regency Cleveland at the Arcade, in Cleveland, Ohio and embrace the theme, "Coatings Technologies: Adaptation in a Complex World."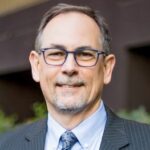 Dr. Gilbert joined Behr in 2007. Under his direction, the Behr team released the Ultra, Marquee and Dynasty paint lines. Recent product releases from his group include several pro-contractor paint lines, a stain-blocking ceiling paint, a deck restoration product, a roof coating line, and an all-acrylic exterior stain line. His industry career began in 1985 when he joined BASF Corporation in Southfield, Mich. Dr. Gilbert spent 22 years in the automotive coatings area at BASF in various product development roles in electrodeposition coatings, primers, basecoats and clearcoats. From 1990 to  1992, he was assigned to BASF's European automotive coatings group in Muenster, Germany.
Born and raised in the Cleveland, Ohio area, Dr. Gilbert attended the College of Wooster in Wooster, Ohio, receiving a BA in Chemistry in 1980. He continued his education at the University of North Carolina at Chapel Hill, receiving the Ph.D. in 1984.
For more information on the 2023 CoatingsTech Conference, please visit https://www.paint.org/aca-events/ctc-2023/.
The American Coatings Association (ACA) is a voluntary, nonprofit trade association working to advance the needs of the paint and coatings industry and the professionals who work in it. The organization represents paint and coatings manufacturers, raw materials suppliers, distributors, and technical professionals. ACA serves as an advocate and ally for members on legislative, regulatory and judicial issues, and provides forums for the advancement and promotion of the industry through educational and professional development services.