Taking a New Approach to Open Innovation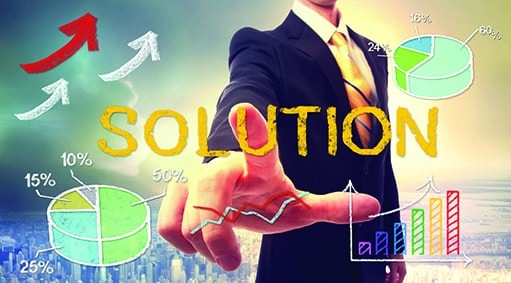 Innovation is key to both reaching business goals and developing effective solutions for the tough challenges facing our world today. Open innovation–—the leveraging of knowledge from all potential sources within and outside an organization to deliver solutions to the marketplace–—has become an important resource for many companies in the paint and coatings and other industries.
AkzoNobel has been active in this area with its online "Open Space" Open Innovation platform and is establishing an Open Innovation Center at its Chemicals Research Facility in Deventer, the Netherlands. The company also recently participated along with Buhler Group, Wuppermann, and the City of Rotterdam in a €50 million collaborative venture capital fund run by Icos Capital that will invest in innovative ventures active in the chemical, food, and materials sectors and focused around renewable resources, sustainable processes, and smart production systems (including related digitalization).
"Access to external innovation is an imperative to realize our growth and sustainability targets," says Marco Waas, AkzoNobel's director RD&I and Technology. "Our world is made of molecules, and we believe that chemistry, mastering the elements, is essential to making the world a better place," adds Peter Nieuwenhuizen, RD&I director for AkzoNobel's Specialty Chemicals business. "To get there, we believe open innovation will be vital, seeking ideas both internally and externally to advance our technology and mutually gain from creative thinking. Imagine–—with all of our knowledge of chemistry, we can work together to solve some of life's biggest problems. It's a great opportunity for everyone to get involved."
The company's integrated approach to further deploying its innovation capability in support of growth ambitions also includes a new approach to Open Innovation that mainly targets start-up firms. The global online chemicals start-up challenge platform "Imagine Chemistry" was launched on January 16, 2017, in conjunction with KPMG to address a number of specific societal challenges as well as finding new sustainable opportunities for AkzoNobel businesses.
While the focus of the challenge is on startups with a proof of concept who want to further validate and scale up their solutions, AkzoNobel also welcomes researchers with developed and/or tested concepts and AkzoNobel employees. The goal is to identify projects that are business driven and able to be commercialized within 3-5 years. The company is also willing to collaborate with identified partners in many different ways, including joint development agreements; having AkzoNobel as a launching customer; organizing partnerships across the value chain; or investing in the startup. Winners will have the support needed to accelerate the development and global commercialization of their concepts, and in return, AkzoNobel will have access to the newest innovations to achieve its sustainability goals, create new business and valuable partnerships, and improve its own processes.
The challenge areas focus on five specific and two general topics:
Revolutionizing plastics recycling
Wastewater-free chemical sites
Cellulose-based alternatives to synthetics
Bio-based and biodegradable surfactants and thickeners
Bio-based sources of ethylene
Highly reactive chemistry and technology
Sustainable alternatives to current technologies
Startups and researchers should submit their concepts online. Through March 16, 2017, seven challenge teams comprised of 35 AkzoNobel experts will work with the entrants through the online platform to enrich, validate, and co-develop their solutions. At the end of this period, a jury of AkzoNobel business, R&D leaders, and prominent international experts will select the 20 most promising solutions and startups to participate in a three-day event (all expenses covered) in early June 2017 at the company's Deventer Open Innovation Center in the Netherlands. During this event, the startups and researchers will receive personal feedback and coaching from AkzoNobel experts and partners in R&D, finance, startups, open innovation, marketing, senior management, and potential investors to further develop their solutions. All of the 20 entrants will pitch their concepts and the winners will sign agreements to officially collaborate with AkzoNobel and have the chance to see their ideas become a commercial reality. "We will provide access to customers, investors, subject matter experts, mentorship, and an accelerator program, along with additional support," explains Nieuwenhuizen.
AkzoNobel is aware that entrants may be concerned about intellectual property protection. "We respect ownership of intellectual property rights (IP): the entrants' IP remains theirs; ours remains ours. What we create together during the event in June will be joint IP (the entrants' and ours), and we will provide clear guidance in advance in terms of what we expect from these new partners and what they can expect from us," Nieuwenhuizen says. He adds that as the organizer of this challenge, AkzoNobel will, in principle, have a first right to use, further develop, or exploit the generated IP together with the entrants. If the company decides it is not, or at some point is no longer interested in such IP, the entrants will have the right to use it with others.
Innovation is fundamental to success, and at AkzoNobel innovation starts with understanding the needs of customers, according to Nieuwenhuizen. "That means understanding societal, market, and business needs and coming up with timely solutions to meet those needs. Many of our innovations are focused on sustainability, and we are committed to creating more value from fewer resources. To devise sustainable, innovative solutions for the world's problems, we want to work with the very best people and partners. The 'Imagine Chemistry' challenge is a new approach to finding them. We are excited to see what novel chemistry and technology solutions will emerge in June," Nieuwenhuizen says.