The fluorine atom has very unique properties, particularly very high electronegativity and low polarizability. As a result, carbon–fluorine bonds have higher energy and are stronger than C–H bonds. In addition, the incorporation of fluorine substituents into organic molecules can significantly affect their properties. In small molecules, enhanced acidity and lipophilicity can result, making these fluorine-substituted compounds ideal as pharmaceuticals. The oxidative stability, boiling point, polarity, and other electrochemical properties of organic molecules are also influenced by the incorporation of fluorine atoms. Fluorinated polymeric materials exhibit low surface energies, insulating properties, impermeability to gases, and high resistance to water, oils, chemicals, corrosion dirt pickups, UV radiation, chalking, etc.
These properties make fluoropolymers attractive as highly durable protective coatings in many different architectural coating formulations, particularly those intended for exterior applications due to the need for excellent weatherability. Fluoropolymers that are used as binders in coatings include polytetrafluoroethylene (PTFE, or Teflon®), fluorinated ethylene propylene (FEP), ethylene tetrafluoroethylene copolymer (ETFE), polyvinylfluroide (PVF), polyvinylidene fluoride (PVDF), and fluoroethylene vinyl ether (FEVE). PVDF and FEVE are the most widely used in architectural systems. Arkema (Kynar® and Solvay Solexis (Hylar®) are the two key manufacturers of PVDF, while AGC Chemicals produces FEVE (Lumiflon®). Typically, these materials are only sold to approved coating formulators (licensees).
For workability, the resin system used in PVDF coatings actually consists of 70% PVDF and 30% acrylic. Final formulations differ based on the choice of acrylic resin and the additive and pigment packages used by the paint manufacturers, and not all products are the same with respect to application properties and applied performance. Although the acrylic component is not as resistant to degradation, there is evidence to suggest that the PVDF protects not only the substrate, but the acrylic resin within the coating. Originally, PVDF coatings were only available as factory-applied coil coating formulations that required melting prior to application. Today, water-based formulations are also available for use in field-applied spray coatings. PVDF coatings are suitable for use on a wide range of metal substrates, including aluminum, aluminized steel, and galvanized steel. The high density of fluorine atoms in PVDF provides excellent resistance to degradation by UV radiation, chemical and airborne pollution, severe weather, and environmental conditions such as salt spray or wind-borne sand. They have been known to last upwards of 30 years with high color and gloss retention.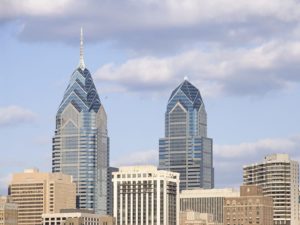 FEVE is a generic term that refers to resins consisting of fluoro-olefin units [namely CTFE (chlorotrifluoroethylene) or TFE (tetrafluoroethylene)], along with various vinyl ether units and pendant functional groups (e.g., hydroxyl groups). Due to the lower fluorine content and presence of vinyl groups in FEVE resins, coatings based on these materials are more susceptible to UV degradation than PVDF, and as a result, their lifespan is typically around 20+ years with excellent color and gloss retention. On the other hand, FEVE resins are soluble in solvents, can be reacted with other ingredients such as melamines and isocyanates to impart different performance properties, and can provide higher gloss values than PVDF. In addition, because they have the characteristics of urethanes, FEVE resins bond well to a wide range of substrates such as various metals, plastics, glass, and fiberglass, as well as various types of primers, and do not require blending with other resin types. Currently, solvent- and water-based, 100% solids, and powder FEVE resins are available for use in architectural coatings. A key application for FEVE is the coating of aluminum composite panels used in high-end architectural buildings.
The high performance of fluoropolymer coatings comes at a significantly higher cost compared to acrylic and even silicone-based coatings. On the other hand, their very long lifetimes significantly reduce recoating (and associated infrastructure) costs and the consumption of raw materials. Fluoropolymer coatings meet the American Architectural Manufacturers Association's (AAMA) highest standard for architectural coatings on metal substrates (AAMA 2605), which specifies performance levels based on South Florida outdoor exposure and laboratory accelerated testing. Generally, PVDF and FEVE coatings are used on metal roofing, metal curtain-wall systems, windows, skylights, panel systems, storefronts, and doors—basically any exterior architectural products manufactured from steel or aluminum coils or aluminum extrusions.
"Increasing demand for architectural fluoropolymer
coatings is one of the key drivers of growth
in the overall U.S. fluoropolymer market."
One recent growth application for fluoropolymer coatings has been for cool roofing. The very low surface energy of fluoropolymer coatings equates to excellent dirt pickup resistance, which is crucial for maintaining solar reflectance. They also withstand long-term exposure to water, humidity, temperature extremes, ultraviolet rays, oxygen, and atmospheric pollutants. As a result, fluorinated cool-roof coatings are premium, weather-resistant options with extended performance lifetimes. There is also growing interest in the use of energy-efficient coatings on walls. TEX•COTE® COOLWALL® coating systems from Textured Coatings of America are based on Arkema's Kynar Aquatec PVDF resin. According to the company, a study conducted by the U.S. Department of Energy's Oak Ridge National Laboratory showed that this coating system can reduce the cooling costs of a building by 4.2 to 21.9% depending on the color, geographical location, climate conditions, and substrate type.
The low surface energy of fluoropolymer resins also makes them attractive for the formulation of anti-graffiti coatings. PPG Industries developed clear DURANAR GR (PVDF) and CORAFLON GR (FEVE) factory-applied permanent anti-graffiti coil coatings for use on wall panels, roofing, and window frames for high-end buildings. The coatings were specifically designed to work with the chemistry of the company's DURAPREP 400 Graffiti Remover. Using the cleaner, aerosol paints, tar, permanent marker, pen, crayon, lipstick, scuff marks, and water-based house paints can all be easily removed from the anti-graffiti coatings, according to PPG.
Increasing demand for architectural fluoropolymer coatings is one of the key drivers of growth in the overall U.S. fluoropolymer market. According to a recent report by market research firm The Freedonia Group, demand for fluoropolymers is expected to increase at 5.3% annually to $2.3 billion in 2019, largely driven by continued expansion in industrial output and construction activity, but also due to strong growth in emerging markets such as photovoltaic modules and advanced batteries. Notably, the construction market will exhibit the fastest growth, spurred by a rebound in the nonresidential construction segment, where fluoropolymers find the greatest use, according to the report. Demand will be greatest for PVDF and PVF, with PVDF growth benefiting from a strong rebound in architectural coatings and increasing use in advanced batteries for electric vehicles.