DIY Paint Packaging
By Cynthia Challener, Contributing Writer
Homebound consumers are creating a bright spot in the DIY paint segment—and inspiring innovations in packaging.
The COVID-19 pandemic has had terrible health and economic consequences for the world. Stay-at-home orders and closures of non-essential businesses have resulted in a decline in global growth for this year, with predictions that a return to pre-pandemic conditions will not fully occur until near the end of this decade. Under such dire circumstances—and with the novel coronavirus SARS-CoV-2 still spreading across the globe, including in areas where business has been at least partially restarted—it is difficult to find good news. In the paint and coatings industry, there is one bright light, however, in the do-it-yourself (DIY) sector, which has experienced a measurable increase in sales as consumers, more than ever, look for sustainable, easy-to-use products. Packaging of DIY paint products, which not only educates, but also reflects the sustainability commitments of coating manufacturers, is playing an increasingly important role in the consumer buying decision.
Staying Home
Industry experts say stay-at-home orders related to the COVID-19 pandemic have driven the DIY paint market. "After sheltering in place for months, with more time expected, many people are hyper-aware of how their home makes them feel, and it's become increasingly important for them to create a space that reflects how they want to feel during an unsettling time," says Alison Bruce, senior marketing manager for PPG.
Home has, for many, become central to their lives during this global pandemic, agrees Kathryn Ledson, AkzoNobel's global marketing director for consumer paints. "Home has been a sanctuary, where everything happens—families living, working, and playing indoors together, sometimes all at once. The home environment also affects mental health and well-being, especially during periods of long confinement. Ordinary people have been digging deep to adapt to this way of living," she observes. In countries where DIY painting is prevalent, many people are doing jobs they have been putting off, and others are creating colorful spaces out of necessity—like working from home or refreshing the spaces that they are now spending more time in, according to Ledson.
The trend in online purchases is expected to continue, not only due to continued presence of the virus, but as the result of the rapid response by paint companies to make digital purchasing easy.
"As a result of stay-at-home orders, consumers are more engaged than ever to tackle home improvement projects. They are spending less on travel and dining and using discretionary money to re-invest in their homes," notes Harriette Martins, senior manager for product marketing at Benjamin Moore. The paint company recently broadened its DIY footprint with an assortment of Benjamin Moore paints now available at more than 3,500 participating Ace Hardware stores nationwide. This is in addition to Benjamin Moore's existing network of 5,000+ locally owned and operated independent retailers.
Given the uncertainty in the economy, even consumers who would not necessarily call themselves do-it-yourselfers are looking for ways to revitalize their homes on a tight budget, adds Randy Austin, director of product management at Scholle IPN. "Painting a space, a door, or a piece of furniture within the home is one of the easiest ways to create a new look," he says. Shelter-in-place orders and social distancing are, in fact, reversing the recent trend towards "do-it-for-me" back to DIY, according to Nathan Hardy, director product management with Kelly-Moore Paint Company.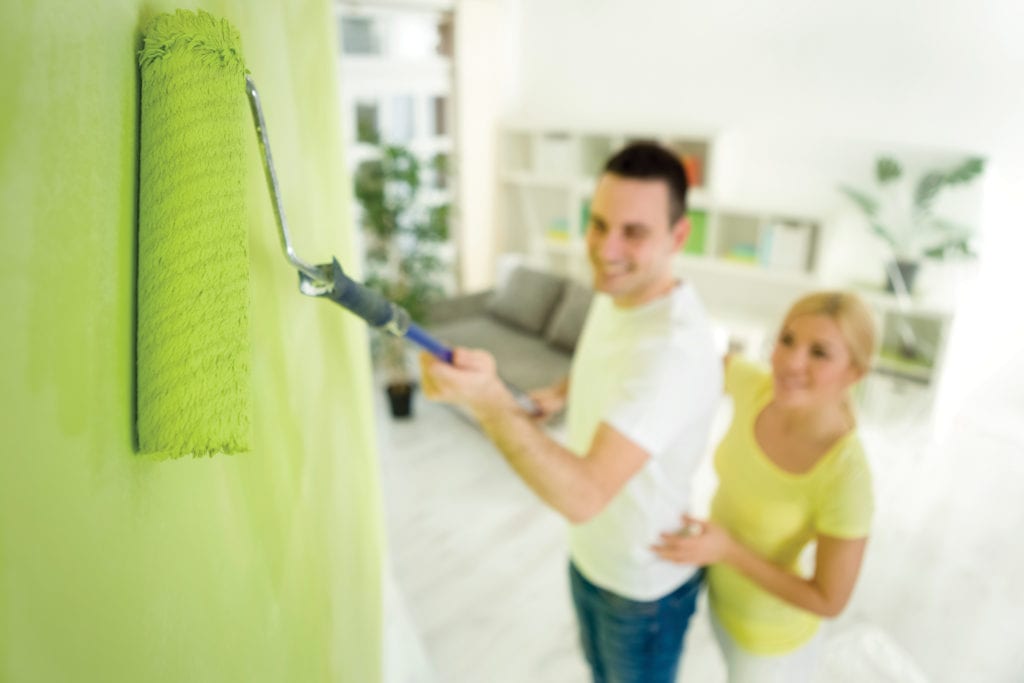 As a result, home improvement and DIY projects have experienced a nationwide surge. According to a weekly DIY survey from Farnsworth, which has been monitoring 1,000 consumers during the pandemic, home improvement purchases grew from 55% on March 23 to over 80% by April 13. Much of this activity has occurred online. "Readily armed with technology, homeowners have shifted how they purchase home improvement products. The top product that was searched for online is paint, up 700% from March 16 to April 5. In fact, in recent months, PPG has experienced triple-digit percentage increases in online paint sales, indicating that purchasing paint online may become the new normal for homeowners," comments Bruce. Retailers, notes Ledson, have had to rapidly adapt, meeting shifts in demand while maintaining safe environments for customers and employees.
The trend in online purchases is expected to continue, not only due to continued presence of the virus, but as the result of the rapid response by paint companies to make digital purchasing easy. One big focus area has been on providing color selection support. "We are finding in DIY markets that newer homeowners have fewer skills than previous generations, so there is a need to provide more guidance than in the past. Color choice is often an area where people appreciate a helping hand, and applications such as AkzoNobel's virtual advisor or mobile visualizer tool give the control to people in their home. It also means we can provide this help on mass scale," Ledson explains.
Paints that are easy to use are also in demand by DIYers.
Behr Paint Company is helping the new generation of consumers entering the DIY paint market throughout the entire painting process from inspiration to completion by providing how-tos, color Q&As, online color selection tools, and more," says company CMO Jodi Allen. Behr Express was introduced in 2019 but has become widely used since the COVID-19 pandemic emerged. This tool enables DIYers to select paint colors from a curated collection of Behr's most popular paints using a simple online quiz. Along with the paint, customers receive everything they need to tackle a project in an all-in-one painting kit, including supplies such as paint brushes and rollers. "This approach is designed specifically for the next generation of DIY painters, allowing them to get everything they need to transform their space, delivered to their door in a simple, beautiful package," Allen remarks.
PPG is now offering free virtual color consultations in the United States to help DIYers accomplish their projects. This virtual solution allows consumers to get recommendations from PPG color experts from the comfort of their home, according to Bruce. When submitting a request, customers are asked to provide details about their project, initial color preferences, and photos of the space. Then through text, e-mail, or video conference, PPG color experts provide color recommendations and details on how to order free color swatches from www.ppgpaints.com. Once a color is selected, customers can schedule curbside pickup at a PPG Paints store or order paint online from The Home Depot.
PPG expects the COVID-19 pandemic will impact color preferences going forward. "The pandemic has spurred a feeling of unrest and anxiety among consumers, who are now craving colors that instill a sense of comfort, like cool blues and other neutrals. We anticipate that COVID-19 will influence designers and consumers to shift towards natural colors, which represent our innate desire to achieve internal peacefulness and reconnect with nature in an age where sustainability and mental and physical wellbeing is crucial," Bruce observes. PPG also anticipates that commercial design preferences will pivot. "For example," she says, "restaurants will likely space out their seating arrangements and add more windows, allowing patrons to sit farther apart and create an open atmosphere. Architects will likely incorporate more balconies in their future multi-family living designs, as balconies have provided residents with a sense of freedom and a connection to nature, while maintaining social distance from others."
Easy and Sustainable
For many years, demand for paints with a sustainability benefit and for paints that do more has been increasing. "While the COVID-19 pandemic and online accessibility will drive how customers buy paint, sustainability and transparency of the paint will be drivers of the products purchased," Hardy says. DIYers want paints that do not impact the environment or their health.
One area of growing consumer awareness, according to Ledson, is around indoor air pollution, especially in larger cities. "While this issue has been a focus in China for many years, we are now seeing this trend on the rise in other regions," she says, as people are becoming increasingly conscious of their health and well-being.
According to a

weekly DIY survey

from Farnsworth, which has been monitoring 1,000 consumers during the pandemic, home improvement purchases grew from 55% on March 23 to over 80% by April 13.
Paints that are easy to use are also in demand by DIYers. Ledson highlights easy-to-clean properties as the top demand of DIYers in most markers. AkzoNobel recently introduced Easycare mark-resist paint in Poland in response to this consumer preference. "The paint structure means that any DIYer can now achieve a beautiful interior finish, and the walls won't be prone to the unsightly black scuff marks that appear with everyday wear and tear," Ledson notes.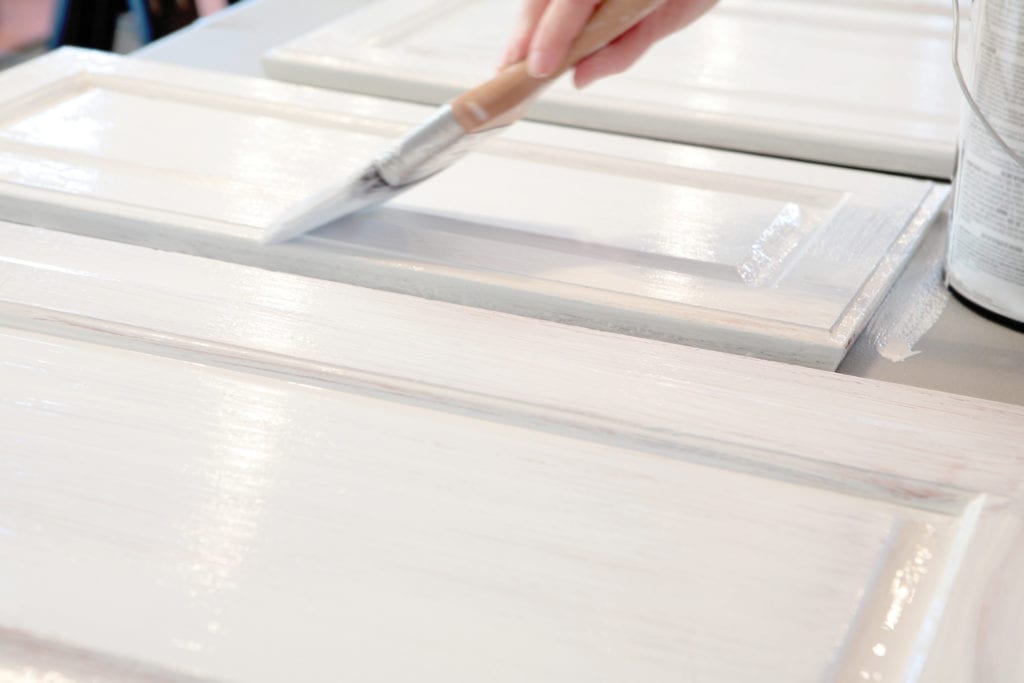 Paint manufacturers will also be looking for more ways to reuse or recycle paint, reduce environmental impact, and minimize the amount of product that is thrown away, all while providing a safe, user-friendly, and practical product for consumers, according to Anastasia Khodakova, global marketing director for Liquibox.
Allen describes a similar strategy at Behr, remarking that, "with sustainability increasingly becoming an important trend in the DIY market, we are working to address this issue in not only our products, but also in our packaging."
Packaging and the DIY Decision
Indeed, it is not just the paint that consumers want to be sustainable. They are also looking for paint products to come in more sustainable packaging that provides needed information and supports their ability to easily complete painting projects. "Packaging plays a huge role in the DIY market, because customers first and foremost seek convenience, along with products that perform and are durable," says Allen.
"The container and the labeling have important roles for the DIY customer," adds Hardy. The container needs to preserve the material and minimize impact on the environment, while the label needs to clearly define the product and be a trustworthy source of information regarding what is in the product, how it is used, and the necessary precautions.
Packaging should also provide the consumer with a clear understanding of product usage and attributes in order to simplify the selection process, observes Martins.
DIY Packages Must Do More
It should be no surprise, then, that successful packaging solutions for DIY products are those that quickly and clearly educate the consumer, or that packaging continues to be an important element of the purchasing experience for DIY buyers. "While many consumers tend to rely on the expertise of in-store sales associates, professionals, or their own experience with products, they still look to the packaging to clearly and effectively communicate product attributes," Bruce notes. The language on product packaging has, therefore, become increasingly more concise and simplified, a trend that is continuing to help consumers better understand product features, she says.
"Consumers should be able to easily understand key product benefits and use cases and determine if a product is the right one for their needs," Martins adds.
The packaging should also be sustainable and provide the clear and transparent information in a memorable way, according to Hardy. Basic critical features for paint packaging, adds Austin, include being easy to open, close, and reopen after first use. He also points to matching package size to the right amount of paint for the job and evacuation of the paint from the container as other important properties.
"An ideal packaging solution for DIY paint must be durable and lightweight, as well as easy to transport, store, and dispose of. It should be easy and safe for consumers to use without creating a mess, and it must protect paint from drying and forming crust over time," says Khodakova.
Sustainability Drives Change in DIY Packaging
In response to all of these needs and trends, consumer packaging continues to evolve, with the information shared on the package becoming more transparent in the DIY market. "DIY customers want simple, clear information on their packaging about product use and the potential hazards. New consumer warnings and ingredient lists are becoming commonplace to help protect the user. Sustainability is also becoming a key purchasing driver. Sustainable containers that can be recycled are also preferred as sustainable packaging becomes more desirable. Recycled materials have developed significantly and are becoming the go-to for different packaging solutions," Hardy observes. He also notes that while some sustainable paint and packaging solutions exist, more development is happening every day. "Fully sustainable paint solutions are in development and should be the long-term goal," he asserts.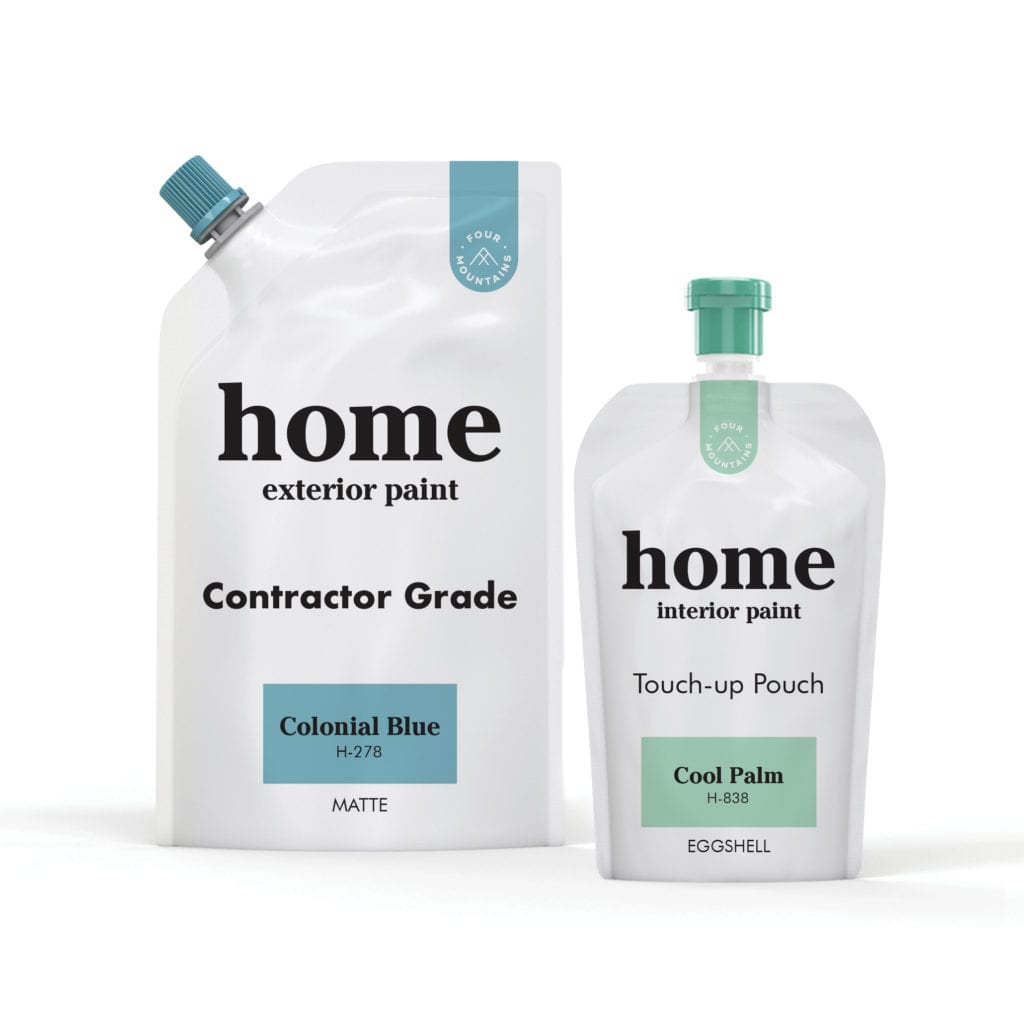 For AkzoNobel, reduction of packaging footprint is the lead driver around many of the company's packaging decisions, according to Ledson. "Consumers are exposed to packaging in many other categories, and they have expectations that well-known brands are reducing their carbon footprint and limiting material use," she says. Overall, Ledson adds, the company aims to design and manufacture the best quality products in the most sustainable way, and where possible, the overall amount of packaging needed is reduced and recycled materials, including paper and plastics, are used. "We recently announced our ambition to be a zero-waste company and cut our carbon emissions by 50% by 2030 and to have a minimum of 50% recycled content in our paint packing for deco Europe by 2025," Ledson comments. For DIYers, in particular, AkzoNobel looks at format and has recently introduced sponge tubes to replace aerosol use in fillers and has also begun incorporating bio-based materials in some of its packaging.
Behr, meanwhile, recently introduced the BEHR Simple Pour Lid, a first-of-its-kind plastic lid that does not require a key and has an attachable spout for a more precise pour, according to Allen. "The new lid," she explains, "eliminates mess and rust and helps keep paint fresher longer." If you are a DIYer who prefers to dip your brush directly into the paint can, you can still do that by simply removing the Simple Pour Lid. The BEHR Simple Pour Lid is currently available on select products and will be rolling out exclusively at The Home Depot stores nationwide.
Consumers are exposed to packaging in many other categories, and they have expectations that well-known brands are reducing their carbon footprint and limiting material use.
Khodakova believes that packaging manufacturers have done a good job in meeting consumer needs with respect to convenience and easy cleanup. As an example, Austin points to easy pour packaging and better handles to reduce waste. Khodakova also highlights the significant effort companies are making to downgauge packaging as far as possible while still ensuring it provides adequate product protection and is recyclable where possible. "There is still an opportunity in the DIY market, however," Khodakova insists, "to find the best solution for disposing of this hazardous packaging waste products without harming the environment by burning or burying unused product in landfills." She adds that there has been a lot of effort by the industry to find ways to reuse or recycle paint and to reduce the amount of product thrown away to a minimum. "For now, though, she says, "in most countries any packaging that has been in contact with paint is classified as hazardous waste and is sent to incineration." Ledson agrees that post-use recycling schemes are becoming increasingly important to help close the loop on paint waste and notes that AkzoNobel encourages consumers to recycle packaging and old paint wherever possible. There are also still some opportunities for labeling, according to Austin. For example, given that store-printed labels often fade, peel, or get covered with paint, he poses, "How do we clearly communicate the exact name and color on the package for long-term storage?"
Flexible Packaging Gains Traction
A packaging format that is extremely lightweight and reduces the product and packaging waste, as well as carbon emissions in transport and storage, will help paint companies meet their sustainability objectives, according to Khodakova. Flexible packaging, adds Austin, can also help DIYers deal with the two biggest painting challenges—how to store unused paint and how to dispose of paint containers—by preserving unused paint in a highly space-
efficient manner and helping to fully evacuate the paint for easy disposal of the package.
To help reduce the amount of contaminated packaging, Liquibox (USA), a global packaging manufacturer with over 50 years of experience, has designed a bag-in-box solution for paint, coatings, and varnishes. "Bag-in-box packaging tackles the problem of wasted product as the air-tight bag prevents the paint from drying up for as long as two years after opening, allowing users to dispense just the right amount and keep the rest for later use without worrying about a crust forming on the top of the product," Khodakova explains. She adds that in terms of CO2 emissions, the new packaging represents only a 10% carbon footprint of aluminum tins of the same size and optimizes logistics due to its perfectly square shape. In addition, bag-in-box packaging from Liquibox can be equipped with a handy dispensing system that allows one-hand serving and ensures no product leaks, splashing, or glugging. The only part of the bag-in-box that is in contact with the paint is a thin and resistant flexible bag. The outer cardboard box that protects the bag during transport and handling is made of recycled material, is foldable and 100% recyclable. Once the flexible bag is empty, it is still clean on the outside and consumes very little space, reducing disposal effort and cost, according to Khodakova.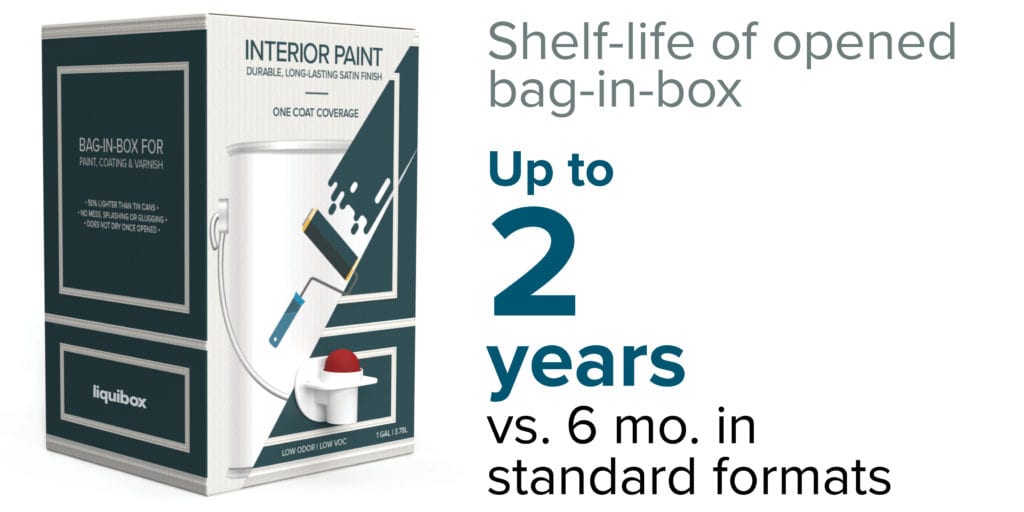 Liquibox also offers paint in pouches for e-commerce sales, as well as for product testing and sampling. A variety of durable films including metPET with PE laminate, clear EVOH with PE and biaxially-oriented nylon (BON) laminate, and metPET with PE laminate protect the product from oxygen and UV light while ensuring product quality and safety, according to Khodakova. The company's research and development team is also continually investigating new film and fitment innovations, including ways to improve the sustainability of its flexible packaging. Goals include light weighting the bags, shifting to mono-material film structures, and the use of more eco-friendly materials that will enhance compatibility with existing recycling streams.
Scholle IPN also has a range of bag-in-box and stand-up pouch solutions for the DIY paint market that can help differentiate a brand on store shelves and provide convenience to consumers, such as easy-to-carry designs, user-friendly closures, and space-saving formats. "Our bag-in-box and pouch products reduce hazards, messes, and waste while increasing safety and efficiency for both commercial and retail consumer use," Austin says. The flexible package is made of a secure and durable film that is strong enough to keep even acidic, caustic, or basic products from eating away at the packaging wall, reducing risk during shipment and storage, he notes. Scholle IPN's controlled bag-in-box dispensing systems are, according to Austin, designed for accurate mixing, which reduces the risk of product waste, errors, and exposure to harsh or hazardous materials. Also, the user-friendly fitment designs eliminate glugging and spilling, allowing users to dispense quickly and precisely for increased efficiency and safety. Overall, he says the packages are designed to reduce costs while minimizing waste and environmental impact, making the product not only safer for the DIYer, but also for the people who manufacture and those that transport paint products. Bag-in-box products come in a range of sizes from one liter for DIYers to 300 gallons for industrial applications. Current research at Scholle IPN is focused on increasing oxygen barrier performance and minimizing waste through propriety film and closure developments, according to Austin.
CoatingsTech | Vol. 17, No. 8 | August 2020