Developments in the Middle East Coatings Market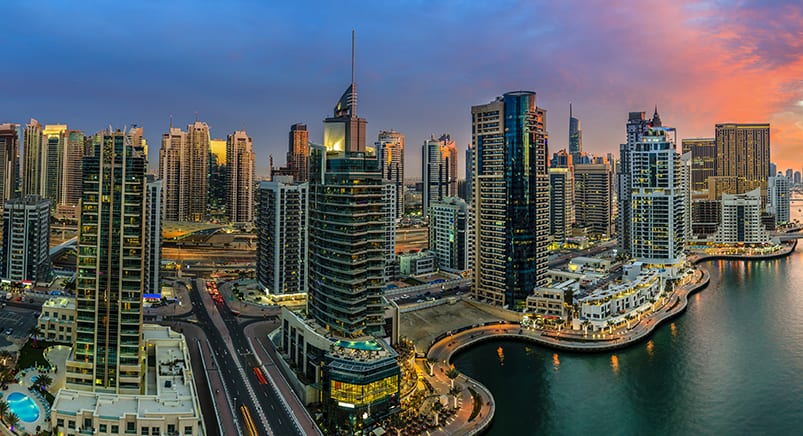 Highlights from IPPIC's Global Paint and Coatings Industry Market Analysis (2015–2020) and the Saudi–U.S. CEO Forum in Riyadh
By Aggie Lotz, The ChemQuest Group, Inc.
INTRODUCTION
IPPIC's Global Paint and Coatings Industry Market Analysis (2015–2020)
In May 2017, the fifth edition of the Global Paint and Coatings Industry Market Analysis (2015–2020) was released by the International Paint and Printing Ink Council (IPPIC). Prepared by its international consultant, the ChemQuest Group, Inc., the report features extensive research findings and insights into current global and regional coatings consumption in 11 end-use segments, as well as trends and drivers influencing the market.
For a listing of IPPIC Member Associations, and to see the Coatings Market Segments investigated, and Geographic Regions covered in the Global Paint and Coatings Industry Market Analysis, click here.
The report also provides a five-year forecast of the coatings market segments investigated, as well as two-year forecasts for each geographic area reported. Insights contained in the report are based on a wide array of resources, including government economic data from numerous countries, major trade association statistics and reports, and in-depth interviews with coatings professionals including key coatings customers and end-users. The in-depth interviews enabled the authors to provide rich and unparalleled insights into trends, market drivers, unmet customer needs, technology challenges, key buying factors, market forecasts, and other critical issues.
This article examines the coatings industry in the Middle East and Africa (MEA)—just one of the many market segments presented in the report.
The Middle East and Africa (MEA) coatings sector is divided into four groups: Middle East, North Africa, South Africa, and Other Africa. The Middle East subregion of MEA is further broken out as follows:
Bahrain
Lebanon
Cyprus
Oman
Iran
Qatar
Iraq
Saudi Arabia
Israel
Syria
Jordan
United Arab Emirates
Kuwait
Yemen
The breakdown of North Africa and Other Africa by country (totaling 53 countries) is contained in the report. The country of South Africa is the fourth subregion.
MEA's estimated 2015 coatings market value was approximately $8.6 billion USD on a volume of roughly 2.8 billion liters. This is a 5.1% annual increase in value and a 2.8% increase per year in volume compared to 2010. MEA's growth rate, which has outpaced North America and Europe, is projected to remain roughly the same over the next five years, resulting in a forecasted 2020 value of $11 billion USD. Volume for 2020 is projected to be roughly 3.4 billion liters, as shown in Table 1, and graphically presented in Figure 1.
Middle East Coatings Market: Market Trends and Drivers
Trends in industrial production, construction and infrastructure spending, energy prices, and consumer spending drive the overall demand for paints and coatings.
MEA makes up approximately 19% of the world population, but only 9.5% of global GDP. This percentage is fairly consistent with the 7% of global coatings volume (and the 6% of global coatings market value) MEA represents. The top 10 MEA economies are: Iran, Saudi Arabia, South Africa, Egypt, Nigeria, Algeria, Israel, UAE, and Qatar. They are responsible for about 70% of regional GDP and represent a large percentage of the regional coatings market. Figure 2 illustrates the distribution of the coatings market within MEA by subregion. The region trails western economies by a wide margin in relation to coatings consumption per capita. This reflects its lower GDP per capita coupled with its lower industrial output levels.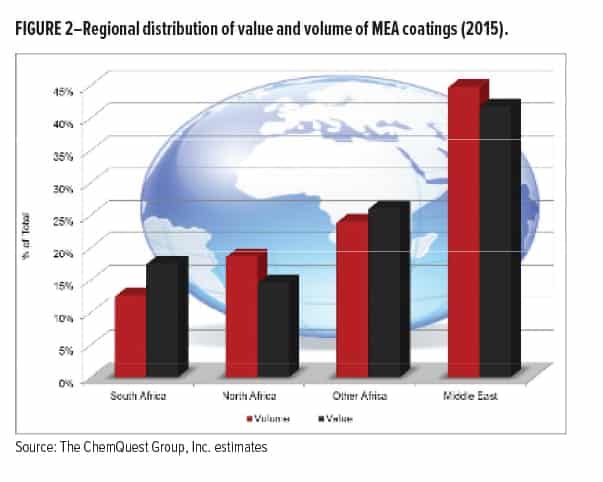 Table 2 provides population and economic data by MEA subregion. Table 3 indicates growth in industrial output and GDP for 2015. That year, Other Africa outpaced the Middle East, North Africa, and South Africa in industrial output growth. MEA has exhibited growth at about the global average.  The MEA region is forecasted to continue its growth through 2020, as shown in Table 4.
End-Use Market Data
Of the 11 end-use coatings segments, Decorative Coatings dominates with 72% of MEA's total volume in 2015, followed by Industrial Maintenance & Protective Coatings a very distant second at 7% of MEA's total volume. Table 5 provides a full breakdown of 2015 coatings volume by end-use segment and MEA subregion.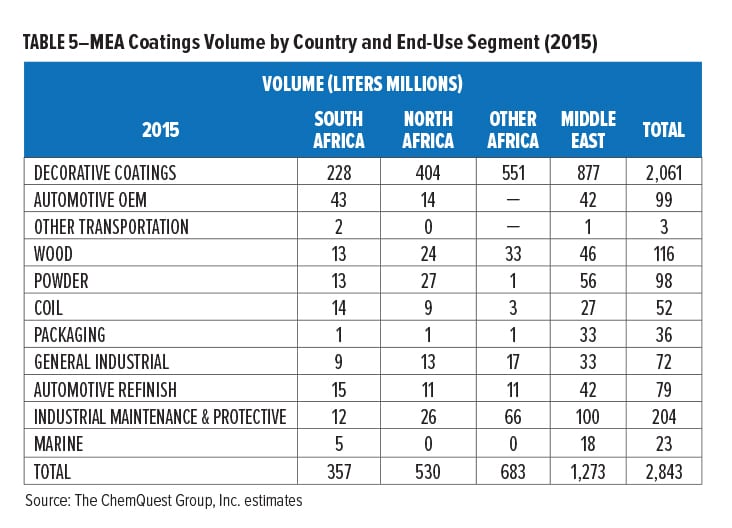 The Middle East's current end-use volume breakdown is, as previously discussed, predicated on per capita GDP (with coatings demand at 4.1 liters/person in 2015) as well as current industrial output.
SAUDI ARABIA'S VISION FOR PAINTS & COATINGS
Prior to delivering the fifth edition of the Global Market Analysis to IPPIC, the ChemQuest Group, Inc. delivered the results of a separate deep-dive study of paint and coatings in Saudi Arabia to the Saudi Arabian General Investment Authority (SAGIA). ChemQuest's SAGIA study uncovered the region's seven major challenges such as establishing an open and free market in Saudi Arabia, missing key molecules for paints and coatings, as well as infrastructure and logistics, coatings standards and regulations, and a need for easier trade across borders. ChemQuest also outlined a strategic plan for overcoming those challenges to position Saudi Arabia as the epicenter of industrial global growth aligned with Saudi Arabia's Vision 2030.
Saudi-U.S. CEO Forum
In May 2017, SAGIA held an inaugural meeting in Riyadh of its newly launched committee known as the Saudi Paint & Coatings Committee (SPCC), which ran concurrently with the Saudi-U.S. CEO Forum and coincided with President Trump's first visit to Saudi Arabia. Closely modeled after the American Coatings Association (ACA) from the standpoint of committee structure and governance, SPCC's objective is to form an industry committee framework on par with ACA's in terms of governance and structure. If successful, SPCC's goal is to be welcomed as a full-fledged member of IPPIC.
To date, SPCC has convened on three separate occasions—first to elect an SPCC chairperson (Mr. Abdullah Al-Rabeeah), then to identify and form over five subcommittees whose members subsequently nominated their respective subcommittee chairs. The charter of each SPCC subcommittee is to develop and implement a resolution for overcoming at least one of the major challenges ChemQuest identified in its deep-dive study for SAGIA.
ChemQuest believes the most important aspect is garnering worldwide attention from the public and private sectors when the paints and coatings platform emerges as the first example of a process for establishing a downstream industry toward Vision 2030. This process will define a cookie-cutter approach to establishing other downstream industries expanding SAGIA's end-market scope to include adhesives, sealants, inks, textiles, nonwovens, plastics, and personal care- and homecare products, which use similar value chains as the coatings industry.
SPCC Milestones toward Vision 2030
Subcommittee members have been tasked with reaching timely milestones to benefit the paint and coatings industry. Conceivably, the selection of a site location for building SPCC's first Center of Excellence hub (modeled after Germany and China's chemical parks) can be determined in short order.
Members have already pinned down two potential locations:
Western Saudi Arabia (Rabigh) includes a major petroleum refinery and the King Abdullah Economic City and Port, mapped in Figure 3. The King Abdullah Economic City and Port is a large land parcel on the coast dedicated as a chemical industrial zone with a city to house administration buildings, employees, and service businesses.
Jubail, a city in the Eastern province on the Persian Gulf coast of Saudi Arabia, with a population of roughly 30,000 including families and workers, has a large, deep-sea port (Figure 4). Certain areas of this site have already been dedicated to house downstream industries like paints and coatings with new infrastructure planned.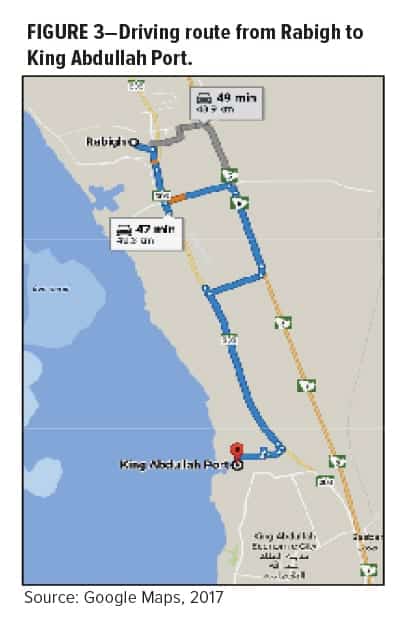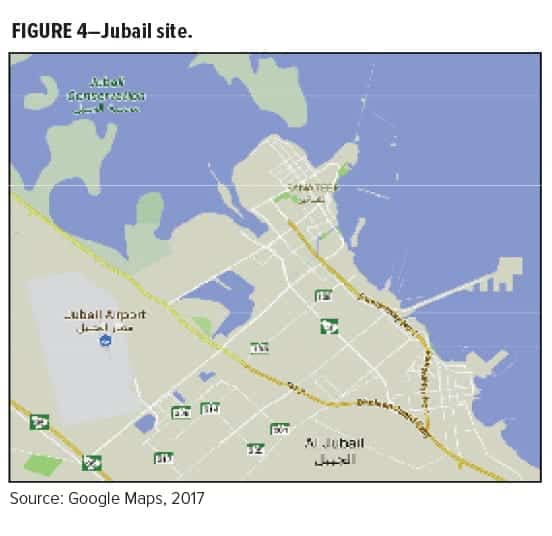 As a Center of Excellence site, Jubail is slightly preferable because (unlike the King Abdullah location) it possesses the vast majority of feedstocks required for paint and coatings production. Likewise, Jubail's promise of excursions flying to and from other Emirate states such as Dammam, Doha, Dubai, or Kuwait followed by a short drive to Jubail appeal to families and foreign investors who value easy access to airports. The size of Jubail as a port and chemical development zone is 1,000 square kilometers inclusive of waterways (access through the sea to the park then returning to the sea), of which 75% is land.
In summary, designating Jubail as the site for the first Center of Excellence cluster or hub is an easy milestone to deliver in the near-term.
Subcommittees are tasked with removing other challenges (varying from easy to intermediate milestones) that are facing Saudi Arabia's paints and coatings industry as identified by ChemQuest, including:
Adopting anti-trust laws for open and fair market access (doable in the near-term).
The timely adoption of surface preparation and coatings standards from SSPC: The Society for Protective Coatings, for example, and environmental regulations from the EPA/OSHA/REACH is feasible. So is adopting standards from other regions; however, more time will be required by users to adapt those standards to Saudi Arabia's raw materials and its harsher environmental conditions.
Easier trade across borders.
Timewise, two charters stand out:
Missing key molecules within in the supply chain
— KSA produces many basic chemicals but some key molecules specific to paints and coatings are missing:
MIBK
MEK
Aromatic 100 & 150
Phthalic Anhydride
o-Xylene
Adipic Acid
Aliphatic Isocyanates
— Intermediates produced in KSA lack sufficient scale
— Longer-term resolution would require building crackers dedicated to extracting raw materials from indigenous feedstocks.
Building infrastructure in terms of rail along with the capability to move small shipments i.e., containers (drums, pails, etc.) Logistically speaking, small shipments of materials are difficult to move through mega deep-sea ports that are designed for ships and pipelines (not totes, drums, or pails).
—Longer-term resolution may be to dedicate within Jubail or the King of Abdullah Economic City a smaller area that can handle smaller ships and multi-compartment shipments.
Establishing a national network of distribution is another long-term subcommittee charter. While a hierarchy of milestones is still being fleshed out, the highest priority right now is focusing on quick successes that create jobs and attract new investors—both of which will likely continue to be rewarded with favorable attention by the KSA government.
Saudi Arabia's Vision is to become the center for the global paints and coatings supply chain, predicated on Saudi Arabia's attractive geographic location: At the heart of 55% of the global market (summarized in Figure 5), with advantaged access to: key feedstocks within Middle East, Africa's emerging growth to the west, and India and Southeast Asia growth markets to the east.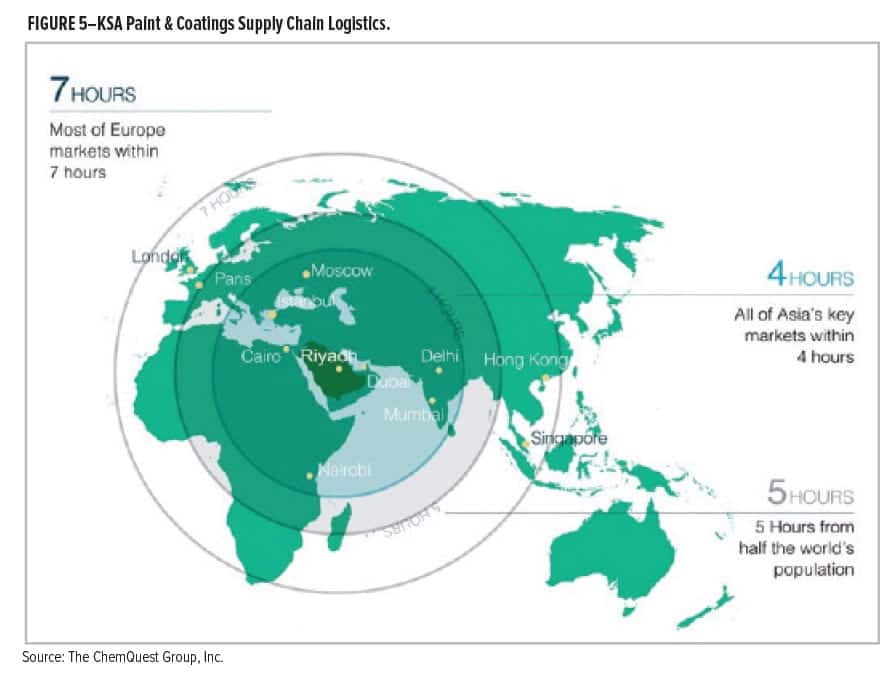 Comparatively, the paints and coatings industry is attractive, with favorable market dynamics and profitability versus other industries. It offers considerable value-add per barrel. It can readily tap into demand from potential markets in the Middle East, Africa, India, China, and Southeast Asia that are currently underdeveloped but emerging rapidly.
To achieve its vision, specialized industrial zones are planned for paints and coatings as another charter. The subcommittee in charge will develop integrated P&C zones on the East and West coasts of Saudi Arabia using the German "verbund" principle of a "shared services" model comprising import clearance and testing facilities.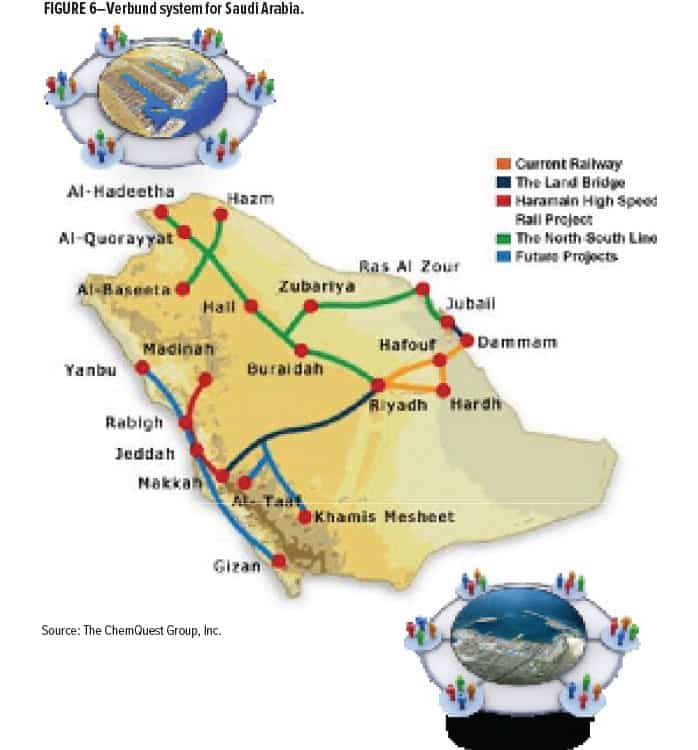 The "Verbund" system (Figure 6) for Saudi Arabia would require:
Refineries that produce feedstocks
Specialized industry zones for downstream P&C supply chain (polymers, pigments, additives & intermediates) and coatings producers
Proximity and access to feedstocks, world-scale state-of-the-art chemical assets, blue-chip suppliers, and an efficient supply chain
Modern "rail" network
World-class seaports
Integrated supply chain and logistics
Coatings academy for specifications, standards, workforce education, and training.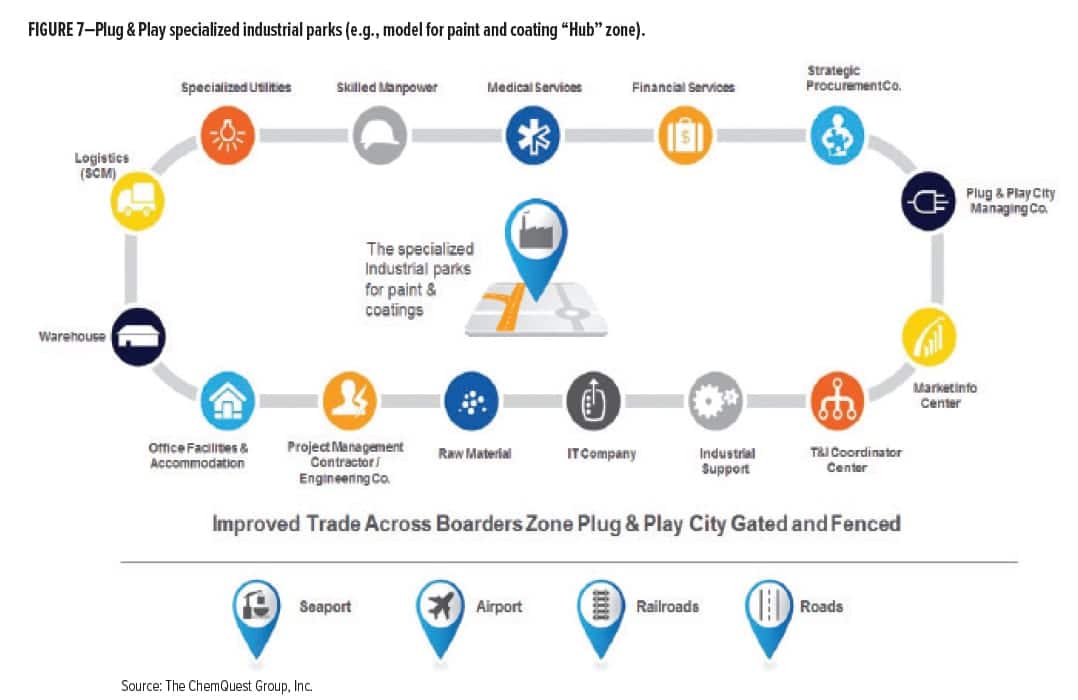 Saudi Arabia has a unique opportunity to benefit from "lessons learned," with respect to the sustainable production of paints and coatings. This opportunity is the springboard for Saudi Arabia's Plug & Play Vision (depicted in Figure 7), a business model that offers complete integrated infrastructures, general and specialized services, and enabling trade across border—to foster competitiveness, which is important to industry stakeholders:
"One-stop" shop for all paper work approval and permits
Synergize your industry presence with other manufacturers
Access to a trained workforce
Rent general services
Rent specialized industrial services
Technology and Innovation coordination center on site
Market information center
Hub strategic procurement services; synergize on volume
Hub EH&S service
Small business growth is a key driver for sustained profitability in the industrial OEM, decorative, and architectural coatings' market segments. With respect to job creation in Saudi Arabia, the SPCC further recognizes the role small and medium-sized enterprises play in favorable employment projections to sustain a rising middle class and boost discretionary consumer spending. Therefore, the Ministry of Commerce and Investment and SAGIA are establishing a new Ministry that will create incentives and remove any barriers for small and medium businesses to flourish in Saudi Arabia (mirrored after the success of western economies).
Ultimately, SPCC is an outstanding example for use as a blueprint for future downstream industry adoptions. SAGIA has done its part creating attractive investment packages.
ChemQuest president/CEO, Daniel S. Murad, has been voted in as the chairperson of SPCC's Technology Institute and Coatings Academy (Training & Education) subcommittee. As the chair, Murad is committed to the subcommittee's charter to advance paint and coatings' knowhow and to provide training and education at various levels of the value chain. For SPCC's Technology Institute, Murad has proposed replicating the ChemQuest Technology Institute's testing, analytical, synthesis, and application development services over time in a location selected by the subcommittee. Under ChemQuest's direction, SPCC's Institute will begin as a Testing Lab, expand into a Certification Lab, and in the final stage will emerge with full capabilities as an Applications & Development Center—with the same coatings robotics application equipment as the ChemQuest Technology Institute. SPCC's Coatings Academy will conduct training and certification of trades professionals, chemists, and other end users.
Murad has also been elected as chairperson over the Paint & Coatings Center of Excellence Cluster Plug & Play Services Committee, and is participating as a member of the Center of Excellence Location Selection Committee.
As the United States and Saudi Arabia seek bilateral job growth, mutually beneficial trade agreements, and sustainable, scalable economic diversification beyond oil and gas production—through technological and business innovation—the future of the global coatings industry holds far more promise than even two years ago. Perhaps coatings practitioners are the men and women who possess Henry Ford's prized "infinite capacity."
"I am looking for a lot of men who have an infinite capacity to not know what can't be done." —Henry Ford 
CoatingsTech | Vol. 14, No. 9 | September 2017