Biobased Coatings: Making Initial Inroads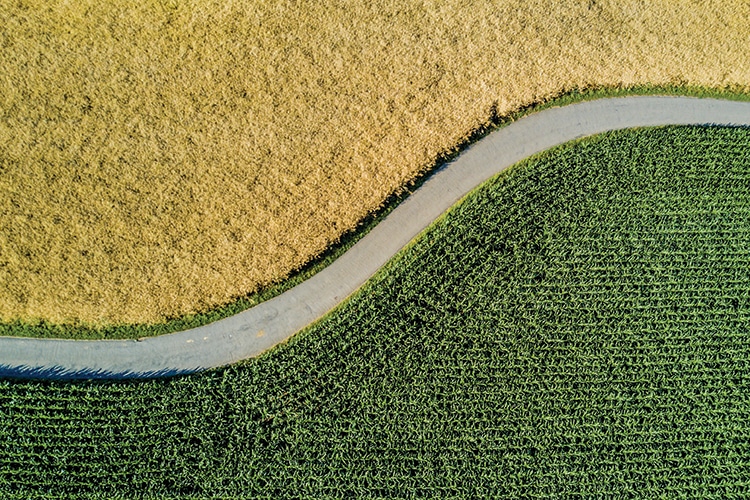 By Cynthia Challener, CoatingsTech Contributing Writer
Biobased coatings account for a small share of the paint and coatings market—approximately 5% in 2018 according to estimates of leading industry consultants.1 That level is seen as just a starting point, though, as many in the industry predict that biobased coatings will make significant inroads in the not-too-distant future.
As consumers become more aware of and concerned about the safety and environmental impacts of the products they use—not only when they use them but also during the production and across the products' entire life cycles—ingredient suppliers and coating formulators are driven to invest more in innovation related to biobased materials.
Several hurdles must be overcome, ranging from access to large volumes of biobased raw materials with consistent high quality to the development of biobased products that provide the same or better performance as traditional paints and coatings and at equal or lesser cost.
Even so, these challenges are considered surmountable, and expectations are high across the value chain.
A LOOK AT CURRENT OPTIONS
The use of biobased ingredients in coatings must be taken in the context of overall sustainability. Growing corporate sustainability initiatives are driving the conversation of not only biobased ingredients, but also materials that are produced using less energy, are lighter for shipping, incorporate recycled or upcycled materials, reduce petroleum-based materials, and offer lower VOC emissions, among other considerations, according to Joanne Hardy, global director of research and development at Axalta Coating Systems.
"Biobased coatings are one of many ways manufacturers can deliver sustainability benefits within the paint sector," agrees Mary Ellen Shivetts, PPG director of global product sustainability. She notes that many raw material suppliers are introducing biobased options to the paint and coatings industry, either as part of a biobased mass balance approach or as materials certified to a specific biobased content.
Renewable raw materials are used to produce biobased solvents, resins, additives, and pigments, which are all components of coatings.
Natural oils have been on the market for some time and have been used to manufacture solvent-based products. They are now being used by companies such as allnex to produce high-solids alkyds and high bio-content, water-based alkyd emulsions/dispersions, according to Florian Lunzer, the head of corporate innovation at allnex.
These resins, he notes, find appeal in decorative/architectural coating applications. Renewable polyurethane dispersions (PUDs) based on vegetable oils (e.g., soybean, castor, and linseed) are also available and used for wood finishes, including industrial and flooring markets, adds Terri Carson, director of technical service and quality control for Alberdingk Boley. "These oil-modified products enhance the appearance of wood with excellent wood warming properties and chemical resistance from oxidative crosslinking," she says.
DSM has commercialized a wide range of biobased resins for industrial, joinery, flooring, packaging, and decorative coatings in selected markets. "We have experienced a sharp increase in the demand across all markets, mainly for decorative and industrial coatings," says Tim Gratzke, Decovery® marketing manager with DSM Resins & Functional Materials.
More recently, other biobased raw materials have become available on a commercial scale, including polylactic acid (PLA), which is used to replace plastics in flexible packaging applications; 2,5-furandicarboxylic acid (FDCA), which is currently used in making polymers that replace polyethylene terephthalate; succinic acid; and isosorbide; among others. Most have not yet found appreciable inroads into coating resins yet, but the potential certainly exists, according to Lunzer. Biosuccinic acid, Carson notes, is being used to produce polyols for PUDs and water-based uralkyds.
PPG has two biobased coating offerings: Johnstone's™ Air Pure, a biobased wall paint that contains 45% biobased raw materials and enhances the indoor-air quality of homes, offices, and schools by removing up to 70% of harmful formaldehyde from indoor air, and SEIGNEURIE™ Phylopur, an interior wall paint containing a 97% biobased resin produced from plants and industrial byproducts, which is available in undercoat, matte, and velvet finishes and performs like traditional paint.
The renewable raw materials are cultivated according to a sustainable management method, reducing the use of fossil fuels, and contribute to the paint's very low VOC emissions, according to Shivetts.
CONSUMER-DRIVEN INTEREST
Many companies have established sustainability initiatives that include being responsible and respectful to the environment by using biodegradable raw materials derived from renewable and sustainable resources.
"Developing and manufacturing products with this in mind can also help their customers meet their sustainability goals," says Al Libal, business development manager at Werner G. Smith. "Biobased projects are therefore borne out of true partnerships that create win-win solutions."
There are many aspects influencing the move to biobased coatings, including regulations, customer needs, and the industry's continued focus on sustainability, according to Shivetts. "Coatings manufacturers must be willing to invest in innovation and exploration of renewable resources in order to proactively develop high-performing biobased products," she says.
In the short-term, products that are consumer oriented will be those where biobased technologies are adopted more readily, says Steve Block, vice president of business development for NXTLEVVEL Biochem. "Regulations are driving this change, especially those related to safer chemicals for people the environment," he says. "But there is also a market pull for biobased technologies, particularly in the decorative coatings market. Consumers are becoming more interested in natural-based products as concern for the health of the planet and impact to people increases.
"This is especially true in some areas in the United States, like California and New York, many countries in Europe (especially in Germany, U.K., and Scandinavia), and Australia," Block says. He does note, however, that there is substantially less appetite for biobased technologies in Brazil, India, China, and Southeast Asia.
DSM's experience has been similar, as strong demand comes mainly from the European market and is driven by end-consumer demand, major brands, big-box retailers, and legislation, according to Sandeep Bhatt, business director NMA, DSM Resins and Functional Materials.
Robert Skarvan, global marketing director for the allnex Liquid Resins and Additives Business Unit, adds that the industrial wood market in Europe is heavily influenced by Ikea, a brand owner that is well known for its sustainability practices and has a history of using biobased materials. He has seen less interest in decorative coatings to date, but views this segment and packaging applications, notably for cosmetics, as offering emerging opportunities.
There is also a growing focus on biobased coatings within the automotive sector as more consumers request biobased materials, according to Hardy. "Axalta actively tracks the megatrends in the industry, and we see sustainability as one of the most important trends today," he says. "We are continually identifying and evaluating biobased raw materials across all regions to meet customer expectations and expand our sustainable coating offerings."
Regulations are an important driver, too, according to John Bennett, CEO of Eco Safety Products. "Regulations to reduce carbon-emission output requires reduction of petrochemicals," he explains. "Biobased materials that can be converted to replace petrochemicals will therefore have the most applications for broad use."
Other regulatory pressures stem from efforts to reduce hazards to the environment. One of the key concerns—and opportunities for improvement, according to Block—is addressing the aquatic toxicity of raw materials. "Care for the environment is a universal pillar and using raw materials that have a favorable health, safety, and environmental profile are advantageous," he observes.
GOVERNMENTAL INITIATIVES AND EFFECTS
Two government-backed initiatives directly impact the use of biobased coatings. In the United States, the U.S. Department of Agriculture (USDA) BioPreferred Program, which began in 2002, was created to increase the purchase and use of biobased products, including paints and coatings.
The two core pillars of the program are mandatory purchasing requirements for federal agencies and their contractors, and a voluntary labeling initiative for biobased products. The USDA Certified Biobased label, displayed on a product certified by USDA, is designed to provide useful information to consumers about the biobased content of the product, Shivetts says.
"This program has not only impacted the development of biobased technologies, but also the U.S. economy by millions of jobs and new market opportunities for products based on renewable resources," Carson explains. According to USDA, Shivetts adds, the increased development, purchase, and use of biobased products reduces U.S. reliance on petroleum, increases the use of renewable agricultural resources, and contributes to reducing adverse environmental and health effects.
A newer initiative in Europe—the EU Green Deal—is anticipated to put the European manufacturing base on an accelerated green track, according to Michela Fusco, global marketing director of allnex's Radcure Business Unit.
Bhatt, of DSM, agrees. "New environmental criteria for public tenders across Europe and the European Green Deal have led to an increased interest and adoption of biobased ingredients in coatings," he says.
COST AND PERFORMANCE REQUIREMENTS A BIG HURDLE
As the interest in biobased materials continues to increase, the need for a clear, quantitative value proposition for each material being considered is paramount. "The challenge of creating coating solutions using biobased materials is the ability to develop a biobased product that performs equal to—or better than—existing products on the market today at equal cost," Hardy says.
As with any new technology in any industry, Block notes, the costs in the early stages of commercialization are not at a scale where additional costs are avoidable. Consistent raw material availability at an affordable cost is also a challenge, according to Shivetts. "The switch to plant-based materials must not result in any compromise in functionality of the paint, which can present a challenge for paint manufacturers to maintain standards," she says.
At this early stage of market development, technologies seem to be limited with the quality of the product as it relates to performance benefits under constant evaluation, Libal adds. While the raw material supply chain issues should be overcome once demand rises, achieving higher levels of adoption or conversion to biobased materials in the mainstream may be a tougher hurdle to surmount, according to Bennett.
MORE CHALLENGES
Beyond cost and performance issues, several other factors complicate the development and adoption of biobased paint and coating products. One of the fundamental challenges, according to Gratzke, is the complexity of sustainability.
"Before becoming successful with biobased ingredients one needs to understand sustainability from a holistic perspective. This was certainly one of the challenges and great learning experiences our organization went through," he explains. "Being able to define what sustainability really means was a great challenge. It is everything from biobased content to reduced carbon footprint, low toxicity and sustainably sourced materials. These are some but certainly not all factors. Understanding the connection between these elements and building a compelling portfolio around them with our Decovery® biobased brand was a major step."
Gratzke also notes that while the entire bioeconomy still faces plenty of challenges such as the availability of renewable raw materials at scale, great progress has been made in securing supply and expanding the toolbox of biobased monomers.
Inconsistency in the methods used for determining the content of biobased materials in a coating and the definitions for biobased coatings across industries or regions adds further complexity and confusion, according to Kevin O'Connor, global director of product management for transportation coatings at Axalta Coating Systems.
"When is a biobased coating considered biobased?" he asks. "And how much biobased material content is needed to be classified as biobased? We are working with our customers to understand their definitions and expectations around the amount of biobased content in a coating solution that would help them meet their own sustainability objectives."
Another hurdle for biobased ingredients is ease of incorporation. "It is much easier to incorporate a biobased solvent with the same chemical structure as the conventional solvent," O'Connor explains. "Conversely, incorporating a biobased monomer into a new polymer system that is ultimately incorporated into the coating formulation is far more challenging. The biobased solvent may not impact the final performance of the coating, while the new monomer is far more likely to impact final performance."
Lunzer agrees, noting that true biobased molecules that can be used as one-for-one replacements of existing petrochemicals do not happen often. "In most cases, changing the raw material base to a high biobased content requires the development of a completely new product in order to adapt the overall composition to the properties of the new raw materials," he says. "Like-for-like substitution is often only possible if the downstream users are willing to accept the mass balance approach to calculating bio content."
The slow rate of adoption of new materials by the coatings industry is another issue. According to Block, it discourages the development of new biobased technologies and creates exceptionally long periods for recovery of investment costs.
Gratzke concurs, noting, "The sustainability trend is a great opportunity, but it is extremely difficult to achieve with speed."
He stresses that because it is such a challenge to formulate biobased resins and coatings that perform well, are affordable, and truly sustainable, collaboration across the value chain will play a vital role in the transformation of the market.
"We've made very positive experiences in connecting all the stakeholders across the value chain to make this happen and would like to emphasize that we are very open to any form of collaboration to satisfy the demand for biobased resins and coatings," Gratzke says.
It is also important to remember that there are downsides to putting too much emphasis on any on any singular sustainability concept or goal. "A balanced approach is needed," says Fusco. "And perhaps the main reason we don't have strong biobased legislation today is because a balanced approach has not yet been found. It's not an easy issue."
The approach allnex has taken with its sustainable portfolio management when building the ECOWISETM portfolio is to assess the product sustainability performance across five different eco pillars that include renewable sourcing as well as the use of safer materials, VOC emissions, circularity, and energy efficiency, Fusco notes. "This approach ensures we make balanced choices based on multiple aspects of product impact on people and the environment," she explains.
CONSIDERATIONS FOR BIOBASED INGREDIENT SELECTION
When it comes to reducing the carbon footprint of its products, AkzoNobel uses both biobased materials and materials containing recycled content. When choosing sustainable ingredients, the company's approach takes into consideration some of the challenges that come with the use of biobased ingredients, according to Job Coenen, business development manager for sustainability with AkzoNobel.
"Customer research confirms that while there is openness to consider biobased, lower-carbon-footprint solutions, only few customers are prepared to pay more or sacrifice on quality for them," he says. "The costs of making biobased raw materials are often still higher than conventional raw materials and can still be a challenge to match product performance. We also don't want our biobased ingredients to compete with the food chain. And finally, we see that not all suppliers of biobased materials can supply the full LCA [Life-cycle Analysis] data needed to support any product claims."
Axalta also considers several factors for biobased ingredients before incorporating them into a coating formulation, including
ease of incorporation into an existing formulation; total cost to incorporate the candidate material versus a conventional material; performance of the candidate material versus a conventional material; how the use of the candidate materials impacts other important value chains; and whether there is quantifiable evidence that the candidate material reduces the scope 1, 2, or 3 greenhouse gas (GHG) footprint compared with the conventional material.
STANDARDIZATION/CERTIFICATION & MARKET ADOPTION
The lack of consistency in defining biobased materials should be addressed with some form of standardization. "Standardization can play a very important role in advancing biobased coating technologies" Bhatt says. "It should be the goal to establish measurable and objective criteria to benchmark one solution to another."
Certifications and product labels, Carson adds, are a source of information for defining technical specifications and compliance to a specific standard. They also help to promote awareness of biobased technology that is needed, in part to increase the usage/demand of these products in more market areas.
Any type of standard is intended to create consistency and industry acceptance, Block says. Standards are important, he says, so both coating manufacturers and raw material suppliers have uniformity. "However, as technologies develop, industries should look to ensure any standards are reflective of current technologies while still enabling the introduction of new technologies without creating unintended barriers," he says.
Standardization and certification would also play a role in how a biobased coating technology is marketed and the influence the consumer would have to demand more biobased materials, according to O'Connor.
"Today, there is no certified 'biobased coating' composition threshold that allows coatings to be officially labeled as a biobased coating," O'Connor explains. "We believe standardization and certification of such a threshold would be welcomed in the coatings industry and could accelerate the adoption of biobased coating technologies. Developing biobased coating technologies is an intricate process and one that we at Axalta believe requires standardization to gain momentum."
For its Decovery® solutions, DSM has elected to use biobased feedstock that can be verified with the C14 standard even at the end-user level, according to Bhatt. "This measurement methods allows quite accurately the determination of the biobased content in a material and hence creates a high level of transparency and trust," he explains.
Batt says that this standard is gaining acceptance in several European countries now, but there are many more elements that can and should be standardized beyond biobased content, such as the environmental footprint.
Bennett would like to see oversight and standardization regarding the impacts of biobased material development on the balance of the entire ecosystem all the way to responsible farming. He says he is concerned, however, that dictating how much biobased content should be in a product could result in products not meeting the best performance objectives.
"Formulating safely and sustainably also involves product lifespan and performance," he says. "Certified testing of how much biobased content would serve the ultimate goal just as well and most likely better."
Hardy believes that coating and raw material suppliers should consider Life-cycle Analysis (LCA) standards, including ISO 14044 and ISO 14067, for quantification of the GHG footprint of raw material and coating technologies.
One example of an industry-led initiative worth noting, according to Shivetts, is the U.S. Green Building Council (USGBC) Leadership in Energy and Environmental Design (LEED) green building ratings, which are considered a standard for green building initiatives for companies that wish to earn LEED certification for their projects. "While biobased coatings are a smaller portion of the overall industry, it is anticipated that they will become more prominent in years to come as customers continue to seek sustainable solutions," she says.
ANTICIPATING THE NEXT WAVE OF COMMERCIALIZATION
Part of the excitement around biobased paints and coatings is the high level of innovation activity in the space. "While there are a relatively small number of biobased paints and coatings within the current marketplace, further research and development will allow greater understanding of biobased materials and their performance," Shivetts says.
She adds that all segments within the paints and coatings industry are open to the possibility of biobased coatings alternatives, but in some segments, additional research and development work is needed to ensure product performance.
Leading suppliers and developing companies are investing heavily in surfactant, solvent, and coalescing agent technologies, among others, because the coatings industry provides significant business opportunities, according to Block.
"There is an increasing number of companies who are developing biobased technologies for the coatings industry, many of which are young, dynamic firms where the rate of change is accelerating and could contribute step-change innovations," he says. "I would anticipate a broad set of technologies to meet the ever-changing market needs, with many of those products coming from developing companies that can rapidly deliver impactful technologies."
Block points to technologies using both enzymatic and catalytic methods and those leveraging carbon dioxide as a feedstock as key biobased approaches gaining the attention of the coatings industry.
Acrylic acid and acrylate monomers represent some of the most important biobased monomer groups to watch out for in the future, according to allnex's Skarvan.
In general, biobased ingredients that are easily incorporated into existing formulations and that have clear, quantifiable benefits, in terms of reduction of total GHG footprint, are anticipated to be commercialized in the near term, according to O'Connor.
DSM is focused on rapidly growing its biobased portfolio in the markets it currently services, according to Gratzke, but he notes that the company is screening for potential markets to enter with its Decovery® biobased technology. Gratzke says he believes the entrance of other players into the market is a good development. "The dynamic nature of the sector reflects the growing demand for biobased coatings and brings us closer to our goal of accelerating the transformation of the coatings market towards renewable ingredients," he says.
Meanwhile, Alberdingk Boley will continue to pioneer the development of biobased PUDs, with a focus on the development of novel castor and linseed oil-based dispersions and polyols. "We offer renewable alternatives for many of our standard PUD grades, and we'll always commit our efforts to deliver valued biobased solutions," Carson says.
Eco Safety Products, meanwhile, is nearing completion of the development of biobased antibacterial and antiviral additives, according to Bennett. The company is also working on biobased hybrid epoxy urethane binder systems for the formulation of numerous decorative aggregates. These products use biobased content from nuts, soy, chitin, starch, and cellulose and will be formulated into decorative floor and countertop coatings.
Carson cites IVC Chemicals as another example. The company recently partnered with Green Delta to produce biorenewable UV products as part of the Life BioPaint project. "These products," she says, "were manufactured in a fully automated, closed-circuit process developed with zero-VOC emissions, minimal waste, and with lower energy use during production." A full range of 100% UV-cure coatings has been developed with renewable content up to 70% for furniture, doors, panels, and flooring.
AkzoNobel has also been active in the biobased coatings space. The company recently announced a biobased innovation developed in collaboration with the Dutch Advanced Research Center Chemical Building Blocks Consortium (ARC CBBC). "This completely new, breakthrough curing technology uses biobased monomers and requires just UV light, oxygen, and renewable raw materials, offering a more sustainable way of making resins," says Coenen.
He also notes that AkzoNobel often seeks solutions for overcoming the hurdles to biobased coating development and commercialization by partnering with others. The company's collaborative "Paint the Future" innovation ecosystem includes suppliers and other industry "newcomers," such as startups and academia, with the goal of bringing innovations to market by pushing the boundaries of the paints and coatings industry.
"The goal is to be able to offer our customers cutting-edge, sustainable solutions, and the new biobased curing technology is a fantastic example of collaborative innovation in action," Coenen explains. "This new product is just one demonstration of how AkzoNobel is opening up a new future for paints and coatings by using sustainable building blocks that will enable us to explore and develop some really exciting functionalities for our customers."
AN EVER-GREATER DIFFERENTIATOR
As the world faces countless challenges related to climate change, the international community has recognized that it is time to act. As a result, Bhatt says, sustainable and biobased ingredients will disrupt the coatings market.
"Our market insights show a continuously increasing demand for sustainability attributes in coatings products," he says. "Performance and price are still of very high importance, but sustainability is at the moment a great differentiator and will most likely become a qualifying criterion in the long run."
Block says he sees four pillars as necessary for success: performance, scale, affordability, and environmental impact. Each of these factors, he says, also has a role to play in the adoption of new biobased technologies.
Block also agrees with Bhatt, noting that the importance of environment impact has been growing with many suppliers and coatings manufactures, as reflected by the greater numbers of companies developing corporate Environmental, Social, and Governance (ESG) goals.
"These initiatives are supported by company stakeholders and investors as concerns such as climate change, personal health, and protecting our natural environment are rapidly rising in board rooms across the supply chain," he says.
Libal also believes biobased technology is becoming increasingly significant in the marketplace despite the numerous obstacles they face.
"The importance of biobased solvents, resins, additives, and pigments will only increase as the world moves toward the measures of reducing carbon footprints and dependence on non-renewable resources," he concludes.
While there is still a long way to go to explore the scope of biobased technologies, Coenen says these and other sustainable solutions will almost certainly define the future of AkzoNobel products.
Coenen explains that with its "People. Planet. Paint." approach to sustainability, AkzoNobel is embedding sustainability into everything it does and reducing the impact on the planet by offering its customers innovative and sustainable solutions—that, for example, have a lower carbon footprint.
"In both the paints and coatings market segments, we are exploring the use of biobased ingredients as an alternative to the fossil-based economy," he says. "With our size, scope, and volumes as a large, global company, biobased ingredients will make a substantial contribution to our sustainability ambitions. By 2040 or 2050, there is a good chance we might only be using biobased monomers in our resin production, which will help us to reduce the overall carbon footprint of our products."
At Axalta, sustainability is considered one of the most important megatrends across many industries. "As customer and consumer interest in sustainability continues to increase," Hardy says, "the development of new biobased products will also continue."
References
1.   Gesthuizen, Jan. Bio-based coatings overview: Increasing activities, European Coatings, Aug 27, 2020. https://www.european-coatings.com/articles/archiv/bio_based-coatings-overview-increasing-activities (accessed Apr 7, 2021).
May 2021 | Vol. 18, no. 5