By Terri Carson, Laurie Morris, and Jim Bohannon
Industrial wood coatings encompass several market areas, including furniture, kitchen cabinets, building products, and decorative coatings. Requirements for these markets largely depend on their field of application.
Exterior performance is focused on high durability and protection against humidity, while interior coatings require properties such as scratch, chemical and abrasion resistance. One of the largest sectors of the interior market is the furniture industry.
Several resin technologies are being used by coatings formulators in this market, including solventborne (SB), waterborne (WB) UV polyurethane dispersions (PUDs), and self-crosslinking acrylics. Several criteria are of importance in considering which technology to use.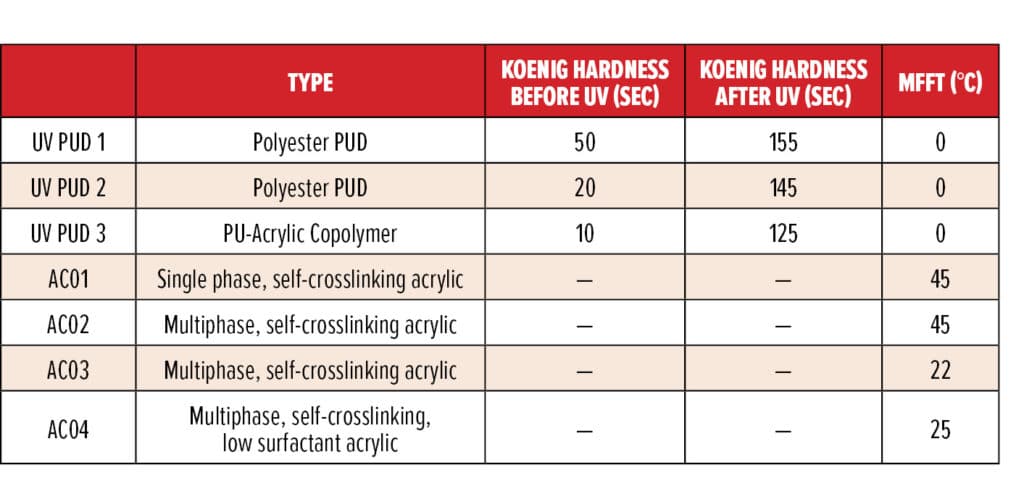 Each technology has advantages and disadvantages, and a comparison has been summarized based on the criteria in Figure 1. The dominant technology used in North America is solventborne, including nitrocellulose (NC) and acid cure conversion varnish. These coatings have many benefits, including fast dry time and very high gloss, and they enhance the wood appearance. They are also very economical and can be easily applied by spraying, rolling, curtain coat, and dipping.
However, a significant disadvantage of using these materials is the high level of volatile organic compounds (VOCs) and hazardous air pollutants (HAPs) and the limited varnish pot life. Due to increasing regulations for lower VOC and formaldehyde emissions, more environmentally friendly coatings are now in demand.1 This shift has opened the door to waterborne technologies, including UV PUDs and self-crosslinking acrylics.
UV PUDs are increasingly gaining acceptance in the market as a replacement for solventborne because they have very low emissions. They offer high-end performance with minimal process issues. Since UV PUDs are high-molecular-weight polymers, the crosslink density of the cured networks compared to 100% solids is lower, limiting shrinkage after cure and resulting in excellent adhesion to most substrates. They inherently yield good mechanical performance because they have hard urethane and urea domains that can have hydrogen bonding, coupled with softer domains that come from the choice of raw material building blocks such as the polyols.
Some of the challenges with using WB UV are related to processing. It is essential that water is completely released prior to cure, and factors such as humidity must be considered to minimize production of defective parts due to incomplete drying. Additionally, the cost of this technology is higher compared to SB.
Self-crosslinking (SC) acrylic dispersions are also included amongst WB resin technologies. Overall, they have good durability and can be formulated into high-performance coatings with a low coalescent demand due to phase-separated morphologies in the polymer particles. Several types of morphologies can be achieved depending on the polymerization strategy that is applied, which also influences film properties such as block resistance. These materials can also be blended with WB UV resins to offer a more economical formulation while maintaining excellent performance.
Areas of concern include the presence of surfactants that are required for the colloidal stabilization of the polymer particles. Such components can migrate to film surfaces imparting water sensitivity into the film or may lead to foaming issues during formulation. Regarding aesthetics, acrylics also are not especially noted for enhancing the appearance of the wood substrate and most often they lack wet clarity. While WB acrylics are higher solids compared to SB/NC lacquer, they generally do not produce a smooth haptic touch.
In this article, water-based technologies, including UV-curable PUDs and SC acrylics, have been evaluated for industrial wood coatings. These resins have been designed to fulfill the range of requirements needed for adequate protection of the substrates, minimizing formulation issues and ease of processing. Table 1 provides basic properties of the resins used to formulate these coatings. This investigation will further detail the comparison of these resins to traditional resin types used in these markets.