Surface Transmission of the Novel Coronavirus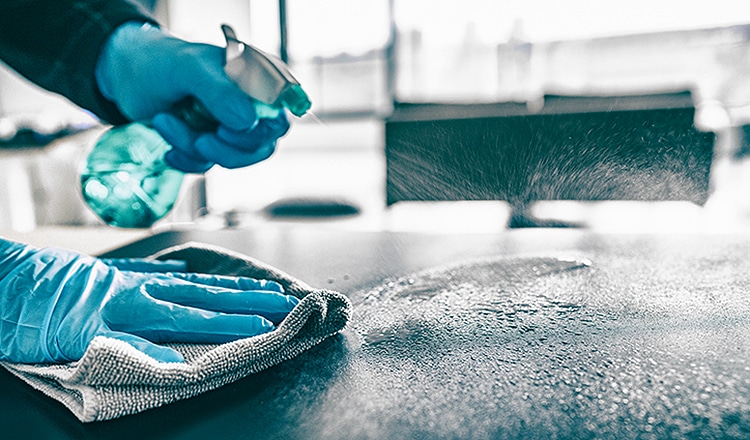 SARS-CoV-2, the virus that causes COVID-19, is aggressive and opportunistic. Until vaccines are widely distributed and administered, everyone around the world must take precautions to prevent its spread.
Respiratory viruses can be spread through contact transmission (directly with a person or with a contaminated surface), droplet transmission (breathing in large and small respiratory droplets when near and infected person), and airborne transmission (breathing of smaller droplets and particles suspended for an extended period in a larger area).
New questions are also being raised about transmission via surface contact. Early in the pandemic, one study found that SARS-CoV-2 can survive on smooth surfaces (plastics, stainless steel) for three days and one day on paper and cardboard. The quantity of virus placed on these surfaces, however, was much greater than would occur naturally unless an infected person coughed or sneezed directly onto a surface.
It has therefore been thought for some time that surface transmission would only occur if someone touched a contaminated surface on which a large amount of virus was recently deposited by an infected individual through coughing or sneezing in close proximity. The person who touched the surface would shortly thereafter have to touch his/her eyes, nose, or mouth without any handwashing.
New research by Australia's national science agency (CSIRO), however, suggests that in the dark SARS-Cov-2 can survive on smooth surfaces including paper money and cell phone screens for nearly one month and porous surfaces such as cloth for two weeks. It has also been found that in areas where COVID-19 outbreaks have occurred or infected people have quarantined, viral DNA is detected.
However, in the Australian study (and many others), the virus was not applied to surfaces in fresh human mucus, which contains white blood cells and antibodies that actively attack viruses, and clearly the conditions (cool, stable temperature, and humidity in the dark) do not mimic real-world scenarios (sunlight is known to inactivate the virus).
In addition, recent investigations have found that while virus particles recovered from infected surfaces left for days in laboratories could be cultured and thus remained infections, real-world samples collected in COVID-19 isolation wards at a hospital and from a quarantine hotel were not infectious.
The overall consensus is that for many common surfaces there isn't a need to worry about disinfecting them. There are some exceptions—such as high-touch objects, particularly for people at higher risk from COVID-19. Hospitals and other health-care facilities also need to ensure cleanliness.
In addition, for many people, knowing that surfaces in public spaces—railway cars and buses, community centers, churches and libraries, government building, grocery and retail stores, etc.—are clean and protected gives them assurance during an ongoing time of real uncertainty.
Researchers at the University of Birmingham, in partnership with the University of Cambridge, Dupont Teijin Film (DTF), Innospec, and FiberLean, hope to help in that regard. They are developing materials that can be added to detergents and cleaners or integrated with current packaging processes to form sub-micron-thick films on surfaces that are designed to capture aerosol droplets and inactivate SARS-CoV-2 by disrupting the protective environment that exists in those droplets.
The initial phase of the 18-month project involves gaining an understanding of the interactions of the virus with different surface materials with varying characteristics, such as porosity, rigidity, and roughness, by leveraging the team's expertise in soft matter, surface chemistry, formulation engineering, and microbiology.
The commercial partners will contribute their product development expertise in polyester film, performance chemicals, and micro-fibrillated cellulose, with the goal of facilitating rapid commercialization. All three companies have collaborated with the School of Chemical Engineering at Birmingham for a decade via the Centre for Formulation Engineering.
For additional reading:
"COVID-19 transmission—up in the air," The Lancet Respiratory Medicine, October 9, 2020. https://www.thelancet.com/journals/lanres/article/PIIS2213-2600(20)30514-2/fulltext
Watson, Stephanie. "Coronavirus on Surfaces: What's the Real Risk?" September 3, 2020. https://www.webmd.com/lung/news/20200903/coronavirus-on-surfaces-whats-the-real-risk
"Covid Virus 'Survives for 28 days' in Lab Conditions," October 11, 2020. https://www.bbc.com/news/health-54500673
"It's Time to Talk About Covid-19 and Surfaces Again," October 20, 2020. https://www.wired.com/story/its-time-to-talk-about-covid-19-and-surfaces-again/
 "Researchers Tackle the Surface Transmission of COVID-19 in New Partnership," October 23, 2020. https://www.birmingham.ac.uk/news/latest/2020/10/researchers-tackle-the-surface-transmission-of-covid-19-in-new-partnership.aspx