By Victoria Scarborough, Ph.D., The ChemQuest Group, Inc.
I have recently had several conversations with extremely experienced technical scouts and investors who told me that the best source of new technology in their years of practice has been the startup community. For the CASE market (coatings, adhesives, sealants, and elastomers), this typically means sourcing material science technology rather than the novel software, social media applications, information technology, artificial intelligence, financial technology, etc., that are readily available through many startup accelerator services.
In fact, it is more difficult to find new material science technologies because so many fast-moving, potentially lucrative markets are luring startups toward early investment and quick financial gains. Investors see material science startups as having a greater need for capital investment over a longer period of time during the scale-up phase. Luckily, there are several notable events that material science scouts will find are worth their time.

The TechConnect World Innovation Conference and Expo is the largest technology conference in the world and brings together government funding agencies, military, industry, universities, and venture capital groups, among others, to present the status of current technologies like advanced materials, advanced manufacturing, energy innovation, sustainability innovation, biotech and medical, defense, and e-mobility. Universities and startup companies have the opportunity to showcase new technologies, pitch sessions allow scouts to view not only the technology but how well the information is delivered by the presenter, and military funding agencies present their latest needs. TechConnect holds events throughout the year focusing on different topics (e.g., Defense TechConnect and Smart Cities). Each provides an opportunity to meet top innovators with visionary thinking across many technology areas in one location. For those who want to find cutting-edge technology and potentially breakthrough commercialization opportunities, these events present a target-rich environment.
Many other events also have a high potential for finding new material science technology. These include:
The Rice Business Plan Competition is organized by the Rice University Alliance for Technology and Entrepreneurship. The competition supports entrepreneurship by offering a multiday event for student startups from across the world that mirrors a real-world experience. Student founders pitch to investors, receive feedback, and advance their startups. The event features significant interaction with judges and sponsors, providing valuable access and experience with both early- and later-stage investors.
The Florida Venture Forum is Florida's largest support and networking organization for entrepreneurs and venture capitalists. The organization helps startups and high-growth companies connect with the capital and services they need to grow and scale. Many of the startups are focused on the growing aerospace industry, and their pitches are often focused on material science. Events are held multiple times each year.
The Lawrence Berkeley National Lab Pitch Competition is held annually for scientist-entrepreneurs who participate in the National Science Foundation I-Corps™ program, providing them with the opportunity to practice pitching their ideas. The winner advances to a U.S. Department of Energy pitch competition to compete for cash prizes supporting market research. Most of the technology pitches involve material science, such as cool building technology and sustainable chemistry.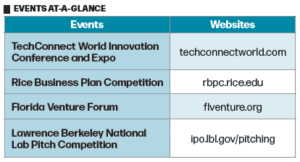 Each year, thousands of pitch competitions provide startups with opportunities to share their technology and seek collaboration with corporate sponsors in every area of technology. Having dedicated material science scouts gives each company a higher likelihood of finding a technology breakthrough because scouts are continually focused on the future needs of your business. Successful scouting means eventually finding the very thing that will differentiate you in the market.
About the Author
Victoria Scarborough, Ph.D., is vice president, collaborative innovation, at The ChemQuest Group, Inc., and the ChemQuest Technology Institute. Email: vscarborough@chemquest.com.