Radiation-Cured Coatings Market Continues to Grow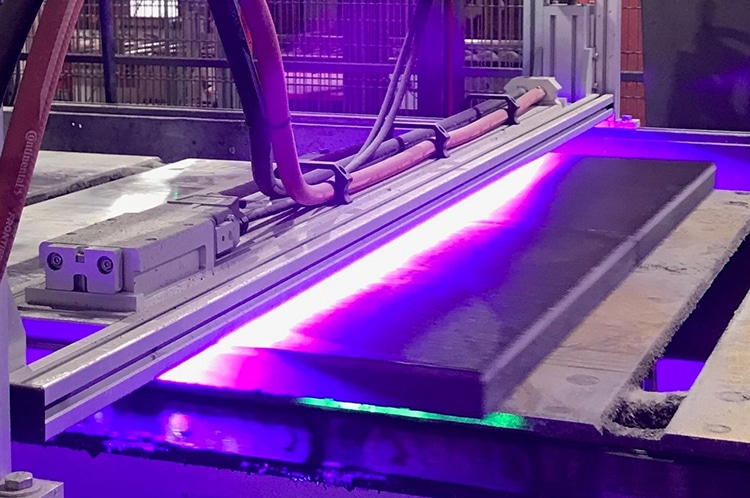 By Cynthia Challener, CoatingsTech Contributing Writer
Radiation-cured coatings continue to experience moderate growth and find expanded applications. These coatings have the ability to increase productivity while offering enhanced environmental compliance and improved physical performance. They hold the potential to offer innovative solutions and the instruments used to produce them are becoming more advanced and cost-effective.
Indeed, according to the RadTech Biennial ultraviolet (UV)+electron beam (EB) Market Survey performed in 2020, the most important advances during the past two years include improvements in UV-LED technology and better UV technology overall, as well as the ability to achieve enhanced adhesion and the introduction of more sustainable materials.
RadTech's 2020 survey also found that the sales volume of UV+EB-formulated products in North America increased by 4.6% over the previous year, and the annual average for volume sales growth in 2021-2024 is predicted to be even higher at 5.0%. Asia dominates the market with a 38% share, followed by Europe (27%), North America (26%), and the rest of the world (9%).
In 2019, the greatest end-use by far for UV+EB formulated products was graphic arts (OPV and inks), which accounted for 47% of the market. The next two important applications were wood (18%) and plastic coatings (12%). Applications predicted to experience the most rapid growth over the next two years include 3D printing/additive manufacturing, inkjet printing, barrier/conductive films, food packaging, and field-applied solutions.
The bulk (74%) of products are cured using conventional UV technology, but UV LED curing now accounts for 15% of the market. EB and dual/hybrid curing solutions are used for 6% and 5% of products, respectively. Areas for further development identified by the RadTech 2020 survey include specifically designed photoinitiators for UV LEDs, improved weatherability and adhesion, reduced migration of resin components, material sustainability, and regulatory issues.
EFFICIENCY, PRODUCTIVITY, PERFORMANCE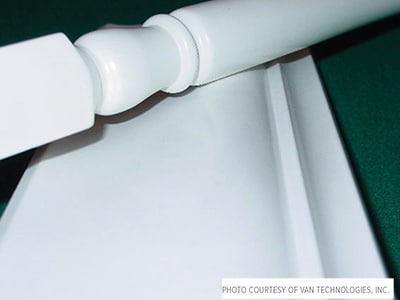 UV-cured materials are most widely used in the graphics and industrial wood markets due to their high speed and efficiency, according to Michela Fusco, global marketing director for Radcure at allnex. They also offer a smaller footprint for application, a very attractive return on investment, as well as the avoidance of volatile organic compounds (VOCs), according to Michael Kelly, chief customer officer at Allied Photochemical.
Chris Puccio, business director Radcure—Americas with allnex, agrees that overall growth of radiation cure is above typical gross domestic product (GDP) rates due to the mix of markets. He notes that interest in the technology's near-instant curing is driving the market growth, along with technology's ability to reduce the work in process, use 100% solids or waterborne formulations, produce less emissions, and consume
less energy.
Radiation-curable coatings also offer these environmental benefits along with excellent mechanical and chemical resistance, says Masahito Furo, group manager of the DIC Corporation Global Marketing Strategy Group. Combined, these attributes keep work-in-progress goods out of inventory, reduce scrap, and facilitate quicker lead times while simultaneously producing desirable finished goods properties, according to Jennifer Heathcote, business development manager for GEW.
In addition to 3D printing/additive manufacturing, metal and composites are also markets with real potential, according to Fusco. The trend, according to Dustin Kurath, technical director at Northern Coatings and Chemical, is more toward unusual applications for novel substrates such as metal, glass, and plastics.
"Growth seems to be moderate but steady, but interest and growth potential appears stronger in areas where UV coatings have traditionally not been used because of performance limitations that are now being addressed," he explains.
Van Technologies looks for surface-area opportunities that can benefit from higher performance, higher quality, lower cost, and minimal environmental impact, according to company President and CEO Lawrence Van Iseghem.
"It's difficult to state any application that can't be supported by those benefits," he observes. "It used to be that when considering performance, quality, and cost, you could only target two of the three and acknowledge that the third would be compromised. Using radiation-curable coatings, it is possible to target all three. The biggest end-use applications? Use your imagination. The graphic arts (printing), paper, film, foils, wood, direct to metal (DTM), glass, ceramic, and the automotive industries all can benefit from radiation-curable coatings."
For instance, Furo notes, in Asia, automotive applications and consumer electronics are expected to continue to drive the market for UV coatings and coating resins.
"Radiation curing is an environmentally friendly manufacturing tool that enables companies to produce products faster, more efficiently, and with better end use product performance and longevity," Heathcote says.
As new consumer and industrial goods and related manufacturing processes emerge, the application of ultraviolet curing and all its benefits can be transferred. "It is simply a matter of engaging with evolving markets and the supply chain to repurpose the technology for new uses," she says.
Heathcote points to considerable activity and innovation in UV digital inkjet, 3D printing, UV LED curing, electronic assemblies, and electric vehicle (EV) batteries, low-migration formulations for food packaging, and mattification of coatings using excimer lamps.
In addition, overall demand for many commercial print products is declining, but commercial printing, labels and packaging, and pre-coated substrates used in those applications still represent the largest markets by volume for radiation-cured coatings, Heathco notes. Home-related structural goods, furnishings, and appliances are also strong.
Allnex is also receiving more requests for sustainable solutions, such as renewable material content, and solutions for more circular products, according to Fusco.
Van Technologies has observed growing interest in waterborne UV-curable coatings because they can be applied manually in a normal spray booth and therefore provide an excellent starting point for those interested in achieving high-performance, high-quality finishes without major capital investment in automation.
"Customers want the shortest possible processing time for painted goods they can get," Kurath adds. "And this expectation is driving growth in both 100% solids UV and water-based UV as well, particularly on plastics."
Van Iseghem has also seen growing interest in exterior grades of both waterborne and 100% UV-curable coatings. Recent advances in UV LED technology that provide energy savings and very low heat generation, coupled with high intensity for rapid cure, is also driving interest in its applicability in the finishing markets, he notes.
MARKET SHIFTS RELATED TO COVID-19
Some unusual activity was observed in 2020 due to the COVID-19 pandemic that is carrying over into 2021. "The COVID-19 pandemic changed the way business is conducted in most every market sector," Van Iseghem says. "Many businesses experienced significant impact and a decline in year-over-year revenue, while those in the 'essential' business areas were able to weather the pandemic better with some experiencing improved performance relative to the prior year."
Lockdowns, shutdowns, travel restrictions, and import-and-export trade issues led to issues with material availability.
For instance, many sectors within graphics printing that serve tradeshows, conferences, entertainment venues, and restaurants were hit hard by pandemic lockdowns while a rise in home-improvement activity led to higher-than-expected growth in demand for hardwood flooring, kitchen and bathroom cabinets and fixtures, molding, millwork, doors, and furniture, many of which are finished using UV-cured coatings.
The pandemic also led to greater use of packaging, which led to surges in demand for UV materials in that market. The demand for consumer electronics was also up dramatically as people transitioned to working from home, leading to greater demand for the UV-cured coatings used on these products.
UV-curable technology is an excellent fit for these manufacturers, according to Van Iseghem, and the pandemic provided ample opportunity to explore its potential. "They all were interested in automation to reduce dependency on labor while also improving operational efficiencies, quality, and cost effectiveness," he says.
"They needed to remain competitive, and the COVID-19 pandemic made many operational activities unpredictable. The need to sustain operations, lessen the impact of labor, improve efficiencies and quality, and become more cost-effective were driving forces toward the consideration of radiation-
curable coatings."
On the flip side, lockdowns, shutdowns, travel restrictions, and import-and-export trade issues led to issues with material availability. This situation only compounded problems with already existing photoinitiator shortages and raw material feedstock shortages, according to Kurath. As a result, he notes, prices for photoinitiators, especially those based on phosphine oxide, and some other key additives have increased dramatically in the past few years.
The damaging winter storms in early 2021 in Texas further compounded the shortages, adds Puccio.
"The biggest COVID-19-related impact on radiation-cured coatings is that it has negatively impacted the supply chain while simultaneously driving up demand for many products," Heathcote says. "Many manufacturers that use UV-curable coatings are running lines at capacity and even adding new equipment. At the same time, these same users are being rationed by suppliers who are having freight and raw material supply challenges of their own. The entire chemical industry, not just radiation curing, has been impacted."
One of the biggest challenges today, Kelly says, is the lack of confidence to invest in private companies due to changing tax laws, rules, and investment regulations.
Fusco expects recovery to be different across regions and application. "China is leading the recovery and already back to pre-COVID levels in 2021. The United States also started strong in 2021, but the recovery in Europe is slower," she says. "These differences are in part due to changes in consumer confidence impacting markets for UV from packaging for consumer goods to furniture and consumer electronics."
Kurath believes, in fact, that the next few years will be difficult to predict. "Most of the impact has been related to supply-chain disruptions in Europe and Asia. Monomers and certain oligomers, such as epoxy acrylates, have become harder to keep in stock due to COVID restrictions," he says. "We expect given the current situation combined with tightening environmental regulations and rising labor costs in Asia that production of many raw materials will move back domestically, which should normalize the market."
A FEW HEADWINDS
In addition to raw-material supply and cost issues, another headwind impacting the growth of radiation curing includes the high initial costs for new users, according to Furo.
"The perception that capital equipment costs are high is a real obstacle to implementation and is unfortunate," says Van Iseghem, "because if the return on investment is calculated, it will often be determined that payback is well under two years." He adds that the issue is further confused if purchasing departments look at cost per gallon as opposed to cost-per-finished surface area, unit, or component.
"When comparing the costs of applied, dried, and cured chemistry, there is no cheaper way to finish than using radiation-curable coatings," Van Iseghem says. "The return on investment is rapid and enhanced profit margins are assured."
For existing manufacturing lines not currently using radiation curing, the business case must be made and the ROI calculated in order to justify the capital investment, Heathcote says. Widespread unfamiliarity with radiation curing and the associated learning curve for new users have always been an impediment to growth, she says.
In addition, as with all technologies that employ chemicals to manufacture goods, navigating the ever-changing and increasingly restrictive regulatory and sustainability landscape is also a challenge, Heathcote notes.
It is essential, Fusco agrees, to analyze the overall impact of radiation-curing technologies.
WHERE DO EB, UV, AND UV LED STAND?
The three primary radiation-curing technologies include EB, UV, and UV LED. EB is mostly used on large food-packaging-printing machinery where the benefits of radiation-cured coatings are required; however, converters are not willing or able to accept any risk of photoinitiator and migration in their products, according to Robert Rae, managing director for sales at GEW.
The large capital investment required makes EB suitable only for high-speed printing operations and packaging production items that can be offset, or screen printed, and produced in large quantities, Kurath adds.
Allnex has experienced increased interest in EB curing in deco film and cabinets applications that have traditionally been coated with conventional acid-catalyzed coating systems, according to Eileen Weber, global marketing manager for Radcure at allnex.
UV technology continues to provide huge advantages over solvent- and water-based processes for total energy consumption of the finished product, Rae says. "Reduction in running costs, as well as the ability to achieve sustainability goals for brands and converters, are increasingly important drivers for moving to UV coatings, and we see our significant growth in wide-web, UV-coating applications as evidence of this trend," he observes.
UV LED is experiencing the greatest growth, however. "As LED lamps have become more powerful, more capable, and more economical, we are seeing an acceleration in adoption of LED, particularly in graphics applications," says Weber. She notes that in wood coatings systems, LED has found application in high-volume furniture markets, mostly for primer and sealer coats.
"UV LED curing seems to be most popular with customers that have issues working with heat-sensitive, two-dimensional substrates that would be damaged by heat from a traditional mercury lamp," Kurath says.
LED cure can offer numerous advantages, including lower energy consumption and lower heat, but it also has some limitations especially related to surface cure. The main issue, according to Rae, is a lack of UVA photoinitiators suitable for highly functional formulations. "Further advances are needed to achieve UV LED emitters of sufficient power at UVC wavelengths before significant progress will be seen," he says.
While much work is being done on the development of LEDs with emission in the UVB/UVC wavelengths, Kurath sees the greater industry focus on the development of more powerful UVA LEDs, which he notes slowly seem to be overcoming the surface cure problem with raw power.
One possible approach suggested by Kurath is the development of a good Norrish type 2 photoinitiator with good quantum efficiency in the UVA region between 350 and 400 nm, which could accelerate adoption of UV LED in the next couple years.
"Current UVA initiators are helped by synergists like tertiary amines and mercaptide functional materials, but good performance is tough to achieve, especially with low-molecular-weight monofunctional monomers and difunctional oligomers crucial to achieving film flexibility commonly needed for plastics," he explains. "Type 2 synergists already exist and are available from several large resin manufacturers, so Norrish type 2 photoinitiators would help coating manufacturers better address surface cure issues inherent with LED cure coatings."
Finally, Kelly notes that UV LED is already coming of age particularly as it sees increasing use for 3D-curing applications.
The interest in UV LED is very high, agrees Van Iseghem, but not necessarily practical for many to implement outside of the graphic arts and printing industries. "With higher LED power, however," he says, "the application to non-flat surfaces will expand. We are on that threshold presently. The energy savings, applicability to heat-sensitive substrates, coupled with being more environmentally responsible will draw many new users."
INSTRUMENT ADVANCES
There have been a few advances in instrument technology for radiation curing worth noting.
For traditional UV curing, monitoring technologies for mercury vapor lamps are increasing the good manufacturing practice oversight that converters have on their printing/coating processes—especially when these technologies have real-time feedback, according to Rae. "In general, UV monitoring improves yields across all radiation-cured coating market segments. It also enables converters to feel comfortable using UV technology and coatings containing photoinitiators in final-use products, which demand low migration," he explains.
GROWING INTEREST IN EXCIMER UV CURING
The introduction of excimer-cure equipment is also getting a lot of interest in the market, particularly in Europe, according to Fusco. "This technology offers a solution for achieving ultra-low gloss, high-performance deco surfaces," she says, but does require finding the optimal resin/formulation fit to fully realize the equipment potential.
It is also used in furniture decorating, flooring, automotive, and display applications because it can add soft touch, matte finishes, and other desirable properties, such as antiglare and anti-fingerprint, without any real increase in the cost of the coating, Rae says. "Most importantly, the added durability and stain resistance of excimer mattifying is of significant benefit to flooring and furniture coatings versus impregnation of the coating with a typical matting agent," he says.
WATERBORNE TOPS MARKETS
Among all coating types, waterborne dominates (40%), followed by solventborne (20%), powder (20%), radiation curing (10%), and all others (10%), according to Furo. "We expect waterborne, powder, and radiation-cured coating demand to increase and solventborne demand to decline, but the changes will not be drastic," he says.
Demand for 100% solids products is also increasing. Van Iseghem notes that within five years the market for radiation-curable coatings is expected to grow faster than the markets for 100% solids and powder, but still well below waterborne coatings. "Radiation-curable coatings will be viewed as a very versatile quality option for most any substrate as time passes," he asserts.
Within the radiation-curable coatings market, 100% solids formulations dominate, but waterborne products are experience increasing demand. Very few UV-curable coatings are formulated as solvent-based systems. Kurath expects water-based UV to experience the highest growth since it has properties that are most similar to those of traditional coatings with respect to safety and application characteristics and only comes at a slight expense with respect to processing time.
Waterborne UV-curable coatings also allow for better control of applied dry film thickness and surface gloss, according to Van Iseghem.
With regards to the long term, Kurath says he believes that UV powder may enjoy stronger demand, but currently it is a niche product that requires special equipment to use and has limited applications.
MONOMER AND RESIN DEVELOPMENTS
With respect to monomer and resin technologies, epoxyacrylates in combination with monomers are still the workhorse of the radiation-curing technology because they combine good reactivity with hardness and chemical resistance, according to Fusco.
Free-radical-initiated acrylate functionalized chemistries dominate the market and will remain in a preeminent position for some time to come, agrees Van Iseghem.
There are a wide range of acrylate monomers and functionalized oligomers including epoxy, urethane, polyester, acrylic, siloxane, melamine, and others. These chemistries have interior and exterior capabilities; they also have a broad array of mechanical and physical properties from low to high modulus of elasticity that have low odor potential and can be formulated in pigmented and clear coatings.
There has been discussion, however, about the use of bisphenol-A with these systems, and Fusco notes that requests for more sustainable alternatives, including biobased products, are increasing, not only in wood coating applications, but also for printing inks. "Customers are switching to waterborne UV solutions to reduce the need for monomers," she adds. "Self-curing resins are also gaining popularity due to their low label and migration. The shift to UV LED curing, meanwhile, has created demand for booster systems to increase reactivity."
Cationic-cured chemistries show continued progress as well, according to Van Iseghem, but remain somewhat limited in their applicability. "We expect this situation to change over time as further advances in this chemistry are made," he says. Van Iseghem also notes that their ability to achieve effective cure in highly pigmented coatings may give cationic systems advantages in these applications. In addition, he believes that the ability of UV LED systems to target wavelengths beneficial to cationic reins could contribute to the mutual growth of both.
Some new monomers have been introduced to the market that offer advantages over older chemistries, but Kurath notes they are expensive, which limits their usefulness in price-sensitive applications.
The most attractive new resin technologies, according to Kurath, tend to be based on thermoplastic acrylics and thus experience limited shrinkage and provide adhesion and flexibility properties that are tough to achieve with fully reactive resins.
He would like to see a new resin technology that does not rely on acid groups for bonding to metal substrates, perhaps with a grafted silane functionality that could bind to metals with the aid of photoacid generators. "Such a UV-curable coating technology would have improved corrosion resistance and possibly have the ability to bond to difficult, non-metallic inorganic substrates," he explains.
ADDITIVE AND PIGMENT IMPROVEMENTS
Given that most UV-curable coatings are based on acrylate chemistry, additives, and pigments play an important role in establishing differentiated properties of applied coatings. UV absorbers to prevent yellowing in exterior coating applications and pigments that do not block UV transparency for thick-film coatings or high-concealing paints are two important examples, according to Furo.
Additives commonly used in radiation-cured coatings include surfactants and dispersants, antifoamers and defoamers, mar and slip agents, ceramic media, silicas, silicones, and siloxanes, and even UV absorbers and inhibitors, Van Iseghem says. "Additives can make a dramatic impact but must not conflict with the ability of the system to cure," he adds.
Recent developments that Van Iseghem says have presented new options include nano titanium dioxides, aluminum oxides and silicas, conductive nano and micro metals, carbon nanotubes, graphene, and other materials.
Antimicrobial additives are seeing greater use today in response to the COVID-19 pandemic, although in the United States most manufacturers target antibacterial and antifungal claims versus antiviral claims because there is significantly greater cost associated with the efficacy testing required before an application can be submitted to the Environmental Protection Agency, according to Van Iseghem.
Sourcing is another consideration. Additive suppliers have become much more reluctant to sell additives in small quantities during the past couple years, so additives that can be used in traditional coatings as well as UV are very attractive, Kurath says. He adds that sample lead times and product quality are ongoing issues with pre-dispersed pigment pastes because UV-cure color pastes tend to have poor shelf stability.
Furthermore, the monomer commonly used to dilute the pastes—trimethylolpropane triacrylate (TMPTA)—undergoes high shrinkage and can cause film cracking and reduced adhesion to difficult substrates when used at high levels.
Areas for improvement include additives to improve adhesion on new, more sustainable substrates and that can enhance the sprayability of 100% UV coatings, according to Fusco.
Kurath would like to see more effective wetting aids and defoamers as well as the development of dyes suitable for use in UV-cure coatings. "Currently available dyes have an inherent and dramatic negative impact on curing performance, even when used at low levels in translucent films," he explains. "There is a desire for transparent, clean colors that can only be achieved with dyes if appropriate technology could be developed."
Finally, as mentioned above, the development of optimal photoinitiators for UV LED curing (along with the improvement of diode technology) is needed to support the growth of this segment of the radiation-curing market. "Such advances will enhance the applicability of UV LED into profiled surfaces and other complex shapes that can be finished with radiation-curable coatings," Van Iseghem says.
EDUCATION KEY TO GROWTH
While the growth of the radiation-cured coatings market is healthy, given the myriad benefits this technology offers, there is potential for an even higher rate of expansion.
Of all the limiting factors mentioned previously, perhaps lack of awareness is the greatest issue impeding that faster growth rate. "Growth would certainly increase if more people knew UV-cure coatings existed," says Kurath. "Many of the customers who approach us have just recently heard of UV-curable coatings. There are many application opportunities in many market segments for existing radiation-curing technologies, and the industry must make a concerted effort to broadcast the various advantages and benefits for end-users."
Kelly sums it up well: "Radiation-cured coating technologies offer efficiency and productivity combined with high quality and performance. They also enable environmental compliance combined with sustainability in the form of reduced emissions and energy consumption. On top of all that, the ROI is incredible."
COATINGSTECH JUNE 2021 | Vol. 18, No. 6