Powder Coatings Leaders See Beyond Today's Challenges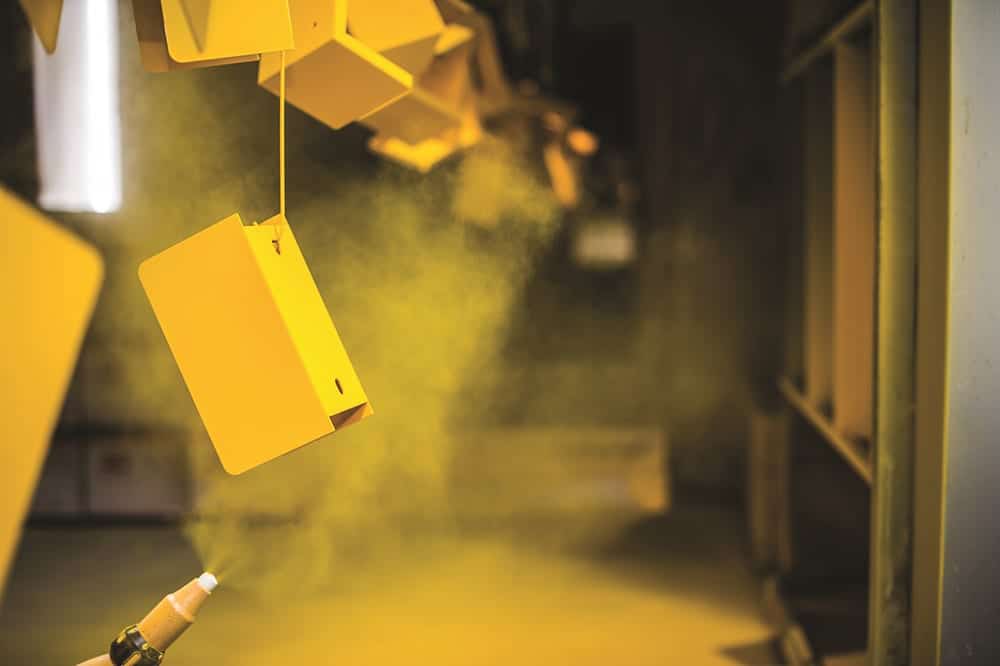 By Cynthia Challener, Contributing Writer
Powder coatings continue to find widespread use on industrial metal components and products, including applications in the automotive; appliance; furniture; architectural; agricultural, construction, and earthmoving equipment (ACE); medical device; and general industrial sectors. The value of the global powder coatings market was estimated by Grand View Research to be $11.6 billion in 2019 and to be $10.6 billion by the American Coatings Association-published Global Market Analysis for the Paint and Coatings Industry (2019–2024), prepared by the ChemQuest Group.
Prior to the COVID-19 pandemic, the global powder coatings market appeared to be in line for a moderate expansion. The ACA–ChemQuest report projected a 3.9% compound annual growth rate (CAGR) in volume by 2024—down from a volume CAGR of 5.1% (2013–2019) due to various market dynamics, economic, and trade influences laid out in its chapter on the global powder coatings market. Allied Market Research also predicted the global powder coating market to expand, at a compound annual growth rate of 5.4% to reach $15.0 billion by 2026, with demand in end-use markets, particularly from emerging economies, and the advantages of powder coatings propelling this growth.
Under certain circumstances, powder coatings offer performance, cost, and sustainability advantages: Powder coatings emit a negligible amount of volatile organic compounds (VOC) due to solvent-free formulations. In addition, these coatings have an excellent appearance and deliver robust performance—superior durability, scratch resistance, and gloss retention. Their ease of application in thicker layers and their lower operating costs (high recovery of over-sprayed coatings) have also made powder coatings a popular choice.
A Global Economy
The Asia-Pacific region, which manufactures coated products exported to countries around the world, used more than 60% of the world's supply of powder coatings in 2019, according to the ACA-ChemQuest report. The region also generated much of the world's supply, about 50% of which was produced in China, where small and mid-sized powder coating manufacturers have continued to play an important role in filling market demand. The report indicates that the multinational company with the largest footprint in the country had only a 6% market share in 2017, while "others" accounted for 74% that year. Elsewhere, more than 2,000 small and mid-sized manufacturers served roughly 20% of the global market, while large, multinational companies accounted for as much as 80% of market share in 2019.
While the majority of the world's powder coatings are manufactured and consumed in Asia-Pacific, the emergence of the novel coronavirus SARS-CoV-2 has disrupted markets and created a high level of uncertainty all over the world, impacting people in all regions, with each country at a different point in its recovery, says Michael T. Venturini, marketing director for coatings with Sun Chemical. "The global economy is suffering heavily; consequently, the powder coatings sector is also suffering due to downstream application sectors not considered essential by consumers," notes Donato Di Lorenzo, marketing and business development manager for global powder resins at Synthomer. Customer shutdowns, record declines in consumer spending, and lack of capital expenditures are trends challenging powder coatings markets, according to Shelley Verdun, PPG business manager, Americas powder coatings. "Although most powder manufacturers have been fortunate to be deemed essential businesses, we are still seeing a notable negative impact," she says. Volume is significantly down nearly across the board, agrees Kevin Biller, president of The Powder Coating Research Group. He adds that a slight slow-down was predicted for 2020, given the automotive industry was contracting and overall industrial output was declining from the highs experienced in 2018. "I have heard from raw material suppliers, powder producers, equipment manufacturers, and pretreatment companies that their businesses are down 40 to 50% since the coronavirus hit," he says.
The impact of the pandemic on the global construction industry, as sites have been closed or operations have been significantly reduced, is having a direct deleterious effect on powder coating segments, such as architectural extrusions (for windows, doors, curtain walls, internal ceiling systems) and HVAC due to a dramatic decline in demand to unprecedented levels, according to Robert Watson, global marketing/business development director at allnex. There has also been a knock-on effect in the heavy construction vehicle segment. Major declines have also been experienced in the automotive and transport sectors and the heavy metal industry, Di Lorenzo says. Social distancing and stay-at-home measures have also negatively impacted manufacturing output globally, affecting segments such as metal furniture and domestic appliances, Watson says.
Much like consumers stocking up on food and essential products as a precaution, there has been some strategic buying in the powder coatings market to secure certain materials.
Innovation is similarly being impacted, as companies are unable to operate fully staffed labs, reports Watson. Di Lorenzo expands on that thought: "A direct consequence of the slow demand is that innovation has also suffered significant contractions; in fact, several long-term projects have been suspended as the widespread practice of smart-working has imposed limitations on research and development unless a project is considered essential in the short term."
Looking Forward to a Rebound
The big question, according to Biller, is "When can we expect a rebound, and what will it look like?" As the pandemic reached and peaked in each country at a different time, there will be a staggered nature to which economies restart, notes Watson. China and Southeast Asian countries are coming back on stream first. Di Lorenzo is also concerned that, while a general loosening of stay-at-home guidelines has started in many countries, a growing number of infected cases supports an ongoing and strong state of uncertainty. He adds that the initial signs of recovery may be obscured by existing or high inventory levels. He and others expected powder coating sector demand for raw materials to be weak until at least the end of Q2 of the current year. Beyond the expected softening in Q2 and potential for ongoing weaknesses in Q3, Venturini believes it is too early to give any sort of prediction for the long term, as anything else is purely speculation.
Ongoing Safety Measures
Companies in the powder coating supply chain responded rapidly to the challenging environment presented by the COVID-19 crisis. Where government policies have permitted factories to continue operating, COVID-secure social distancing and personal protective equipment measures have been put in place to protect workers and to help maintain some level of production output, according to Watson. The industry has also pivoted to virtual platforms for daily communications, customer interactions, and e-learning opportunities, adds Verdun. "While nothing will take the place of face-to-face interactions that often lead to creativity and innovation, people across the industry quickly figured out how to work from home and to be productive," she says.
Meanwhile, in response to limitations on performing lab work slowing down active product development programs, many companies have had their technical staff judiciously redeployed to research new ideas and technologies that will feed the ideation pipeline for their next round of innovation programs, according to Vinay Mishra, technical development manager at Jayhawk Fine Chemicals Corporation. There was also a certain amount of strategic buying through February and March, Venturini observes. "Much like consumers stocking up on food and essential products as a precaution, there has been some strategic buying in the powder coatings market to secure certain materials," he explains.
At Sun Chemical, for instance, in addition to implementing measures to ensure employee safety, global and U.S. supply chain control teams are proactively reviewing all levels of data and coordinating with supplier, manufacturing, and commercial teams to understand the latest material status. "We have been able to respond with our global supply network to meet our customers' needs," comments Venturini. Similarly, PPG has kept the health and safety of its employees and their families at the forefront while working to uncover ways to safely and effectively deliver for its customers, many of whom operate essential businesses that are providing critical goods through the COVID-19 pandemic. "We are continuously monitoring the health of our global workforce and taking measures to protect PPG employees and customers in accordance with global and regional government requirements. We have adjusted our operations to comply with government guidelines, and the company has adapted operations to account for the significant reduction in economic activity," Verdun remarks. Synthomer established an internal Coronavirus Steering Committee, which continues to meet every week. The committee is taking the actions needed to keep the company's staff safe and maintain production and effective internal communication, according to Di Lorenzo.
A Demanding 'New Normal'
Companies in the powder coating supply chain are also eager to anticipate what business will be like once the pandemic threat recedes. In addition to unusual demand and supply patterns, there are challenges related to adoption and management of new workflows.
With respect to economic conditions going forward, Venturini believes that, given the extremely unusual economic cycle that has developed as a result of the pandemic, there is no precedent for how demand will restart. Speed of recovery will be dependent on the success of individual economies to control secondary outbreaks of the virus, according to Watson. He also notes that it is likely that social-distancing measures will remain in place for some time, and possibly until a vaccine becomes available, suggesting output will remain below pre-COVID-19 levels throughout 2020. "As economies come back on stream and manufacturing output ramps up, we will see recovery in powder coating volumes, following closely the recovery of construction and manufacturing output generally. Governments' financial stimuli for construction and manufacturing will assist, but low consumer spending and high unemployment rates will impact domestic and export demand," Watson predicts.
Indeed, consumer purchasing behaviors have the potential to make the path to recovery more complex. "Consumers have had more time to research purchases and shop for durable goods, such as washers and dryers and cars. Throughout this time, there also were major sales and promotions, which may have led to purchases. We could, therefore, see a potential dip in sales for durable goods throughout the remainder of the year, ultimately affecting the powder coatings market," Venturini explains. Regarding the "new normal," he notes that the mindset of multi-
national customers is already shifting. "At the pigment level, we expect more strategic buying, where paint producers will source raw materials from multiple regions. Evaluations of supply partners will include understanding their ability to survive difficult times such as these. Some smaller, regional suppliers without extensive, diversified supply chains are more vulnerable. Overall, there will be a stronger priority in determining the reliability of pigment suppliers and their ability to provide materials through regional disruptions," Venturini comments.
On an operational level, Biller foresees a permanent reduction in staff, a higher percentage of administrative and sales staff working from home, a lasting moratorium on non-essential travel, virtual meetings, an accelerated timeline for implementing automation into production schemes, a significant rise in the ratio of contract workers to W-2 employees, and further rationalization of employee benefits. Di Lorenzo agrees that communication and interaction are deeply changing, and there will be less travel with greater use of digitalization to communicate between customers and suppliers. "The 'new normal' may continue to include less travel, more video conferencing, and a requirement for all employees to protect themselves from biological contamination when traveling. There may also be more administrative work conducted from home. Verdun adds that once the crisis is over, elements of the virtual workforce will remain, and companies will need to adopt flexibility to retain and attract top talent.
Shifting Product Trends
Moving to the product level, Mishra expects that in some cases coatings may require reformulation to leverage the sustainability of raw material producers. He also anticipates that powder coating formulations offering greater shelf-life stability—products that address inventory management and offer premium performance to minimize in-service disruptions—will be positioned to do well. PPG, meanwhile, has experienced growing demand for antibacterial powder coatings across various markets, including medical furniture in support of facilities retrofitted for COVID-19 patient care.
In recent years, the market has increasingly demanded advanced products with lower environmental impact based on technologies aimed to save energy, improve corrosion resistance, reduce waste, and eliminate substances of concern. All of these, plus an increase in productivity, have been the main drivers for the powder coating market and will continue to be so going forward.
In the long-term, Di Lorenzo says that Synthomer expects a positive recovery that may act as an engine for economic growth in all sectors, with strong development efforts focused on the vulnerable areas highlighted by the COVID-19 pandemic. "In recent years, the market has increasingly demanded advanced products with lower environmental impact based on technologies aimed to save energy, improve corrosion resistance, reduce waste, and eliminate substances of concern. All of these, plus an increase in productivity, have been the main drivers for the powder coating market and will continue to be so going forward," he says. Economic and ecological drivers that really push powder coatings forward remain valid and will continue to be important, Venturini agrees. "Low VOCs, low
environmental impact, cost-efficiency, and performance will continue to drive the powder coatings market," he asserts. Watson adds that coating performance fundamentals will not change, and, therefore, pre-COVID-19 innovation requirements such as low-temperature cure, corrosion resistance, weathering, and reduced film thickness will continue to be drivers. Particular pre-pandemic innovations that will continue to advance the industry, according to Di Lorenzo, include improved anti-corrosion performance for aluminum alloy wheels, enhanced outdoor durability for agricultural and construction equipment, low-temperature curing technologies for heavy metal
and heat-sensitive substrates, and anti-microbial coatings for the consumer goods and health industries.
The industry may also see unexpected changes in color trends, which, as Venturini points out, are affected by people's general moods and economic conditions. "As a fundamental driver of pigment sales, color popularity and people's desire for either bright or muted colors could certainly be affected," he explains. In addition to anti-viral coatings, Di Lorenzo points to other new technologies generated due to the pandemic or accelerated by the COVID-19 crisis, including self-cleaning coatings and UV-resistant coatings for surfaces subjected to regular cleaning using UV light. Mishra adds that recent market trends for some demanding applications had been pushing the performance of powder coatings beyond established limits in terms of maximum service temperature, dielectric properties, chemical resistance, and so forth. "Post-pandemic, one can expect such interest in a broader set of applications where powder-coated surfaces will be repeatedly exposed to steam sterilization processes or frequent exposure to various disinfectants," he says.
In light of the global pandemic, Verdun expects consumers to pivot and demand products to protect their health and safety everywhere, from home offices to public transportation, and retail spaces. She adds that with low interest rates and consumers spending so much time at home working and in quarantine, there will be opportunities for growth in residential construction. Consumer spending will be focused on home upgrades for both living and workspaces, including upgrades to outdoor living spaces, which will spur growth of powder coatings. "Certainly," she observes, "the desire of customers for performance, and key features will remain the same, but likely with an additional emphasis on personal health and protection. Our focus will remain on asset protection, sustainability, innovation, and supplying products that enable lower total cost solutions in the powder segment." PPG will also continue to pay close attention to environmental legislation, given that it will continue to increase the demand for powder coatings. She also stresses that customers are interested in assurances of supply. "As businesses restart, the full supply chain needs to be primed and ready to support return to operations," she says.
A Potential Upside
The impact of business shutdowns during the pandemic may also have a general and positive consequence for the powder coatings market. "We've witnessed tremendous positive environmental impacts as cities have shut down and significantly reduced undesirable emissions. This clear correlation has certainly raised awareness of the impact of human activities and may accelerate the demand for innovations in products that are eco-friendlier," Venturini comments. "As people look to move towards more environmentally friendly technologies, the powder coatings market is an industry that could benefit. For example, there may be more rapid implementation of powder technologies to replace liquid paint. And this may not come solely from a regulatory standpoint, but from consumer desires, as we really start to understand the environmental impact of what we all do," he adds. An increased focus on finding solutions with a lower environmental impact or solutions that can improve people's health may result in more frequent changes in the classification of raw materials and greater interest in designing businesses and products for a circular economy, according to Di Lorenzo. "From a sustainability perspective, the need to contribute to the circular and green economy will drive the movement to include the use of raw materials derived from recycled and renewable feedstocks to replace traditional petrochemical-derived raw materials," Watson agrees.
Looking at specific technologies, Biller points to the emergence of a few bright spots for the powder coatings industry, including growth in demand for coatings applied to medium density fiberboard, composites, and other non-conductive substrates, leading to an expansion of the markets for UV-curable and low-temperature cure thermoset powders and increasing development of novel anti-viral powder coating technology and bio-based polymer systems for powder coatings. In the longer term, Watson adds that innovation will see efforts directed to drive down cure temperatures, not only to reduce energy, but also to make powder coatings accessible to temperature-sensitive, non-metallic substrates. "Achieving this goal will allow greater access to wood, composites, and plastics, which will become increasingly important as innovative material combinations are used for construction and fabrication, for example wood/glass reinforced plastic composite window frames."
It is most important, Di Lorenzo concludes, to recognize that the powder coatings market continues to operate during the COVID-19 pandemic. "As the stay-at-home restrictions are lessened, this industry will slowly resume the steady growth it was experiencing before the pandemic, and perhaps even at a higher rate than the liquid paint sectors. The coatings industry traditionally recovers a little slower than heavy manufacturing industries, because paints are the last step in the manufacturing process, but by Q2 2021, industry revenues should reach the pre-COVID-19 levels," he asserts.
CoatingsTech | Vol. 17, No. 7 | July 2020