PaintCare Celebrates 10 Programs in 10 Years
A little over 10 years ago, the idea of converting a commonplace waste product like leftover paint into a beneficial resource at large scale was an ambitious one. Nonetheless, paint manufacturers and the American Coatings Association (ACA) embraced the challenge. What began as a collaborative effort between local and state governments, environmental advocacy groups, and architectural paint manufacturers resulted in the launch of a program that represents a new direction in paint stewardship and the formation of PaintCare. Since that time, paint stewardship legislation has been successfully passed in California, Colorado, Connecticut, the District of Columbia, Maine, Minnesota, Oregon, Rhode Island, Vermont, and, most recently, Washington. Additional states have taken notice; paint stewardship bills are currently under consideration in three new states, with several more states known to be exploring legislation. As PaintCare now looks forward to the 10-year anniversary of the first paint stewardship law (passed in Oregon on July 22, 2009), the program's success serves as a model for other industries, demonstrating the possibilities of producers taking an active responsibility in the full life of their products.
'Reduce, Reuse, Recycle'
PaintCare's mission is a simple one: to reduce the amount of leftover paint, stain, and varnish by informing households and businesses how and where to recycle unused quantities of those products. In addition, PaintCare provides public education, translating the three R's of responsible waste management—Reduce, Reuse, and Recycle—into a message that encourages the public to paint smarter: "Buy right. Use it up. Recycle the rest." This includes tips on consulting with paint retailers to purchase the right amount of paint for the job, extending the life of unused paint by storing it properly and making the most of whatever quantities are left, finding people and organizations potentially interested in the remaining paint, and dropping off leftover paint with PaintCare's partner sites for recycling and management.
At this important 10-year milestone, PaintCare boasts over 35 million gallons of leftover paint collected via more than 1,700 drop-off sites.
According to PaintCare's executive director, Marjaneh Zarrehparvar, at this important 10-year milestone, PaintCare boasts over 35 million gallons of leftover paint collected via more than 1,700 drop-off sites. In addition, the program has hosted 170 paint drop-off events, supported over 4,000 municipal household hazardous waste (HHW) and paint-only events, and provided more than 2,800 direct large volume pick-ups of more than 200 gallons from painting contractors and other businesses. In the process, PaintCare has saved local governments millions of dollars by covering the cost of collecting and managing leftover paint and increased paint recycling convenience for consumers more than 10-fold.
PaintCare has received recognition around the country for its accomplishments. In October 2018, the program was honored by the Northeast Recycling Council with its Environmental Sustainability Leadership Award. PaintCare has also earned national and regional recognition from the American Society of Association Executives, the California Product Stewardship Council, the Maine Resource Recovery Association, and the District of Columbia Department of Energy & Environment.
Partnering Across the Paint Value Chain
For Sanjeev Bagaria, CEO of global paint recycler GDB International, the fact that PaintCare has embraced the model of Extended Producer Responsibility is very important. "It is obvious that to achieve a long-term solution for effectively managing the millions of gallons of leftover paint generated each year, we have to engage all parties involved in the life cycle of the paint. We simply cannot rely on municipal HHW programs to manage millions of gallons of hazardous waste. If we want to see a safe and clean environment, paint manufacturers, paint retailers, consumers, and state and local governments all have to share the burden of responsibility. PaintCare has created a platform to bring all these participants together, and we are really seeing the benefits," he asserts.
For Zarrehparvar, PaintCare's most significant accomplishment is in establishing itself as a model public-private partnership that brings value and convenience to communities around the country, while solving a common waste problem. "We do this holistically, partnering not only with government agencies to support their collection of paint, but also with the voluntary participation of many paint retailers. In fact, most of our drop-off sites are paint retail locations. Leveraging both the public and private sectors provides a rich array of options to the public, who is therefore more motivated to recycle their paint. We do all of this efficiently, effectively, and transparently, providing a detailed annual report to state government oversight agencies, as well as posting it publicly on our own website."
Oregon was the first state to implement PaintCare. Steve Dearborn, CEO and president of Miller Paint in Portland, and current chair of the PaintCare Board of Directors, was one of the industry manufacturers involved from the start, working to get the legislation passed and establish the infrastructure of the program across the state. Recently, Dearborn was in Washington state testifying at a state House of Representatives Environment and Ecology subcommittee hearing on the PaintCare program. All of his efforts for the initiative, and those of many others, have been on a voluntary basis. "People participate in PaintCare because keeping millions of gallons of partially used paint out of the landfill is the right thing to do to for the environment and our customers," states Dearborn.
"Can there be anything more rewarding than when someone says they have been waiting for 30 years to clear out their garage full of paint?"
"PaintCare is a creative solution to a common problem," adds Kevin Lynch, PaintCare's Colorado program manager. PaintCare field staff check in regularly with paint drop-off sites, plan and host paint drop-off events in underserved areas, work with HHW program partners to reduce their costs, and participate in a variety of community events to promote and explain the PaintCare program. In Colorado, Lynch is responsible for making sure the PaintCare program runs smoothly, including maintaining relations with the state oversight agency, stakeholders, haulers and recyclers, and the public. "The feeling of being able to help someone in a time of need is invaluable. For instance, most contractors are delighted to learn about our large volume pick-up program for 200 gallons or more of leftover paint, offered at no additional cost. Can there be anything more rewarding than when someone says they have been waiting for 30 years to clear out their garage full of paint?" Lynch observes.
In Minnesota, Laura Villa manages Dakota County's HHW program and collection center, which includes managing vendor contracts; maintaining compliance with environmental, health, and safety rules; and overseeing how the collection site is operated. "PaintCare's advanced recycling fee model of product stewardship, where a fee is paid by the consumer at the time of purchase, has proven to work well in Minnesota and across the country. It's different than paying a fee at the time of disposal or recycling, which has proven to be a disincentive for getting the maximum amount of material collected for proper management because some people are reluctant to pay even a small amount to properly manage waste when they no longer want/need the product," Villa explains.
As director of retail operations for the Bend, Oregon Area Habitat for Humanity, Sophie Paez has observed the evolution of the PaintCare program in the state. "I am thrilled with the PaintCare program because paint has always been offered at the ReStore, but the volume of bad paint we received became too difficult to manage. We don't have that problem anymore."
Looking Ahead
PaintCare staff understand the need for continued development of the program. "We are constantly evolving and getting better at what we do. This starts from the ground up, by looking to our past experience to inform new paint stewardship legislation and helping state governments set smart stewardship goals. It continues after passage of a law, when it's time to implement a new state-wide program. Over the years, we have honed a balanced strategy, establishing partnerships with the retail and municipal waste programs, phasing in collection at new paint drop-off sites, and ramping up public education incrementally—all in order to build a solid foundation for a successful and sustainable program," Zarrehparvar comments.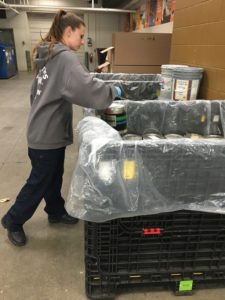 She also recognizes that while PaintCare diverts millions of gallons of leftover paint products away from the waste stream and into a number of beneficial uses, the largest of which is reprocessing it into recycled content paint products, more applications are needed to ensure all leftover paint can be reused or recycled. "One area of improvement underway is supporting the development of additional uses for leftover paint, especially the portion of latex-based products that is not currently in demand by paint recyclers. In fact, we believe there are companies with good ideas for using leftover latex paint but who require seed money to commercialize them," Zarrehparvar observes.
"To this end, PaintCare recently announced a new grant competition that provides funds of up to $100,000 to support companies with sound business proposals for using leftover latex paint. The first two awardees, announced in May, are paint recyclers based in California and Colorado," remarks Zarrehparvar.
PaintCare's first 10 years are just the beginning of paint stewardship across the nation, according to Zarrehparvar. "Our colleagues at ACA are currently working to support paint stewardship legislation in New Jersey, New York, and Massachusetts, with at least eight more states considering legislation in 2020 and after. Following years of effort by ACA and its partners, Washington state passed a paint stewardship bill in May and will become the 10th PaintCare program when it begins operation in the coming months. Meanwhile, in current PaintCare states, we continue to focus on spreading awareness of our program to ensure that eligible households and businesses can take advantage of its benefits. Other goals for our second decade include increasing reuse of paint collected by our program. While some of our drop-off sites, such as Habitat for Humanity ReStores and some county-run household hazardous waste facilities already put aside paint in good condition for immediate giveaway or low-cost local resale, we believe there are opportunities to expand this area of our work. Doing so would bring significant benefits in terms of reducing the environmental impact of managing leftover paint, lowering costs, and connecting consumers in need with affordable, quality paint," Zarrehparvar states.
Bagaria believes it is only a matter of time before PaintCare rolls out paint recycling programs nationwide. "We feel fortunate that through the PaintCare recycling program, we have received the opportunity to help save millions of gallons of paint from going to landfills. What was once considered 'waste' is now beautifying and protecting thousands of communities globally. In addition, in Europe, Australia, and North America, paint associations and stewardship organizations are actively exchanging information to improve programs globally, which creates the potential for an even greater impact," Bagaria notes. Zarrehparvar agrees that there is potential to build on PaintCare's first 10 years of success and extend its benefits to even more states. "Many communities share this common problem of what to do with leftover paint. PaintCare offers a solution, a way to turn a waste problem into an opportunity not to be wasted. Following the efforts of ACA and the paint industry to expand the PaintCare program, we will continue to support programs in new states while always working to make it more effective in the current states," she concludes.
CoatingsTech | Vol. 16, No. 6 | June 2019