By Cynthia Challener, CoatingsTech Contributing Writer
The year 2020 has been challenging, to say the least. It will also be memorable, not just due to the tragedy and hardship resulting from the COVID-19 pandemic, but also for the way people collaborated to develop innovative solutions despite the inability to travel and limited resources.
CoatingsTech was the beneficiary of many innovative collaborations as well. Contributors from industry and government research groups discussed the fruits of internal and external partnerships that addressed a host of issues, from the principles of weathering and liquid color measurement to new resins and curing agents to biocide-free preservation solutions.
Biobased resins and additives with unique properties and silicon-based materials were shown to improve the performance of many different types of coatings. The impact of harsh environments on coatings was discussed and potential solutions for minimizing damage were proposed.
In most instances, performance and sustainability were both at the heart of the work described in the contributed articles. By sharing these efforts with the readers of CoatingsTech, the goal was to spread valuable knowledge that will lead to enhanced paint and coating products. These contributed works were intended to inspire future work that will continue to build on the ever-growing base of science that serves as the fundamental building block upon which the industry has been constructed.
The authors of the articles published in CoatingsTech in 2020 were surveyed regarding their thoughts on the innovation landscape in the paint and coatings industry as we approach the new year. The authors were asked to share their thoughts, which are presented below.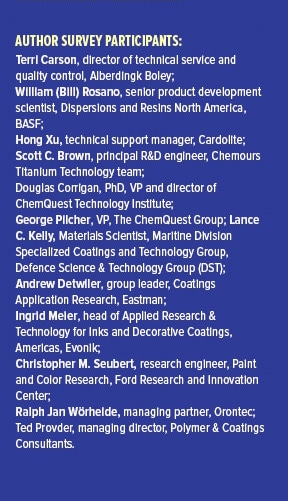 Q: What are the most important paint and coating research areas that you and your colleagues in other/related disciplines are focusing on today?
Corrigan, ChemQuest Technology Institute: There are five leading area being targeted by the paint and coatings industry today:
  Increasing use of biobased/biofermented materials and materials derived from post-consumer content.
  Increasing comfortableness with using nano-materials due to dispersion issues being solved.
  New technologies for haptics, scratch resistance, and self-healing.
  New technologies for antimicrobial performance (antibacterial, antiviral, and anti-mold).
  Quantum leaps in corrosion performance.
Provder, Polymer & Coatings Consultants: "Smart coatings" (coatings that have other functions in addition to protecting and decorating surfaces) are of particular interest today. Examples include Sherwin Williams' "Paint Shield," which is an antibacterial coating. Self-healing coatings is another area being worked on. I also expect artificial intelligence to be applied to formulation development and to paint manufacturing. More effective application of nanotechnology to coatings is another area of focus.
Pilcher, The ChemQuest Group: In all three major coatings segments—architectural, industrial, and specialty—there is a focus on maintaining or improving all the physical and performance properties of traditional waterborne and solventborne systems while continuing to decrease VOCs. This is the case whether the goal is to replace a solventborne automotive OEM color coat with a waterborne OEM color coat or to lower the VOC in an interior latex house paint from 50 g/l to ≤10 g/l. There is also significant focus on the development of biosourced materials for raw materials and finished products.
Rosano, BASF: Environmentally friendly raw materials, labor savings, and performance are the key areas in which we continually focus our innovation efforts.
Detwiler, Eastman: We see demands driven from global consumer macrotrends, such as health and wellness, a growing middle class, and resource sustainability manifesting as regulatory and consumer need drivers in various coatings segments. For example, in architectural coatings we see an enhanced need for low-VOC, low-odor coatings, which we are addressing by developing unique coalescing aids and other additive molecules. In packaging, the need for BPA-free coatings, especially for food-contact applications, is driving our development of PA-NI polyester-based resin systems. We also see an opportunity to address material and energy conservation, which includes reducing coating system complexity, simplifying processes, and enhancing durability without sacrificing performance. We are addressing all these efforts through our innovation platforms, especially in industrial and transportation coating systems, by designing new polyester-based resin systems that enable layer reduction, simplify the application process or enhance product durability.
Carson, Alberdingk Boley: Our main focus has been the development of water-based products derived from renewable resources, products with excellent resistance to various stain/chemicals, and innovation in waterborne UV technology. We strive to produce binders that are environmentally friendly, including low VOC-capable, multipurpose, and easy-to-formulate systems.
Xu, Cardolite: Our primary goal is the further reduction of VOCs to ultimately reach zero VOCs while still achieving high performance of the resulting coating systems.
Meier, Evonik: Currently, Evonik's Coating Additives business line is focused on research areas related to addressing the performance gaps our customers are seeing as solvents are reduced or removed from coatings. This includes understanding the mechanisms involved in causing and preventing burnish, scratch, mar, staining, blocking, and dirt pickup, as well as developing new technologies to address these challenges. We are also studying ways of achieving differentiated coatings through the development of new products that provide desired surface appearance and haptic properties.
Brown, Chemours: As a pigment producer, most of our research involves how we engineer our products and processes to better fit the current and future demands of our customers in a sustainable and responsible manner. This involves evaluating new and innovative process options that will aid us in meeting our corporate sustainability goals, looking at how we can simplify and innovate to help our customers win, and strategizing how we can attract scientific interest to advance fundamentals across the broader scientific community. Within Chemours, we are working in three general longer-term research areas that are anticipated to impact the broader coatings community:
1. Smart and sustainable pigment systems are anticipated to be the next improvement in modern pigments. These materials embrace safer-by-
design principles and are engineered to not only perform as traditional pigments—using conscious and responsible product design choices—but also add functionality for the formulator, enabling further simplification of formulation processes while enabling end-use property gains. Doing this while optimizing our manufacturing processes to reduce emissions and waste is an important goal for our company. Succeeding in this area requires cutting-edge analytics and leading integration of particle and process design science and optimization.
2. We are committed to simplifying complexity. Paint and coating systems are notoriously complex, comprising multiple particle types and a range of additives. These require several opposing functional properties for application. Understanding how to break these systems down to identify bottlenecks and offer pigment-enabled solutions—some that may be transformative—is an active area of exploration. Our published Dirt Pickup Resistance (DPUR) work is just one aspect of this broader effort where we challenge the status quo through strategic analytics and integrated problem resolution approaches in the coatings area.
3. Advancements in the paint and coatings field often parallel gains in our understanding of fundamentals in colloids and particle and surface science. Funding research to explore areas relevant to industry and working with academics to develop the next generation of scientists that will impact this field is immensely important. In collaboration with the University of Delaware and other institutions, we hope to evolve and advance the fundamentals to a new level of knowledge.
Wörheide, Orontec: We see digitalization and process acceleration as the most important drivers. In the field of digitalization, it becomes necessary to understand better how different materials interact and come closer to the target of a digital twin of formulations. In the field of process acceleration, it is important to become more efficient in production and faster in the process of bringing new products to the market. The same is true for modifications of existing formulations with different raw materials. We see that there is a lack of digital methods for understanding the scale-up of formulations for production and the application process. All three components—formulation, scale-up and application—are crucial for successful digitalization in the paint and coatings industry. Orontec is working on all these three fields in customer projects already.
Seubert, Ford: Much of the research in automotive paint and coatings is focused on a few diverse areas of interest. First, functional coatings, especially those that can be used on autonomous vehicle sensors to keep them clean and clear of fouling, are of great interest. The development and implementation of autonomous vehicles depend on the success of these coatings and their ability to allow sensors such as cameras and LIDAR to collect high fidelity data without interruption. Next, there is always a focus on energy savings, and low-temperature cure coatings and/or radiation-cure coatings with the performance of their high-solids, high-temperature-cure counterparts, are of great interest as more environmental and CO2 restrictions are placed on the automotive manufacturing process. Finally, application technologies that allow for precise application of coatings, specifically two-tone colors, at any point on the vehicle is of great interest for all automotive OEMs. This technology, which could allow designers the freedom to paint different areas of a vehicle different colors at high volumes, is a fundamental way that automotive OEMs will differentiate their vehicles in the future.
Kelly, DST: Sovereign capability signature management by means of specialized coatings formulation work is a focal point of research undertaken at Defence Science and Technology (DST). Research is also undertaken to replace hazardous chromate containing coatings on Australian Defence Force (ADF) aircraft with less hazardous, chromate-free alternatives. Reduction of volatile organic compounds (VOCs) emitted from coatings applied to Army and Air Force assets, by the introduction of durable waterborne coatings, is a significant area of research. The performance of colour-stable low solar-absorbing polysiloxane coatings on vessels and artificial intelligence, driving machine learning algorithms to assist with the selection and design of new materials and formulations, continue as important research areas.
Q: What is driving interest in these specific issues? Are they addressing specific gaps in manufacturing, application or performance of paints and coatings? Emerging trends?
Corrigan, ChemQuest Technology Institute: Increasing use of biobased/biofermented materials and materials derived from post-consumer content is being realized because this approach offers price stability. Performance is approaching or exceeding other oil-derived materials, the economics are now more reasonable, there are increased environmental concerns and regulatory pressures, and customers have become savvier.
Nanomaterials are of interest because they offer increased performance, but price, environmental impact, and poor incorporation into the base material have suppressed their mainstream use. Several organizations have solved the scaling issues associated with these materials, reducing their cost, while new methods for dispersing these materials into different resin chemistry formats have increased their usefulness and performance.
The strong desire for antimicrobial performance is attributed to the emergence of the COVID-19 pandemic and the increasing prevalence of drug-resistant microbes, while rising demand for improved haptics, scratch resistance, and self-healing is due to rising expectations for aesthetics by end users, particularly in the automotive sector. The desire for real advances in corrosion protection is driven by the enormous costs associated with failure of large capital assets.
Detwiler, Eastman: The key drivers are consumers and regulatory authorities who are seeking better health and wellness solutions that will also deliver lower materials of concern, lower odor, and lower volatile organic emissions. The market is looking for opportunities that will provide better durability to enhance product service life as well as those that offer lower material and energy demand during the manufacturing process. Driven by upcoming regulatory changes, we are also seeing early emerging needs in some geographical regions looking for options that have better end-of-life sustainable solutions.
Meier, Evonik: The reduction or elimination of VOCs in architectural and do-it-yourself wood coatings has driven the industry to use waterborne coatings and new polymer binders capable of film forming with minimal or no coalescing solvents. These polymers generally have lower glass transition temperatures and can result in softer coatings that are susceptible to damage unless the coating can be formulated to counter this tendency.
However, environmental, health, and safety drivers are not the only factors that prompt our coatings customers to seek new solutions. Fashion trends and prevailing consumer preferences play a heavy role in the surface appearance and haptics sought in wood coatings, flooring, and architectural coatings. For example, consumers' renewed focus on comfort within their own homes is driving choices in paint colors, sheens, and textures—all of which can be enhanced and improved through the use of specialty additives.
Carson, Alberdingk Boley: Alberdingk's mission is to deliver technology and innovation of value to our customers, resulting in effective product solutions that meet global environmental regulations. Listening to the voice of the customer is the top priority. We also closely follow market trends, looking for unmet needs and opportunities where our technologies can be leveraged.
Brown, Chemours: The Chemours company is committed to the sustainable and responsible development of products. This drives the way we consider new product opportunities and provides the path as to how we develop them. Making responsible choices throughout product development is a current trend and is anticipated to become the norm in the future—but we believe it is necessary now. Safe and more sustainable product development is essential for the future for the paints and coating industry. We also need to anticipate and address our customers' needs in the coatings industry. This involves exploring new functionalities offered through engineered pigments that benefit downstream users in new ways, as well as paying close attention to regulatory and societal signposts. To do this effectively requires bridging several gaps in the fundamental science involving complex matrices, which in turn involves nurturing, recruiting, and collaborating with world class experts across disciplines.
Wörheide, Orontec: I think, besides the overall trend of sustainability, it is most important to transfer an experience-driven formulation and production process to a scientific-driven process. It is very important to systematically work on a better understanding of the paint systems in formulation and at application. Digitalization creates the basis; artificial intelligence can help gain more knowledge.
Kelly, DST: DST conducts research in areas where no or limited indigenous capability exists either in academia or industry and where the classified nature of the research is such that it cannot be done outside of DST. The research into signature management coatings, such as low-emissivity coatings, is driven by the need for reducing the detectability of platforms and increasing their survivability against a range of threats.
Defence desires to reduce or eliminate chromate containing primers and conversion coatings used to prevent corrosion on Australian Defense Force (ADF) aircraft, sincr they create waste health and safety issues during application, maintenance, and removal. The adoption of waterborne coatings is being driven by local and international regulations to reduce VOC limits, pollution, and hazards during use and storage. Australia's harsh climatic conditions are also a reason for DST undertaking extensive research on exterior durable coatings. Machine learning offers improved time management by accelerating the selection and discovery of new materials for tailored coatings.
There is also a strong driver for the development of polyisocyanate-free coatings. While it has been possible to move away from solvent-based two-pack polyurethane to polysiloxane topcoats on Australian Navy platforms, elimination of polyisocyanates has not been possible yet on Army or Air Force equipment due to certain performance limitations.
Q: What technological hurdles must be overcome to be successful in realizing the adoption of targeted solutions within the industry?
Xu, Cardolite: New technologies can bring unique and higher performance to coating systems. However, it is common that new technologies have some features that do not fit well with current application techniques or formulation schemes. The mismatch between new technologies and applications/formulations is a challenge that must be overcome.
Wörheide, Orontec: We need a complete redesign of test methods. Many archaic methods are used, primarily because the technological understanding of customers is very low and methods are considered proven.
Brown, Chemours: Adapting proven processes to produce more complex materials can be a challenge and requires innovation on the product side and the analytical and process sides.
Another challenge in the coatings industry is the interface of science, art, and history. The coatings industry has a rich history of testing and assessment methods. Some are founded on science while others are grounded more in historical practice. There is a diversity of methods, and each has its own value. However, sometimes they lead to confusion, especially when they are confounded and not fit-for-purpose. Breaking down testing barriers to help separate art from science remains a challenge. There are several instances where a re-look at fundamentals and driving mechanisms to identify the appropriate suite of test methods could help with the adoption of the best solutions.
Rosano, BASF: Discovering environmentally friendly, cost-effective solutions that deliver the desired end-use performance is a key challenge.
Carson, Alberdingk Boley: Finding sustainable raw materials that are readily available to produce water-based products is a challenge. Also, new building blocks must meet environmental regulations and produce materials that have excellent performance without a significant increase in cost. Those raw materials also need to be listed in various chemical inventories, which is one of the biggest challenges for us.
Provder, Polymer & Coatings Consultants: Developing multifunctional coatings (smart coatings) for specific end-uses with a cost/performance at least equal to that of conventional coatings is a serious challenge.
Kelly, DST: Chromate replacement has proved to be one of the most difficult challenges as there are no chromate-free primers to date that perform the same as, or better than, chromated primers. The coatings industry, academia, and DST researchers have directed considerable effort in formulating and testing various chromate-free pre-treatments and primers for the aerospace industry and are keen to have effective replacements. It is extremely important for DST to ensure corrosion on Defence assets is minimized, particularly in the maritime and aerospace domains where anticorrosive performance is critical for both sea and air-worthiness.
Seubert, Ford: For many new paint and coating technologies, the biggest hurdle is outdoor durability and performance. Automotive durability requirements are some of the toughest requirements in any industry, and typically require 10 years of performance without major failures such as fading, cracking, delamination, or gloss loss. Any new paint or coatings materials, whether it is low-temperature cure, radiation cure, hydrophobic coatings, or tutone paint systems, need to meet these requirements before they are considered for implementation.
Pilcher, The ChemQuest Group: The greatest technological hurdles vary with regard to individual technology areas and end-use requirements. In general, however, the greatest hurdle is to develop technology that performs equal to, or better than, currently available technology, while maintaining or improving the cost-in-use to the customer.
Corrigan, ChemQuest Technology Institute: Technologies need to be scalable and compatible with existing chemistries. They also need to provide significant improvement from the current baseline, not incremental improvement.
Q: Are there any other barriers to adoption and how can they be broken?
Pilcher, The ChemQuest Group: Varying needs result in different barriers that require specialized solutions. There is no "one size fits all" with regard to almost all areas of materials science, whether paints and coatings, sealants and adhesives, composites, plastics; et al.
Kelly, DST: Raw material costs are an important input factor to achieve commercially competitive products. For example, the Australian dollar has not always demonstrated strong performance, limiting the types of materials imported from overseas and therefore limiting coatings development. A frustrating conundrum lies in the cost-competitive nature of the coatings industry at times working against end-user interests. The efforts to shave off a few cents per liter on the cost of a coating can, at times, detrimentally affect long term performance of that coating applied on a Defence platform.
Carson, Alberdingk Boley: Changing the mindset of customers using traditional technologies such as solventborne can be challenging, especially when lines are running well and cost is acceptable. New technology will only be adopted when there is a clear performance differentiation at a price the market can bear, environmental legislation is passed that bans the use of certain products, or efficiencies are gained that help the bottom line. Using a combined approach to solve a problem along with using the expertise of two or more raw material suppliers is a viable route forward as this may be the better tool to get bigger improvements in product performance compared to a standalone approach.
Corrigan, ChemQuest Technology Institute: A major barrier to adoption of new technologies is the risk of exposure due to the unknowns presented by a new material or process. To reduce this risk, extensive long-term testing is needed that simulates real-world conditions and converging stressors. Substantial beta-testing programs are also needed before transitioning to full commercial deployment. Another major barrier is the testing standards required for any given industry, especially automotive and aerospace.
Brown, Chemours: The challenge for achieving broad adoption of a technology that may alter how one formulates is a bit more complex and treads on issues related to tradition and perception. This means what we offer must be either transformative or help make a new coatings application successful. Collaborations in the coatings technology space between raw material suppliers and coating manufacturers will be necessary to bring forward the next generation of coatings technologies. We need to show our (potential) customers that we are knowledgeable in their field and can respond to their needs with viable solutions, not only on the pigment side but though a wide range of consultancy.
Detwiler, Eastman: The key barrier we see for development and adaptation of new innovation is a lack of understanding of critical needs, processes
and matrices used by key stakeholders at each node in the value chain. This often causes the industry to be sub-optimal in its innovation efficacy. We see cross-value-chain collaboration in developing technologies that ultimately bring solutions to the strongest needs of the end consumers. This collaboration creates value for each node in the value chain and is the key to success. Developing such win-win, trusting, innovative relationships across the value chain breaks down barriers and allows each partner to bring unique, complementary skills-sets and comprehensive solution development to the adoption process.
Seubert, Ford: Cost is still a major driver in any industry, and the automotive industry is no different. However, OEMs typically look at the cost-value proposition of the complete system, meaning even if a new material costs more than what is currently used, that cost increase can be offset somewhere else in the overall system, such as a reduction in oven temperatures for low-temperature cure paints, then such cost barriers can be overcome.
Some new technologies, such as targeted tutone application, have technological barriers to overcome, especially around the facilities and equipment. These barriers can be overcome through simple research and engineering discipline and innovation.
Rosano, BASF: Sometimes changes in application techniques needed to realize labor savings and speed of application require a long educational process before adoption.
Wörheide, Orontec: The community and some stakeholders must write and publish success stories. The industry is still very conservative and reluctant with new forms of cooperation such as open innovation.
Provder, Polymer & Coatings Consultants: Paint manufacturing is a very conservative endeavor, and it is difficult to get new approaches adopted. We need greater willingness to invest in longer-term research and development to develop smart coatings and apply new technologies such artificial intelligence to paint formulation and manufacturing.
Q: What developments will you and your colleagues be monitoring that will enable ideal or improving conditions to help ensure success in your fields of research?
Seubert, Ford: Success depends on continued funding for such activities, as well as teams of OEMs, suppliers, and technology developers working openly and together to address challenges as they arise during the development process.
Wörheide, Orontec: Initiatives from paint suppliers and their customers to improve the interaction between paint and application on a scientific and practical basis is of continued interest to us.
Rosano, BASF: Developments occurring in the coatings industry in general around, for example, environmentally friendly coatings, new raw material and process development, and new markets are always of importance to our work.
Xu, Cardolite: We always track new technological developments and the emergence of specific needs in coatings/adhesives/sealants/elastomers (CASE) fields.
Brown, Chemours: On the technology side, we actively monitor developments in the scientific literature around emerging particle and colloidal science as well as respective innovations in characterization technologies. On the business and social dimensions, we pay close attention to emerging coating systems and adoption trends for different technologies. Combining these insights enables us to identify where opportunities may lie. The dirt pickup resistance work featured in CoatingsTech was an area where we saw the opportunity for a fundamental advancement through in-house expertise. We hope that the broader coatings community will benefit from it.
Carson, Alberdingk Boley: Alberdingk will continue to monitor all developments aimed at improving sustainability, including biobased technologies, process efficiencies, and government regulations/incentives. We will also closely monitor the housing and construction markets, especially the do-it-yourself sector, which has seen significant growth since the arrival of the COVID-19 pandemic. Anticipation of future regulations is a major part of our work in order to be up to speed with their evolution.
Detwiler, Eastman: We will monitor the development of both infrastructure and human resource capabilities across the value chain so that each partner can openly communicate to understand respective needs, complementary capabilities, and infrastructure investment not only around their respective core competencies but also other adjacent competencies to allow meaningful communication and improved innovation efficiency. To achieve this in the most efficient way, material scale-up, toxicological evaluation competencies, ground-level coatings formulation and evaluation capabilities, and computational machine learning platforms that enable faster innovation lifecycle will be critical.
Kelly, DST: It is important for DST to undertake research on new technologies and evaluate existing technologies in order to provide the ADF with independent advice. These results, coupled with DST research, strengthens the case for coating technology changes on ADF platforms. To help future-proof Defence and remain ahead of the regulatory and technology curves, DST has recently initiated the More, together: DST Strategy 2030. DST will increase engagement with academia and industry and harness the Australian science and technology ecosystem to support the needs of Defence in acquisition, sustainment and support to operations and achieve the required technological advances. From a coatings standpoint, DST will continue to monitor the literature, commercial coating releases, and success stories on the use of chromate free primers, conversion coatings, waterborne technologies, and alternative polymer technologies in industrial and military domains. Worldwide health and safety regulations and permitted exposure limits of airborne contaminants will also be monitored as these will drive requirements for new coating formulations and maintenance practices. DST will monitor developments in the application of machine learning to coating formulation to improve product performance and future threat environments to anticipate these risks to provide our war fighters with a tactical advantage.
Pilcher, The ChemQuest Group: I believe there are several developments that will facilitate further successes in paint and coating research and development. Some include:
The development of biosourced raw materials, such as monomers and solvents, that have been proven to have a lower carbon footprint that their fossil fuel counterparts and the formulation of more sustainable end-products using them.
The use of graphene in not only paints and coatings, but in a variety of organic and inorganic matrices to produce new, novel, and potentially valuable properties.
Surface modifications of coatings and other materials to produce functional/multifunctional surfaces that resist ice build-up; prevent environmental staining; enable easy removal of graffiti; and provide environmentally acceptable anti-fouling properties, are just a few examples.
Smart coatings that exhibit specific properties in response to environmental stimuli, such as conduction/non-conduction in a binary mode; coatings containing anti-corrosive agents that are released only when triggered by corrosive activity, perhaps indicated by a change in pH or concentration of an ionic species at the interface of the substrate and the coating; and coatings that are able to switch surface properties from hydrophobic to hydrophilic depending upon the environment in which they are placed.
 Improved antimicrobial technology that can be applied to or incorporated in surfaces and composite matrices.
For what applications do you expect to see your new technology(ies) being most used? What are the best opportunities for success?
Provder, Polymer & Coatings Consultants: The best way to stay ahead of competitors is to obsolete your own products/technologies before your competitors do so. The most successful companies will develop technologies intended to achieve this goal.
Carson, Alberdingk Boley: Our work is focused on industrial wood, decorative, and architectural applications. The packaging coatings market for paper and plastic-based materials is another major area of our activities.
Rosano, BASF: We expect to see our new technologies applied in a variety of market areas such as surface coatings, packaging, adhesives, and construction materials where the best opportunities for success are around sustainability, health and safety, and cost reduction.
Xu, Cardolite: Our technologies are mainly targeting applications that demand high performance because they can provide unique performance in the form of sustainable materials.
Brown, Chemours: We are not targeting a single application but rather a range of applications, from traditional spaces such as consumer and architectural coatings to less-established smart coating systems. The latter is a longer-term activity where the voice of the customer will dictate the route we choose; having product foresight with practical customer needs in mind is important. We perceive some common threads in the needs across these spaces that fundamentally relate to pigment interactions and simplicity. What we are trying to do may change the way coating manufacturers formulate, so our best chances for success are in new coating offerings where there is less competition with tradition or where there is a problem we are helping to resolve.
Detwiler, Eastman: Given our portfolio of additive and resin technologies, our solutions are focused on ultra-low emission additives for architectural coatings; non-BPA high performance polyester resins in food and beverage packaging coatings; and enhanced durability polyester resins for industrial, protective and transportation coatings to provide enhanced weathering and mechanical performance for those applications. Our focus is also on additives to enable sustainable flexible packaging coatings and durable wood coatings to help us gain the most opportunities for broad market adaptation and success.
Seubert, Ford: Of the technologies I described, advancements in tutone application and reduced-energy curing are the technologies with the nearest-term potential. Coatings for autonomous vehicles are longer-term, but are also necessary for autonomous vehicles to operate and come to market.
Kelly, DST: High-performing chromate-free pre-treatments and primers will see use on ADF aircraft, initially on aircraft skins and then on critical airframe structures. These technologies may also replace zinc phosphate used in Army platform primers. Waterborne technology is expected to become the standard coating technology used on ADF equipment, especially aircraft and army equipment and for camouflage purposes such as low-emissivity coatings. Machine learning will assist in selection of the best existing materials and prediction of new raw materials to formulate smart and functional coatings. It may also lead to better understanding of coatings phenomenon such as degradative pathways.
Wörheide, Orontec: Our technologies contribute to a more efficient and sustainable paint supply process, particularly in the understanding of color and how it performs in an application process in connection with the pigments and components being used.
Q: As a thought leader in the industry, what do you think the paint and coatings industry does best to foster innovation and the advance/adoption of new technologies?
Seubert, Ford: Paint and coating suppliers in the automotive industry do a great job listening to their customers to understand what advancements are needed by the OEMs. They will also identify technologies developed by startups and academic institutions and work to bring them to market if warranted.
Detwiler, Eastman: Since coatings tend to add disproportionate value to the applications where they are used, the paint and coatings industry fosters innovation and the adoption of new technologies when there is strong collaboration along the value chain. Given the paint and coatings industry's exposure to a wide range of applications, we are often able to make connections that our downstream partners may not see. This partnership model is something that creates synergy between different nodes of the value chain.
Carson, Alberdingk Boley: The paint and coatings industry is effective at providing several forums where personnel working in this industry can stay informed on the latest technology updates, including trade journals, conferences, and technology-focused webinars. All these platforms relay information ranging from more fundamental research results to data about fully commercialized products/technologies, all of which inspires further innovation. Awards given to recognize innovative contributions to the coatings industry are also of merit.
Brown, Chemours: The coatings community is full of opportunities for collaboration. There are multiple forums through ACA, trade journals and other organizations where companies and scientist can interact and share ideas and learnings, from the very technical to regulatory and product-stewardship related. Coatings technologies are so broad that there are always a variety of perspectives shared that inevitably leads to a pipeline of innovative technologies and continual advancement. For adoption, the facilitation of information exchange is again a major attribute. Sharing the insights of others and providing forums for open technical and practical conversations is an important part of this process.
Rosano, BASF: The industry does an excellent job of promoting and requiring continual improvement.
Xu, Cardolite: The paint and coatings industry is always eager to adopt new technologies through two main pathways. First, formulators are always open to new technologies and willing to use new materials step by step in existing formulations/systems to improve performance without changing manufacturing and application properties significantly. Second, for those technologies that require big revolutions in formulations/manufacturing/applications, usually there are several years of transitional time for new technologies to be adopted/mature. During this time formulators/companies prepare themselves in advance for new technologies before market needs emerge.
Provder, Polymer & Coatings Consultants: The industry is very good at innovating in response to external threats that threaten its very survival. A good example is the development of low- and no-VOC paints.
Kelly, DST: From the perspective of the DST, innovation programs which allow for enhanced mutual reliance and leveraging from Defence partners such as allied nations, industry and academia is a high priority. DST's motto is "From the Laboratory to the Battlefield," so it is important to provide advanced coatings technology to Australia's war fighters to enable a tactical advantage, greater survivability and a reduced cost of ownership. This is done through initiatives such as Australian State Innovation Partnerships, the Defence Innovation Hub and the Next Generation Technology Fund, allowing new ideas to be proposed and funded. Key Defence initiatives enable information exchange and program developments with allied organizations, such as NATO, through bilateral and multilateral agreements and programs with other countries, as well as under frameworks such as The Technical Co-operation Panel (TTCP) involving the Five-Eyes nations.
Pilcher, The ChemQuest Group: I don't believe that the paint and coatings industry has a strong history of innovation and advancement of new technologies, with certain widely spaced exceptions. When advancement is made, it tends to be fostered by smaller, more agile firms than by the larger multinationals. On the other hand, I see significant attempts being made by raw material suppliers to provide improved, and occasionally new, materials that have potential benefit to the paint and coatings industry. They can only do so much, however—attempts to synthesize truly new specialty chemicals are often thwarted by national/regional regulatory requirements, and it appears to be increasingly difficult for raw material suppliers to convince paint producers to evaluate new materials.
Corrigan, ChemQuest Technology Institute: The paint and coatings industry fosters innovation and the advance/adoption of new technologies through communication and dissemination of education and information among all of the stakeholders, via channels such as the ACA and other trade associations, as well as by the companies making these innovative materials.
Q: How can innovation in the paint and coatings industry be improved?
Kelly, DST: In Australia, coating technology education occurs post-university with industry support provided to PhD and Masters research projects. Innovation in coatings technology, driven by industry, can be achieved by supporting local universities in the engineering and physical science domains at the pre-graduate level by providing lectures, programs and industry-based training. As students graduate in their respective fields, new innovations in fields related to the coatings industry e.g. engineering and chemical synthesis, may be encouraged and generated.
Wörheide, Orontec: The industry is still perceived as old-fashioned and needs a new image. It needs to implement an initiative that will motivate young people to join this sector and then use more scientific methods. Digitalization and better test methods also need to be adopted, and open innovation should be encouraged.
Detwiler, Eastman: One of the challenges in the coatings industry is the long qualification cycle to bring new technologies to market. The value chain needs to commit to identifying opportunities that can significantly reduce this cycle and thereby enhance the return on investment of innovative technologies at each node in the value chain. These opportunities may include cross-industry pre-competitive collaboration around formulation, application, and meteorological and computational capabilities that create the foundational universal benchmarks.
Provder, Polymer & Coatings Consultants: Funding more long-term research and development and looking outside the paint industry for technologies that can be applied to the paint industry are two important practices that should be pursued. The industry also needs to gain a better understanding of how coating performance and end-use properties are related to the polymer chemistry and formulation of coatings. To do so, more effective use of polymer and coatings characterization is needed.
Corrigan, ChemQuest Technology Institute: Organizations should increasingly rely on information and innovation generated outside their four walls. Also, greater use of industry-funded research consortiums could lower the financial burden on any one industry, while allowing the acceleration of multi-disciplinary research that benefits all members.
Pilcher, The ChemQuest Group: Increased use of strategic research and development planning, rather than more tactical actions dealing with putting out fires that lead paint and coatings producers to tread water, rather than swim to new shores, is needed. From a research and development point of view, a culture in which certain raw materials are permitted for use, and are formulated using established guidelines on the manufacturing equipment available according to established processing protocols tends to produce "more of the same" or—at best—"slightly improved more of the same." It requires an injection of outside thinking and an investment in a combination of basic research, applied research, and developmental work to produce truly innovative products. This only happens when a strategic approach is employed in the development process, and can be implemented in many different ways, although the most effective is to involve independent contract research organizations, university-industry cooperative programs, government/private sector programs, and strategic management consultants, along with the paint company's own research and development organization.
Seubert, Ford: Paint suppliers and the coatings industry in general needs to put more efforts into technologies or processes that result in a revolutionary change within the industry. Much of the work done in the last decade has focused on evolutionary changes within the standard automotive paint system.
Brown, Chemours: A great instrument to spur advancement and innovation in key areas is the proposition of technology challenges. What would you consider as a grand challenge in the coating industry? What does the industry technology roadmap look like from a technical, regulatory, and sustainability perspective? Generating outlooks and industry technology targets could result in healthy competition spurring innovation and continual improvement, but also this would provide our prioritized needs to those outside of the coatings world, expanding our innovation network.
There is also a need to revitalize test methods and ensure they are fundamentally validated and fit-for-purpose so our path to future coating technologies doesn't hit artificial roadblocks. Discriminating art from science is always a barrier to innovation and the testing analytics are a key part of this. How do we harmonize testing and shelf methods that don't live up to modern science? How can we expediate the adoption of improved measurement systems?
Xu, Cardolite: Compared to the quick developments in novel raw materials and formulations, innovations in coating application/equipment technology come slowly. New technologies that make coating applications more effective, easier to handle (good for DIY), and lower cost are needed.
Carson, Alberdingk Boley: More collaborative work/interaction among coatings suppliers to address the needs of the industry, as well as a better understanding between suppliers and coating producers, would make new developments faster and more successful.
Q: Outside of the paint and coatings industry, what do you identify as the top technologies to watch in 2021 for potential long-range impacts in this industry?
Brown, Chemours: There are several technology advances outside of the paint and coatings industry that could contribute to further advances within the industry, including developments in data science, functional materials, biomimetics, recycling, regulatory science, and metrology science.
There are significant opportunities for artificial intelligence and other data analytics tools to enlighten the future of coatings technology, while the combination of structure and chemistry to engender new functionality and new properties is leading to advances in growing technology areas such as spintronics, energy storage, and biotechnology. Much of this science and knowledge are translatable to coating systems, although the practical application is a bit more complex.
Biomimetics is not a new area, but there remains much that we can learn from nature and apply in the coatings industry. While recycling efforts are largely focused on plastics, some of the learnings there may also be translatable. Importantly, ensuring that the voice of the coatings industry and its needs are included in national and international investments in this research is important.
From nanoplastics, microplastics, nanomaterials, substance re-classifications, to advance materials and beyond, activities in the regulatory space and the associated science will continue to impact the coatings industry. Finally, a wide range of new and interesting analytical tools are becoming more broadly available in the areas of macromolecular, particle, and surface science. Harnessing these tools strategically to develop the next generation of coatings technologies may provide unique opportunities and critical advancements in the fundamental science.
Rosano, BASF: Smart and environmentally adaptive materials will be of increasing importance for the development of coating ingredients that enable novel coating solutions.
Wörheide, Orontec: The top technologies that could directly impact the coatings industry include energy efficiency, bio-technologies, robotics, and artificial intelligence.
Kelly, DST: The immediate technology drivers outside the coatings industry that may impact this industry will be the use of robotics, specifically drones. Connected to neural networks, they will conduct coating application, inspection, and repairs on large vessels and industrial structures with little human interaction. Further improvements to machine learning, enabled by faster processor technology or quantum computing yielding quantum machine learning, will produce better algorithms resulting in long-term research benefits. Advances in engineered surfaces, via 3D printing or other technologies, that provide multifunctional properties using meta materials, delivered as appliques, will also impact the coatings industry.
Xu, Cardolite: Nanotechnology will continue to have an impact, as will technology innovation in clean energy. The continuous adoption of high-throughput screening technology will also occur in coating industry and facilitate more rapid product development.
Detwiler, Eastman: Outside the coatings industry, we need to keenly observe the development of sustainable and recyclable technologies, both from a regulatory and consumer perspective across all industries since paints and coatings are ubiquitous. We need our products to enable practical end-of-life solutions for the applications where they are used because sustainability is integral to the long-term growth of our industry and the wellbeing of our communities.
Seubert, Ford: Electrification and the manufacture of long-range electric vehicles will continue to grow during the next decade. These vehicles have their own unique set of challenges and new coating technologies can address some of these challenges. Many of these coatings are needed inside the battery packs to improve the battery pack performance and reduce their cost.
Pilcher, The ChemQuest Group: I see anti-microbial research booming in multiple industries, as well as extensive cross-industry work being done as a result of the trend toward the production of electric vehicles. Green energy will continue be a significant source of interest to both the coatings and composites sectors. For example, the blades of windmills wear out and must be periodically replaced, preferably with more durable composites and coatings.
Carson, Alberdingk Boley: The effect of groups such as "Fridays for Future" on consumers and industry should be considered. The global trend to reduce plastics in packaging leads to a rapid development in more sustainable solutions that can be achieved by water-based barrier coatings.
CoatingsTech | Vol. 17, No. 11 | November-December 2020