Greener Ship Refurbishment Project Wins SSPC Award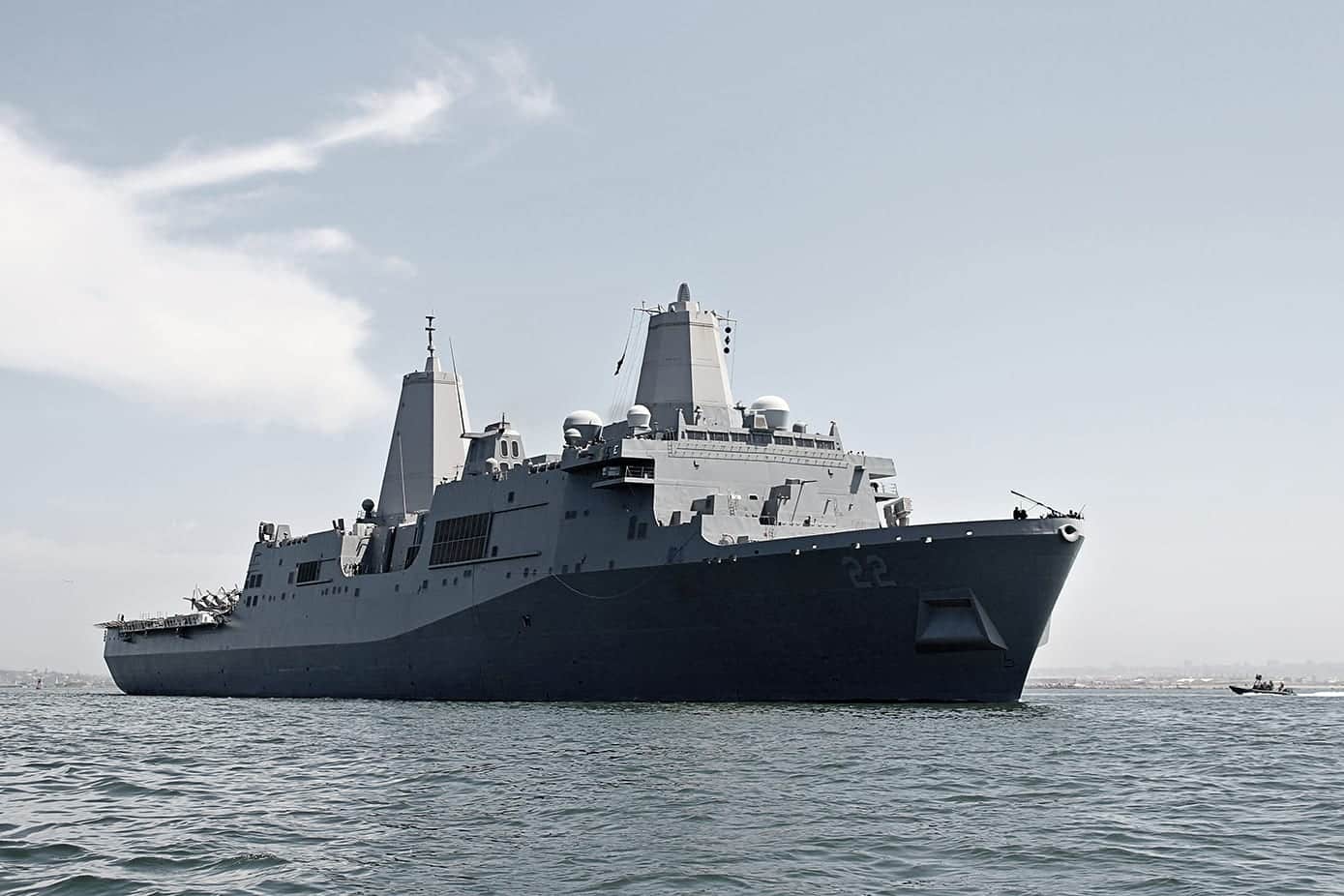 The multi-year midlife refueling and complex overhaul of the 1,092-foot-long USS George Washington (CVN-73) super aircraft carrier at the Huntington Ingalls Industries shipyard in Newport News, VA, included recoating of many of the surfaces on the large vessel. In addition to ensuring leading-edge performance, the project needed to be completed with minimal environmental impact. Sherwin-Williams Protective & Marine Coatings, together with the U.S. Navy and Mid-Atlantic Coatings, Inc. (MAC), earned the SSPC Military Coatings Project Award of Excellence for their use of new coatings and technologies, innovative collaborations, and environmentally sustainable solutions to preserve and recoat a range of critical areas, including the freeboard, main deck, topside, and more than 100 interior tanks, along with prepping and maintaining the underwater hull surface. The award recognizes exceptional coatings work performed on U.S. military assets.
"From the beginning, we knew this project would require looking beyond the usual horizons— not just in terms of engineering a strategy, but in effectively communicating our innovations and ideas, and collaborating with the right teams," said Mark Schultz, government marine manager for Sherwin-Williams Protective & Marine Coatings.
Development of new technologies designed to increase efficiency and reduce the environmental impact of the project began two years in advance of the initiation of work.
The first innovation was the use of vapor blasting to prepare the surface of the hull for recoating. Traditional sandblasting on an aircraft carrier creates massive amounts of waste and dust, requiring containment and significant time-consuming clean-up. Sherwin-Williams worked with Greener Blast Technologies and introduced the Naval contractors to vapor blasting, which uses a water-like medium to reduce dust levels during surface prep and minimize the waste and time required to clean up following blasting—while providing a similar blast profile as traditional blasting. This technique was used as the first blast to remove exterior built-up materials, such as biofouling and the outermost coatings, before the secondary direct-to-steel blasting, which was completed more quickly and with far less debris due to the first round of vapor blasting. Impressed by the process, the Navy created a new SSPC/NACE specification for vapor blasting. Further reducing waste, the surface preparation crew cleaned and recycled slurry from the vapor blasting process and also used recycled steel grit for the subsequent abrasive blasting step. In addition, all blasting was completed using water-powered pressure washers instead of gas-powered washers, which decreased fuel emissions for the project.
Sherwin-Williams Fast Clad® ER, a single-coat, high-solids solution that cures in four hours, was used on about 70% of the freeboard instead of a traditional two-coat system. This choice allowed applicators to accelerate the coating schedule and eliminate the possibility of missing recoat windows, which can lead to delamination issues—without sacrificing durability, according to Schultz. The remaining 30% of the freeboard was coated with Sherwin Williams SeaGuard® 5000HS Epoxy, with Sherwin-Williams Polysiloxane XLE-80 HAPS Free Epoxy Siloxane applied as a topcoat on the entire area. The Polysiloxane XLE-80 coating included a newly designed and approved Naval Research Lab low solar absorption (LSA) pigment package, which enhances the paint's signature "Navy Gray" color stability and reduces the solar temperature load on the vessel. Within the ship, more than 100 tanks designed to hold ballast, chemicals, fuel, water, and waste were also coated with Fast Clad ER, which offers long-term immersion service for up to 15 years.
The coatings were applied using plural-component sprayers. A new cartridge technology from V.O. Baker Company was employed that enabled precise measurements for dispensing small batches of plural-component coatings, which helped reduce the chance of mixing errors and allowed teams to work longer for touchup and repair work. More than 95% of the touchup and repair work following the initial spray application was completed exclusively with cartridges.
The USS George Washington restoration project is an example of Sherwin-Williams' unwavering commitment to improving the coatings selection and application techniques for the U.S. Navy, helping the organization enhance efficiencies, and realize life cycle improvements throughout its operations. "We always aim to take steps that improve sustainability and reduce environmental impact, especially on projects of this scope," Schultz said. "The results across the board couldn't have been achieved without the intense cooperation of our dedicated teams and partners, or the support of the Navy when we suggested new solutions for the future."