COVID-19 Drives Market Growth for Antimicrobial Coatings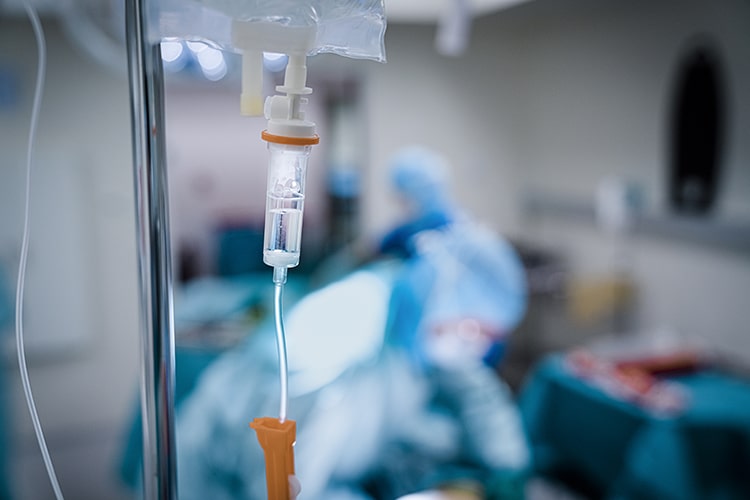 Antimicrobial coatings contain various active agents that cause the destruction of microbes, including bacteria, viruses, molds, fungi, and others. As technologies for the effective incorporation of silver, copper, quaternary ammonium and other antimicrobial actives into coatings has advanced, the adoption of both liquid and powder systems in a broad range of applications/industries has been steadily increasing.
The COVID-19 pandemic has highlighted the need to prevent microbial contamination of many different types of surfaces. In turn, that has shined a spotlight on antimicrobial coatings and the benefits they can provide.
Several market research reports on the global value and growth rate for the antimicrobial coating market were issued in 2020. All the research firms (Meticulous Research, Expert Market Research, MarketsandMarkets, Technavio, Grand View Research, and Allied Market Research) forecast strong growth for these coatings, as compound annual growth rate (CAGR) estimates fall between 8% and 13.5%.
Even so, projected values for the market vary significantly: $5.6 billion and $7.36 billion by 2025 (MarketsandMarkets and Meticulous Research, respectively) to $11.6 billion and $18.8 billion by 2027 (Grand View Research and Allied Market Research, respectively). Technavio predicts the global antimicrobial coatings market will expand by $682.06 million during 2020-2024, while Expert Market Research anticipates the market will reach a volume of 922 million kilotons by 2026.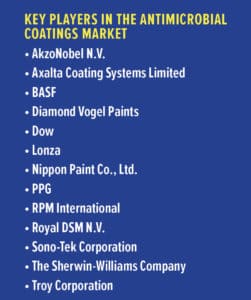 The wide variations in estimates may be attributed to the numerous types of antimicrobial coatings and end-use applications. Among the major end-uses include:
Building and construction, including HVAC systems and mold remediation
Medical and life sciences/healthcare and pharmaceutical
Food and beverages
Packaging
Machinery and equipment
Automotive OEM and components
Consumer electronics and appliances
Protective clothing
Miscellaneous materials
In addition to being classified by the type of microorganisms they protect against, these coatings can be categorized by the type of antimicrobial agent, such as metal-based actives, including silver, copper, titanium dioxide, and zinc-based compounds, and organic or polymeric materials, such as graphene, certain polymeric substances, and quaternary ammonium salts. Silver is expected to the most prominent due to its high efficacy and durability.
These various types of antimicrobial coating can be formulated as solventborne or water-based liquids, powders, and aerosols. Liquid coatings comprise the largest share of the market, with water-based system predominating, but powder coatings are expected to witness the fastest CAGR.
While the dollar estimates differ widely, there is a consensus on the key drivers for the growing demand projected for antimicrobial coatings. The COVID-19 pandemic has been a primary factor. Demand for antimicrobial coatings has been increasing drastically in the medical and healthcare sectors, as well as for packaging products, protective clothing, consumer electronics, appliances, and other goods. During peak infection waves, temporary facilities were erected to treat COVID-19 patients. In most cases, high-touch surfaces (beds, handles, medical devices, instruments, and protective gear) were protected with antimicrobial coatings to prevent hospital-acquired infections (HAIs).
Antimicrobial coatings are also widely used in established healthcare facilities and elder-care facilities to prevent healthcare-associated infections in general. Growing concerns about air quality are also driving demand for high-quality air-purification systems, from consumer-based products to complete HVAC (heating, ventilation and air conditioning) solutions—all protected with antimicrobial coatings. As a result, the indoor-air-quality sector has become another significant contributor to market growth.
Aside from the pandemic, there is also growing demand for antimicrobial coatings on implantable devices used in treatments for cardiovascular and other diseases. There is also demand for mold-remediation solutions, which include antimicrobial coatings. Food recalls are another driver; the use of antimicrobial coating in food packaging has increased as companies look to reduce the likelihood of microbial contamination in packaged food products, further spurring demand. Finally, increased awareness of the benefits of antimicrobial coatings will provide additional opportunities for growth in emerging economies such as Latin America, South East Asia, and Africa.