Corrosion Prevention in Food Processing Facilities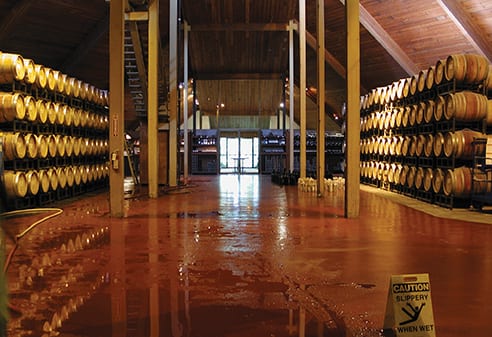 by Cynthia Challener, CoatingsTech Contributing Writer
Corrosion prevention in the manufacturing environment is a significant issue given the harsh conditions under which many production processes are performed. For the same reason, it is often very difficult to effectively achieve. In the food processing industry, there are added challenges; corrosion prevention in many instances must be accomplished using materials that meet strict requirements for direct or indirect food contact (e.g., in the US 21 CFR 175.300 for food contact use). Many types of coatings—both inorganic and organic—are used for corrosion prevention of the processing equipment and floors, walls, and ceilings in processing plants. Some types of food and beverage packaging (e.g., metal cans) also require coatings for protection against corrosion.
Food Processing Industry Challenges
The food processing industry is one of the largest manufacturing sectors in the United States. The food processing environment is also highly corrosive due to the extensive requirements for cleaning and sanitation and the corrosive nature of many food products. According to NACE International, the world's leading corrosion control organization, nearly $2.1 billion is spent annually on corrosion-related costs by the industry. Corrosion in food manufacturing environments is a significant issue because it can lead to equipment failures and thus costly downtime, and it has the potential to impact product safety and quality. "The food and beverage industry is highly regulated across the global supply chain, by the FDA in the United States and under global food safety initiatives (GFSI) internationally, to harmonize food standards — and for good reason: the food supply chain knows no country borders," says Julie Vaughn, vice president of marketing and business development with Emerald Performance Materials.
Indeed, concerns about safety due to contamination, taste alteration, and equipment malfunction are added challenges that other sectors, such as the construction industry, do not have to contend with, according to Jamil Baghdachi, professor of Polymers and Coatings and graduate program coordinator at Eastern Michigan University. "Unlike heavy industries such as oil and gas, transportation, etc., people and (animals) come in contact with food products and, in addition, multiple products with a wide range of pH, viscosity, and abrasion properties are typically processed in any given food plant. Furthermore, unlike in other sectors, each individual consumer is a watch-dog for this industry," he explains.
One of the leading causes of corrosion in food processing facilities is the extensive use of high-pressure water and steam, often in combination with various corrosive agents (alkaline, acidic, oxidizing, and reducing chemicals), for cleaning purposes. Water is widely used for food processing. In addition, many foods are mildly (pH 6-7: carbonated sweet drinks, beer, soups, and canned meat) to strongly (pH 3-5: citric fruit juices, jams, sauces, dressings, and pickled vegetables) corrosive and/or are processed using concentrated organic and inorganic chemicals (acids, salts). The enzymes in foods can also lead to corrosion, as can microbial contamination of surfaces. Unlike in many other industries, however, the use of powerful corrosion inhibitors is heavily restricted and, in many cases, not permitted in food processing plants for safety and health reasons, according to Baghdachi.
Effective Corrosion Prevention
While careful facility design (smooth, curved, bonded/solid, easy-to-clean, and drain surfaces) and the selection of appropriate corrosion-resistant materials (largely stainless steels for processing equipment and concrete for floors and walls) are the foundation of an effective corrosion prevention program, there are many instances where even highly corrosion-
resistant substrates need additional barrier protection to extend their service lifetimes. "Coatings serve several purposes in the food and beverage industry and must stand up to the sanitation chemicals and procedures used for processes that adhere to the GMPs (Good Manufacturing Practices) that keep the food supply safe. In addition, regulations governing the food and beverage industry follow the product through all stages of production, meaning that, in addition to the stringent rules for the equipment, packaging, surfaces, and products that come into direct contact with food, indirect food contact materials also play a significant role in food safety," observes Vaughn.
For steel structures and equipment, galvanizing with metallic zinc is the most common coating method for the corrosion prevention in the food processing industry. However, in some cases, an additional topcoat, typically an organic or organic/inorganic hybrid system, is applied for additional protection. In some applications, three-coat systems are employed. Polyurethanes and fluoropolymers are typically preferred for topcoats over metal substrates, while 100% solids, self-leveling epoxy systems are typically used on concrete surfaces, although polyurethane topcoats may be applied to the epoxy systems for aesthetic purposes. Where fast return-to-service in concrete coating applications is imperative, a modified bisphenol A epoxy resin can be used in combination with phenylalkylamines, according to Hitesh Soni, product manager for specialty epoxy materials at Emerald. "This approach has been shown to achieve a 50% faster return-to-service at ambient conditions and can also effectively cure at near-freezing temperatures," Soni says. Food-grade polyurea coatings have been developed that can be used to rehabilitate the walls and ceilings in food processing plants. The process involves reshaping of surfaces so that only smooth, curved lines remain and eliminating areas where water, dirt, grime, and pathogens can accumulate.
Food-grade polyurea coatings have been developed that can be used
to rehabilitate the walls and ceilings in food processing plants.
The process involves reshaping of surfaces so that only smooth, curved lines
remain and eliminating areas where water, dirt, grime, and pathogens can accumulate.
Regardless of the type of system and substrate, these coatings act as physical barriers to moisture and chemicals. In most cases, proper surface preparation is crucial and has a direct impact on coating performance. Advances in coating technology have, however, led to the development of protective coatings that are more forgiving with respect to the surface condition.
One interesting technology used in corrosion under insulation applications in the food and beverage industry is a reactive gel corrosion treatment. This mineralization technology involves the formation of a thin (50-200 Å), glass-like mineral film via reaction of components in the reactive gel with the steel surface. The film has excellent adhesion to the steel and is hydrophobic, and therefore acts as a highly protective barrier. If water does penetrate into the film, it is buffered to a high pH. In addition, the reactive gel is tolerant of poor surfaces and can be applied to both new steel and pre-corroded substrates with minimum surface preparation.
New and existing food plants often require protective coatings that will create smooth and seamless vertical and horizontal concrete surfaces to help safeguard substrates from contaminants and resist abrasion, chipping, and corrosive factors such as moisture and chemicals, according to Joe Schmit, sales director for StrataShield with Tnemec Company Inc. These coatings are also designed to facilitate efficient cleaning, sanitation, and workplace safety, according to Schmit. "The ultimate goal of any resinous floor or wall system is to limit out-of-service time during and after application. Downtime must be limited during coating application to allow quick return-to-service. In addition, floor and wall coatings in the food processing industry should last as long as possible to prevent excessive maintenance that could cause downtime or any kind of shut-down," he explains. While most floor and wall coatings do not come in direct contact with food and are classified as "incidental contact areas," and particularly for retrofit situations, coatings must be low VOC, low odor, and 100% solids so they can be applied in the proximity of people and food. "Concrete floors in food processing plants must resist degradation from chemicals used in frequent cleaning and sanitation, which are much more stringently applied in a food processing environment than other process industries," states Soni.
In addition to a quick turnaround time and low VOCs, low odor and surface tolerance are other important properties for floor and wall coatings used in the food processing industry for both contamination and corrosion prevention. "In order to maintain high production rates, plant owners sometimes specify minimal surface preparation. In addition, personnel often remain in the area being coated, so coatings must be able to adhere to surfaces without being hazardous or odorous," Schmit observes. For new concrete floors, he adds that moisture vapor transmission (MVT) is another factor that must be considered when selecting coatings for use in food processing plants. "In the past decade, the construction industry trend has been to fast-track projects, with surfaces coated and cured quickly, even before the concrete surface has met the typical 28-day curing time required of most concrete. For this application, the coating must meet all of the above criteria plus be resistant to MVT and the associated high alkalinity," says Schmit.
New Technologies
A number of technologies are being explored to improve the corrosion protection properties of coatings used in many different industries. Examples include the encapsulation of corrosion inhibitors to provide self-healing coatings, the use of antifouling agents, the creation of superhydrophobic surfaces through the addition of additives, and/or the formation of hybrid organic/inorganic matrices. One example of the latter technology has been developed by Professor Mark D. Soucek at the University of Akron. His modified ceramers are prepared by reacting tetraethyl orthosilicate (TEOS) oligomers with alkoxyl silane modified isoycyanurates. The isocynaurates provide connectivity between the inorganic and organic phases, while oligomerization of TEOS inhibits its volatility. The resultant coatings, which are spray-
applied as homogeneous solutions, in a one-coat application, self-stratify via simultaneous crosslinking to form multi-coat film structures but without any interlayer boundaries, according to Soucek. "In addition to reducing the cost of coating application (one-coat system), these ceramers have improved adhesion, mechanical, and surface properties (e.g., mar resistance) for longer service lifetimes. Furthermore, the self-priming ceramers provide better corrosion protection to metal substrates without the need to use environmentally hazardous chromium treatments," Soucek notes.
Other technologies under development include 100% acrylic coatings, sol-gel materials and their combinations, and aluminum and magnesium powders, according to Baghdachi. As an example, he notes that the modification of acrylic resins with food-contact-approved silicon-containing materials shows high potential. Due to safety concerns, however, Baghdachi adds that the adoption of newer corrosion protection coating technologies by the food processing industry, such as nanotechnology approaches and corrosion inhibitors for which safety and functional properties have not yet been established, has not yet occurred.