An Unexpected Role for Coatings in the Fight Against COVID-19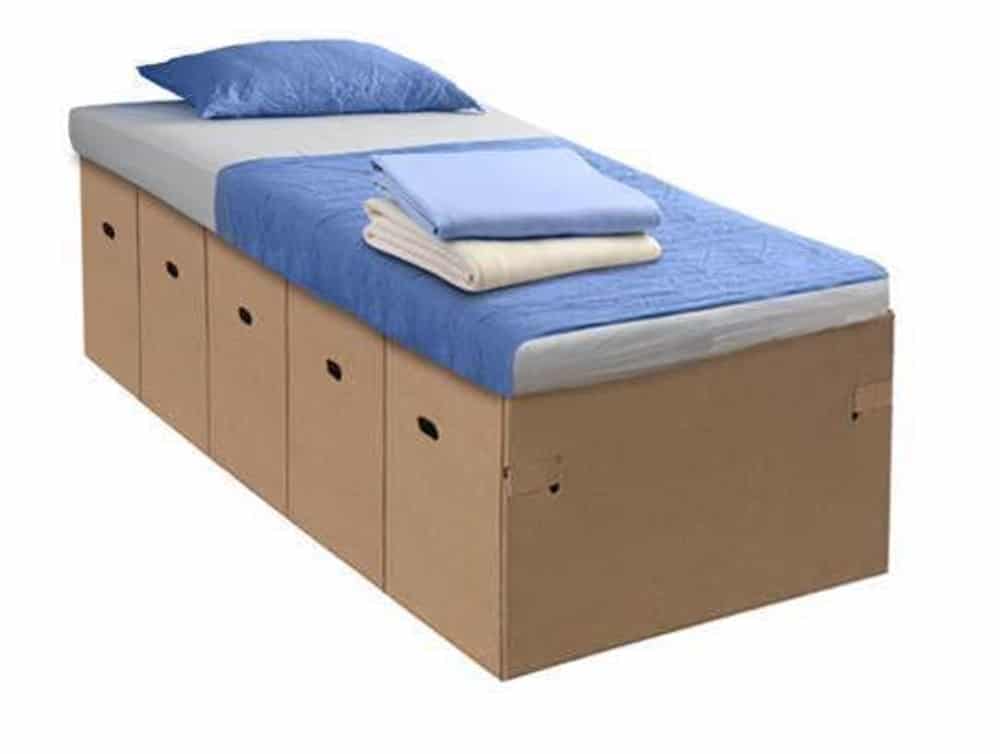 The COVID-19 pandemic has placed tremendous stress on the global healthcare system. In areas of the world with high case counts and large numbers of people sickened by the SARS-CoV-2 virus needing hospitalization, a shortage of hospital beds has been a significant issue. There has also been concern over the length of time that the virus can survive on metal and plastic surfaces—up to 72 hours. One of the solutions addressing both issues has been to use emergency beds made of cardboard. The virus has been shown to survive just 12 hours on paper, and these beds are easy to deploy in emergency/temporary hospitals set up in stadiums, hotels and other nontraditional locations.
Examples include corrugated beds (https://www.healthcarepackaging.com/supplier-news/news/21136384/corrugated-bed-supplements-hospital-bedding-in-public-health-emergencies) made by the  Canadian firm Great Little Box Co./Ideon Packaging (GLBC)  in conjunction with University of Saskatchewan engineering professor Sean Maw, corrugated beds and dividers (https://www.smurfitkappa.com/us/newsroom/2020/smurfit-kappa-launches-portfolio-of-corrugated-solutions-to-help-communities-affected-by-covid-19) for use in the workplace and to separate patient beds in emergency hospitals from European corrugated packaging company Smurfit Kappa, and cardboard flatpack hospital beds that can be transformed into coffins from Columbian company ABC Displays (https://www.dezeen.com/2020/06/01/cardboard-hospital-beds-that-double-as-coffins-developed-in-colombia/).
One of the regions of the world hardest hit by the novel coronavirus has been India, which has the third greatest number of cases behind the United States and Brazil as of mid-July 2020. At that time, the country was still experiencing an increasing positivity rate, but thankfully a progressive decline in the daily growth rate of new COVID-19 cases and a declining death rate.
The Aryan Group, an established producer of paper and packaging products, has taken steps to support hospital groups in India with its own corrugated bed solution. The beds are light weight, flat-stacked in transit and easy to assemble, with no need for tools, screws, or glue. They are also sturdy, can hold more than 200 kg/440 lb. of load, and are 100% re-pulpable and environmentally friendly. Aryan has supplied its corrugated beds to the Indian Army, Bombay Municipal Corporation, the Indian, Navy, and several other private parties. Corrugated beds are also available from Indian company BN Pack.
Coatings from Michelman India play an important role in protecting the corrugated emergency beds from both of these firms.  The company's HydraBan® paper coating helps increase the performance of the beds by making them water-resistant so they can withstand mopping and disinfecting for repeated use. The HydraBan® paper coatings are water-based and penetrate into the paper to impart water repellency and give a wax-impregnated look to the finished sheet. Importantly, they do without affecting the gluability, printability, and recyclability of the corrugated paper.