American Coatings SHOW: Charting the Road to Success
A well-known proverb says that the road to success begins with a single step. For professionals in the coatings industry, that step was taken when they arrived at the Indiana Convention Center from April 12–14, 2016. Drawn from countries around the globe, participants traveled to Indianapolis to experience the premier event of the coatings industry—the American Coatings SHOW and CONFERENCE. Their efforts were well rewarded since the 2016 ACS proved to be the most successful in its history. So, how do we measure that success?
For some, the numbers say it all. Numbers such as 9100. This registration total surpassed expectations and exceeded all past American Coatings SHOWS.
Another impressive number is 559. Breaking all ACS records, 559 exhibitors occupied more than 130,000 square feet of booth space. All of the exhibits provided a wealth of information for attendees and offered exhibitors their best chance to display state-of-the-art products and services before an eager audience of potential customers.
For others, success is determined by the variety of opportunities available. With 96 technical presentations offered, the American Coatings CONFERENCE provided an abundance of opportunities to share ideas and learn of the latest technological advances in the field. The ACC began on April 11 with pre-conference tutorials that allowed participants to sharpen their skills through 10 informative courses. The conference also highlighted work being done in universities with an expanded, interactive poster session.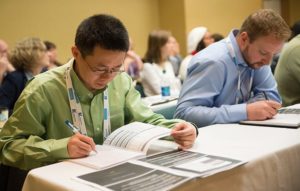 The theme of the conference was "Designing Innovation Strategies for the Future." The basis for this theme is the understanding that success in the coatings industry, both now and in the future, belongs to those who take the lead in developing strategies that integrate customer needs, break technical and performance barriers, and incorporate sustainability requirements. Leading off the technical program was a keynote presentation by Dr. Sharon Feng, senior associate dean of the Institute for Molecular Engineering at the University of Chicago, who addressed "Cross-Disciplinary Collaboration: An Imperative for Breakthrough Materials Discovery." The conference program culminated on Wednesday, April 13, as Donald C. Sundberg, director of the Nanostructured Polymers Research Center at the University of New Hampshire, and founder and president of Emulsion Polymers Consulting and Education, LLC, presented the prestigious Mattiello Memorial Lecture. Dr. Sundberg engaged attendees with his presentation, "Towards an Understanding of How Complex Latex Particles Are Formed: What Do We Know and When Did We Know It?"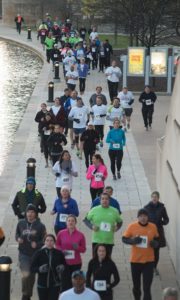 The American Coatings SHOW and CONFERENCE also boasted some exciting "firsts." For the first time in its history, the ACS held a "5K Fun Run." Sponsored by BYK, the run was established to support student participation at future American Coatings CONFERENCES. The conference also featured its first "live" survey during the Plenary Session. Attendee's responses to survey questions were provided in real time via a special app and helped to shed light on the views and expectations of current research priorities and market climate.
Finally, there are some that measure success simply by their feet. Most attendees left Indianapolis with well-satisfied smiles on their faces, despite their aching feet. There was so much to do and see that any discomfort was ignored as long as they could get to just one more booth, meet one more contact, or attend that very last session. For some, there just was not enough time to do it all.
Luckily, they will have the opportunity to try again in two years as the American Coatings SHOW and CONFERENCE once again meets in the city of Indianapolis on April 10–12. For all, committing the time and resources to participate in this most successful venture will certainly be a significant step in the right direction!