American Coatings CONFERENCE: Recognizing Industry Innovations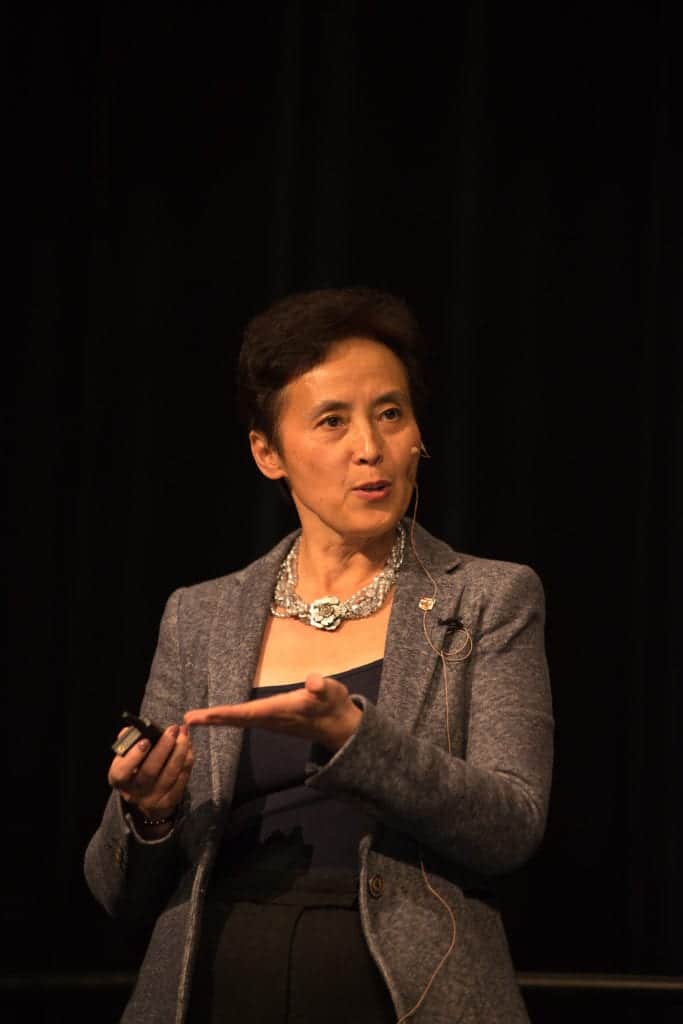 Held from April 11–13, the 2016 American Coatings CONFERENCE offered participants a wide range of educational opportunities, from a full program of technical presentations, to a lively poster session and thought-provoking plenary lectures. Featured were 96 presentations geared to the program theme of "Designing Innovation Strategies for the Future."
In the pre-conference tutorials offered in the morning of April 11, industry experts offered concise presentations of topics of interest to the industry, including rheology, anticorrosive coatings, functional films, and sustainable coatings and processes. Attendees remarked on the high quality of the presentations and the breadth of information provided.
Plenary Session
Kicking off the full conference was the Plenary Session where ACA's Steve Sides and Vincentz Network's Sonja Schulte welcomed participants and introduced the keynote speaker, Dr. Sharon Feng, senior associate dean of the Institute for Molecular Engineering at the University of Chicago. In her presentation, "Cross-Disciplinary Collaboration: An Imperative for Breakthrough Materials Discovery," Feng captivated attendees with her perspective on how cross-disciplinary collaboration in scientific research is transcending the boundaries of organization, institution and even nations. She implored researchers to step out of the comfort zone of the traditional research model and provided insight on how cross-disciplinary collaboration can potentially enable the development of game changers and disruptive technologies.
Also during the plenary session, major conference awards were presented:
Roon Foundation Awards
The Roon Awards recognize technical papers representing original scientific and innovative research directly related to the protective coatings industry and presented by an individual associated with the organic coatings industry. The awards, administered through ACA's Roon Award Committee, are given annually, alternating between the American Coatings CONFERENCE and ACA's CoatingsTech Conference.
The following awards were presented:
First Place: "Poly(ethylene) Glycol Modified Amphiphilic Siloxane Polyurethane Coatings and Their Performance," by North Dakota State University's Teluka Galhenage, Dean C. Webster, Augusto M.S. Moreira, Ryan J. Burgett, Shane J. Stafslien, and Lyndsi Vanderwal; and John A. Finlay, Sofia C. Franco, Anthony S. Clare of Newcastle University School of Marine Science and Technology in the United Kingdom.
Second Place: "New Low Temperature Cure-on-Command Process for Coatings" by Mark Soucek and Kent Miller of the University of Akron
Third Place: "Autonomous Robotics for Coatings Discovery and Testing," by California Polytechnic State University Department of Chemistry & Biochemistry's Erica Bilodeau, Chad Immoos, and Raymond Fernando, and Boeing Research & Technology's Erik Sapper.
American Coatings AWARD
The American Coatings AWARD recognizes the outstanding paper of the conference, describing work anticipated to have the greatest impact on the American coatings industry. The award consists of a $2500 (USD) monetary award and a glass sculpture.
Dow Chemical's Erin Vogel, Marty Beebe, Bob Bills, Christina Ellison, Sue Machelski, Jamie Sullivan, Jay Romick, and Vennesa Williams received the award for their paper titled "Near-Zero VOC Waterborne Alkyd Dispersions with Solventborne Alkyd Performance."
In their paper, the Dow researchers addressed how solventborne (SB) alkyd resins are widely used in industrial coatings because of their excellent gloss, adhesion, and wetting properties as well as compatibility with other resin types. In many regions, however, the consumption of SB alkyds has diminished as stringent environmental regulations have driven adoption of low VOC systems. In some instances, waterborne (WB) alkyd emulsions have replaced SB alkyd systems; however, they typically do not offer the same performance. Vogel's paper detailed technology that has been developed to disperse short-, medium-, and long-oil alkyd resins with minimal surfactant and no polymer modification. Her paper illustrates how pigmented WB alkyd coatings formulated with these resins demonstrate comparable properties to those of conventional SB alkyd coatings. (Dow's award-winning work will be featured in the June issue of CoatingsTech.)
Conference Highlights
The 2016 conference was distinguished by many high-quality presentations. A particular highlight was the Mattiello Memorial Lecture, given by Donald C. Sundberg, director of the Nanostructured Polymers Research Center at the University of New Hampshire, and founder and president of Emulsion Polymers Consulting and Education, LLC. In his presentation, "Towards an Understanding of How Complex Latex Particles Are Formed: What Do We Know and When Did We Know It?," Sundberg noted that today there is a great variety of synthetic latices composed of nano-particles that are homogeneous, structured, hollow, multi-lobed, or hybridized with other materials. They have huge specific surface areas, which presents opportunities for special surface chemistries, but also challenges for colloidal stability. Made with as many as five or more monomers resulting in polymer chains that may be linear, branched, grafted, and/or crosslinked, these chains are "born" in the water and "die" in the particles. According to Sundberg, searching for the chemical and physical mechanisms that determine the final properties of the latex has involved the application of organic and physical chemistry, surface chemistry, reaction kinetics, thermodynamics, molecular diffusion, and engineering. His presentation focused on what is known about these mechanisms, what tools are used to assist in learning about them, and when during the past 75 years we decided we understood some of these mechanisms.
Always a popular feature of the conference, a poster session was held at the end of the first day. Poster contributors were available to discuss the results of their ongoing work on such diverse topics as novel oil-based polymers for air-dry coatings, use of SNAP sol-gel articles in epoxy coating systems, and vanillin, a biobased crosslinker for melamine-formaldehyde coatings. The poster session was held during the ACA Conference Reception and attendees enjoyed the energetic atmosphere to learn about the research results while strengthening contacts.
The 1100 coatings professionals who attended the 2016 American Coatings CONFERENCE were exposed to a wide range of informative, cutting-edge presentations. From recent research findings to the latest technologies and processes, the topics covered the full range of coatings and the products used in their formulation.