A New Approach to Painting Restoration: Operation Night Watch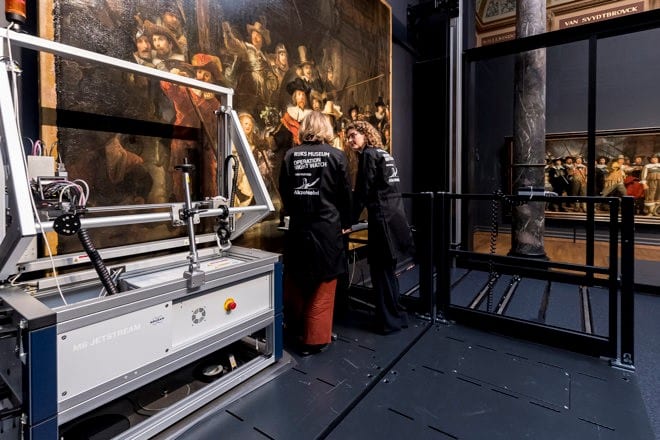 The Night Watch, more formally known as Militia Company of District II under the Command of Captain Frans Banninck Cocq and The Shooting Company of Frans Banning Cocq and Willem van Ruytenburch, was painted by Rembrandt van Rijn in 1642. It is a very large painting (11.91 ft × 14.34 ft) and is recognized for Rembrandt's dramatic use of light and shadow and his creation of the perception of motion. The painting currently hangs in the Rijksmuseum in Amsterdam as a part of the world's largest and most representative collection of Rembrandts and is undergoing a major restoration because changes are occurring, such as blanching on the figure of the dog in the lower right of the painting, according to Taco Dibbits general director of the Rijksmuseum.
This restoration project is different than any previous project performed at the museum. It is taking place in a special glass chamber that has been constructed in front of the painting so that it can remain on display and visitors to the museum can observe the restoration process. The restoration effort is also being stream live online (www.rijksmuseum.nl/en/nightwatch), and the thousands of image that will be obtained will be made available to the public.
"Operation Night Watch", which began in July 2019, includes experts from the Rijksmuseum and other museums and universities around the world, as well as AkzoNobel color specialists. The team will first try to determine how the painting was made, what its original appearance was intended to be, its current condition and what alterations have bee made to it and why.
To find the answers, 11,400 photographs with a resolution of 5,430 dpi will be taken using a purpose-built imaging frame. Special scanners will also be used to investigate the cracks and crevices of the painting, and the pigments will be examined at a nano level using a hi-tech laser.  The many terabytes of data gathered during this research phase will be analyzed to identify the best method for restoring The Night Watch.
AkzoNobel and the Rijksmuseum have signed a three-year partnership focused on this restoration project. It is not the first time they have worked together. AkzoNobel supplied approximately 8,000 liters of paint to the museum for its own decade-long renovation, which required the development of a special color palette known as the Sikkens RIJKS Colors that matches the colors originally used by architect Pierre Cuypers.
"We're about to rock the world of paintings conservation and do things that have never been attempted before," says Robert van Langh, the Rijksmuseum's head of Conservation and Science. "First of all, we need to find out what we're up against. With a partner like AkzoNobel on board, we're confident we'll take our understanding of paint to the next level – and I don't just mean one level, I'm talking three or four levels." AlzoNobel, meanwhile, is proud to be the main partner for the innovative project, according to CEO Thierry Vanlancker. "As a company which believes in taking its innovation beyond generations, we're excited to be contributing our expertise and passion for paint to help restore a cultural icon," he says.