2017 European Coatings Show Surpasses Expectations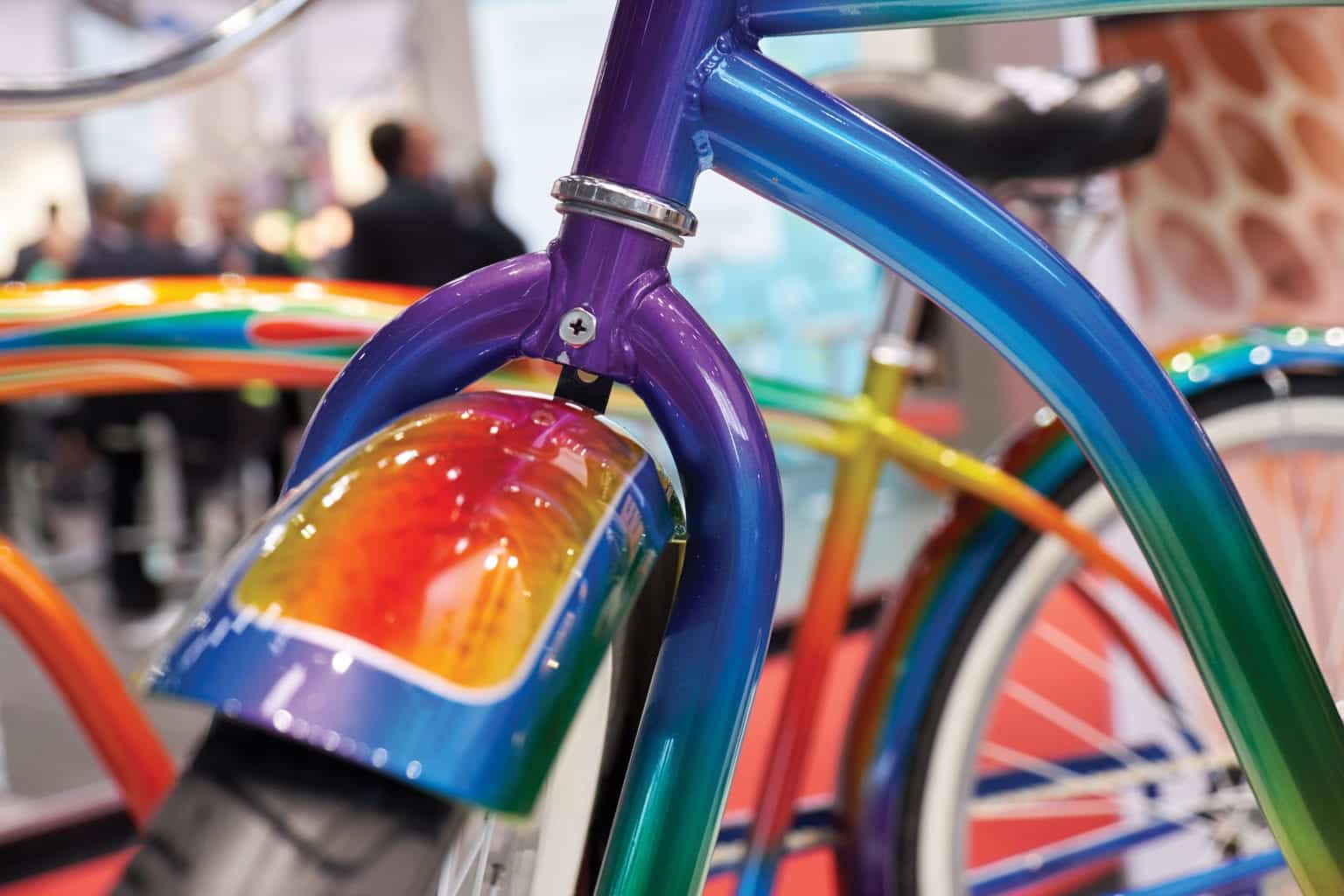 As visitors were making their way from one hall to the next at the recent European Coatings Show (ECS), April 3–6, 2017, one thing became abundantly clear to them—this was one large show. The Nuremberg, Germany-based event boasted its highest attendance ever—with more than 30,000 trade show visitors from more than 100 countries. In terms of exhibitor participation, the event again surpassed all previous totals, recording 1,135 exhibitors from 40 countries.
According to event organizers, Vincentz Network and NurembergMesse, the show was larger and "more international" than ever. It occupied seven halls, and the international presence was evident throughout the show floor, with a Chinese pavilion, a group of pavilions representing the Czech Republic and the Republic of Korea, amidst a host of companies from around the globe displaying their products and services. In addition, start-up companies from Germany appeared at a joint pavil- ion funded by the Federal Ministry for Economic Affairs and Energy (BMWi).
Held every other year, the European Coatings Show and Congress represents the entire value chain of paint products. In addition to raw materials for paints, printing inks, and adhesives, exhibitors displayed laboratory and production technology and equipment, as well as testing and measuring  instruments.
Congress Highlights
The European Coatings Congress, held in conjunction with the show, also set new records, with over 840 participants from nearly 50 countries.
Before  the  opening  of  the  congress, 10 informative tutorials were offered. These provided attendees with a basic introduction to such major technologies as polyurethanes, biocides, UV systems, and  functional coatings.
The congress began with a keynote address by Renaud Nicolaÿ, a researcher from the École Supérieure de Physiques et de Chimie Industrielles de la Ville de Paris. In his presentation, "Towards Functional Coatings and Materials by Dynamic Covalent Chemistries," he spoke about producing high-resistance vitrimers with new properties, includ- ing ease of deformation, self-healing capability, and recyclability—all while maintaining  the  original characteristics.
This year's European Coatings Show Award for the best submission went to Bas Tuijtelaars from DSM Coating Resins. The judges recognized his environmentally friendly approach to making amine-free resins, "Isocyanate Technology for 2K Coating Systems."
Throughout the 140 presentations, internationally renowned speakers provided overviews of scientific and research developments. The focus was on presenting a wide range of advances to help "launch the industry into the next coatings galaxy."
Trends and Technologies
Innovation was also at the heart of the European Coatings Show exhibits.
BASF found the ECS to be an ideal setting to announce news of their new strategic partnership with Landa Labs. Under this agreement, BASF will employ Landa's nano-pigment technology in a new portfolio of easy dispersible ultra- high transparency pigments marketed under the Colors & Effects brand.
Advances in pigments were also the focus at Sun Chemical's exhibit. Sun showcased three new pigments, includ- ing its new easy-to-disperse perylene- based yellow shade Perrindo Maroon 179; Sunbrite® Yellow 74, a VOC-free Azo yellow pigment developed for architectural decorative coatings producers; and Sun's newest quinacri- done pigment—Quindo® Magenta 202, which enables excellent styling for highly transparent and chromatic effect shades and boasts excellent durability and fastness properties for automotive and  high-performance coatings.
At Clariant's booth, a highlight was the Automotive Trendbook 2019, which took attendees on an "underwater journey" to explore the colors of the sea. The "Marine Magic" collection of automotive styling shades is based on the company's color expertise and observations of social trends, topics, and industry developments.
Sustainability Still Key
At the ECS, suppliers conveyed how their products and technologies are meeting the industry goals of increased sustainability and functionality. BYK-Chemie showcased its latest additives for radiation-curing coatings systems, including two new VOC-free defoam-ers for solventborne, high-solids, and solvent-free systems. With broad com-patibility, BYK-1788 is recommended for clearcoat systems, while the strong defoaming action of BYK-1799 makes it ideal for matt or pigmented coatings systems and printing inks.
Among the new products launched by Hexion were two new waterborne epoxy resins. EPI-REZ™ Resin 6521-WH-56 and EPI-REZ Resin 6531-WH-57 are label-free, low-VOC resins that allow for the manufacture of high-performance water-based coatings at a competitive cost. According to Hexion, their flexibil-ity and corrosion resistance enable use in applications like transportation and heavy-duty protective coatings.
Alberdingk Boley introduced a new PUR-Matt 600 VP inherently matt polyurethane copolymer that is designed to provide burnish resistance for interior wall paints.
Perstorp highlighted the come-back of alkyd resins technology with Voxtar™—a product that is designed to offer a low carbon footprint and supe-rior wood protection.
In terms of increased functional-ity, coatings that are easy to clean and dirt-repellant are in strong demand. WACKER introduced several poly-meric dispersions to address this market need. PRIMIS® SAF 9000 is a waterborne system for dirt-repellent floor treatment and wall paints. PRIMIS SAF 9001 is a waterborne system for the dirt-repellent treatment of mineral floors.
First-time exhibitor, SONGWON debuted at the ECS with new stabiliza- tion products and packages. With a strong emphasis on sustainability, the company introduced its range of high performance hindered amine light stabilizers, including SONGSORB® CS AQ01 for waterborne technologies.
Meeting  Regulations
Another common theme on the show floor was regulatory compliance. In Europe, publication of the 10th ATP with new methylisothiazolinone (MIT) labeling limits is expected in 2017. As a result, MIT-free preservation systems are in high demand. Troy Corporation exhibited its range of MIT-free solu- tions,  including  Mergal  758,  Mergal 712, Mergal 723K, and Mergal ZBIT. The company also highlighted its Troy Microbial Management Advantage con- sultative technical services, intended to help manufacturers reformulate their products for alternate  preservatives.
Lonza launched  a new addition to  its Proxel range of preservatives in Europe— Proxel Spektra. Designed to address the demand for MIT-free biocide formulations, the in-can preservative is a dual- active, broad-spectrum biocide for wet- state preservation of water-based paints, adhesives, and construction chemicals. The formulation offers extensive protec- tion at target dose levels that will not require EU H317 labeling.
LANXESS Material Protection Products (MPP) business unit offered its new MIT-free formulations containing combinations of the isothiazolinones, as well as formulations with nonsensitizing active ingredients, to allow formulators  to shift to completely MIT-free systems.
Advancing Through Collaboration
Challenges in the industry are being met through strategic collaborations between industry players. Some of the results of these collaborations were highlighted at the show. For example, in the automotive industry,  manufacturers  and suppliers are working to reduce energy consumption and CO2 emissions in production. A project team consisting of employees of car maker Audi, BASF's Coatings division, and materials company Covestro combined their resources to develop a clearcoat with a biobased hardener for automotive manufacturing. BASF developed the clearcoat using  Covestro's biobased hardener Desmodur® eco N 7300. A total of 70% of the hardener's carbon content is sourced from renewable raw materials. The clearcoat was applied to test bodies of the Audi Q2. On display at the ECS, the car drew the attention of attendees.
In the area of industrial interior wood coatings, DSM and Italian paint manufacturer ICA Group have jointly developed a new, sustainable paint called Iridea Bio. On display at the ECS, he coating contains DSM's Decovery® plant-based resins, which are made from renewable resources and combine typical acrylic performance with beneficial sustainability characteristics.
Working together for the advancement of the industry is also the goal of the Microbial Control Executive Council, and the group met at ECS. The MCEC is comprised of six companies that produce microbial control solu-tions. This sector group of the European Chemical Industry Council (Cefic) includes Troy Corporation, BASF, Lonza, The Dow Chemical Company, LANXESS, and ICL.
These highlights provide only a glimpse into the wide array of products and tech-nologies on display. From the informative congress presentations to the extensive product displays, participants at the 2017 European Coatings Congress and Show all attest to the success of the event. Highlights of the production equipment and laboratory and testing appa-ratus on display will be featured in the June issue of CoatingsTech. —Ed.)
Looking toward  Indianapolis
Moving towards 2018, the focus on the industry is beginning to shift. Planning is already underway for the industry's upcoming must-attend event—the American Coatings Show and American Coatings Conference. Slated for April 9–12, 2018, the ACS and ACC will be held at the Indiana Convention Center in Indianapolis, IN. Once again, industry professionals from around the world will have the opportunity to discover all of the unique and innovative advances that the industry has to offer.
For more information on the ACS/ACC, visit the website at https:// american-coatings-show.com.