Eastern Coatings Show Records Another Successful Year
The 2019 Eastern Coatings Show was held at Harrah's Resort in Atlantic City, NJ on May 13–15. The show had both a record number of booths and record attendance, with 143 tabletop exhibitors and approximately 1,400 attendees. Participants were able to attend the two-day technical conference with three concurrent tracks covering additives, sustainability, industrial, wood coating, metal coatings, color/pigments, novel resins, and architectural.
This year, the ECS offered short courses on the Fundamentals of Coatings. These courses, administered by University of Southern Mississippi, provided entry-level coatings chemists with an understanding of basic principles of coatings use, design, formulation, and manufacture. The program also included a poolside opening reception and prestigious awards.
Keynote Speaker
A highlight was the keynote presentation by Kevin D. Braun, vice president, industrial coatings, Americas, of PPG Industries. He discussed "The Future of the Coating Industry: How Current Trends Are Driving Change." Braun noted that we are now living in the 4th Industrial Revolution—Cyber Physical System. Because of this, Braun believes it is imperative that industry explores digital transformation and emerging technologies to meet new demand for products that integrate mobility and environmental protection. He stressed that the future of paint must be centered around lightweighting, green coatings, and autonomous vehicles.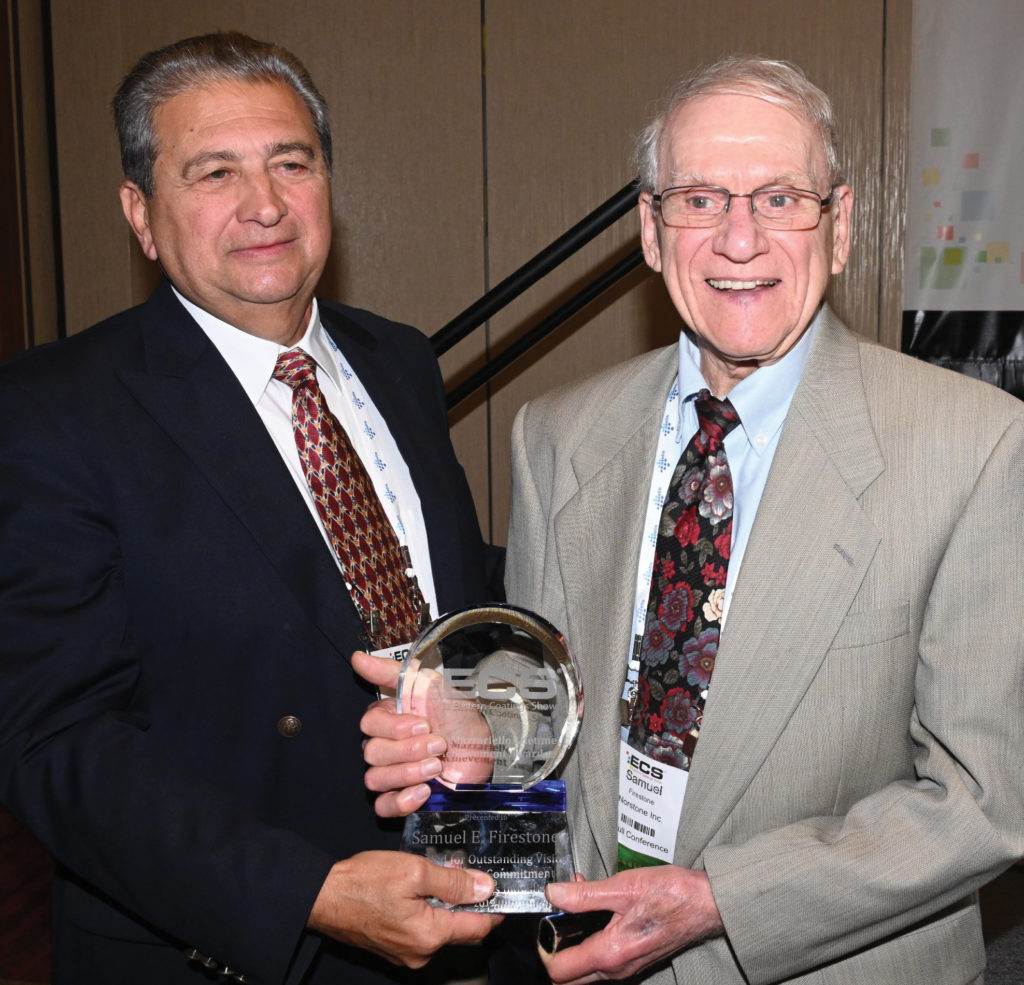 Presentation of Awards
Following the keynote address, Rick Mazzariello presented the Rick Mazzariello Lifetime Achievement Award to Samuel E. Firestone. The founder of Norstone, Inc. in 1982, Firestone has spent his entire career in coatings and has contributed greatly to the industry. Although he officially retired in 2006, Firestone still, at 92 years old, occasionally offers his expertise to the industry.
Pflaumer Brothers of Ewing, NJ, sponsored an award to recognize the top two technical papers showing the most outstanding technical innovation at this year's Eastern Coatings Show. The Outstanding Paper award winner was Jacob Shevrin of Evonik for his presentation, "Enhanced Corrosion Resistance of Waterborne, VOC-Free Coatings with Novel Bipodal Silane Additives." His research has focused on silanes for coatings and metal treatment applications. The Most Outstanding Paper award was presented to Mengfei Huang of the University of Massachusetts for her paper, "Methylene Malonate for High-Performance Coatings."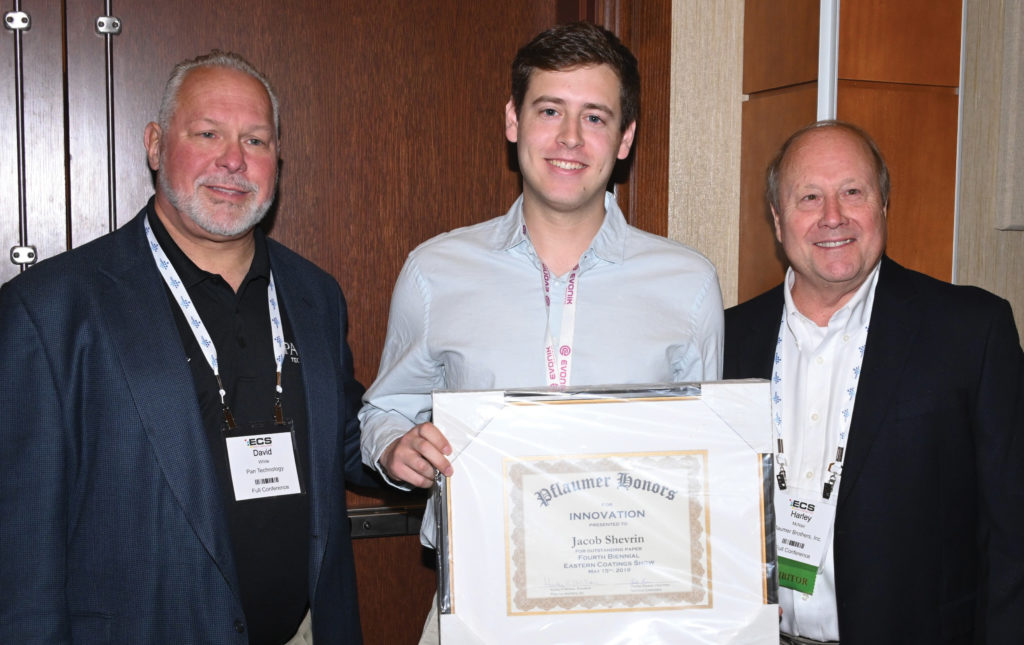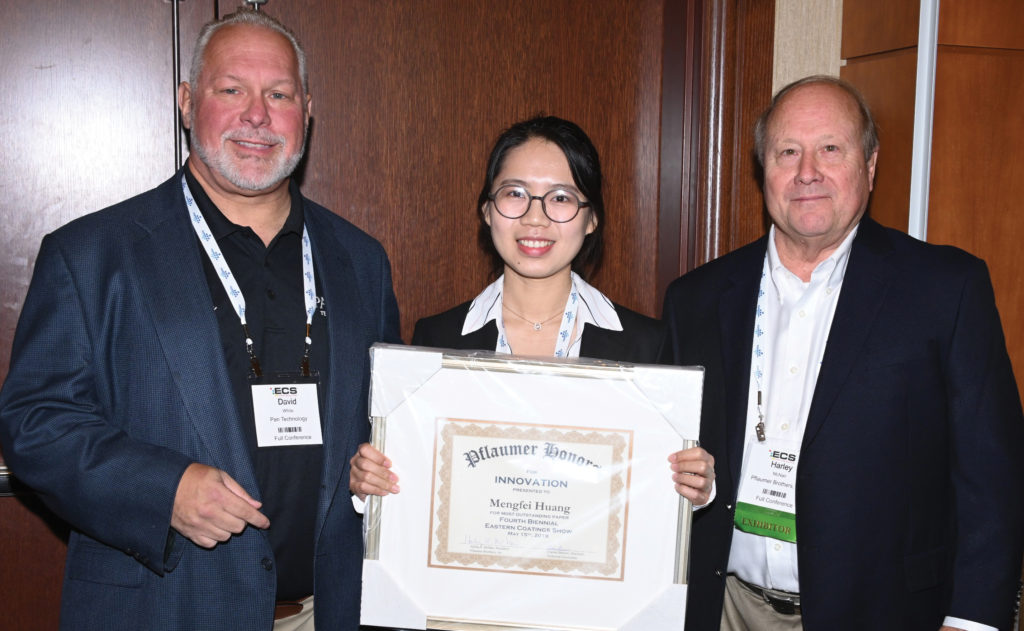 Panel Discussion
A panel discussion that focused on the theme "Strategic Innovation—Solving Unmet Needs" was another well-
attended session of the show. Dr. Brian Makowski, director of product innovation for Sherwin-Williams; Shiona Stewart, industry marketing manager Transportation, Industrial, Furniture & Floor Coatings, Dispersions, Resins, and Additives North America at BASF; and Howard Killilea, global technical director for EPS discussed where they would like industry to focus its attention. Makowski stated that he would like to see more coatings that cater to the DIY demographic. "If you can make coatings that are easy for them, they will use it over and over again," he said.
Killilea stressed the importance of addressing the disruption in the supply chain and the shortage of raw materials. "We use platform teams to examine the must-haves in chemical properties and make sure resources are available, even if there isn't a current need," Killilea stated.
Stewart underscored the need to develop testing that is reproducible in the outside world. "My responsibility is understanding the unmet needs in a variety of coatings spaces—such as how do we develop technologies that make the coating more functional and have the coating do more for our customers," she added.
Show Organizers
The biennial ECS is organized by the Eastern Coatings Federation, Inc., a corporation founded by the Metropolitan New York Coatings Association (MNYCA), the Philadelphia Society for Coatings Technology (PSCT), and the New England Society for Coatings Technology (NESCT).