Increased Sustainability Drives Development of Exterior Concrete Coating Technologies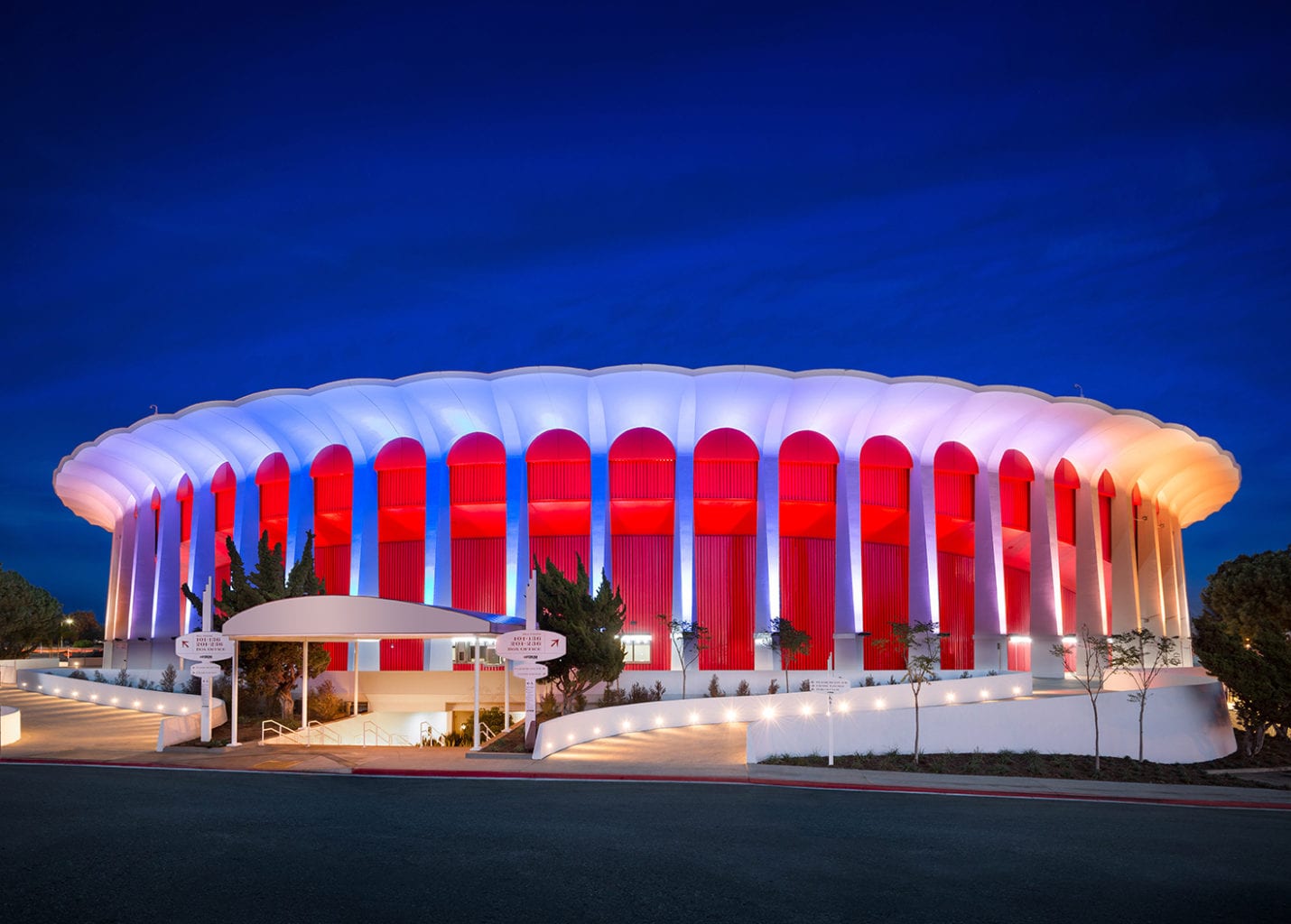 By Cynthia Challener, CoatingsTech Contributing Author
Concrete is used in many different applications, including residential, commercial and public buildings, exterior horizontal spaces (patios, walkways, etc.), and large transportation infrastructure (bridges, tunnels, etc.). Use of concrete in building construction continues to increase at a healthy rate. Market research firm Technavio estimates the global concrete and cement (used to make concrete) market will expand at a compound annual growth rate of nearly 8% to reach $921 billion by 2020. The greatest growth is expected to occur in Asia Pacific, but construction markets in North America and Europe are also improving.
Concrete needs to be protected against damage due to water, abrasion, moisture, chemicals, UV exposure, and more. One- and two-component acrylic, epoxy, and urethane coatings provide that protection while imparting a desirable appearance to both horizontal and vertical concrete surfaces. However, in addition to overcoming the complex characteristics of concrete and the harsh conditions exterior surfaces are exposed to, coating formulators and ingredient suppliers are challenged by increasing restrictions on volatile organic compound (VOC) content and other emissions, expanding interest in green building standards, expectations for wider application windows and faster return to service, and new developments in concrete construction.
Horizontal vs Vertical Concrete
"Concrete, whether vertical or horizontal, is a substrate that presents a number of challenges to paint in terms of adhesion and long-term durability," asserts Alan Fream, global technical manager for Coatings at OMNOVA Solutions. While coatings for both horizontal and vertical concrete surfaces serve to protect concrete structures, the different types of exposures and in-service performance requirements for each result in the need for different coating technologies and systems, according to Christopher Perego, marketing manager for Construction Systems with BASF Corporation.
In particular, while both orientations require water resistance, they differ in how water gets to the coating. "Horizontal applications can see vapor drive from below in slab-on-grade construction, but may also be exposed to ponding water on the surface, while vertical surfaces may be exposed to wind-driven rain that usually dries more quickly, but can also be affected by vapor drive from within the building if proper precautions are not taken," explains Steven Reinstadtler, market manager for Construction Coatings, Adhesives, and Sealants at Covestro. He adds that horizontal surfaces may also be exposed to foot or car traffic and staining agents. On the other hand, repeated water penetration into improperly or uncapped exterior concrete masonry units (CMUs) or split face walls can leach out water-soluble compounds from vertical concrete structures, causing efflorescence and possible disbondment issues.
As a result, horizontal concrete surfaces (parking garages, balconies, walkways, patios, and plaza decks) often require waterproofing protection combined with abrasion, chemical, and UV resistance, according to Perego. Alkali resistance and microbial control are also critical in some applications where standing water is an issue, adds Laura Betzen, group leader with Tnemec Company. Vertical applications (i.e., above-grade building facades, balcony soffits, and architectural details) also require protection from bulk water and moisture ingress. "Coatings for these surfaces need to adhere to challenging concrete substrates, provide UV resistance and permeability to vapor, and are often asked to accommodate movement within the substrate, as well as provide aesthetic qualities such as color, sheen, and texture," Perego observes. Specific performance properties, according to Betzen, include resistance to dirt pick-up, resistance to color change and gloss loss, appropriate abrasion resistance (depending on the location—dust storms in Arizona or Nevada, for example), cleanability (pressure washing, etc.), and resistance to biological growth (location dependent).
In addition, regardless of the application, coatings need to be compatible with concrete and other adjacent materials, such as joint sealants, expansion joints, and other coatings. Since they are applied to exterior surfaces, both horizontal and vertical coatings for concrete also require freeze/thaw resistance and a certain amount of flexibility, according to Betzen. Desired properties during application of coatings to horizontal and vertical concrete surfaces also differ. "Coatings for exterior horizontal concrete surfaces need to have good flow and leveling, while those for exterior vertical concrete surfaces require sag resistance when applied," says Betzen. She adds that horizontal coatings may require anchoring (thin shallow furrows drilled out around the perimeter of the coating area) to keep the coating from delaminating during the curing process. Intercoat adhesion and the recoat window are also important for horizontal coatings because they are typically applied as multi-coat systems.
As new regulations tend to lower VOCs, latex polymer design has become more important, and increasingly more innovative, in order to continue to meet the expectations of formulators.
Technologies range the gamut from one-component coatings, such as waterborne acrylics, polyurethane dispersions, and moisture-cured urethanes to two-part systems, such as epoxy, polyurethane, and even fluoropolymer formulations. Coatings for horizontal surfaces tend to be harder and more chemical resistant, according to Fream. He notes that acrylics are used for both horizontal and vertical coatings, with epoxy modification increasingly common for horizontal applications. Urethane elastomeric coatings are frequently used for horizontal applications due to their excellent adhesion, UV and chemical resistance, and ability to accommodate movement in the substrate, according to Perego. For vertical substrates, he notes that high-build acrylic, water-based coatings are commonly used due to their adhesion properties, vapor permeability, UV resistance, and compatibility with adjacent materials.
Surface preparation and the choice of an appropriate primer are as important as selecting the correct technology, Betzen stresses. Adds Reinstadtler: "Surface preparation of concrete is a critical component of any concrete coating application and even more so on exterior applications due to the harsher environment and fluctuations in temperatures. When considering coating systems, surface preparation and compatibility must be kept in mind. Formulators need to factor these points in as they craft new generations of exterior concrete coatings."
Sustainability Driving Development
Another key consideration for developers of new exterior concrete coating technologies is the need to comply with VOC regulations. "In recent times, the main trend driving the development of new exterior concrete coating technologies has been VOC regulations and environmental labels. As new regulations tend to lower VOCs, latex polymer design has become more important, and increasingly more innovative, in order to continue to meet the expectations of formulators," Fream observes. Perego points to recent changes in Utah and Maryland requirements as examples. "Evolving regulations have increased the need for more innovation in the coatings segment," he states.
The recent LEED (Leadership in Energy and Environmental Design) v4 building certification also places more emphasis on all emissions, rather than just the VOC content of coatings, according to Betzen. "Because California Department of Public Health emissions testing looks for particular chemical substances, manufacturers have had to change raw materials in order to pass this test," she notes. "Formaldehyde, which can easily show up in emissions testing, is one such example. Suppliers have produced raw materials for paint that don't contain formaldehyde or even have the ability to absorb formaldehyde from the air," Betzen adds.
Adoption of LEED v4 is also driving interest in cool roof coatings, which is expanding further to cool coatings for the vertical sides of buildings, according to Betzen. Perego adds that sustainable rating programs are similarly increasing the demand for traffic coatings with higher solar reflectance index (SRI) values. Betzen further notes that paint manufacturers are working to replace raw materials that contain chemicals on the Living Building Challenge Red List of undesirable substances. Suppliers are therefore working to create or identify raw materials for coatings that satisfy this need.
Other Industry Needs
Additional trends not directly related to sustainability are also influencing the development of exterior concrete coating technologies. The desire of building decision makers to use protective and decorative coatings on concrete surfaces that in the past may have gone uncoated is one notable driver, according to Reinstadtler. Exterior concrete pavers previously used for patios and decks are one example. "These features now appear in more noticeable areas, and the aesthetic requirements are greater, which is driving the need for protective coatings and sealers that can withstand harsh climates, water, and staining agents," he explains.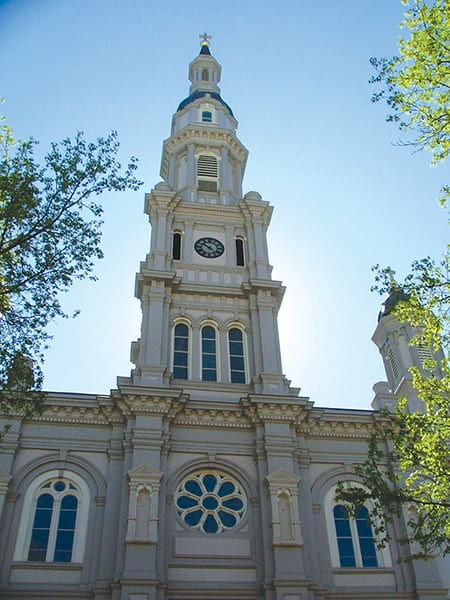 Other new developments in concrete construction that offer speed and cost efficiency in construction projects (e.g., "tilt-up"), also present new challenges to coatings suppliers, according to Fream. "The form release agents and bond breakers applied to the mold prior to pouring of the concrete can impair adhesion of coatings," he notes. "Contractors also desire to coat the tilt-up panels as soon as they are sufficiently cured for mechanical handling, which can pose problems due to the high alkalinity of the fresh concrete," Fream adds. In fact, Perego points out that contractors and owners in general are looking for materials that allow for faster installation and return to service while minimizing the impact of installation on buildings and their occupants.
There has also been growing awareness of building envelopes and the role that coatings play in creating tightly controlled/minimized water vapor and condensation conditions in building interiors caused by temperature differentials and air flow, according to Betzen. "Coatings must be breathable to allow water vapor to leave the building, but also water resistant to keep moisture from entering. The importance of moisture vapor transmission is especially critical when dealing with horizontal coatings that are applied where the concrete is in direct contact with the ground," she observes. Alkali build-up behind the coating also needs to be addressed.
Aesthetics are also becoming more important as owners are demanding both function and form, according to Perego, particularly for vertical coatings. "Building appearance is part of the customer experience for a business. Owners desire buildings that appear clean and require less maintenance, and coatings that have the ability to mask imperfections and repairs contribute to a positive experience," he comments. He also notes that there is growing use of more vibrant colors, making color stability and fastness key performance attributes.
Technologies That Address Market Needs
To meet these various needs, raw material suppliers are developing new resin chemistries. For example, polyurethanes are increasingly being used for exterior concrete coating applications. "Formulators and contractors have recognized that waterborne polyurethanes used in building interiors, which offer long-term, proven performance, have utility on exteriors as well," states Reinstadtler. He adds that many contractors have discovered that a commercially available two-component waterborne polyurethane floor coating at 50%+ solids can be cut back a bit and used as a very durable concrete coating/sealer for exterior flatwork such as steps, sidewalks, patios, aprons, and driveways. "Formulators have responded by offering waterborne polyurethane products specifically designed for these applications at the optimum solids levels," says Reinstadtler.
Two-component urethane traffic coatings have also gained in market acceptance in recent years, according to Perego. "These materials allow for rapid installation and curing. The impact is minimal downtime, allowing structures to be returned to service faster. Additionally, two-component urethane formulations can be lower in VOC content and lower in odor, resulting in less impact on occupied space or structures," he comments. For vertical concrete applications, Perego notes that hydrophobic coatings are newer systems attracting attention. "Nanostructures on the surfaces of these coatings cause water to bead up and roll off of a vertical surface, taking dirt and grime along with it. The impact to the owner is a building that looks clean and dry while reducing maintenance and cleaning costs," he explains.
New resins have also been introduced to allow application to concrete without waiting the typical 28 days for it to fully cure. OMNOVA Solutions has, for instance, developed a copolymer resin specifically designed for the formulation of low-VOC, highly alkali, and efflorescence resistant primers for application to fresh vertical concrete surfaces. The resin, according to Fream, provides a sound base for subsequent coats of masonry paint and avoids the common coating defects such as blistering, peeling, cracking, flaking, and efflorescence. The company has also developed an epoxy-modified acrylic copolymer designed for the formulation of one-component coatings applied to horizontal concrete coatings, such as garage floors. According to Fream, it offers improved chemical and hot-tire resistance with low VOCs and allows the formulation of coatings that are easier to apply than conventional two-component systems.
With respect to appearance, formulators have been challenged to develop protective coatings for concrete that do not impart a "plastic" look. In many cases owners do not want the concrete to look like it has been coated, according to Reinstadtler. "Now available, Bayhydrol® waterborne resins from Covestro impart a matte or eggshell finish without the need for the addition of additives such as silicas and waxes that can negatively impact performance attributes," he continues. Polyaspartics, on the other hand, are increasingly used for applications where a wet look is desired. "These coatings are attractive because they can be applied in the shoulder season when exterior temperatures may preclude the use of other technologies. In particular, their rapid curing is advantageous when unexpected inclement weather moves in and other coating technologies would still be drying," Reinstadtler explains.
More Work to Do
Like any other coating market, customer needs and expectations are constantly evolving, so there is always a need for further innovation. "Coating manufacturers continue to search the horizon and push the limits of technology to solve construction challenges," asserts Perego. "The industry is continually challenging itself to develop materials with more robust application characteristics and the ability to withstand more extreme in-service conditions while providing longer material service life. Advances in these areas will contribute to more sustainable buildings and structures," he adds.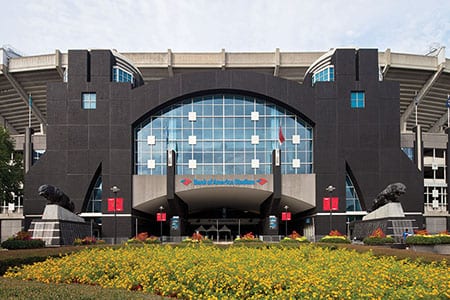 There is, for instance, continued need for coating technologies that can be applied to new concrete to achieve faster return to service, according to Betzen. "Before concrete is fully cured (28 days), the vapor pressure and alkali in the concrete is greater and the propensity for failure is increased. We believe coatings with good moisture vapor transmissions and severe alkali resistance will help solve this problem," she says.
Renovation of old, degraded concrete structures remains a significant challenge, especially with respect to the development of low-VOC, water-based technologies, according to Fream. "Obtaining adequate penetration and consolidation of the surface by the coating system is a real difficulty with degraded concrete," he says. However, new technologies are being developed in this field to improve the penetrative properties of waterborne coatings.
Betzen also notes that accelerated weathering/exposure tests that more closely mimic real-world conditions are needed. "When dealing with a substrate like concrete that can be exposed to many environmental conditions, it would be ideal to be able to predict the longevity of a coating for individual situations," she observes.
Finally, Fream points to issues with concrete as a construction material. "In its present form, concrete is not a sustainable material because it is based on Portland cement, which is not sustainable." As a result, there is increasing interest in the development of "green" concrete based on more sustainable alternatives with reduced environmental impacts compared to Portland cement. "These alternative materials may present new challenges to coatings formulators," Fream says.
Continued Innovation
Concrete can be a very hostile substrate; it is variegated in nature, resulting in ranges of porosity, alkalinity, and moisture content, according to Perego. Coatings for both horizontal and vertical concrete surfaces are therefore built on sophisticated chemistry. "We are asking these coatings to resist bulk water while allowing water vapor to pass through them. These materials must also be formulated for application in all types of atmospheric conditions and endure extreme in-service temperatures, while also maintaining their attractive appearance," he states. Despite these challenges, the coating industry continues to innovate to meet the evolving demands of the construction industry for solutions that provide both protection and aesthetics.