Powder Coatings Can Be Sustainable and Expressive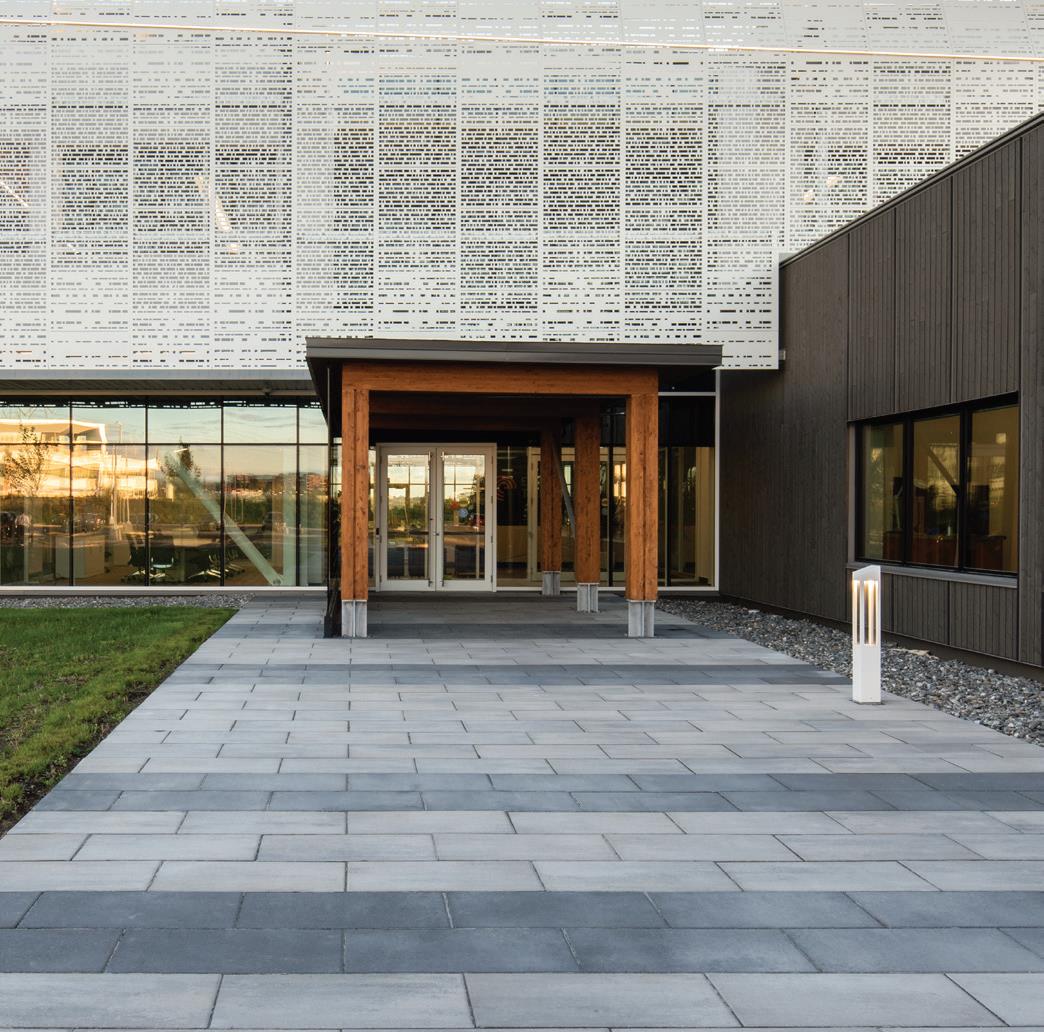 Powder coatings are generally recognized as a sustainable coating option for many industrial metal applications. These coatings are VOC-free and relatively easy to apply, providing high-quality even coverage and excellent corrosion protection. Advances in pigment technologies developed specifically for powder coatings have broadened the range of aesthetics that can be achieved. Not surprisingly, as the desire to construct more sustainable buildings has expanded, interest in powder coatings for relevant architectural applications has also grown.
One recent example is the use of PPG CORAFLON® powder coatings to protect and embellish the muted aluminum cladding on the new world headquarters building of Eddyfi Technologies in Quebec City, Canada. Eddyfi provides advanced non-destructive testing technologies and helps its customers enhance productivity, save lives and protect the environment. The company hired Coarchitecture to design a building that would reflect those values. Using locally sourced wood, large, triple-glazed windows and muted aluminum cladding, they created a building that incorporates a full range of biophilic and sustainability features to generate an environment that appeals to the company's staff and enhances their professional lives.
A perforated metal wall that envelopes most of the second floor resembles a high-tech graphics card and functions as a second skin that veils interior space from southern sun exposure. Because the building was a LEED project, most of this metal façade is protected with PPG Coraflon White Pearl and Gauntlet Gray powder coatings. A small fraction (less than 1,000 square feet) is finished with a beige-colored, metallic PPG DURANAR™ XL liquid coating. PPG Coraflon powder coatings meet the same AAMA 2605 standard for weathering performance as PPG Duranar coatings, while also meeting the low VOC requirements mandated by LEED, according to Richard LeBlanc, vice president of Anacolor, a long-time member of the PPG CERTIFIED APPLICATOR PROGRAM™ (CAP). Both coating systems are based on fluoroethylene vinyl ether (FEVE) technology.
One of the most challenging aspects of the project was developing the custom colors for the metal façade, particularly the White Pearl, which had to be bonded in a special way to preserve the pearlescent effect, LeBlanc says. "The experts in the PPG color lab did a fantastic job on that," he states. The pearlescent coating creates unique dynamic effects as the light changes throughout the day, and this dynamic interplay was purposefully incorporated to reflect the dynamic nature of Eddyfi Technologies.