Axalta Coating Systems to Locate Global Innovation Center at Philadelphia Navy Yard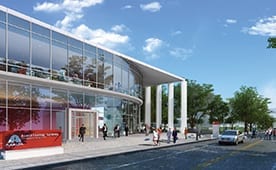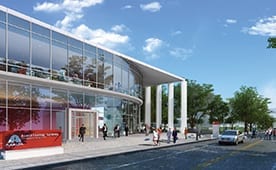 Axalta Coating Systems has announced that its new Global Innovation Center will be located at The Navy Yard in Philadelphia, PA. The 175,000 square foot facility will be home to Axalta's global research, product development, and technology initiatives and will partner with the company's other technology centers in the Americas, Europe, and Asia-Pacific.
The project is being developed by Liberty Property Trust and Synterra Partners, and Axalta has entered into a long-term lease agreement for the building. Project construction is expected to be complete in late 2017.
Upon reaching full operation in 2018, Axalta says it will bring at least 190 new jobs to Philadelphia, with the possibility of additional positions in the future. Axalta's global corporate headquarters is already located in Center City, Philadelphia, and its North America headquarters is located in Glen Mills, PA, with a customer training center in Exton, PA.
"Innovation is central to Axalta's growth and ability to meet the needs of our customers, years into the future," explained Axalta chairman and CEO Charlie Shaver. "Coatings are a critical component of so many everyday products. Cars and other vehicles, motors and electronic components, automotive parts, white goods, and countless other materials exposed to the elements rely on coatings to make them not only beautiful, but more durable, energy-efficient, and productive. Our Global Innovation Center will ensure Axalta sets the pace for coatings technology around the world."
"Product development is a collaborative endeavor," said Barry Snyder, Axalta's SVP and CTO. "Axalta's technology spans polymer, colloid, and materials science which bring chemistry, rheology, and optics to bear on coating formulation and application. The Global Innovation Center will bring together our world-class experts and next-generation tools to deliver solutions that will meet the needs of our customers around the world."
The recent announcement event at The Navy Yard provided an opportunity for Axalta to discuss its new relationship with the Science Leadership Academy (SLA), a high school that is a partnership between The School District of Philadelphia and The Franklin Institute. Axalta will provide financial support to the school and develop opportunities to establish mentoring programs with students when the Global Innovation Center is occupied. The company says its support for SLA is part of Axalta's broader commitment to science, technology, engineering, and mathematics (STEM) disciplines which are critical to the nation's economic development and competitiveness, as well as to Axalta's commercial growth.