Innovation in the Paint and Coatings Industry During a Pandemic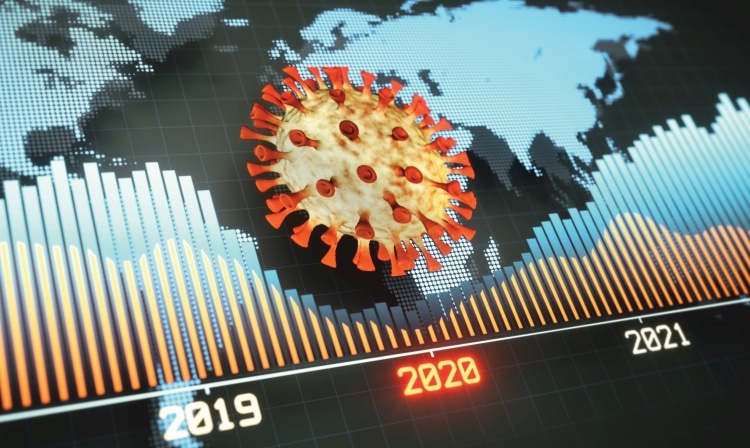 By Leo J. Procopio, Paintology Coatings Research LLC
As the process of writing the year 2021 into the history books begins, we recognize that the past two years have included a great deal of crisis, stress, and change to not just the paint and coatings industry, but to the global economy and society.
The COVID-19 pandemic represents not just a public health threat to our communities and each of us. It is also an economic threat to the survival of many businesses and organizations.
In addition to experiencing many of the cascading repercussions from the coronavirus pandemic, our industry has dealt with fallout from other issues, such as plant shutdowns caused by extreme weather events and continuing problems with the transportation and shipment of both raw materials and finished goods.1 Among these challenges can be found lessons and opportunities for the paint and coatings industry to adapt and become more resilient.2
The pandemic created many challenges, including the ability of businesses to stay open with an in-person workforce, a necessity for operations such as manufacturing and laboratory work. While many production lines kept running, dealing with increased absenteeism, doing health screenings to detect possible cases and contact tracing when a positive case was identified, and having a more lenient attitude towards vacation/sick time became necessary for many companies.
Initially, many laboratories closed until procedures were implemented to prevent further spread of the virus and keep workers safe. With the use of masks, social distancing, and enhanced cleaning and disinfection protocols, laboratories have been safely operating. However, many sites are still not at their full complement, as non-laboratory workers are often working from home.
One change forced on many of us was the requirement to work remotely. The use of video conferencing, virtual meetings, and team communication tools such as Zoom and Microsoft Teams have now become more prevalent, and really a requirement as they took the place of face-to-face meetings.
In-person meetings, even within the same company, became rare events. Only more recently have in-person meetings such as conferences and vendor-customer meetings started to become more common. Face-to-face discussion and making the human connection have often been critical aspects of doing business and will no doubt continue to be important in the future. However, the use of technology has shown us that it is not always necessary to travel for an in-person meeting to successfully connect with others.
The process of innovation is often highly collaborative in nature, and portions of it, such as the experimental labwork necessary to formulate and test paints and coatings, is a very hands-on experience. Innovation is critical to the growth of the paint and coatings industry, and therefore it was of interest to investigate how the innovation process has been affected by COVID-19 as well as other challenges which faced the industry during the past two years.
Towards this goal, CoatingsTech asked several industry experts for their thoughts on the challenges of 2020-2021 and how the industry responded and adapted, as well as the effect of these challenges on innovation and the innovation process. We also asked these industry leaders about what new tools are being used in the product development process, and for their thoughts on what some of the significant technical advances have been in 2020-2021, and what we can look forward to in 2022 and beyond.
Participants in our survey include both technical and commercial leaders within the paint and coatings industry and represent raw material suppliers and coatings manufacturers. The industry experts who provided comments include Jeff Anderson, vice president of research, development and innovation at Carboline; Remi Briand, vice president of research and development for Tnemec; Stan Cook, North America Architectural Coatings marketing director at Dow; Wayne Devonport, global vice president of mobility coatings for Axalta Coating Systems; Sarah Eckersley, global director of research, development and technical service at Dow; Joanne Hardy, global senior director of open innovation and technology strategy at Axalta Coating Systems; Jack R. Johnson III, Ph.D., market segment manager for exterior architectural coatings at BASF; Chuck Jones, Ph.D., technical manager for dispersions and resins with BASF; and Issam Lazraq, global marketing director for Dow.
Q&A
Q: In many ways, 2020 and 2021 have been years like no other for businesses. What were the biggest challenges for the paint and coatings industry these past 2 years?
Devonport (Axalta): The global pandemic challenged every industry during the last two years. The supply of raw materials and finished goods have been impeded, while demand continues to be strong in many coatings market segments. The industry has risen to the challenge well and continues to ensure that coating products are available to our customers. In the case of electronic component supply to the automotive industry, the supply shortage has had a tremendous impact on the supply of new vehicles, with many new vehicles sitting in yards waiting on the arrival of components. This issue has had a cascading effect on the entire supply chain.
Briand (Tnemec): The impact of COVID-19 has been challenging on several fronts. On the worker side, when you have a positive case, you first lose a person for several weeks, then you have to maintain contact tracing and send people home until they test negative, and that has an impact on the flow of projects and delays R&D work. We are also facing a shortage of workers and it is more difficult and takes longer to hire a new person. The raw materials sourcing and logistics has been an extreme challenge and continues to be. R&D projects are put on hold and working on chemical offsets is a time-consuming challenge.
Jones (BASF): Challenges included weather events, purchasing patterns during the pandemic, the need to shift resources from innovation to operation, supply constraints, and raw material price increases. All these challenges were related and synergistic, and created a "snowball" effect.
Anderson (Carboline): From a research and development perspective, and in hindsight, the pandemic was challenging but not as difficult to navigate through as the raw material shortages. The pandemic has really only been a challenge in regard to changing how we work (social distancing, mask usage, etc.) and did not significantly alter our day-to-day work. Alternately, the raw material shortages have had more of a significant impact as they are dictating what we work on from day to day.
Lazraq (Dow): In a word, unpredictability. If you look back at the early predictions of what COVID 19 was going to do to paint demand vs. how the market actually reacted, it is a perfect illustration of this. Predictions were for a 10%+ drop in demand. Instead, the market grew close to 5% for the year in a pandemic and in a major global recession. In addition to the overall market, the other dynamic was the major swings in who was using the paint and where they were applying it. Do-it-yourself (DIY) applied paint reached levels never seen before on a gallon basis while contractor-applied paints were down considerably. Likewise, you had wide swings on the industrial side based on the  pandemic-rooted macro trends as well. All of this made for a very dynamic year.
As we navigated 2021, the market sought equilibrium with the parts that were up the most in 2020 going back down towards the norm, while the areas that were down in 2020 improved towards the norm. On top of this whiplash effect in 2021, there were massive disruptions due to the Gulf Coast events of the winter and summer months impacting raw materials, logistics challenges exacerbating these events, and even global raw material supply chain issues rippling across the globe. All of this made 2021 an even more challenging year than 2020.
Q: How is the coatings industry recovering from those challenges, and what were some of the lessons learned, opportunities that presented themselves, or changes made in response to the challenging times?
 Cook (Dow): When we look at the last major recession we saw with the housing bubble in 2009, the paint market has reacted very differently this time around. One of the big drivers we have seen today is strong consumer home improvement spending resulting from a range of factors from stimulus injections to home price appreciation to shifting money from entertainment, which has really helped fuel two very strong years of decorative paint demand. With an increase in millennial home ownership and an aging housing stock, there is hope that these home improvement trends will have legs beyond the pandemic-fueled impacts of the last two years and continue to drive above average paint demand.
Another thing that changed was the use of technology to stay connected with customers and others across the value chain. Gone, at least for now, are the half-day meetings at the customer site, but in their place are often more frequent interactions which can be even more dynamic by allowing us to bring our sites and many of our experts "on the road" in a multi-media experience. We are excited that there is even more digitization possible going forward in the coatings industry as we have seen throughout many industries during the past two years.
Anderson (Carboline): I believe we are seeing the glimmering of light at the end of the tunnel in regard to the availability of materials. What I am not confident about is the regional and global transportation issues. With winter upon us, the hope is that the normal seasonal slowdown will allow all segments along the value chain to catch up. The lessons learned are difficult to discern at this point as so many events were unexpected and outside of our control. If I had to pick one thing it would be a better evaluation of individual suppliers and their manufacturing reliability and contingency planning.
Briand (Tnemec): We are still working on some of those challenges and adapting every week, and it requires us to be more flexible with our procurement group. We have also started working with our supply chain on local and more available raw materials. We also eliminated some products, and took the opportunity to consolidate our product line and eliminate some slow-moving materials.
Johnson (BASF): Communication is key, and we have been communicating at a higher rate than ever with our customers to help plan and work around any technical hurdles that have come up. On a technical level the industry has been simplifying formulations and the efficiencies in the plant along with optimizing production locations and supply chain coordination.
Devonport (Axalta): It is a bit premature to say the industry has fully recovered from the effects of the global pandemic. Supply chain issues persist, not only as a result of pandemic-related shutdowns, but also from recent weather and port challenges. Resulting price inflations are challenging the industry and will continue to do so. The global supply chain has placed an increased emphasis on the importance of good supplier and customer relationships, as well as good technical collaborations. A key contributor to flawless execution for our customers is the collaboration we have experienced with our key supply partners when key raw materials are unavailable or in short supply. We are very thankful for the assistance of our supply partners.
Q: What do you consider as some of the key trends and drivers for innovation in paints and coatings today, and have they changed at all in the last two years? How do they influence how your organization approaches innovation and product development?
Briand (Tnemec): Chemicals are under pressure from several regulatory agencies, with examples being the reduction in allowable concentrations of Xylol and other solvents for potable water storage tank linings (new NSF standard effective in 2023), and mounting pressure on PFAS (per- and polyfluoroalkyl substances), where it's hard to get the right definition but which may include all fluoropolymers (e.g., FEVE, PVDF), PCBTF solvent, and all fluorinated additives. It takes a lot of time in R&D, combined with environmental health and safety (EH&S) efforts (e.g., to conform to the Global Harmonization System of classification and labelling of chemicals) to develop a formulation that can be used globally on all continents.
Johnson (BASF): While the main drivers tend to be different for different segments, overall, the end customer wants a pain-free painting experience. For architectural coatings, this means painting once and not having to worry about the integrity or appearance being compromised within a reasonable lifetime of the coating. In exterior coatings, this means no change in color or gloss or having a great resistance to environmental contaminants without sacrificing crack resistance. Interior coatings are closer to everyday life and need to resist wear and tear from everyday use.
Jones (BASF): In industrial coatings we see a continued shift to lower volatile organic compounds (VOCs) and waterborne coatings. Environmental sustainability, cost sustainability, and supply sustainability are all stronger drivers today than two years ago. Our product development efforts have changed to take product availability and capacity into consideration.
Hardy (Axalta): Some of the key trends and innovation drivers are sustainability, productivity, and performance. These have not changed during the past few years; however, our approach to innovation in product development has evolved. Productivity allows our customers to use less paint, less energy, or less time, while still maintaining high levels of performance. Increased performance attributes such as improved corrosion resistance have also contributed to longer product lifecycles. Increasing developments in waterborne products to replace solventborne products continues as a trend in the industry with significantly improved application windows. All these contribute to more sustainable solutions.
Eckersley (Dow): Looking at paint functionality on a holistic level, end users across the board are looking for paints and coatings that do more. Paints and coatings are being asked to provide properties that go beyond the traditional decorative and protective functions, from anti-microbial and sound absorbing properties to formaldehyde abatement and many more. Ultimately, getting paints that can do more "function" is beneficial for the whole value chain. Additionally, sustainability continues to be a key driver for the coatings industry. At Dow, sustainability is a critical component of innovation and product development. This includes products such as:
LASD (liquid applied sound damping) technology is continuously developed to meet new trends like new acoustic requirements for electric vehicles, improvement of light-weight benefits and sustainability requirements.
Waterborne industrial coatings have been used for decades, slowly but steadily gaining market share compared to the traditional solventborne systems. A once-popular notion that waterborne technology represented a lower performance technology vs. solventborne systems has slowly quieted down. Recognition of waterborne coatings' unique environmental, health and safety profile and excellent real-world performance has driven this transition.
In addition to advances in acrylic chemistry, Dow has made leaps in different chemistries to offer water-based products that offer high-duty or enhanced corrosion and mechanical performance.
Direct-to-metal coatings have convenience and ease of applications as main drivers. However, we have started seeing a race to deliver DTM coating formulations that offer lower and lower VOCs. Glossy films with enhanced corrosion resistance is on everybody's wish list.
Q: How has the concept of sustainability evolved as a driver for our industry, and as a driver for the innovation process?
Johnson (BASF): Sustainability is a leading driver for change in the North American market and has always been a dominating force in paint and coatings. Waterborne technology was a major hurdle that eventually exceeded the performance of its predecessors. Right now, we are seeing a similar hurdle in replacing alkylphenol ethoxylates used as surfactants and other chemistries of concern. We are also seeing the market move to desire more environmentally sustainable materials through novel innovations in processes like bio-mass balance, bio-sourced building blocks and even chem-cycling.
Cook (Dow): In North America, formulators and manufacturers have opted for sustainable solutions in the absence of stringent and enforced regulations. The demand for sustainable products encourages formulators with global footprints to harmonize products across the region. Monitoring trends abroad and proactively working on sustainable solutions help comanies stay ahead. Formulators and applicators expect the United States to develop stringent VOC regulations in the future. Also, when sustainability is discussed, the scope is not limited to the switch from solventborne to waterborne systems, but also encompasses limiting many other materials of concern from paint formulations. With environmental regulations and end-user demands for safer products and technologies continuing to grow, it is no surprise that sustainability is a key driver for our industry. This is a topic that we continue to keep top-of-mind and we know that our colleagues throughout the supply chain are doing the same.
Hardy (Axalta): The concept of sustainability as a driver has evolved through the capability enhancement in raw materials that is available for sustainable solutions. Product developments continue to drive lower VOC content, increased waterborne content, and the removal of regulated hazardous materials. Various regulations around the globe drive some of these advancements, although improved waterborne raw materials, as well as biobased materials and materials with recycled content, have expanded the formulating tools available to scientists. Sustainable solutions with improved properties and performance continue to drive the innovation process.
Briand (Tnemec): Sustainability is present as a driver for innovation, and we are working on our first full sustainability assessment for a product. However, it can become another barrier of entry for small paint companies, as it is very laborious and costly.
Q: The R&D part of innovation is often a hands-on and collaborative process. Do you find that the effects of the pandemic had an impact on the R&D/innovation process?
Hardy (Axalta): Our labs continued to operate during the pandemic, albeit with the appropriate social distancing guidelines, enhanced sanitization protocols, and necessary personal protective equipment. The pandemic stymied in-person collaboration in our labs and forced us to find creative ways and new tools to meet and collaborate as a team. Our scientists had to adapt to less face-to-face dialogue and more virtual collaboration. This "new way" of meeting posed some unique challenges, and everyone needed to learn new skills to make the new collaboration experience successful. Meeting moderation and engagement techniques were necessary to enhance participation in brainstorming. Advanced IT tools and training for these tools were also implemented to improve the collaboration process.
Anderson (Carboline): We did not shut down our laboratories but did stop having in-person meetings as we started our social distancing protocol. I believe this had the effect of giving people more time to spend on blue-sky ideas.
Jones (BASF): The pandemic fundamentally changed the way we can partner with and collaborate with our customers. There was an initial period of learning where we were all forced to adopt these connecting technologies but are now at a point where they can be used to enable more collaboration than ever before. We still have a need for face-to-face interactions but can now augment those interactions with digital tools and processes that allow us to function much closer. Our outstanding lab teams demonstrated that hands-on work is still possible during a pandemic through safe protocols.
Briand (Tnemec): Yes, many of our strong supply chain partner researchers were working from home or with very minimal time spent in the lab. Also, a great deal of technology has not been launched due to the absence of in-person coatings shows in Europe or the United States.
Eckersley (Dow): The pandemic certainly created new challenges for innovation. Throughout the pandemic, we had the guiding principle of keeping our employees safe as our first priority. We carefully managed lab work so that we were able to continue to advance our research programs and support customers, while keeping employees safe. Even before the pandemic, we had been deploying virtual collaboration tools, so we adapted to the new paradigm very quickly. Interestingly, we found that a virtual environment lent itself to more inclusive collaboration. We heard from a broader set of voices in discussions (often through chat functions) and employees at smaller sites felt more included. We will continue to build on this moving forward.
Q: Are new tools or techniques being used or developed that will help accelerate innovation and product development efforts?
Lazraq (Dow): Heritage material companies with a long history will continue to address the challenge of transforming the way work is done. They have already built expert systems; now they have to transition them to incorporate artificial intelligence (AI), machine learning (ML) and big data. Companies will also be building employee skillsets; today everyone needs composite skills ─ their fundamental functions combined with the ability to work with big data, AI, and ML, because marketing is transitioning to digital marketing, while R&D is transitioning to digital R&D. That is because at their core, AI, ML, and big data are helping people do work better and more efficiently. They help reduce non-value-added repetitive tasks, which frees up time for more value-added activities. These approaches are often coupled with the robotic acquisition of data—for example, high-throughput experimentation continues to gain momentum.
At Dow, examining large intellectual property data sets along with advanced analytics on market research-related data is used to uncover many different types of information. This includes hidden patterns, unknown correlations, market trends, and customer preferences that can help the business make informed decisions regarding where it can participate and whether it should participate within a given segment. Coating-related intellectual property data is well suited for the deep insights that big data techniques can provide because it is global, highly varied, and continually changing. Applying the results of big data analysis is also used to derive the best business strategy for a given market segment.
Hardy (Axalta): Big data analysis, robotic testing, and modeling capabilities are all techniques Axalta utilizes to improve productivity and efficiency of lab operations. These scientific methods continue to advance and accelerate the time to market for new product developments. Axalta uses a stage-gate methodology for project maintenance and voice of the customer, defined project deliverables, and documented timeline milestones are essential to the innovation and product development process.
Briand (Tnemec): Tools such as high-throughput testing using robotics are being used in the coatings industry. One program we are keeping an eye on is the ACA Big Data project, which is being designed to create a searchable database of EH&S data on chemicals which are used in paints and coatings.
Johnson (BASF): Robotics and automation are becoming increasingly important as we are able to achievefaster returns and better integration. Through digitalization we can connect our labs and technical service teams and even connect with our customers at a more intimate level to drive partnerships and innovation. Big data and artificial intelligence are starting to show large benefits now by more intelligently generating market-relevant information at your fingertips and will soon be a part of everyday life in laboratories as the right tools and processes are developed.
Q: What do you consider some of the significant technologies and innovations that have been introduced to the paint and coatings market during the past couple years?
Anderson (Carboline): From Carboline, the SUPOXY™ technology platform of coatings is a significant change in linings technology, with the recent launch of PLASITE™ XHT 400 and the pending launches of other linings systems based on this technology. The SUPOXY technology utilizes a highly crosslinked resin system to give extreme heat resistance and outstanding chemical resistance. In fireproofing, our recent launch of PYROCRETE™ 341 brings to market the most durable cementitious fire protection on the market.
Briand (Tnemec): I'm a strong believer that water-based technology will catch up to solvent-based on performance, and we have now a fully water-based NSF-certified system for full immersion service. We have a three-coat system that passes ISO 12944 C5 high corrosion requirements, and we are now starting to have real projects based on this system. I expect the road will be difficult, but water-based technology will gain market share in the industrial market
Jones (BASF): For direct-to-metal (DTM) applications, we have introduced an epoxy hybrid dispersion for with excellent chemical resistance and adhesion at less than 100 g/L VOC (JONCRYL® PRO 1524) and a high-performance acrylic dispersion with superior corrosion protection (ACRONAL® PRO 770 NA). For polyurethane industrial coatings, we have introduced a few products. One is a hyperbranched polyester polyol designed as a co-binder for 2K polyurethane coatings and 1K baking enamels (BASONOL® HPE 1170 B). It has low impact on VOCs in high-solids coating systems. The JONCRYL RPD series are rapid curing polyols that exhibit early hardness development with long pot life. Another solventborne polyol was specifically designed for direct-to-metal (DTM) application (JONCRYL xDTM), and this resin adheres well to multiple metal substrates, including traditionally challenging metals like cold-rolled steel and aluminum. For wood coatings, an acrylic dispersion (JONCRYL 9530-A) has been introduced with great wet-film clarity to showcase the beauty of wood to fit with current design trends
Devonport (Axalta): Sustainable products have been a focus for us and we are actively introducing more efficient and less energy-intensive products to make and use. Our new developments enable autonomous driving and enhanced safety features in vehicles. Axalta continues to advance technologies that enable the paint shops of the future to allow faster application at lower cost and lower cure temperatures, in addition to being sustainable solutions.
Eckersley (Dow): Dow ACOUSTICRYL™ binders based on AVANSE™ technology offer up to 30% higher damping performance than traditional LASD binders. The improved performance allows automotive OEMs to either better quiet the vehicle, or to use less coating to achieve the same noise targets, reducing the weight of the vehicle. This technology also allows formulators to design coatings with a higher fraction of inexpensive mineral filler, reducing the overall cost of the LASD coating.
Dow's newest generation of AVANSE LASD expands the damping temperature range of traditional materials by greater than 40%, ensuring high performance in both summer and winter. Dow's AVANSE Resin technology has been a key development in the waterborne direct-to-metal space in the last decade and has led to a new paradigm for how latex particles and pigment particles interact in the wet state. The formation of latex-pigment composites in the wet paint leads to improved pigment dispersion in the dry film and results in improved barrier properties for the film vs. a conventional binder. The improved barrier properties give the formulator a method to reach higher levels of corrosion resistance without the need for corrosion inhibitors. AVANSE resin technology is used in several products within Dow's portfolio of DTM resins, including the new product MAINCOTE™ 5045.
In addition to AVANSE resin technology, another key development from Dow that addresses needs in the DTM coatings market is the MAINCOTE AEH Acrylic-Epoxy Hybrid technology. This technology involves imbibing epoxy-functional resin into an acrylic latex particle. The acrylic particle acts as a carrier for the epoxy resin and constitutes Part A of a two-component coating. Formulators have flexibility in choosing the Part B crosslinker, and either waterborne amine hardeners or carboxyl-functional acrylic latexes such as MAINCOTE AE-58 can be used to crosslink the MAINCOTE AEH emulsions. Choice of crosslinker allows a range of performance. For example, when using an acrylic crosslinker, a 2K coating with excellent chemical/solvent resistance and corrosion resistance can be achieved, approaching that of solventborne epoxy/amine systems. At the same time, these coatings have excellent durability that far surpasses the poor chalk resistance and gloss retention of solventborne epoxies and suggests these systems would be especially useful in applications where epoxies are used as weathering DTM finishes, such as for rail cars or storage tanks.
Q: What are some new technologies that paint and coating manufacturers or end-users can expect to see in 2022?
Devonport (Axalta): Axalta is excited about our product development pipeline. We continue to launch radar-compliant coatings for mobility. These innovative coatings enable vehicle sensors to work from behind painted panels, thereby improving aesthetics and safety of vehicles. Our sustainability efforts help us support our customers' need to be more energy and carbon dioxide conscious in how they design and run their paint shops. Additionally, waterborne and lower VOC emission products continue to evolve and offer wider application latitude for our customers.
Briand (Tnemec): A lot of iso-free systems are under development, and in particular, solutions with fast return-to-service.
Lazraq (Dow): As the world shifts towards more-health conscious and sustainability awareness, we continue to witness stringent regulations driven by local and state authorities regarding VOCs and various materials of concern. Thus, we expect new technologies with superior environmental benefits and reduced EH&S risks in response to these choices and regulations. At Dow our strategy is to innovate and provide sustainable technologies to address the above-mentioned needs. Thus, we are planning to launch several technologies next year:
A new 2K waterborne road marking technology. Using innovative materials, Dow is contributing to sustainable and more durable infrastructure around the world making the facilities we use healthier.
Products utilizing alternative, renewable feedstocks.
Products free of any chemical concerns, such as biocides or substances of very high concern (SVHCs).
Products enhancing improvement of Indoor Air Quality.
We are also working to take advantage of artificial intelligence technologies by developing a digital formulation enabler via the utilization of big data and AI, enabling predictive formulation modeling that allows a significant time reduction to bring new solutions formulations to market. This project was recently awarded the 2021 European Coatings Show Award for its forward-looking focus on digitization.
Q: Thinking ahead to the future beyond 2022, what are one or two of those "holy grail" targets that still exist and are worthy of time and resources? What do you wish paints and coatings could do today that requires further innovation?
Eckersley (Dow): The ongoing challenge of waterborne technologies meeting the performance of solventborne systems remains a holy grail—we keep on pushing the performance closer but there is still work to do. Consumers are increasingly motivated by environmental and well-being concerns. We are already seeing a heightened interest in bio-renewable solutions. Consumer drivers, along with policy drivers, will push us to innovate carbon neutral solutions that do not compromise on performance and are affordable.
Briand (Tnemec): A true holy grail would be a coating that is applied to the outside of your house, and which could capture sunlight and convert it to electricity; for example to charge a battery and help lower your electricity bill. That would be a clean energy solution, and even better than a solar reflective coating, which seeks to lower energy usage by preventing buildings from warming up too much due to solar radiation.
Johnson (BASF): In the architectural world, we are still striving for sustainability and durability that break down current technological barriers while presenting limited, if any, downsides. Ultimate grain crack resistance with no trade-offs in dirt and mildew resistance, ultra-fast curing without common open time issues, and perfect stain resistance in hydrophobic and hydrophilic stains are a few examples. In industrial applications, perfect adhesion to low-energy substrates such as TPO, along with C-4/C-5 corrosion protection from waterborne DTM, would make for true innovations. There are some truly great paints out on the market now, and it is a race to achieve perfection. On the collaboration front, real time communication and collaboration tools to connect formulators and raw materials suppliers will allow for faster enabled innovation.
References
Pilcher, G.R. "The State of the U.S. Coatings Industry 2021," CoatingsTech. August 2021, pp. 30–41.
Pilcher, G.R. "Paint and Coatings Raw Materials in 2021: It's All About Resilience," CoatingsTech. April 2021, pp. 22–29.
About the Author
Leo J. Procopio, Ph.D., is the president and owner of Paintology Coatings Research LLC. He may be contacted at lprocopio123 (at) yahoo.com.