While the passenger vehicle market has experienced weakening of demand in recent months, the market for heavy-duty vehicles remains healthy. Consequently, demand for coatings used on these vehicles and their components is also trending in a positive manner. Coatings that help increase application efficiency and productivity, offer improved durability, and meet evolving regulatory requirements for lower VOCs have the advantage. Formulators also need to provide tailored solutions for specific application needs, which vary for chassis, dump truck bodies, tractor-trailer cabs, and high-end buses, to name a few—from electrocoats to high-solids solventborne and powder systems to newer high-performance water-based coatings.
Positively Trending Market
Estimates for the size of the heavy-duty transportation coating market vary depending on the definition of the market and the classes of vehicles included in the category. They generally fall in the range of 5–15% of the overall transportation market. In 2019, the value of the North American heavy-duty transportation coatings market, including coatings for heavy and medium trucks, specialty trailers, truck trailers, specialty truck bodies, buses, recreational vehicles (RVs), and emergency vehicles, was estimated by market research firm Kusumgar, Nerlfi, & Growney to be $594 million, according to principle consultant Steven Nerlfi (see Table 1).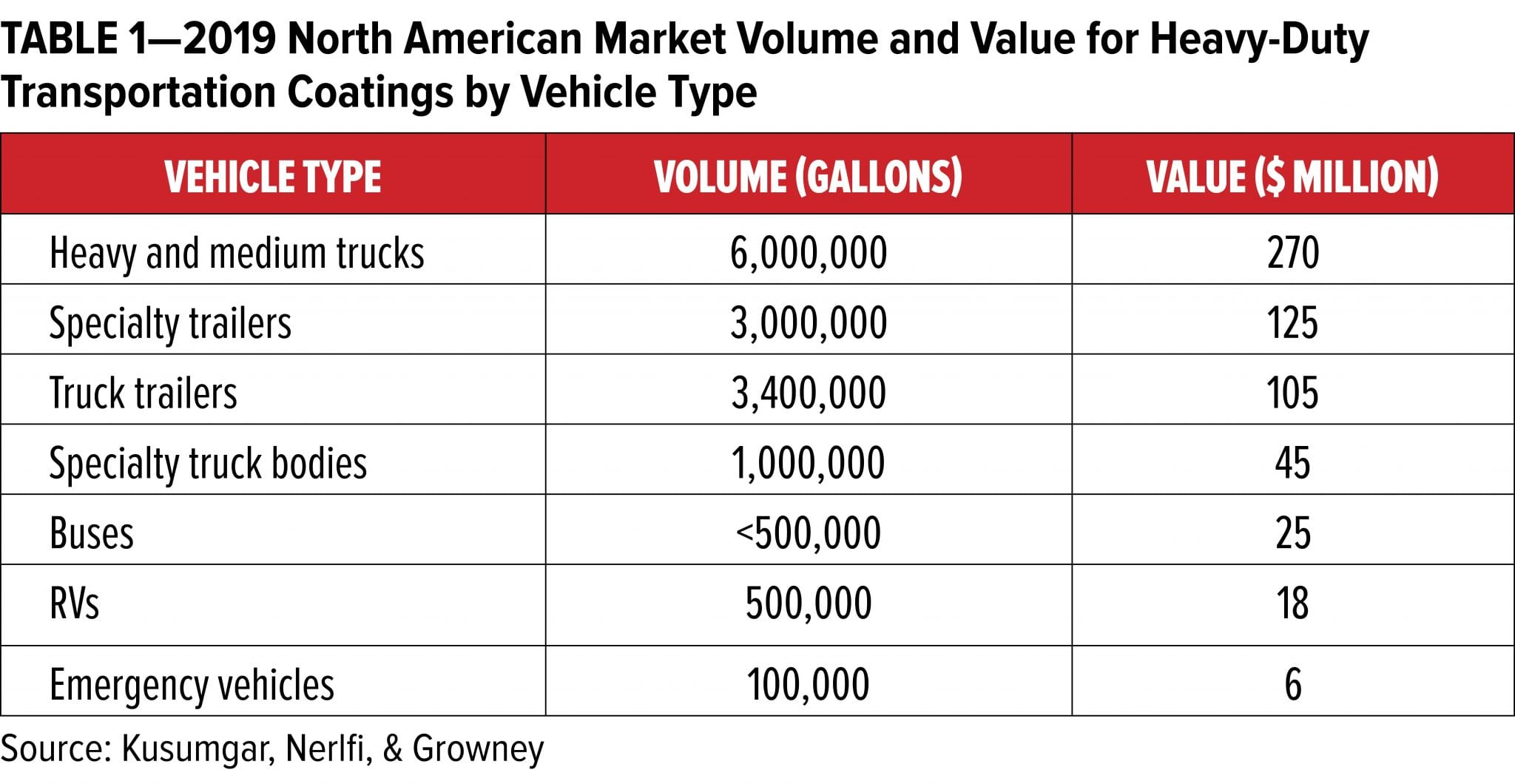 The ChemQuest Group pegs the value of the North American market for heavy-duty transportation coatings, including heavy-duty trucks, buses, and RVs but excluding agricultural and construction machinery and equipment (ACE) at $291 million in 2018 and expanding at a compound annual growth rate of 2.2% on a volume basis and 2.5% on a value basis, according to senior consultant Daniel R. Daley. The average selling prices, he notes, is $34.60 (five-year growth on price forecasted: 0.3%).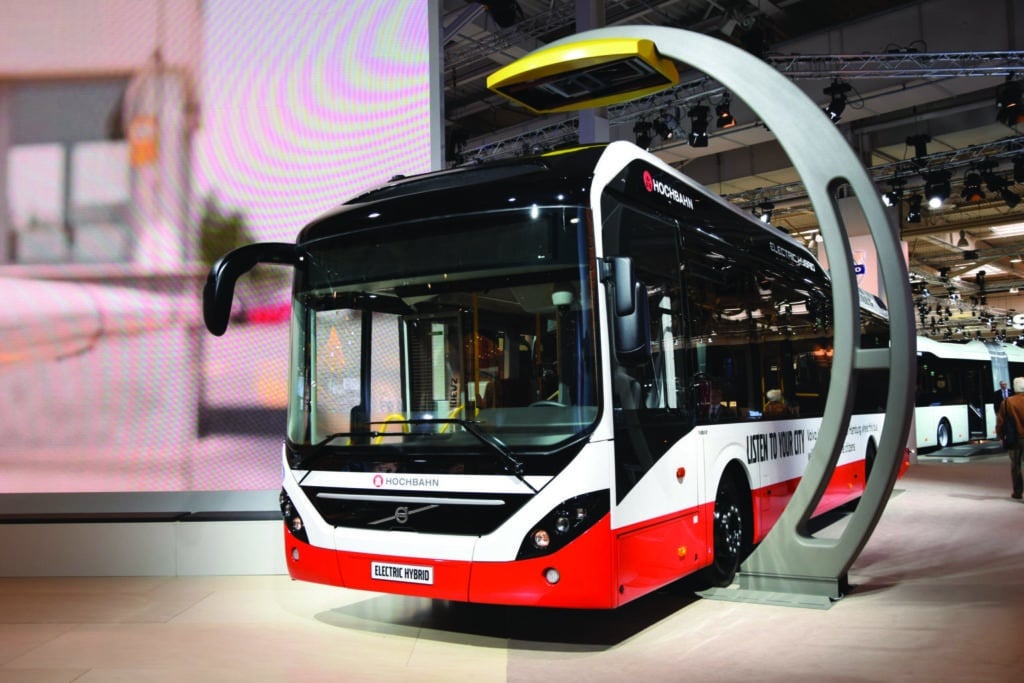 "In the United States, the current state of the market for heavy-duty vehicles is trending positive," asserts Dan Weinmann, market development manager, Epoxy Specialties, Hexion. "There is growth in the United States due to improving economic conditions driven by the tax incentives and increased demand for heavy-duty vehicles that meet the lower emission standards implemented in 2017," he adds. Strong demand in the trucking industry and spending in public transportation linked to urbanization have driven recent growth, according to Eric Dumain, global marketing director for Coating Resins with Arkema. The forecast for new vehicle builds remains strong, adds Eric Casebolt, market development manager, Eastman, due to increased infrastructure and construction projects and the continued proliferation of the e-commerce industry. "We expect to see growth slightly above GDP (3–4%) on a global basis for the next few years," he notes. Dumain does note, however, that the ACE market has been flat, and the global heavy-duty vehicle coatings market has been growing more slowly in recent years due to uneven growth in the agricultural, oil, and gas segments.
The overall outlook for the state of the market continues to be healthy, however. "In most developed countries right now, demand for hauling freight is high, drivers are earning record wages, and in general the industry is undersupplied, so overall demand in the sector is high and expected to remain that way for the coming years," says Hans Schellekens, allnex's marketing manager Automotive. Transportation coatings are also a growing segment because manufacturers are looking for cost-effective methods for protecting their equipment during shipping and storage, according to Markus Bieber, VP of Integrated Solutions at Cortec. Evolving technology will provide economical coatings that can easily adhere to multiple substrates and offer enhanced corrosion protection against aggressive environments, agrees Avinash Bhaskar, transportation coatings segment manager at BASF.
Sustainability, Durability, and Efficiency Are Key Drivers
Three key trends have developed in heavy-duty transportation coatings over the last several years: the need for more sustainability to meet both regulatory requirements and customer expectations, demand for higher performance in the form of greater durability across many performance properties, and the desire for coatings that serve multiple purposes.
From a regulatory perspective, no major changes in federal requirements are expected in the United States in the near future, but waterborne coatings will be mandated in China by 2020, according to Daley. As a result, for commercial vehicles in China, the trend is to use a single waterborne topcoat over an electrocoat, leading to reductions in VOCs from 48 to 17 g/m2, according to Johnson Zeng, APAC marketing leader for DSM Resins and Functional Materials.
There are other drivers in the United States for moving away from solvent-based systems, Daley observes. "Waterborne systems are easier to spray with superior flow, provide better worker safety while producing less waste and enabling easier cleanup. They also offer the opportunity for brighter, more vibrant custom color options." Daley adds that while smaller users continue to prefer solvent-based coatings, larger OEMs tend to be more sophisticated and are proactive in adopting more sustainable technologies. Separately, in Europe and possibly China, tin-free e-coat formulations may be required in the future.
As VOC regulations do tighten around the world, coating manufacturers are working very closely with OEMs to develop coating systems that will allow plants to remain compliant without sacrificing productivity, according to Geoff Webster, technical associate, Eastman. "The most common approach is to move to higher solids coatings and/or use less coating on each vehicle by improving application efficiency, but these new coating systems must maintain a high level of durability, weathering, and corrosion protection in the field," he says. "While the heavy-duty vehicle segment is not seeing explosive growth, it is benefiting from economic drivers—using less coating material and energy per unit. This has driven coating innovations to allow for lower viscosity, faster curing products," adds Dumain.
Weight reduction in vehicles via the introduction of lighter substrates like aluminum, magnesium, plastics, fiber reinforced composites, etc. combined with the move to water-based and high-solids coatings is also driving the need for new performance capabilities with respect to both coatings and the coating process, according to Schellekens. "Developing coatings that can adhere to multiple substrates and protect the outside surfaces of trailers and cabins against corrosion caused by road-salt and deicing agents for longer periods of time continues to be a key area of focus for formulators," Bhaskar says. He adds that reduction of coating layers, such as a mono-coat technology, is on the wish list of fleet companies, which have to apply a coat approximately every 250,000 miles to protect the bodies of heavy-duty trucks from corrosion. Daley notes that the design life for long-haul trucks is typically 1.5 million miles, with testing out to 2.5 million miles. Powertrains are generally rebuilt at 1.0–1.5 million miles, while bodies and frames run much longer. Electrocoat and powder applications are increasing to address internal and external environmental mandates that OEMs are aiming to comply with, adds Thomas McAfee, PPG global segment manager for Transportation. "As a result," he remarks, "e-coat and powder are supplanting the use of liquid spray coatings, which are regarded as being less environmentally advanced."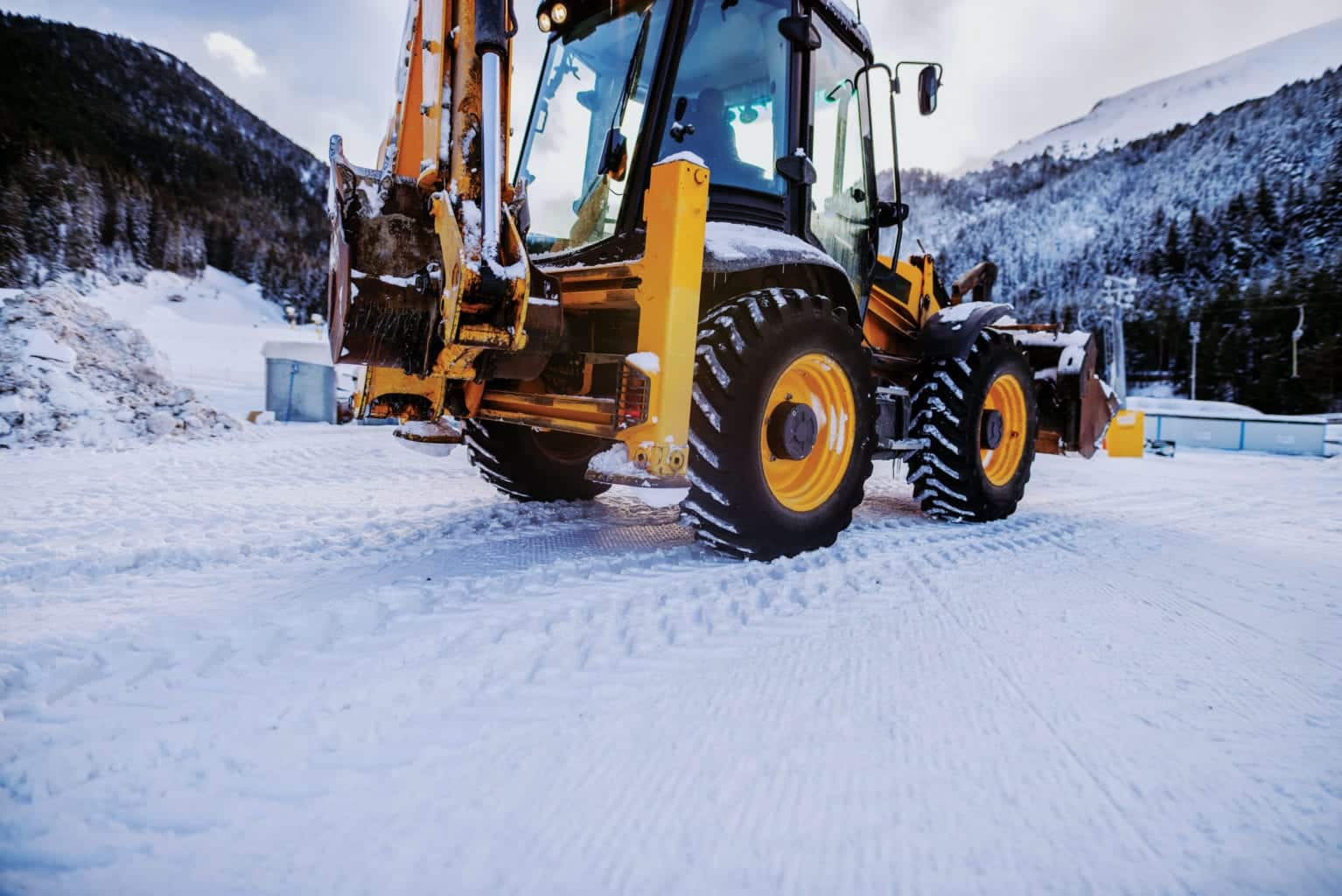 Toughening regulatory standards and changing environmental trends could also be coming from states such as California, where there is a push for zero-emission vehicle (ZEV) deployments. There is also significant worldwide development of next-generation powertrains and body designs to ensure vehicles meet new greenhouse gas emission standards, according to Daley. Government incentives and subsidies are driving interest in the use of alternative fuels (biodiesel, liquid natural gas, hydrogen fuel cells, etc.) and electric vehicles as well. "The electric truck market is led by Europe, with North America in a crucial growth role, while the bus market is currently dominated by Asia-Pacific. Heavy-duty trucks have a long way to go to electrify despite the splash made by certain startups (Tesla, Faraday Future, etc.).
Germany's dynamic highway charging approach certainly shows promise, but hybrids seem to be the only viable near-term long-haul solutions. Buses and medium-duty (commercial) vehicles are better suited for conversion to hybrid and fully electric vehicles," Daley says. He does add, however, that autonomous vehicles will be a significant market segment soon in long-haul trucking if the regulatory situation gets worked out, because it provides a more efficient driving model in any platform. Electrification is important because it would lead to significant body and chassis redesigns and major process changes. It will also impact coatings by increasing the need for extended service life, improved vehicle aesthetics, and cost-effective application solutions, Weinmann notes.
"Overall, customers expect sustainable solutions that save them time, labor, energy, and material consumption," asserts Ewout Bosman, AkzoNobel segment manager, Commercial Vehicles & Transport. In this respect, growth of automation is an important trend, according to McAfee. "OEMs are always looking to their suppliers to help them drive down production costs or increase efficiencies. That's why it is important to deliver technical solutions that increase throughput, extend service life, promote light-weighting and fuel efficiency, or make it less expensive to meet environmental mandates," he states. As in the past few years, globalization remains the best path to success in these markets, according to Dumain. "With larger OEMs and transportation companies broadening their global footprint, the suppliers that can meet their local needs across multiple continents are seeing the greatest potential for growth," he asserts.
Varying Expectations
The properties required for heavy-duty coatings depend on their specific application. Two questions must be answered first, according to Schellekens: How is the vehicle being used and where is the coating being applied? "There are many diverse needs and it is unlikely a single coating will match them all, even on the same vehicle. Parts exposed to corrosive chemicals or fertilizer require one coating, while continually moving parts may require a mix of flexibility and durability. "It is our job to work with formulators to determine what works best where," Schellekens explains. The desire for multiple performance is driving new product development where a mix of benefits might be possible, Schellekens adds—a flexible superdurable powder resin, for example, or a corrosion-resistant coating that offers better durability. "There is no magic coating that covers them all, but we can work with formulators to produce products that meet specific needs," he states. Adds Dumain: "When we work with a coatings developer or formulator serving these segments, we always start with their pain points—what is the primary need. While we develop binders and additives that can address multiple needs, it is always best to start with what is needed most."
At a minimum, coatings need to be low in VOCs, environmentally friendly, and easy to apply, but also easy to remove with minimal effort, adds Bieber. Durable coatings with improved color retention and resistance to corrosion, scratches, dents, and chipping that are easy to apply and offer extended service life meet significant market needs, agrees Weinmann. As one example, he points to linings for dump trucks, which should offer decreased friction to prevent material hold-up and areas of high wear and impact combined with improved toughness and durability. There also remains strong demand for UV durability in addition to color retention and chemical and corrosion resistance. Most of the investment in R&D and technical improvements at PPG continue to be focused on corrosion resistance, according to McAfee. "If our coatings make equipment or equipment parts last longer, OEMs see that as a big win for themselves and their customers," he says.
Coatings that can provide high gloss, reflectivity, and have strong resistance against acid-rain, de-icing agents, and bird debris are some of the technologies currently being pursued, notes Bhaskar. In addition, he says that strong adhesion with minimum surface preparation is required for coatings to adhere to substrates such as cold rolled steel, hot rolled steel, Galvanneal, and plastic substrates to help increase longevity. The coatings, which are often applied with high dry film thickness, should also not crack upon application. AkzoNobel customers today demand high aesthetic longevity and long-term asset protection, agrees Bosman. Due to the increasing demand for high-quality aesthetic finishes, there is growing expectations for greater color variety as well. "The need for fast and accurate color development is crucial, especially as customers work with a large number of suppliers, and consistency in color is essential. It is important to offer resources and tools that are easy to operate, measure accurately, and find the right color formulation
from a large color database," he explains. AkzoNobel relies on customer-specific color references to secure traceability for each customer and related subcontractors and provide the reliability the market expects, Bosman adds.
Many Formulation Solutions
The main type of coatings used on heavy-duty vehicles include solvent-based urethanes, epoxies and acrylics, as well as water-based epoxies and electrocoats. The exact chemistry is application-specific and depends on the purpose of the vehicle and, just as importantly, where on the vehicle the coating is to be applied. A listing of different coatings used for specific applications as tracked by KNG is provided in Table 2.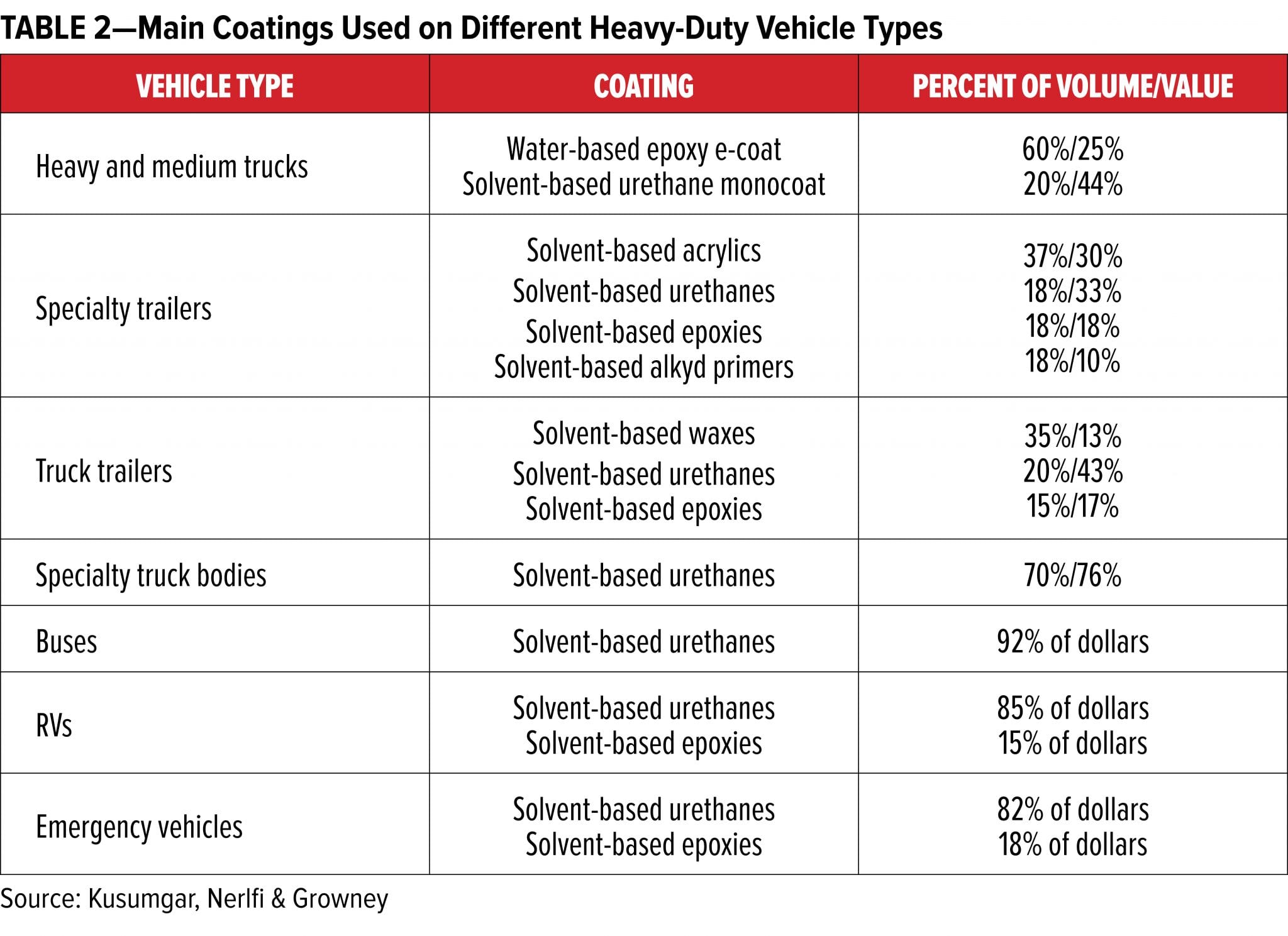 By value, ChemQuest estimates that for heavy-duty trucks in North America, buses, and RVs, 61% of coatings are liquid, 12% powder, and 27% coil coatings. The research firm has different breakdowns for specific end uses compared to those identified by KNG. Based on his 30+ years at Navistar International (a truck and engine OEM), Daley estimates that most heavy- and medium-duty trucks use a 30% volume/40% value basecoat/clearcoat topcoat system and 20% volume/10% value miscellaneous epoxies and acrylics. Urethane monocoats are standard as chassis paints and in a few other applications (chassis paint is either acrylic or urethane). E-coats are predominant for truck bodies, frame rails, and many chassis and body components, Daley adds. Waterborne epoxy e-coats account for 30% volume/20% value of use, while solvent-based urethane monocoats are estimated at 20% volume/30% value. Buses use around 80% solventborne urethanes by value, including urethane monocoats, barring limited use of TSA on small applications (e.g., non-glare bus hoods). Otherwise, Daley notes that bus body primers are exclusively coil-coated epoxy or polyester, while bus frames and chassis are treated similarly to trucks.
McAfee adds that while liquid spray is still more prevalent in the United States and Canada, electrocoat or different combinations of e-coat and powder are the most commonly used coating technologies in the HDE market in China, Europe, and the Middle East.
Higher-volume truck cabs will typically start with an e-coat primer applied in an electrodeposition tank, while low-volume trucks, RVs, and buses are coil-coated, according to Daley. Some (cement mixers and other specialized applications) use stainless steel with a spray primer, he adds. Traditional processes use sequentially sprayed surfacer, basecoat/color coat, and clearcoat layers with corresponding baking steps. In particular, a primer/surfacer is common for coil-coated bodies as a filler or repair for body work damage, except on e-coat products, because UV protection is addressed with topcoats in these cases. Most, if not all, frames are now powder-coated, with some applied over e-coats for improved corrosion resistance. Powder coatings are also widely used for chassis and some interior components. Tier 1 suppliers occasionally use polyurethane dispersions (PUDs), acrylic-PUD hybrids, and other hybrid technologies. Solvent-based two-component (2K) polyurethanes dominate all topcoat applications due to their robust application properties and superior weathering characteristics. Dispersants aid in pigment dispersion, while UV absorbers help maintain the gloss and provide protection against UV damage.
There is growing use of direct-to-metal (DTM) coatings on chassis applications, eliminating the need for a primer. Wet-on-wet processes are also being incorporated into new compact and renovated process lines. Many applicators desire to use low-bake temperatures for reduced energy consumption and to accommodate lower bake tolerant plastics—predominantly TPOs, Daley notes. "We are seeing increased use of waterborne products in the applications where they can meet performance requirements. The same is true for low-temperature cure powder products," Dumain observes. Although solventborne coatings are still the most common due to their lower cost and robust applications, Bosman notes that waterborne coatings are growing in popularity. The challenge, he notes, is that waterborne coatings typically have a much narrower application window and are sensitive to annual variations in humidity and temperature. Even so, Bieber asserts that newer technologies using waterborne thin-film coatings with corrosion inhibitor packages are replacing the older products because they are more effective, easier to use, and easier to remove without all the hazardous waste associated with solvents. "Given the continued drive towards lower VOC emissions, waterborne coatings are forecast to be the fastest growing coating type since this is preferred by stakeholders that are concerned with long-term sustainability," Weinmann concludes.
Challenges to Overcome
The most difficult task for ingredient suppliers and coating formulators is to deliver all of the desired properties in one coating system. It is, for instance, necessary to achieve the same appearance and performance using less coating layers/processing time to save energy and increasing efficiency, according to Zeng. "OEMs want to increase productivity by using higher solids coatings and fewer layers, but clearly would not want to sacrifice appearance or performance and risk tarnishing their brand," adds Casebolt. Proving that new technologies can deliver productivity gains in the short-term while maintaining best-in-class performance over the long-term can take many years.
It is particularly challenging to deliver the superior corrosion resistance of a traditional epoxy coating in a waterborne system, adds Weinmann. "Solventborne coatings are typically based on solid epoxy resin solutions that are cured with a high-molecular-weight polyamide curing agent. A solventborne epoxy/polyamide binder provides fast-dry, superior corrosion resistance and superior flexibility/impact resistance. Moving to a waterborne system may result in a coating with reduced corrosion resistance or flexibility or both, so selecting a higher-performance waterborne binder system becomes very important," he explains.
Achieving greater durability can be difficult in cases where it is necessary for the coating to also be removable, because these two properties generally contradict one another, notes Bieber. The size of some heavy-duty vehicles poses other challenges, according to Schellekens. "The components often cannot be dipped into a cathodic electrodeposition (CED) bath or dried in an oven. The challenge is then to obtain the required corrosion resistance and chemical resistance with an air-dried coating system," he says.
Making Progress
Both ingredient suppliers and coating formulators are working hard to meet the growing expectations of customers in the heavy-duty transportation market while simultaneously overcoming these various challenges and meeting increasing regulatory requirements. "There have been a lot of steady but incremental improvements in coatings applications that are enabling coatings to last longer and protect substrates more effectively," asserts McAfee.
For instance, many formulators are looking for alternatives to the traditionally used inhibitor systems that contain heavy metals or other undesirable components. "New technologies such as vapor-phase corrosion inhibitors (VpCIs) have been shown to perform just as well as historically used inhibitors," notes Bieber. Advances have also been made in waterborne systems. Hexion is actively developing new waterborne epoxy systems (resin dispersions and specialty curing agents) that offer coating formulators the opportunity to increase performance, to reduce cost, or reduce VOC content (e.g., less than 50 g/L VOC), according to Weinmann.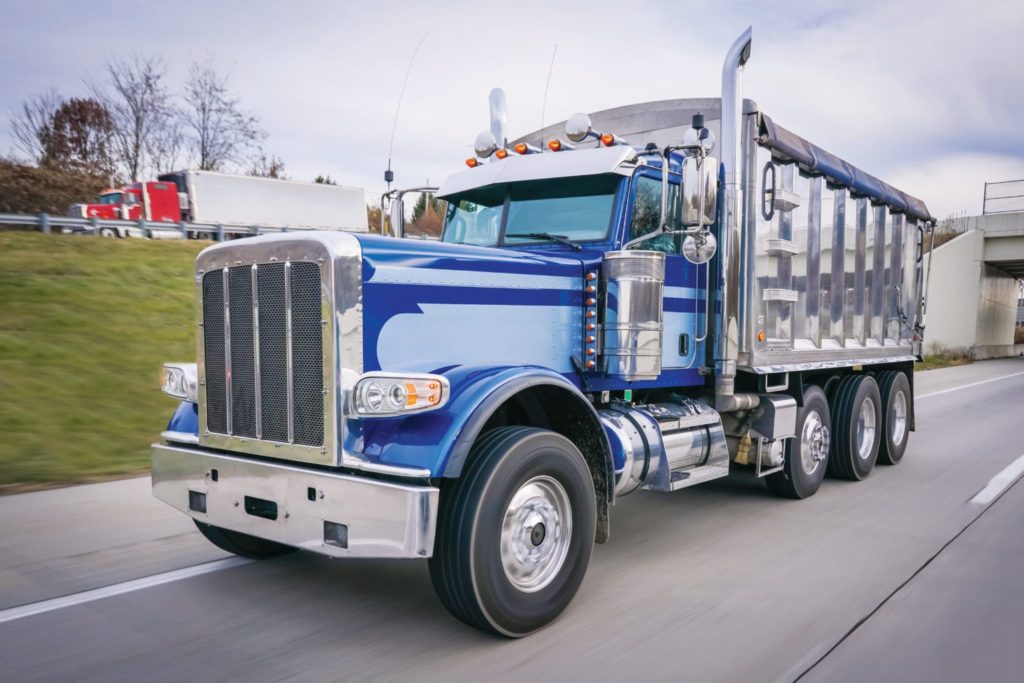 Arkema has introduced a waterborne, APEO- and ammonia-free short oil alkyd used in a wide range of applications where the feel and performance of conventional alkyds is desired in a low-VOC and solvent-free formulation, including excellent gloss, good hardness, and other properties, according to Dumain. Arkema has also developed high-solids alkyds with lower VOC content that offer the performance of conventional alkyds. DSM, meanwhile, recently developed a high-solids, low-VOC baked coating for trucks that has a 60% solids content at ready-to-spray viscosity, as well as high-solids and waterborne 2K polyurethanes for use on buses, according to Zeng. Separately, resins for nonisocyanate coating systems from Arkema have been designed to improve health and hygiene needs at the manufacturing level, Dumain says.
Many new developments have been designed to increase efficiency and productivity. AkzoNobel launched a new range of primers to meet the growing demand for production efficiency, including a multi-substrate primer. "This coating provides excellent performance on almost all substrates used within the transportation industry and thereby eliminates the needs for substrate-specific primers, ultimately saving customers time and money," Bosman asserts. The BASF Resins and Additives business is in the final stages of developing a resin system for heavy-duty trucks and buses that has excellent adhesion to multiple metal substrates and very good corrosion resistance and weathering properties. The technology is ideal for primers, topcoats, or monocoat applications and is expected to be commercially launched in the second quarter of 2020, notes Bhaskar. Eastman has developed a new resin technology that offers excellent appearance and durability combined with best-in-class weatherability for 2K topcoat and DTM applications, according to Webster. "The ability to combine DTM corrosion resistance with long-term weathering enables OEMs to increase productivity through layer reduction without sacrificing coating lifecycle," he observes. Allnex has a new technology that makes it possible to formulate 2K coating systems that dry exceptionally fast even at room temperature, allowing truck producers to reduce the coating process cycle time for all vehicle parts that are too big to be dried in an oven without sacrificing coating performance with a worker friendly, isocyanate-free coating, according to Schellekens.
Driving Toward More Sustainable Solutions
Going forward, it is generally anticipated that coatings for heavy-duty vehicles will need to meet ever greater expectations for sustainability. These solutions will include the extension of coating lifetimes, according to Bosman. Customers will also continue looking for coating solutions that offer better performance for longer periods of time so that they can minimize their risk during shipment or storage, Bieber adds. "The ultimate long-term goal would be to use 100% solids single-layer coating systems, but there is still quite a bit of technology development needed before the market can realize that ideal combination," observes Casebolt. Cost reduction of the entire coating process will also remain an important topic, says Schellekens. Weinmann expects some of the coating technology advances being commercialized for OEM automotive coatings to eventually move over to the adjacent market of heavy-duty vehicles. Specific examples might include all-waterborne coating systems (primer/color coat/clearcoat), wet-on-wet coatings systems that eliminate one coating layer, and coatings with improved stone-chip resistance.
Two long-term trends will impact the market, according to Dumain: the trend towards vehicle sharing and away from vehicle ownership; and the increasing adoption of automated or driverless vehicles. "These trends will drive demand for materials that are receptive to rapid changes in the local environment—innovations that allow coatings to detect small changes in heat, light, and sound energies," he comments. Ultimately, coating formulators and end users will continue to look for multipurpose coatings that meet a variety of needs in the heavy-duty transportation market related to increasing sustainability, durability, performance in extreme conditions, and overall value, Dumain concludes.
CoatingsTech | Vol. 16, No. 10 | October 2019