Growth Adds Dimension in Faux-Finish Market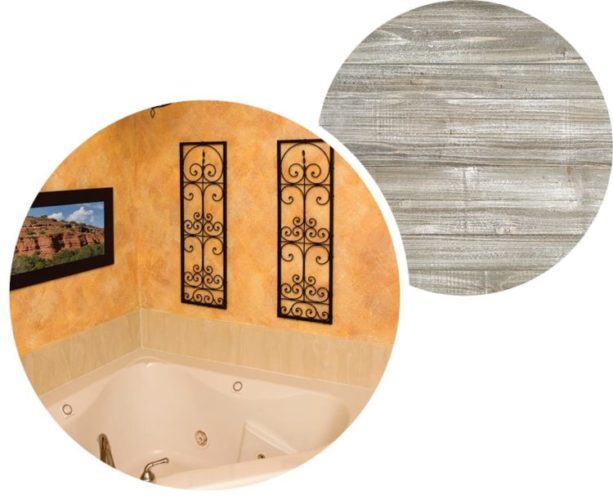 A new report shows the global faux paints and coatings market is valued at $2.1 billion in 2022 and is expected to reach $4.2 billion by 2032.1
According to Future Market Insights (FMI), global faux-finishes consumption has increased at a compound annual growth rate (CAGR) of approximately 5.7% over the past half-decade. The market research and competitive intelligence company projects the faux-finish market will expand at a CAGR of 6.3% between 2022 and 2032.
Faux finishes—coatings that add dimension and texture while mimicking other materials such as wood, stone, metal, and even fabric—are widely used in the residential building sector because of their bonding properties, FMI says. A 2021 analysis from Fact.MR cites "surging renovation-project frequency" as driving the market growth for faux finish coatings. The global research firm says end-users choose faux finishes to enhance aesthetic value and strengthen existing infrastructures.
Over the next decade, FMI forecasts, the growth of the global faux-finishes market will be driven by an increase in the use of faux paints and coatings as bonding agents in the building sector and a growing acceptance of authentic-looking synthetic finishes.
Faux-finish coatings include plaster, metallic, wall glazing, marbleizing and others, and are used for a variety of interior decor applications, including walls, doors, panels, cabinets, trim, and more. According to a 2021 report by Research and Markets, the United States accounts for 28.5% of the faux-finish market.3
One player in the space is Faux Effects International (FEI), a Florida-based company that has manufactured decorative finishes since 1989. Among its 2022 collections are the SetCoat Metallics. Citing the paints' bonding qualities, the Florida-based company says the metallic paints are designed for "superb reflection and dense coverage" and can also be used as a base coat.
FEI also produces eight faux-finish product lines that mimic the appearance of plaster in depth and texture. Plaster finishes comprised the largest faux-finish market share in 2021, accounting for about 30% of the market, reports FMI, which forecasts the product segment is likely to dominate the global market over the next decade.
With plaster and metallic coatings at the top of the market segment, other decorative coatings are emerging. In 2021, FEI introduced WallSilk, a decorative coating designed to evoke the look and feel of raw silk.
As the architectural coatings market continues to grow overall,4 the faux-finish market is poised to grow as customers and consumers seek coatings innovations with strong bonding properties and unique aesthetic value.

References
Future Market Insights. "Faux Paints and Coatings Market Outlook (2022-2032)." Report summary, June 2022. https://www.futuremarketinsights.com/reports/faux-paints-and-coatings-market (accessed June 29, 2022).
Fact.MR. "Market Outlook for Faux Finish Coatings." Report summary, Nov 2021. https://www.factmr.com/report/faux-finish-coatings-market (accessed June 29, 2022).
Research and Markets. "Faux Finish Coatings—Global Market Trajectory & Analytics." Press release, June 2021. https://www.globenewswire.com/en/news-release/2021/07/06/2258109/28124/en/Global-9-2-Billion-Faux-Finish-Coatings-Market-to-2026.html (accessed June 29, 2022).
Procopio, Leo. Current Trends in Interior Architectural Coatings Industry Experts Weigh in on What is New and Now. CoatingsTech. April 2022. https://www.coatingstech-digital.org/coatingstech/library/item/april_2022/4003471/ (accessed June 29, 2022).