Eastern Coatings Show Marks Successful Year with In-Person Event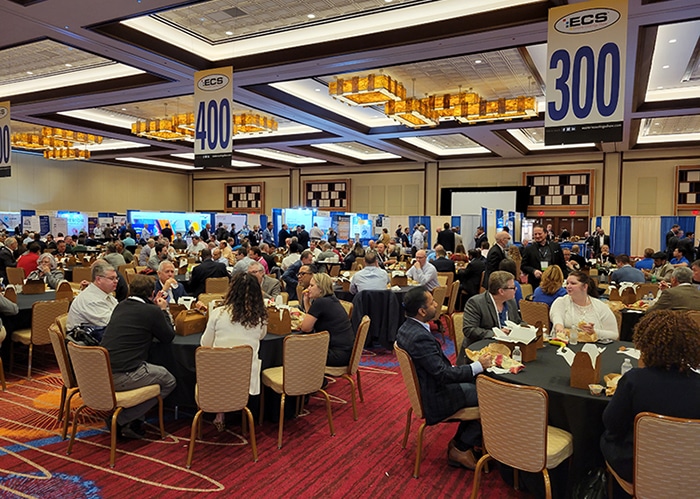 The 2021 Eastern Coatings Show returned to an in-person, three-day event in November at Harrah's Resort Atlantic City in New Jersey, attracting nearly 1,000 attendees.
The ECS kicked off with the short course, "The Composition of Coatings and the Function of Raw Materials to Provide Expected Performance," administered by the School of Polymer Science and Engineering at the University of Southern Mississippi. It was an introduction to event's technical program that included three tracks of 45 sessions.
On the first full day of the conference, Sarah Eckersley, global director of R&D and TS&D for Coating Materials, Monomers & Plastics Additives at The Dow Chemical Company, delivered the keynote address on "Sustainability in Coatings: By Accident or Design?"
Michael Levely, supply chain director for The Dow Chemical Company Coatings, Monomers, and Plastics Additives businesses in North America, opened the afternoon session with his presentation on "Supply Chain Issues," a topic of immediate concern across the industry.
Dan Pickard, an attorney with the law firm Wiley Rein LLP in Washington, DC, was the special guest speaker on the last day of the conference. His talk, "The Biden Administration: Trade Policy and Priorities," explored political and regulatory issues facing the industry.
Awards and Recognition
Charles Shearer, senior application specialist at Covestro, received the Rick Mazzariello Lifetime Achievement Award.
The Pflaumer Honors for Innovation Awards recognized the top two technical papers presented at this year's ECS. The Most Outstanding Paper award went to Jacob Shevrin of Evonik for his paper, "Novel Hydrolytically Stable Silane Additives for Improving the Performance of Waterborne Acrylic Roof Coatings," which was featured in the CoatingsTech September 2021 issue. Ingrid Meier of Evonik received the Outstanding Paper award for her paper, "Film Coalescence and Coalescing Surfactants: Mechanism of Action and Practical Application of These Unique Multifunctional Wetting Agents in Low-VOC Coatings."
Sponsored by Pflaumer Brothers Inc. of Ewing, NJ, the Pflaumer Honors for Innovation Awards promote the development of new, innovative technologies in the coatings industry. Winners are selected based on several criteria, including innovation, professionalism, technology competence, and preparation.
The biennial show was hosted by the Eastern Coatings Federation, Inc., a corporation founded by the Metropolitan New York Coatings Association, the Philadelphia Society of Coatings Technology, and the New England Society of Coatings Technology to serve the coatings industry on a broader national basis exceeding their regional orientations.
Proceeds from the Eastern Coatings Show, which was established in 2013, fund scholarships awarded annually to incoming and current undergraduate students.