At the end of each year, it is important to reflect on key developments that occurred during the previous 12 months, while anticipating and planning for the coming year ahead. For the coatings industry in 2019, topics of interest ranged from overarching trends such as sustainability, durability, and digitalization to issues related to specific segments of the market, such as titanium dioxide supply and pricing. In addition to covering these important themes throughout the year, CoatingsTech highlighted advances in such areas as traffic paint, exterior wood, food contact metal packaging coatings, industrial maintenance, and transportation coatings. Additional technical innovations that captured the attention of the industry included new silicone chemistry that is impacting both resin and additive technologies, novel metal-free catalysts, and recent developments in powder coatings.
Throughout the past year, it was evident that one of the fundamental aspects of the paint and coatings industry affecting all sectors and enabling the achievement of improvements developed in response to key trends continues to be the push for innovation. Innovation not only drives advances in technology that lead to improved sustainability and durability of coating products, but also enables suppliers and formulators to leverage automation and novel digital tools to create better products and services for their customers and consumers.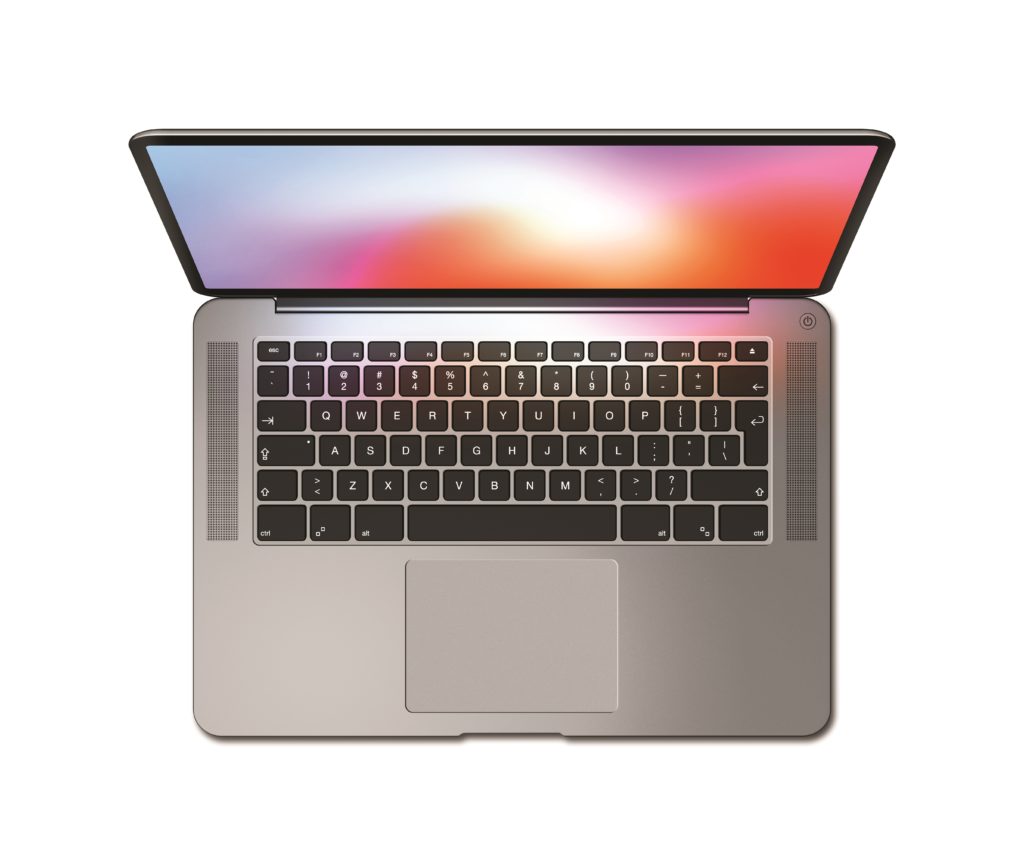 Many of these interrelated concepts were emphasized at important industry conferences and trade shows in 2019, such as the European Coatings Show, held in Nuremberg, Germany, in March. Technical presentations and booth displays focused heavily on sustainability, demonstrating how this important theme impacts all aspects of the paint and coatings industry from raw material selection and sourcing to manufacturing and application processes and the performance of applied coating products. Also emphasized were possible solutions for increased ease of use, productivity, and functionality, as well as the growing importance and impact of digitalization, which is connected to improving efficiency and achieving greater sustainability.
DRIVING TECHNICAL ADVANCES
Across many different coating sectors, changes in environmental regulations and increasing expectations for greater sustainability and performance at lower cost continue to drive innovation. Trends impacting the development of industrial maintenance coating technology, for instance, include tightening environmental regulations, globalization, reduced costs, and the need to increase efficiency—through ease of application, increased durability, reduced material usage through thinner film builds, and the ability to apply coatings over poorly prepared substrates. Similarly, heavy-duty transportation coatings that help increase application efficiency and productivity, offer improved durability, and meet evolving regulatory requirements for lower VOCs have the advantage. For traffic paint, VOC reduction and increased efficiency are important as well, but the major driver for new technology development is a unique one—enhancing motorist safety.
In addition to increasing sustainability, improving the durability of coatings is another trend influencing technology development in many paint and coating sectors. The challenge is to provide performance over the longer term without increasing cost. What makes a durable coating depends largely on the application and environmental conditions under which it must perform. Specialty coatings designed to address those specific conditions will provide protection much more effectively than commodity-
type coating solutions. Whether on a car, house, ship, bridge, tractor, or home appliance, reducing the rate of applied coating failure and increasing the interval between repainting benefits all users. By extending asset lifetimes, coatings technology can be a significant contributor to facilitating resource and energy consumption and ultimately global sustainability. The key for coating manufacturers and ingredient suppliers is to understand customer expectations when developing new solutions.
According to the responses, sustainability was recognized as the most important trend.
Some sectors face unique challenges. In the architectural segment, for instance, one of the key difficulties is an increasing shortage of contractor labor at a time when more people are looking to have professional painters complete projects that they previously would have done themselves. As a result, efficiency and ease of use are increasingly driving technology advances in this market and leading to the development of multifunctional and multipurpose products that can be used on many different substrates in interior and exterior applications, offering more than just appearance and basic protection benefits.
Sustainability efforts continue to require more attention in this market as well, as applicator and consumer awareness of safety, health, and environmental issues continues to rise, and more paint-buying decisions reflect those concerns.
The application of various digital technologies to gather data on customer needs and provide more customized support, as well as to improve manufacturing processes, product performance, and overall business operations, is another important trend in the paint and coatings industry. The challenge is to determine where and how to apply technologies such as artificial intelligence, machine learning, and natural language processing and how to make the data on hand relevant to the problem or question of interest. Companies are leveraging digital tools and big data to improve the customer experience, optimize the supply chain, increase manufacturing efficiency and productivity, and improve and accelerate innovation efforts, among other things. Most companies are excited about the potential opportunities digital technologies are creating for the industry and expect ongoing and transformative changes to occur that cannot even be predicted today.
INSIGHT INTO KEY TRENDS
When responding to the expectations of customers, formulators rely heavily on, and collaborate closely with, ingredient suppliers to develop new technologies that will meet current and future market needs. To gain a better understanding of the critical trends affecting the paint and coatings sector from the perspective of those ingredient suppliers, CoatingsTech conducted an informal, limited survey. Contributions were received from both large global companies and smaller firms with minimal international sales, and included insights from subject matter experts from across the supply chain—R&D, sales and marketing, business development, and the executive level.
The survey first looked at trends currently impacting the industry, with a focus on those expected to have the greatest influence going forward. Respondents were provided with a list of 17 different options. According to the responses, sustainability was recognized as the most important trend. While two-thirds identified sustainability as one of the top five trends impacting the industry (see Table 1), one-third listed it as the number one trend. Durability was ranked closely behind with two-thirds, placing it in the top five. Cost efficiency and increasing regulations each received a top five placement for more than half of the participants. Additional responses, received from one-third of respondents, considered digitalization, the current economic slowdown, increasing expectations for convenience/ease  of use, and the need for application simplification/more efficient use of labor as top five trends. Other issues making the top five lists included globalization, growing demands for multifunctionality, the need to increase efficiency/productivity, the rising importance of supply chain collaboration, ongoing industry consolidation, a greater focus on hybrid resin technologies, smart (functional) coatings, and the need to address diversity.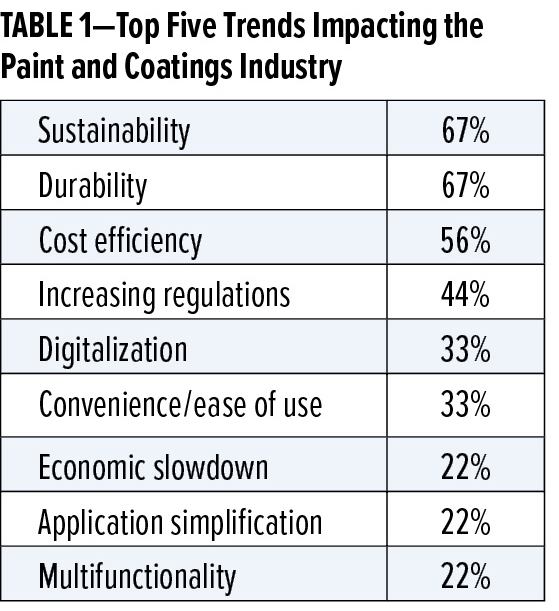 Interestingly, while one-third of respondents found diversity to be very important, all the remaining respondents ranked it lower on their lists. Just under half placed globalization, consolidation, automation, and the economic slowdown in the bottom five entries on their lists, while a third saw supply chain collaboration as being a lower priority. Cost efficiency, digitalization, and multifunctionality were of least importance to over 25% of respondents.  Other issues falling at the bottom of the rankings included color palette extension, convenience/ease of use, and durability.
It appears that diversity is not currently seen as a key driving trend in the paint and coatings industry because the sector already has embraced the concept as crucial to success. Diversity programs are now embedded within organizations and have become a key component of day-to-day business operations. While not all companies have diversity policies, the majority recognize the importance of promoting an inclusive culture and leveraging the talents, experiences, and capabilities of all types of people both within and outside of their firms. Most companies also place an emphasis on ongoing education and training and communication of activities related to promoting diversity both to employees and other stakeholders.
Suppliers to the paint and coatings industry are also looking to leverage digitalization technologies. All but one respondent to the survey indicated their companies have been investing in digitalization to remain competitive. The technologies that have received the most attention to date include big data analytics and machine learning, followed by artificial intelligence, online ordering/customer interfaces, and digital tools for customers/consumers. Looking forward to 2020, it appears that companies are comfortable with the data analytics capabilities they have established and will be looking to put them to use. The majority of respondents said their firms will be investing in digital tools and online ordering and other customer interfaces, as far fewer continue to invest in big data analytics, machine learning, and artificial intelligence. It is also worth noting that some respondents consider automation of production processes under the digitalization umbrella and are focused on investing in this aspect of the technology.
Given the high importance of sustainability, it is not surprising that the companies represented by most of the respondents have established corporate sustainability policies, regardless of the ages, sizes, and locations of the companies. All the policies focus on ensuring that the needs of all stakeholders are addressed while using resources responsibly. Some company policies include specific components, such as: responsible and stable sourcing, safe and sustainable locations, producing sustainable products safely and efficiently using sustainable processes, sustainable people management, sustainability outreach, employee education, climate protection, and energy efficiency. Other policies are more general, such as creating chemistry for a sustainable future and practicing sustainability in an integrated way, which is achieved by deliberately considering the effects of all decisions, including the non-financial dimension, and "finding the right balance between today and tomorrow."
Looking ahead to 2020, reduction of carbon emissions appears to be a key focus for many coating ingredient suppliers. Efforts are also being targeted at increasing efficiency and developing solutions that enable realization of a true circular economy, not only with respect to product lifecycles, but also regarding the replacement of single-use plastics with biodegradable materials throughout the company. Larger manufacturers tend to have comprehensive, longer-term goals that include not only reduction of CO2 emissions, but also a decrease in greenhouse gas emissions, energy and water consumption, and waste and wastewater generation. Progress toward these targets is assessed on a continual basis, along with evaluation of the environmental and societal impacts of product portfolios.
DEVELOPING PRODUCTS TO MEET DEMANDS
Drilling down to the products themselves, respondents were asked to list the top three attributes of coatings considered to be sustainable. The most cited attribute (noted by more than two-thirds of survey participants) was overall environmental friendliness/minimal impact on the environment, including the elimination of toxic chemicals (see Table 2). The use of renewable/sustainable raw materials was mentioned by half of respondents, while low VOCs and durability were each cited by slightly more than one-third of respondents. Other attributes highlighted by the survey participants included reduced material usage, products that allow more sustainable manufacturing processes, and stability of the raw materials supply chain.

In light of these cited attributes, it should not be surprising that more than two-thirds of respondents said their companies are currently focused on developing products that last longer and/or are intended for use in waterborne formulations (Table 3). Two-thirds of survey participants, meanwhile, indicated they are using renewable raw materials and designing products that address concerns over recyclability and end-of-life issues. More than half of respondents are focused on UV-cured technologies and products that achieve high performance using less materials/resources. More than a third are concerned with establishing more sustainable internal manufacturing processes and developing ingredients for high-solids coatings. One-third of survey participants are focused on developing products for powder coatings and ingredients that allow their customers to implement more sustainable manufacturing processes.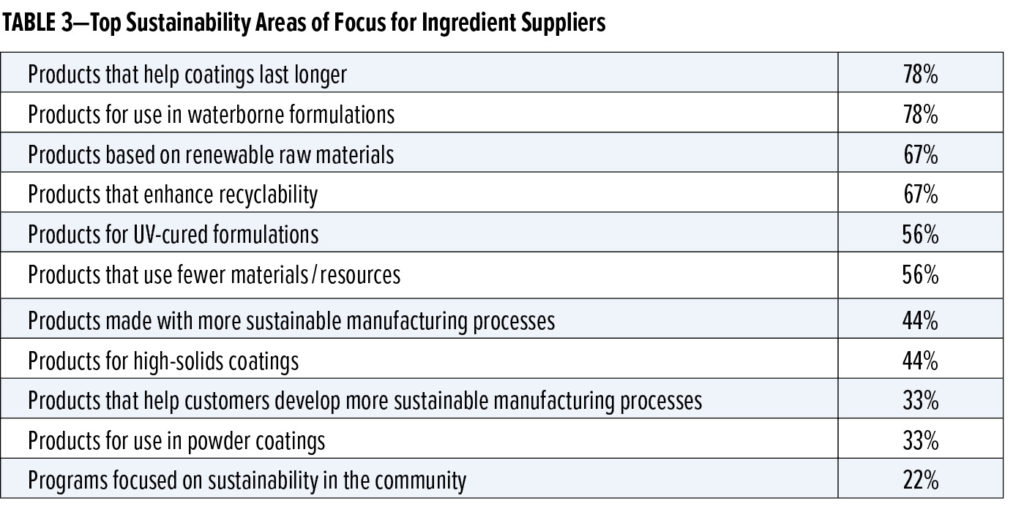 An example of one recent product introduction with a sustainability focus is the Hostatint™ A-100 ST range of pigment dispersions from Clariant. These dispersions are made from highly transparent pigments that do not contain halogens in their molecular structures, enabling the recovery of precious rare earth metals in the recycling process. The company also now offers a Hostatint UV line comprising more than 20 unique products that are compatible in many resin systems, have very high shelf life and/or storage stability, and crosslink via a UV-curing process. Meanwhile, BASF has introduced new resin technologies for industrial maintenance coatings that address cure control, sustainability, value engineering, protection, and performance market trends, including a cost-effective,  waterborne direct-to-metal (DTM) binder technology that offers high-performing corrosion resistance and pot-life indication. Hexion has developed VeoVa™ silane technology comprising VeoVa vinyl ester and silane monomers, an isocyanate-free platform that allows customers to balance hardness and flexibility, pot life, and cure speed while achieving similar performance to that of 2K polyurethane coatings. Arkema has introduced a waterborne, APEO- and ammonia-free, short-oil alkyd used in a wide range of applications where the feel and performance of conventional alkyds—properties such as excellent gloss, good hardness, and others—is desired in a low-VOC and solvent-free formulation. Evonik has also developed an isocyanate-free resin solution: SILIKOPON® EF combines the properties of epoxy and silicon resins for use in ultra-high-solids protective topcoats. DSM's Decovery® SP-2022 XP resin is a self-matting, bio-based solution designed to protect the natural beauty of wood surfaces.
The majority of respondents said their firms will be investing in digital tools and online ordering and other customer interfaces, as far fewer continue to invest in big data analytics, machine learning, and artificial intelligence.
In 2020, the survey respondents' companies will continue to focus on the development of solutions for waterborne coatings, with a focus on ingredients that lead to increased durability, provide high performance using fewer resources, address recyclability/end-of-life issues, and are derived from renewable raw materials. Ingredients for UV-cured, high-solids, and powder coatings will also be pursued, but by a smaller percentage of suppliers.
Nearly all respondents said their companies introduced products targeting convenience/ease of use in 2019 and will be launching more new products in 2020. These materials are designed to make coatings ready to use, easier to apply, and offer labor savings for end users or increase production efficiency by being easy to incorporate during coating manufacture. They also enable coatings to provide good hiding with fewer coats and cure more rapidly for faster return-to-service after application. Some respondents indicated that convenience is achieved if ingredients are globally available or supported by a regional supply chain and if they comply with regulations, have a low environmental impact, and enable coating formulations that require minimal surface preparation.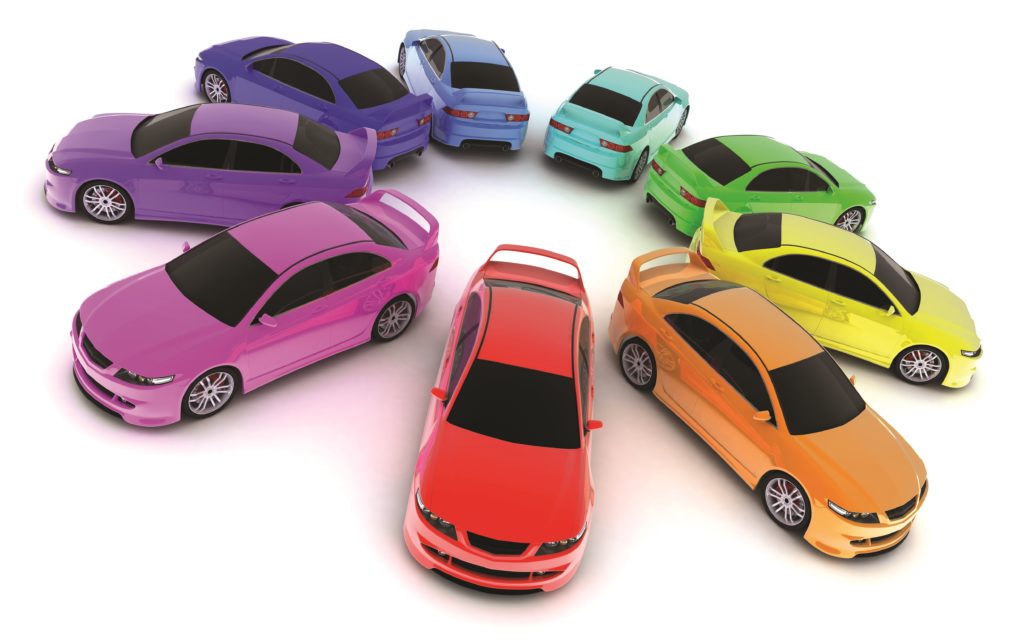 The companies of more than two-thirds of the respondents introduced ingredients targeting the improvement of efficiency/productivity in 2019 and most intended to introduce additional products in 2020. There was little consensus, however, on the key attributes of these coatings. One-quarter to one-third of survey participants indicated that important characteristics of coatings with increased efficiency/productivity offer the following: labor savings and ease of application, use of fewer coats, faster cure times, lower temperature curing, or reduced cycle times and long shelf lives. Other attributes mentioned by respondents included high quality, reduction of formulation complexity, reliability, flexible systems for tailored design of reactivity and curing speed, and multifunctionality.
One recent product considered to meet many of these criteria comes from allnex. The ACURE® platform intended for flooring, industrial metal, wood, ACE, marine, and protective coating applications is an exterior, durable offering that is isocyanate-free yet improves application drawbacks of existing technologies by extending the pot-life and providing rapid return-to-service with extremely fast cure times.
Two-thirds of respondents said their companies introduced products designed to increase the durability of coatings in 2019, and more than two-thirds intend to launch these types of products in 2020. In addition to lasting longer, more durable coatings exhibit properties such as water/UV resistance, scratch and stain resistance, corrosion resistance, scrub and burnish resistance, color retention/fastness, and good adhesion. In general, synergistic solutions have been important to advancing the durability of architectural coatings. New film-forming enhancers are also helping to improve film formation and increase the durability of low-VOC paints, while novel alkyd-hybrid technologies, such as high-solid alkyd-acrylics and polyurethane-modified alkyds, have improved the durability and process efficiency of coatings for cladding and decking.
Eastman has developed a new resin technology reported to offer excellent appearance and durability combined with best-in-class weatherability for 2K topcoat and DTM applications. The technology is designed to enable OEMs to increase productivity through layer reduction without sacrificing coating lifecycle. For decorative paints, Dow has developed a new durable matte resin, film-forming binder technology that delivers a flat/matte appearance but with semi-gloss style durability. Meanwhile, the company's DOWSIL™ 904H Coating Additive is a silicone additive for architectural facade coatings that supports enhanced aesthetics for building exteriors by reducing the "snail trail" effect commonly seen when water-soluble ingredients leach to the surface. By increasing the surface hydrophobicity, it can also improve water resistance, repellency, and beading.
The potential for a global economic slowdown is of highest concern, followed by the ongoing trade disputes between the United States and China, but also other countries around the world, including traditional allies of America.
King Industries' K-FLEX® XM-437 is a 100%-solids, low-viscosity urethane diol for use as a reactive co-solvent replacement. The diol is intended to increase solids and hardness while maintaining flexibility, providing improved corrosion and humidity resistance. For furniture coatings, BASF has introduced advanced raw materials that offer water-based, white pigmented coatings with superior stain resistance. The company has also developed a novel concept for coatings surface modification for automotive clearcoats and industrial topcoats that affords improved durability and weathering resistance of the surface combined with additional functionalities, such as an easy-to-clean effect. In the second quarter of 2020, the BASF Resins and Additives business expects to launch a new system for heavy-duty trucks and buses designed to offer excellent adhesion to multiple metal substrates and very good corrosion resistance and weathering properties. The system has been developed for primers, topcoats, and monocoat applications.
Slightly more than half of the respondents said their companies introduced products that enable more efficient use of labor in 2019, and slightly less than half indicated they would be offering these types of products in 2020. They are designed to enable hiding with fewer coats, faster cure, easy application, and sustainability. Other features listed by survey participants included reliability, durability, one-component solutions, the need to use less material, and improved flow for reduction of the need for touch-ups.
IMPACT OF REGULATORY AND BUSINESS ISSUES
All the development efforts underway at coatings ingredient manufacturers are taking place in an evolving regulatory and business climate. The top regulatory challenge for survey respondents heading into 2020 is the increasing variation of regulations around the world. Companies that operate in the United States are as, or more, concerned about increasing state-level regulations over individual chemicals. Of least importance to survey participants was increasing VOC regulations. Other regulatory challenges identified by respondents included the new TSCA regulations in the United States (the Frank R. Lautenberg Chemical Safety for the 21st Century Act), biocides restrictions, such as the new methylisothiazolinone-specific concentration limit, and increasing ecolabel certification regulations.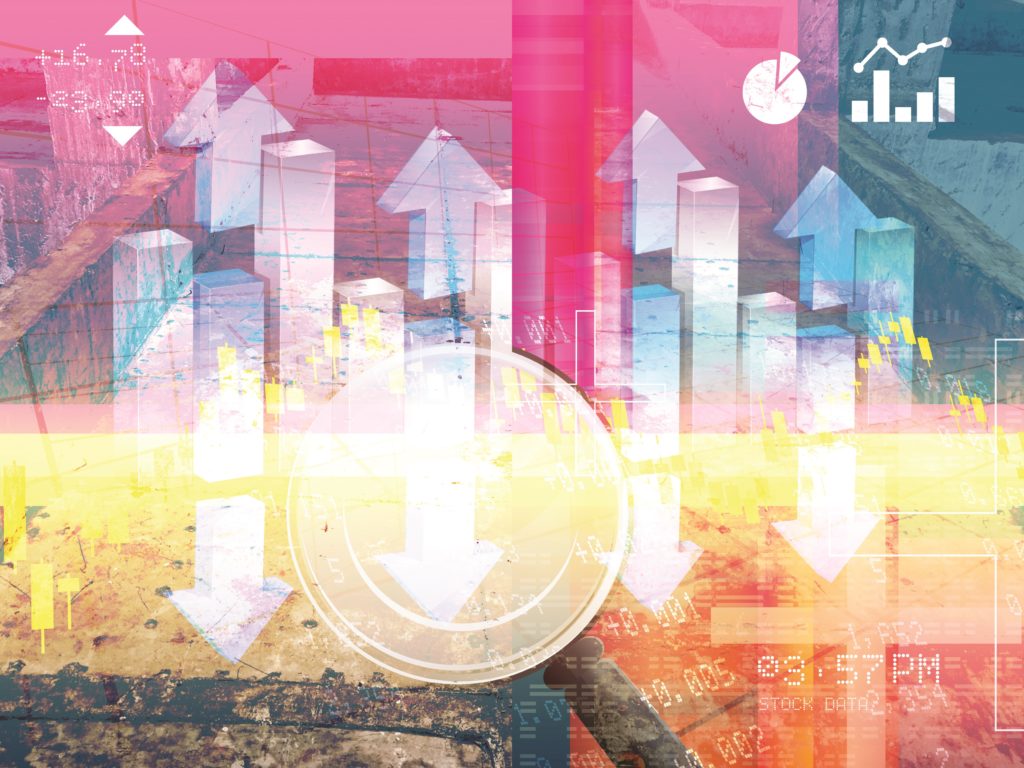 Top business challenges relate to the state of the global economy and international trade issues, according to the survey respondents (see Table 4). The potential for a global economic slowdown is of highest concern, followed by the ongoing trade disputes between the United States and China, but also other countries around the world, including traditional allies of America—Europe, the United Kingdom, and Canada. The possibility of a recession in the United States is another potential headwind to growth of the coatings sector. Interestingly, Brexit was ranked fairly low on the list of key business challenges, along with the presidential election in the United States, while regulatory uncertainty was of moderate concern. Other issues raised by survey respondents include the growing presence of offshore products in developed nations, the increasing focus on low cost rather than performance or quality, and the ongoing heightened merger and acquisition activity among coating suppliers.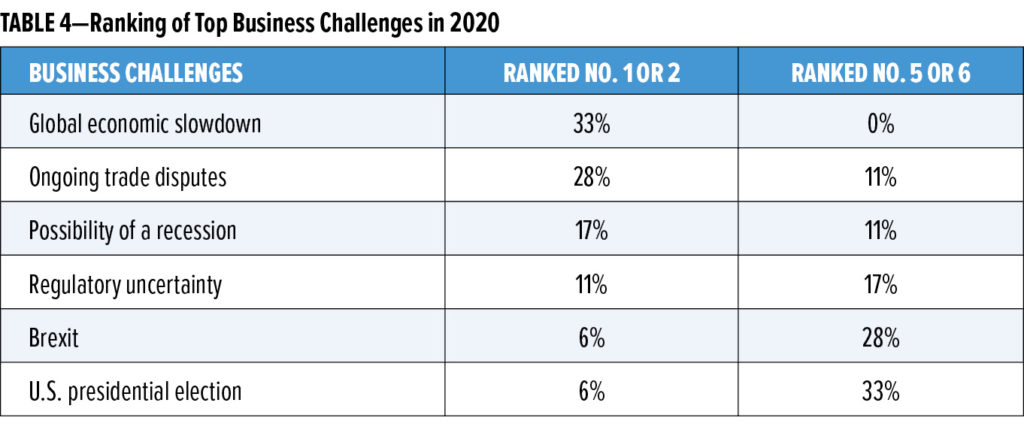 While no one has a crystal ball, the input from industry representatives provides insight into the driving forces that will have an impact on the coatings industry in the coming year. Whatever the trends that develop in 2020, it is sure that CoatingsTech will continue to report on and evaluate the coatings innovations introduced to address the needs of an evolving industry.
CoatingsTech | Vol. 16, No. 11 | November-December 2019