State-level Unemployment Data Provides Additional Insight into Local Market Conditions
April 8, 2018 • CONTACT: Allen Irish
---
Publication of U.S. national unemployment figures is often a headline event, particularly for business publications and websites that many businesses follow. Recent declines in unemployment are generally viewed as an indicator of the generally good state of the U.S. economy. The Bureau of Labor Statistics (BLS) also tracks employment statistics at the state and metro area level. These are often more useful and relevant in certain circumstances, particularly for those in the architectural coatings segment, where market conditions can vary considerably from state to state.
BLS data suggests that the labor markets vary considerably across the county, with higher than average unemployment in the Midwest and southwest, while low unemployment is seen in upper New England, the portions of the Mountain West, and the great plains (see Figure 1). Over the year ending in February, unemployment rates declined in 15 states and were unchanged in 35 states and the District of Columbia. Interestingly, Hawaii had the lowest unemployment rate in February (2.1 percent), while Alaska had the highest jobless rate among the states in February (7.3 percent).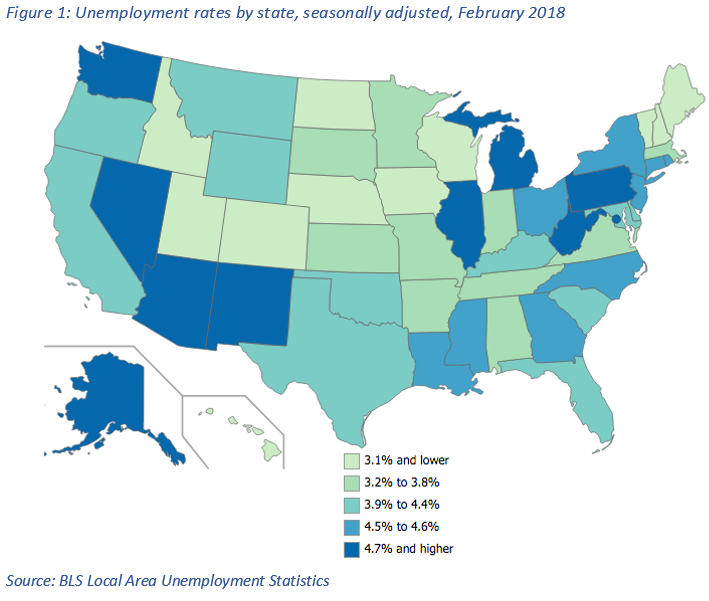 Employment statistics for the construction workforce can be even more relevant to sellers of architectural coatings. BLS figures show that total construction employment rose to 7.17 million in February 2018, up from 6.92 million a year earlier (+3.7 percent). Specialty grade contractors' employment (including painting contractors) rose from 4.403 million to 4.583 million, a rise of 4.1 percent. This, like employment overall varies from state to state, which most states seeing construction unemployment fall, while a few, particularly Alaska, saw rises in construction employment (note that these figures are not seasonally adjusted).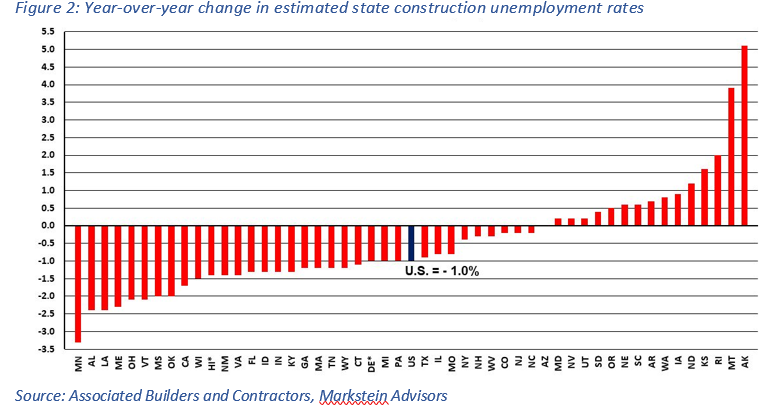 Falling unemployment in this sector could signal potentially rising costs for construction labor along with the overall strength or weakness of a state's construction climate.
Contact ACA's Allen Irish for more information.