Industry Observers Anticipate Global Shipbuilding Expected to Rebound
March 13, 2018 • CONTACT: Allen Irish
---
Global shipbuilding, and with it demand for marine coatings, has been driven largely by the strong growth in international trade in goods, as well as the world's increasing demand for petroleum, which is shipped worldwide from the locations where it is abundant – such as the Middle East – to places where it is used, such as Europe and Japan.
In response to rising levels of trade, particularly trans-Pacific, the world's shipyards increased production significantly over the past decade, reaching a high mark of over 3500 vessels, as well as annual tonnage exceeding 100 million during the years between 2010-13. After 2013, shipbuilding activity fell significantly, with tonnage output dropping roughly 40 percent during that period, as shown in Figure 1.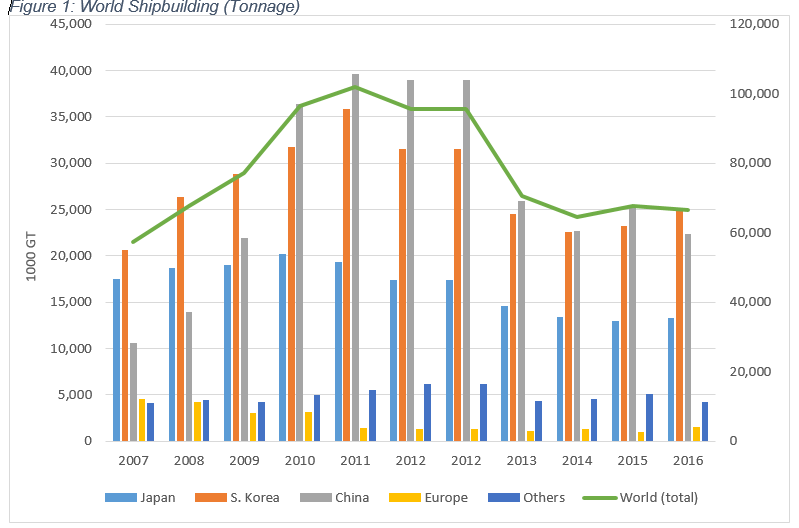 The largest shipbuilding counties are in East Asia, including China, South Korea, and Japan. In terms of numbers of vessels, China is the world leader, producing over 1,400 vessels a year at peak, followed by "others" and then Japan (Figure 2). But when considering tonnage output (Figure 1), the South Korean industry is only slightly behind China.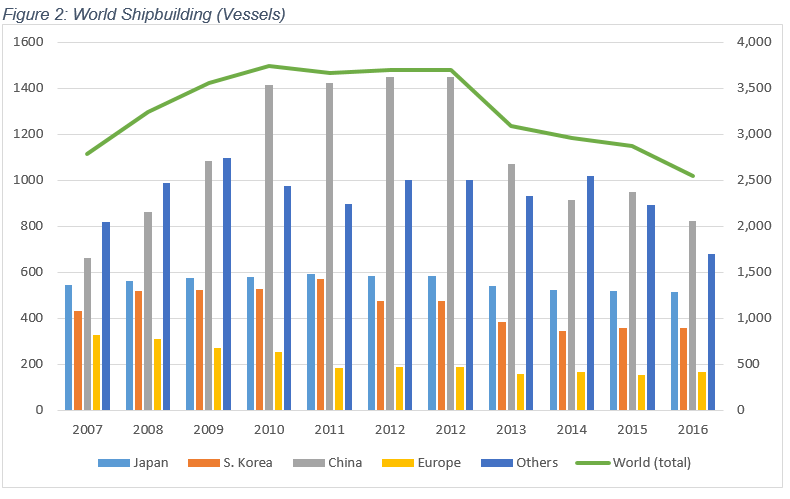 While new ship construction is clearly important in terms of driving demand for marine coatings, ship repair activities already scheduled to occur kept global demand relatively flat even in light of declining orders for new ships, growing from just under 800 million liters in 2010 to slightly over that level in 2015.1 This slow rate of growth is likely to continue, although a leading market intelligence source, Lloyd's List, forecasts that the global fleet will grow at 3.5 percent per year CAGR over the next five years, taking into account new ship orders and deliveries (less cancelled orders and ships scrapped).2 East Asia will continue to dominate the shipbuilding industry for the foreseeable future, with most new construction anticipated to take place in China, South Korea, and Japan.
Contact ACA's Allen Irish for more information.
---
1 IPPIC Global Market Analysis (2015-2020)
2 Lloyd's List Intelligence, Shipbuilding Outlook Report