EPA Releases List of 51 Parts of Country that Fall Short of Ozone Standards
On April 30, the U.S. Environmental Protection Agency (EPA) finalized initial area designations for parts of the country under the 2015-set National Ambient Air Quality Standards (NAAQS) for ozone. EPA officially designated 51 areas as non-attainment zones.
NAAQS are standards for outdoor ambient air that are intended to protect public health and welfare from pollution.
According to EPA's findings, there are five new states that have nonattainment areas: Michigan, Georgia, Utah, Nevada, and New Mexico. Areas designated as nonattainment are also classified by operation of law according to the severity of their air quality problems. The classification categories are marginal, moderate, serious, severe, and extreme. Since 2008, the Ozone Transport Commission region, which covers the northeast and mid-Atlantic, has generally improved its ozone air quality (marginal-moderate), while the Midwest has primarily remained the same (marginal). California remains the only state that has areas designated as serious, severe, and extreme.
In October 2015, EPA lowered both the primary (health-based) and secondary (welfare-based) NAAQS for ozone from the 2008-set 75 parts per billion (ppb) to 70 ppb, even though the higher 75 ppb standard was never fully implemented across the country. The 2015-set ozone standard is forcing a significant number of states that are currently "in attainment" to "non-attainment" status, triggering a requirement to revise their State Implementation Plans (SIP) and adopt even stricter VOC emission regulations for coatings. This triggering event is being realized as ozone monitors across the country are demonstrating a marked improvement in air quality under the 2008 standard of 75 ppb.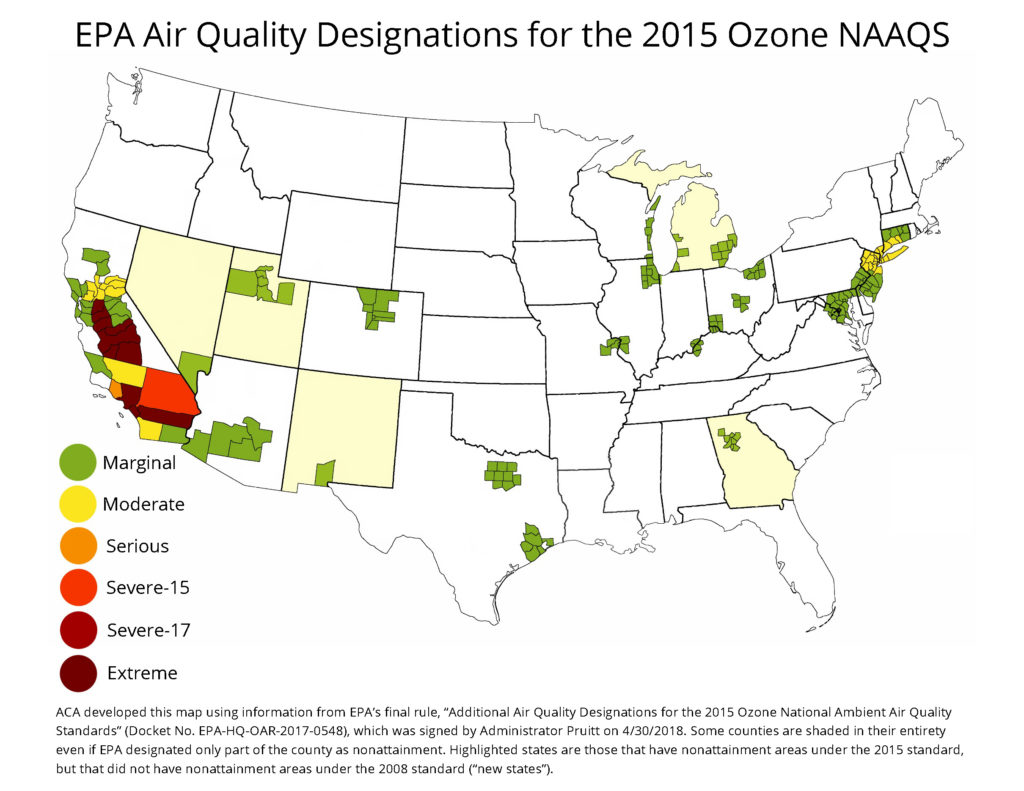 Under the Clean Air Act, when EPA promulgates a new or revised NAAQS, the agency is required to designate all areas in the country as nonattainment, attainment, or unclassifiable within two years of the promulgation of the new or revised NAAQS. EPA missed the deadline for new area designations in October 2017; but in November 2017, EPA designated about 85 percent of the country as in attainment/unclassifiable. The remaining 15 percent of the country was still without a designation. Now, with this final rule, all remaining areas have ozone NAAQS designations, except for eight counties in the San Antonio metropolitan area.
ACA has long argued that EPA should revert to the 2008 standard of 75 ppb and fully implement it, so that the forward progress already achieved by industry and the states can be extended without unnecessarily burdening either. Industry's progress is reducing VOCs as part of a robust regulatory scheme, along with emphasizing market-driven innovations and existing policies to improve fuel economy, increase energy efficiency, and reduce air pollution from cars, facilities, and products, which will drive further air quality improvements over the next decade.
Additionally, ACA supports amending the Clean Air Act regulations to extend the time for review of the ozone standard to every 10 years. Currently, the Act requires review every five years. Extending the review of the ozone standard to every 10 years will allow for more stability in the marketplace for formulators, while still protecting human health and the environment, and allowing states to meet their air quality goals.
Contact ACA's Rhett Cash for more information.