ACA Showcases GRC and PaintCare Programs at 2018 NCSL Legislative Summit
August 8, 2018
---
ACA showcased its leftover paint stewardship program, PaintCare®, and its graffiti prevention program, the Graffiti Resource Council (GRC), at the 2018 National Conference of State Legislators (NCSL) Legislative Summit in Los Angeles, Calif., from July 30 – Aug. 2. The conference was attended by almost 1,500 state legislators from across the United States, as well as by members of the business community, international lawmakers, consulting firms, legislative staff, and federal, state, and local government agency representatives.
As part of the conference, PaintCare and GRC shared an interactive 20×20-foot booth, viewable from all points on the convention center floor that served as the "industry's paint store." The front of the booth recreated a paint store where people could walk in and drop off their recycled paint, highlighting the PaintCare paint stewardship program in action. PaintCare provides consumers and contractors increased opportunities to reuse/recycle their leftover paint; oversees the collection, transport and processing of returned paint; and saves local governments money by reducing the hazardous waste collection burden currently borne by municipalities.  PaintCare has had resounding success in the eight states in which program operations have been implemented: to date, the program has collected nearly 30 million gallons of paint. Exhibiting at NCSL drew a lot of interest for the PaintCare program from legislators in the states and jurisdictions in which it operates — Oregon, California, Connecticut, Rhode Island, Vermont, Minnesota, Maine, Colorado, and the District of Columbia — as well as interest from legislators across the country seeking solutions for state and county budgets burdened by managing leftover paint.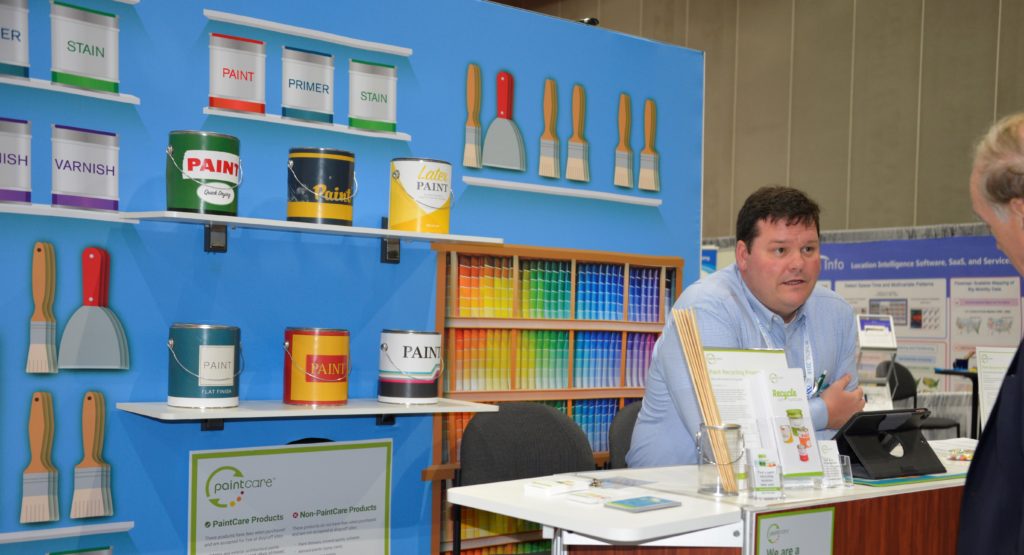 The other side of ACA's interactive booth created the rear, exterior wall of the paint store where an artist was painting a compelling mural over graffiti vandalism. The mural was being painted live throughout the three-day conference by artist Tyler Story whose final work depicted the difference between graffiti vandalism and graffiti art. Murals are an effective way for cities and local communities to combat graffiti vandalism because they are less likely to be tagged out of respect for the art, the artist, and the community — one approach espoused by GRC.
Through this interactive booth, PaintCare and GRC staff were able directly to talk with countless state legislators and staff about their programs, missions, and how they can assist states and cities through their respective initiatives.
NCSL was established in 1975 and is a non-partisan organization that supports, defends, and strengthens state legislatures. NCSL holds an annual summit each year at the end of July in a different U.S. city to further its goal of helping states remain strong and independent by giving them tools, information, and resources to craft the best solutions to difficult problems.
ACA created PaintCare, a 501(c)(3) organization whose sole purpose is to ensure effective operation and efficient administration of paint product stewardship programs, on behalf of all architectural paint manufacturers in the United States. PaintCare undertakes the responsibility for ensuring an environmentally sound and cost-effective program by developing and implementing strategies to reduce the generation of post-consumer architectural paint; promoting the reuse of post-consumer architectural paint; and providing for the collection, transport, and processing of post-consumer architectural paint using the hierarchy of "reduce, reuse, recycle," and proper disposal. The funding for the program collected via an assessment fee will cover the cost of all paint — not just new paint sold, but all the legacy architectural paint already in consumers' basements and garages, regardless of age or brand.
GRC is a nonprofit corporation whose primary goal is to prevent graffiti vandalism and provide creative solutions that promote graffiti-free communities. GRC provides information, education, and legislative assistance to help communities develop effective policies and comprehensive programs that prevent graffiti vandalism. To fulfill its purpose, GRC conducts research; gathers and evaluates information; develops comprehensive strategies, policies, and programs; and provides implementation assistance designed to eliminate graffiti vandalism and promote positive, innovative anti-graffiti strategies for communities. GRC is funded by the aerosol coatings industry concerned about the negative impact of graffiti vandalism on America's communities. One of GRC's newest initiatives is helping cities and local communities develop mural programs that will curb illegal graffiti, and participation with NCSL is vital to the council's outreach effort.
GRC and PaintCare exhibited at NCSL, in part, to increase awareness of the organizations and have direct, valuable access to state and city leaders. This direct access to key leaders helps both organizations form relationships that will lead to informed discussions on graffiti prevention and additional PaintCare programs.
ACA will continue its involvement with NCSL at next summer's annual summit in Nashville, Tenn., in the hopes of sharing its programs solutions with state and local legislators.
To learn more about GRC, visit http://www.anti-graffiti.org/.
To learn more about PaintCare, visit https://www.paintcare.org/.
Contact ACA's Heidi McAuliffe or Rhett Cash for more information.