CoatingsTech Recognized for Special Issue on Automotive Coatings
July 2, 2018 • CONTACT: Pat Ziegler
---
ACA's flagship publication, CoatingsTech, has again been recognized for excellence among its peers. On June 25, the magazine was honored by Association Media & Publishing with a bronze EXCEL Award in the magazine category of Best Single-Topic Issue for CoatingsTech's February 2017 issue on Automotive Coatings. The issue tracks the technical evolution of automotive coatings from the early days of the Model T to the special coatings needed for autonomous vehicles to succeed.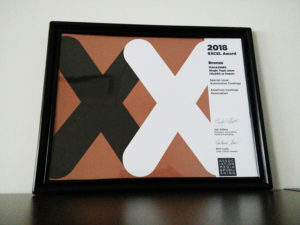 The EXCEL Awards recognize excellence and leadership in nonprofit association media, publishing, marketing, and communications.  In 2017, CoatingsTech was recognized with an EXCEL Award in the "Best Magazine Redesign" category.
CoatingsTech magazine is published 11 times annually in print and digital formats. This ACA journal provides comprehensive coverage of the international coatings industry with science and technology solutions, market insights, formulators' best practices, new product spotlights, and regulatory and legislative updates.
To learn more, visit the magazine's dedicated page at https://www.paint.org/coatings-tech/.
Contact ACA's Pat Ziegler for more information.