Transforming Concrete with Creativity and Technology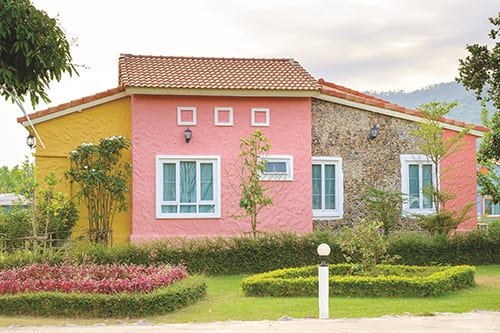 by Cynthia Challener, CoatingsTech Contributing Writer
The use of concrete for interior and exterior applications in new construction and renovation projects has increased due to the recognition of this substrate as a more sustainable, recyclable material. Concrete can also be more cost-effective, both initially and over its lifetime. In addition, staining provides options for a vast array of aesthetically pleasing looks for new concrete and an attractive way to revitalize existing spaces. From patios and pool surroundings to outdoor areas in hotels, restaurants, casinos, and theme parks, homeowners and commercial businesses are using concrete stains to create unique atmospheres.
A Note on Decorative Concrete
Decorative concrete is the most rapidly growing segment of the concrete industry, according to Mays Camarata, product manager at Valspar. "The Freedonia Group estimates that in 2015, the ready mix industry will produce $11.5 billion worth of ready mix just for the decorative concrete industry. As such, the demand for concrete stains and coatings has quadrupled since 2008," she says. These numbers reflect the fact that decorative concrete has evolved from a "niche" product to being recognized as part of the conversation when considering traditional flooring options such as wood, tiles, and carpets, whether interior or exterior, according to David Barreto, regional sales manager for Kemiko. Adds Beatrice John, product manager for floor coatings with Behr Process Corporation: "Concrete stains and dyes allow customers to transform ordinary gray concrete into an elegantly beautiful and luxurious floor resembling a natural, marble stone finish."
A large part of this growth can be attributed to the popularity of television shows for do-it-yourselfers (DIYers), such as HGTV. "These shows create design inspiration, which creates product awareness, and as more consumers watch, they gain confidence to try to do it themselves," says Camarata. The growing interest in outdoor living spaces is a second important trend affecting the concrete stain market. "People are looking to transform their backyards into vacation spots or sanctuaries, millenials are looking for ways to create unique spaces, and there is an upswing in outdoor cooking and dining," she adds.
Finally, the decrease in the cost of concrete stains has played an important role in the growth in demand for these products, particularly for DIYers, according to Camarata. "Creating a beautiful patio isn't for the rich anymore; upgrading aesthetics with concrete staining has become more attainable to a broader base of homeowners."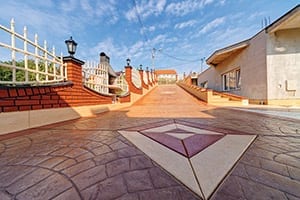 Decorative concrete's biggest advantage, according to Barreto, is its ability to mimic appearances such as old world stone, marble, wood, tile, and even modern, vibrant wall art for floors. "As a result, not only DIYers, but design and architectural firms are becoming more familiar with the dynamics of decorative concrete that can help them keep pace with current trends and create new ones," he observes. In particular, Barreto notes that commercial and retail locations continue to embrace the decorative stain look. "Decorative concrete provides these locations with a foundation that speaks to the particular decor themes they were inspired by," he says. According to an expert from Sherwin-Williams, "with the right mix of skill and knowledge, concrete can be intricately textured, colored, and patterned for a multitude of strikingly beautiful uses, from gracious lobbies, pool surrounds, and patios to handsome pillars, columns, and even countertops."
Choice of Technologies
Traditionally, concrete staining was achieved with solvent-based reactive acid stains. Today, water-based reactive stains and solvent- and waterborne acrylic stains and dyes are also available. Solvent-based acid stains react with the lime in the concrete to produce the colored effect, which is usually mottled and variegated. Acrylic stains and dyes penetrate the surface and deposit pigment particles into open pores in the substrate, but do not chemically modify the concrete.
Acid stains come in a set of basic earth tones that can be formulated to produce a range of shades. Because these stains react with the concrete, however, the color that is obtained depends on the composition, age, and condition of the concrete. In addition, acid stains are typically only used on concrete surfaces that have never been previously coated (stains, sealers, etc.). Neutralization, which is time- and labor-intensive and involves the use of large amounts of water, is also necessary. In addition, the residues, runoff, water, and absorbent materials used for an acid-staining project must be properly disposed of because of the pigments they contain. For outdoor projects, concerns with acid fumes are not as much of an issue, but applicators need to be careful to avoid spills. Given all of these issues, acid stains are mainly used by trained contractors with experience in the application of these materials. The advantage of acid stains is their high durability as the result of deep penetration and interaction with concrete.
Reactive water-based stains consist of polymeric refinishing systems that form a new mixture with the cement, sand, and water in the concrete, generating a strong bond to the surface. They can be used to form more variegated appearances than solvent-based acid stains. Water-based acrylic stains are typically composed of an acrylate resin, pigment (inorganic metallic oxides or organic coloring tints), and a coalescing agent, although the use of the latter is declining as manufacturers develop formulations that meet stricter regulations for volatile organic compounds (VOCs). The resin penetrates the concrete surface, forms a film, and deposits the pigment particles into the porous substrate. Some may react with the calcium hydroxide in the concrete. The concentration and size (coarse to finely ground) of the pigment can be varied to achieve an opaque to semi-translucent appearance. The ability to change this aspect of the finish "provides greater control and latitude for the customer/applicator in creating unique artistic effects and looks," states John.
Most water-based stains today for exterior applications are abrasion- and UV-resistant (resist fading) and permeable to water vapor but act as good barriers to moisture. Some are also designed for use on garage floors and thus offer protection against hot tire pickup, according to John. The color palette with these products is also much broader than that available with acid stains because the color depends on the pigment formulation and not the composition of the concrete. Unlike acid stains, color matching is also possible with acrylic stains, and they can be applied to concrete surfaces that have previously been coated. Water-based acrylic stains are also easier to apply and clean up with soap and water.
Water-based dyes consist only of the dye and a minimal amount of solvent and resin. They are absorbed by the concrete and therefore are not suitable for very highly porous substrates. Dyes are typically used when the look of an acid-based stain is desired, but a water-based nonreactive product is preferred, because it can be difficult to create a variegated, highly translucent appearance with the nonreactive acrylic stains. "Concrete dye is the most transparent, allowing the applicator to layer and combine colors to create a variegated finish without resulting in a solid color, uniform look," explains John.
The interest in water-based stains and dyes is growing along with the increased use of concrete. This growth is driven by a number of factors, including stricter VOC regulations; the green building movement and certification programs (e.g., Leadership in Energy and Environmental Design [LEED] from the U.S. Green Building Council); and the greater awareness of architects, designers, contractors, and do-it-yourself homeowners about environmental issues. The increase in DIY projects during the recession has also resulted in a more educated consumer base that is concerned about the safety and ease of use, as well as the environmental impact, of the products they choose, according to Camarata. "With respect to acrylic stains, we have found that consumers prefer easy-to-use, nontoxic, water-based products because they are concerned about their health and do not want to use heavy-duty protective gear, while contractors generally gravitate toward solvent-based solutions because they are heavy-duty and can withstand more wear," she says.
Preparation and Maintenance Make All the Difference
Regardless of the type of stain, proper preparation of the concrete surface (cleaning and profiling) is crucial for obtaining a desired, long-lasting finish, according to John. In order for stains to function properly, whether they react with or adhere to the concrete, the surface must be free of dirt and debris. Any pre-existing coatings must also be removed before the application of semitransparent or transparent water-based acrylic stains and dyes.
The choice of application technique will also affect the final appearance of the stained concrete. For example, water-based stains are typically applied in two coats, a thicker coat that penetrates the surface and a thinner topcoat to enhance the color. For simple applications, spraying of the first coat is recommended to achieve a more even coat that will dry more rapidly. Unique finishes are also fairly easy to create, however, by manipulating the stain once it is applied. Sponges, rags, and feathers, for example, can be used for this purpose. They can also be applied using stencil designs to create faux brick and geometric effects, according to Sherwin-Williams. Layered "wet-on-wet" or "wet-on-dry" methods can also create dramatic color effects. (Such techniques are not possible with acid stains.) Stains can also enhance patterned concrete. It is also possible to combine the use of acid stains or water-based dyes with acrylic stains to produce unique looks.
Once applied, the stain must be protected with an appropriate sealer, which is determined by the type of stain, location of the concrete surface, and the expected level of wear (light or heavy foot traffic, movement of heavy equipment, parking of cars, etc.). Regular maintenance is then necessary to retain the appearance of the newly stained concrete and ensure that the lifetime of the stain is maximized. Manufacturers provide extensive training materials to ensure that anyone applying their products is aware of all of these important aspects of staining projects. "The industry places a strong emphasis on providing classroom hands-on training, web-based discussion forums, and video instruction in order to help our customers—whether they are professional applicators or DIYers—to achieve successful projects," Barreto states.
Overcoming Challenges
Developing high performance products for the numerous possible concrete surfaces and potential applications that also meet increasingly strict environmental regulations is a challenge for stain and dye manufacturers. "Understanding the scope and dynamics required to achieve different decorative looks is a key issue," asserts Barreto. "Different stains will require different types of 'canvases' to maximize the aesthetic potential of the project." In addition, there are a wide variety of concrete substrates. "Concrete mixes differ on a regional basis, with both the choice of ingredients and porosity of the final product varying widely. Concrete stains and dyes must be formulated to provide high quality, durable finishes regardless of the type of concrete substrate," asserts Camarata from Valspar.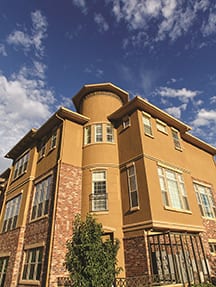 Developing decorative concrete stains and dyes for exterior applications that provide durable finishes and resist foot and vehicle traffic is an ongoing challenge, according to John. "Because these products are applied to horizontal surfaces, they generally face harsher environments than coatings applied to vertical substrates," she notes. They must also resist extremes in temperature, wind, driving rain, flooding, snow, and ice.
Environmental regulations have also had an impact on the development of decorative concrete stains and dyes. As regulations have become stricter, some of the key raw materials that have provided good, durable results are no longer available for use. As a result, it has become more difficult to develop stain and dye formulations that provide the high quality, long-lasting products that customers expect, according to Camarata. Manufacturers have invested significantly in R&D efforts to overcome these challenges, and all of them are committed to offering safe and durable solutions for the creation of decorative concrete surfaces for both professional applications and do-it-yourselfers.
They are also very committed to educating their customers about the proper use and application of decorative concrete stains and dyes. "Educating customers is crucial, particularly because reactive stains and acrylic dyes and stains each have their own concrete surface preparation requirements, and often there are also differences in the requirements for products offered by different manufacturers," says Barreto.
Promising Future
The trends driving interest in concrete stains and dyes are expected to continue for several years. The same trends will push further advances in stain and dye technology. Although advances have been made in the appearance of acrylic stains so that they look less like coatings and more like acid stains, further improvements are expected. Progress is also being made with respect to increasing the durability of organic pigments used in acrylic stains and dyes (lightfastness, pH resistance). Improving the ease of use of decorative stains and dyes is also a focus of many manufacturers. In addition, there are efforts under way to enhance the performance of the protective sealers applied over concrete stains and dyes. Polyurea systems are attracting particular attention for heavy traffic areas and garage floors and driveways. Some companies are also exploring the use of renewable raw materials for the preparation of resins for stain formulations. Underlying all of these developments is the need to meet growing expectations for more sustainable, easy-to-use, cost-effective solutions for the preparation of unique, long-lasting decorative finishes for exterior concrete surfaces.