House Subcommittee Hears Universal Support for CFATS Reauthorization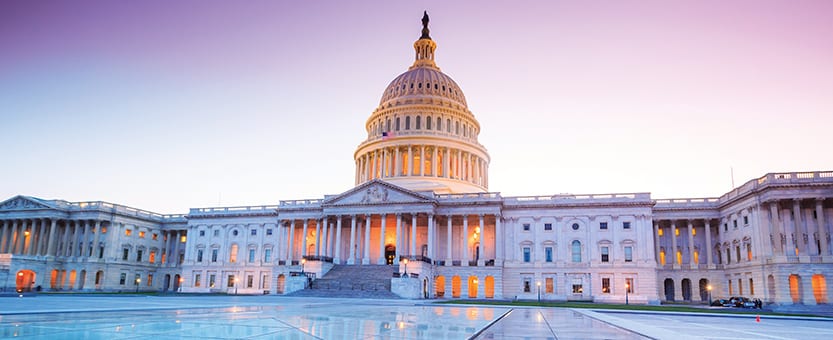 On Sept. 11, the House Committee on Energy and Commerce's Environment and Climate Change Subcommittee held a legislative hearing on H.R. 3256, legislation that would extend the authorization for the Chemical Facility Antiterrorism Standards (CFATS) program through 2025. Testimony at the hearing contained a universal refrain of support for reauthorization and improvements to the CFATS program.
ACA expressed these sentiments in a letter to members of the House Committees on Homeland Security and Energy and Commerce. With member companies who own and operate paint, coating, and chemical manufacturing facilities, ACA strongly supports the safe handling and safe use of chemicals, and urged swift Congressional passage of the legislation.
The hearing drew overwhelming support for long-term program reauthorization and program enhancements expressed by government and industry, alike. David Wulf, associate director for DHS's Chemical Security Cybersecurity and Infrastructure Security Agency, underscored the necessity of the program. "Simply, CFATS has made our Nation more secure. Since its creation, and greatly aided by long-term authorization, we have engaged with public- and private-sector stakeholders to identify chemical facilities that present the highest risk in case of terrorist attack or exploitation and to ensure that these facilities have security measures in place to reduce the risks of these hazardous chemicals. CFATS, as a non-prescriptive, flexible, program is well-suited to reduce the risk of a chemical terrorist attack."
Wulf continued, marking the need for enhancement to the program: "Though much progress has been made, both within the CFATS program—and across extended community of industry stakeholders, we are not finished. The Department recognizes that as the threat environment is constantly evolving, so too must the CFATS Program. We continue to focus on ways to enhance and evolve the CFATS program. We are undertaking a deep dive of the CFATS Program to identify opportunities to improve efficiencies and enhance the security value."
Scott Whelchel, chief security officer and global director of Emergency Services and Security for Dow, who also serves as vice chair of the Chemical Sector Coordinating Council, testified on behalf of the American Chemistry Council. His testimony stressed the need for long-terms CFATS reauthorization, as well as many improvements to the program for which ACA and industry have been advocating. Among those, his testimony addressed that "DHS needs to be more transparent with CFATS facilities regarding the specific factors driving risk at their location. Furthermore, DHS should proactively engage CFATS facilities to reduce risk. Often, covered facilities are not fully aware of the specific threat driving CFATS risk at a specified tier level. It is the site security manager who has the overall responsibility and authority for making critical security risk management decisions at CFATS facilities and the facility security director should be fully informed by DHS of all details related to threat and risk. If needed this can be done in a classified setting."
The hearing testimony and live webcast are available here.
Background
Under CFATS, chemical facilities possessing more than a threshold amount of specific explosive, toxic, or other "chemicals of interest" determined by the U.S. Department of Homeland Security (DHS), are required to complete a "top-screen," notifying DHS that they possess such chemicals on site. Once a facility submits its top-screen, DHS can direct the facility to submit a Security Vulnerability Assessment (SVA). The SVA provides the basis for DHS to assign the facility to one of four tiers: Tiers 1 and 2 being the highest risk, and Tiers 3 and 4 being the lowest. Tier assignment triggers a requirement to submit a Site Security Plan (SSP) or an Alternative Security Plan (ASP) to DHS for authorization and approval.
H.R. 3256 continues to require the submission of security vulnerability assessment plans and site security plans by covered facilities to DHS, guaranteeing necessary transparency and support between industry and DHS.
H.R. 3256 also expands its risk assessment to now cover any consequences as a result of attack, compromise, or infiltration by any malicious actor. This language moves the focus of CFATS away from the catastrophic concentration it originally had, securing sites from terrorist attacks and terrorist actors, to broadening its scope to include assessing consequences, however minor, because of any bad actor. ACA maintains that the CFATS program must remain focused on securing critical sites and hazardous chemicals from the massive terrorism risk that an attack, hijack, and theft would signify: "It is imperative H.R. 3256 does not lose focus and try to address the same hazards and risks that our existing environmental and occupational safety regulatory infrastructure is focused on," ACA said in its July 30 letter.
DHS implements the CFATS program under a variety of short-term authorizations by Congress. On Jan. 18, 2019, President Trump signed into law H.R. 251, the Chemical Facilities Anti-Terrorism Standards (CFATS) Program Extension Act. This law reauthorized for 15 months the CFATS program, which was set to lapse on Jan. 19, 2019. ACA has long been a proponent of long-term authorization for CFATS, a critical program aimed at preventing chemicals from being stolen, diverted, sabotaged, or deliberately released by terrorists or other bad actors. ACA has repeatedly urged Congress to act swiftly to provide for a multi-year authorization of the program, which covers approximately 3,400 chemical facilities assessed to present a risk of terrorist attack or exploitation.
While supporting the CFATS program, ACA has sought updates to the program to enhance and improve chemical security. ACA submitted recommendations to Congress for CFATS enhancements compiled from ACA's member companies, who own and operate paint, coatings, resin, or chemical manufacturing facilities. Some of these facilities are subject to CFATS, with the majority classified as Tier 4 facilities, while just a few are Tier 3.
Specifically, ACA has sought the following:
Greater transparency for CFATS tiering determinations and security plan review;
Focus on risk-based determinations for personnel surety requirements;
Regular review of the "chemicals of interest" list; and
Improved coordination for CFATS with other federal chemical security and safety regulatory programs.
In particular, ACA maintains that DHS has allowed the chemicals of interest (COI) list to unreasonably expand and cover chemicals that are relatively low-risk. As such, ACA supports a comprehensive review and reevaluation of the list, so it better reflects only hazardous chemicals that could be a terrorism threat in the wrong hands. Specifically, desensitized nitrocellulose continues to be interpreted as nitrocellulose proper, even though its desensitized nature has rendered it non-hazardous via dilution and dampening. Moreover, aluminum paste continues to be interpreted as aluminum powder, even though the paste presents a lower risk profile than the powder. Not only does ACA urge deregulation of both desensitized nitrocellulose and aluminum paste, but also that the COI be reevaluated to prevent other unnecessary burdens on our facilities. ACA believes H.R. 3256 must require DHS to regularly review its COI list to make chemical determinations based on risk, not only to relieve companies of the burden of unnecessary compliance obligations for low-risk chemicals, but to best counter terrorism.
ACA supports the safe handling and use of chemicals, and the structure which CFATS provides to enable that in practice. ACA is also a longstanding member of the Chemical Sector Coordinating Council (CSCC). Organized by DHS, the CSCC expands communication between industry and DHS. Through the CSCC, ACA has advised DHS on how it might develop more effective solutions to implement and improve chemical security.
Contact ACA's Rhett Cash for more information.