ACA Submits Comments to OIRA on Canada and U.S. Regulatory Cooperation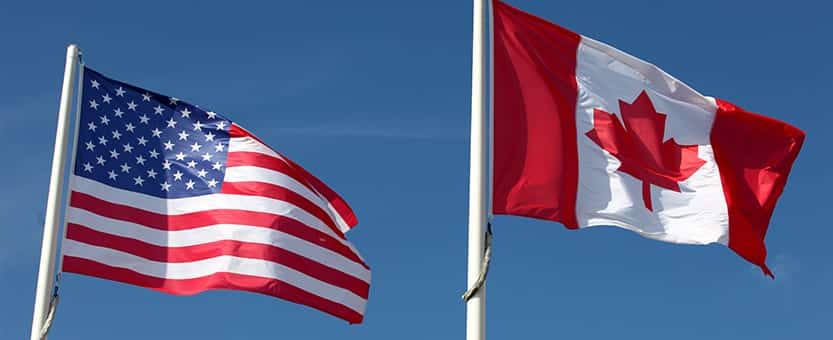 Last month, ACA submitted comments to the White House Office of Management and Budget's Office of Information and Regulatory Affairs (OIRA), in response to a Request for Information (RFI) seeking stakeholder input on how the Federal Government can reduce unnecessary regulatory differences under the auspices of the U.S.-Canada Regulatory Cooperation Council (RCC). ACA's comments identified three key areas for bilateral cooperation: uniform regulation of biocides; consistent hazard communication for labeling; and coordination and data sharing for chemical risk management.
The RCC was launched in 2011 and brings together regulators from United States and Canadian departments with health, safety, and environmental protection mandates to reduce unnecessary differences between their regulatory frameworks. The RCC's work is coordinated and monitored by the RCC Secretariat, composed of OIRA and the Treasury Board of Canada Secretariat.
ACA supports RCC efforts to streamline regulations between the two countries, which includes coordinating efforts with its counterpart association, the Canadian Paint and Coatings Association (CPCA). ACA will remain engaged with the RCC to support cooperation to reduce the risk of divergence between U.S. and Canadian regulations.
ACA's specific comments are summarized here.
Biocides
Biocides include a wide range of materials that control the growth of unwanted, deleterious micro-organisms in the environment. Biocides are under increased scrutiny as their use expands in construction products. As such, ACA's comments suggested that the U.S. Environmental Protection Agency (EPA) increase coordination with the Health Canada Pest Management Regulatory Control Agency (PMRA), especially since PMR recently issued decisions that are not in alignment with EPA, namely in-can preservatives, CMIT/MIT and OIT.
A decision was made by PMRA to discontinue the use of OIT in the formulation of architectural paints in Canada, which includes those shipped to Canada. PMRA also restricted the use of several other biocides used in paint, including the widely used CMIT/MIT. PMRA will be re-evaluating several other biocides over the next two years and if similar restrictions are made, industry will be placed at a tremendous disadvantage regarding widely used decorative paints. Although EPA has not issued a similar rule in the United States, ACA supported CPCA's efforts during the PMRA review by signing a letter to the RCC highlighting the impact of a potential OIT ban in Canada. PMRA found that most uses of OIT products do not represent an unacceptable risk to human health or the environment when used according to label instructions.
ACA maintained that if Canada's directives on these in-can preservatives stand, trade with Canada may be deleteriously impacted because these substances are used in a wide array of latex paint, which constitutes 45 percent of the volume of paint shipped to Canada. ACA recommended a regular, bi-annual meeting of key officials in the EPA and PMRA to ensure greater alignment review with regards to specific pesticides used in the coatings industry. In addition, ACA suggested that an industry-government stakeholder group be established to strictly focus on U.S.-Canadian alignment related to the re-evaluation of active anti-microbial ingredients, with a clear direction on a common set of data points, test methods and general studies used to facilitate increased alignment.
Hazard Communication

ACA's comments also urged greater alignment amongst the U.S. Occupational Safety and Health Administration (OSHA) and Health Canada in implementing the Globally Harmonized System for Classification & Labeling of Workplace Chemicals (GHS) under the RCC through collaboration on guidance materials. ACA argued that a joint OSHA-Health Canada guidance document outlining labeling requirements, variance between U.S. and Canadian regulations, and the possibility of meeting both countries' requirements using a single label, would not only ensure cost-effectiveness, but also consistency in information for worker safety. ACA's comments highlighted specific variation between U.S. and Canadian occupational labeling regulations.
ACA comments identified that there is an opportunity to harmonize OSHA 2012/WHMIS 2015 with the UN GHS. While OSHA has indicated that it will take up this issue in the next year, ACA suggested that recent proposals from Health Canada to update GHS/WHMIS be managed under the RCC. Health Canada sent out a request for comments on the impact of its proposed HPR Amendments, updating the GHS version from 5 to 7, to which industry responded. ACA encourage Health Canada to share this information with OSHA. The consolidation of information collected between the United States and Canada would reduce the burden on industry to respond to two separate but similar inquiries, while sharing the comments between Health Canada and OSHA would also benefit the regulatory bodies. ACA also encouraged the continued coordination between Health Canada and OSHA regarding the content and implementation timeline of the update.
Data Sharing and Chemical Risk Management
ACA's comments also espoused data sharing and joint risk assessments between EPA and Health Canada, as agreed upon in the Assessment Collaboration Framework document developed by RCC. ACA supports the agencies' plans to share data to assess nanomaterials, 1-bromopropane and NMP. ACA also encouraged the RCC and involved agencies to keep industry informed about the timeframe for assessment and critical data used for assessments, to the extent disclosure is possible. To this end, ACA encourages RCC to publish a clear timeline for assessments.
ACA also urged RCC to work with Health Canada and U.S. EPA to continue sharing data on other assessments, while recognizing that data points and specific dose-response and other data may not be readily available to share. ACA encouraged developing stronger non-disclosure agreements to encourage sharing of confidential data between respective agencies.
Contact ACA's Riaz Zaman or more information.